YouTube is more than just a site for watching videos. It has serious money making potential for social media influencers. There are a number of ways YouTubers get paid for YouTube videos. But knowing how to make money on YouTube is easier said than done.
Becoming a professional YouTube influencer takes dedication, and the ability to create video content that YouTube users want to watch. And video views and watch time are a must when wondering, "How do YouTubers get paid?"
But make no mistake, YouTube is the second largest search engine for a reason. People love watching videos, engaging with their favorite YouTubers, and getting product and/or service recommendations online.
YouTube users watch over 5 billion videos daily. And the number of YouTube channels generating six-figures grows 40 percent every year!
If you're a YouTube influencer, regardless of how many subscribers you have, the money making opportunities are there. A YouTube nano-influencer with as little as 500 subscribers can make $315 per video . . .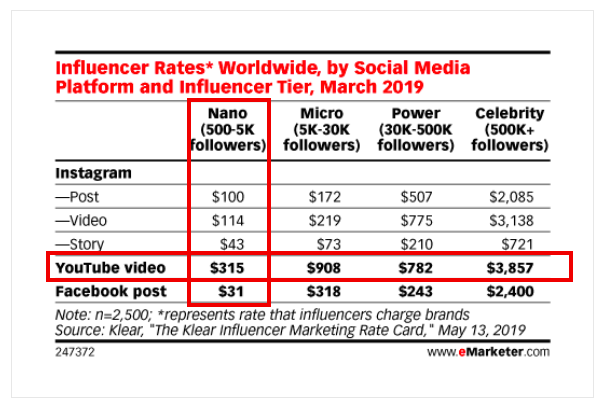 That is far more money made than posting videos on instagram.Is it time for you to start getting paid for your YouTube influence? The following how to make money on YouTube tips may be useful.
From cash money brand sponsorships to the Amazon affiliate program, let's take a closer look at how you can make money on YouTube videos.

1. Make Money On YouTube Via Brand Sponsorships
This is the number one way YouTubers get paid for YouTube videos. However, landing those cash money brand sponsorships can be challenging. You need to have a few key aspects in place to attract brands to your YouTube channel.
The good news is that you don't need to have hundreds of thousands of subscribers to partner with brands. In fact, brands are more focused on partnering with nano-influencers and micro-influencers. Why? Loyalty and confidence to buy.
YouTube influencers with under 10,000 subscribers can make serious cash via brand sponsorships. It just takes some due diligence on your part.
First, you need to create content that your target audience wants to watch. Your target audience meaning those in your niche. For example, if you are a fitness YouTuber, you better be creating video content that is unique and actionable.
Here's an example from YouTuber Austen Alexander . . .
This appeals to his target audience and has all the hallmarks of unique video content. You can see how military focused this YouTuber's videos are . . .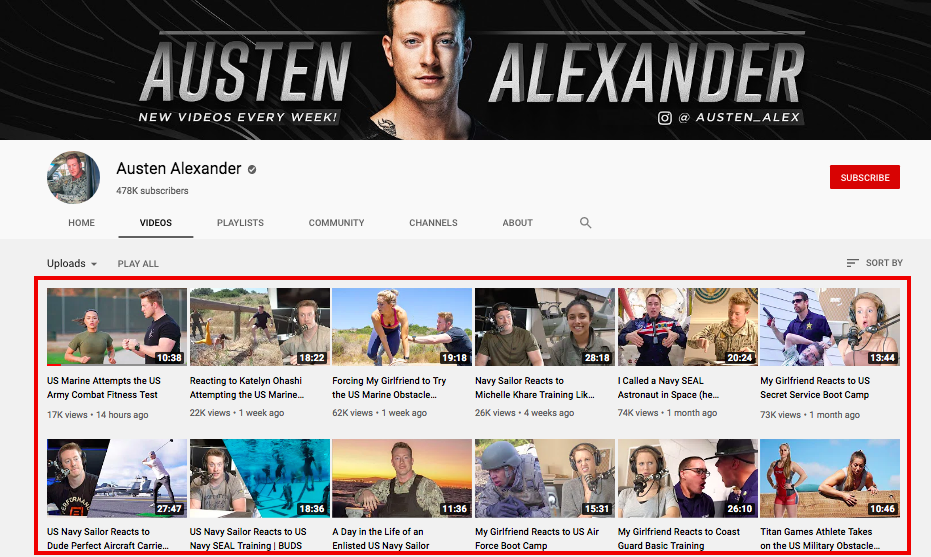 And this influencer's content attracts fitness and health brand sponsorships . . .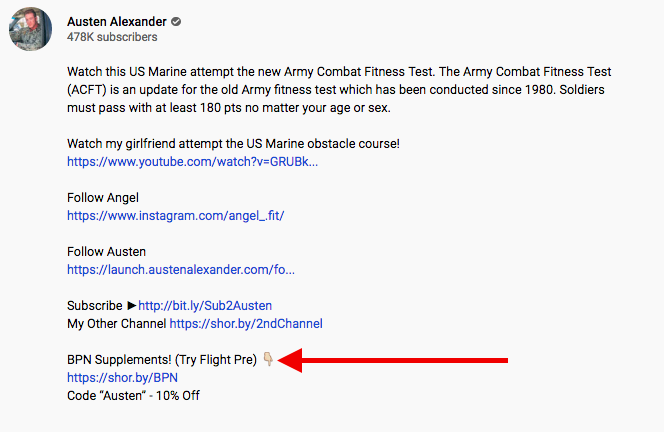 When a YouTube viewer clicks through on the sponsorship link, they land on the brand's product page, which has a unique sponsorship URL for the YouTube influencer . . .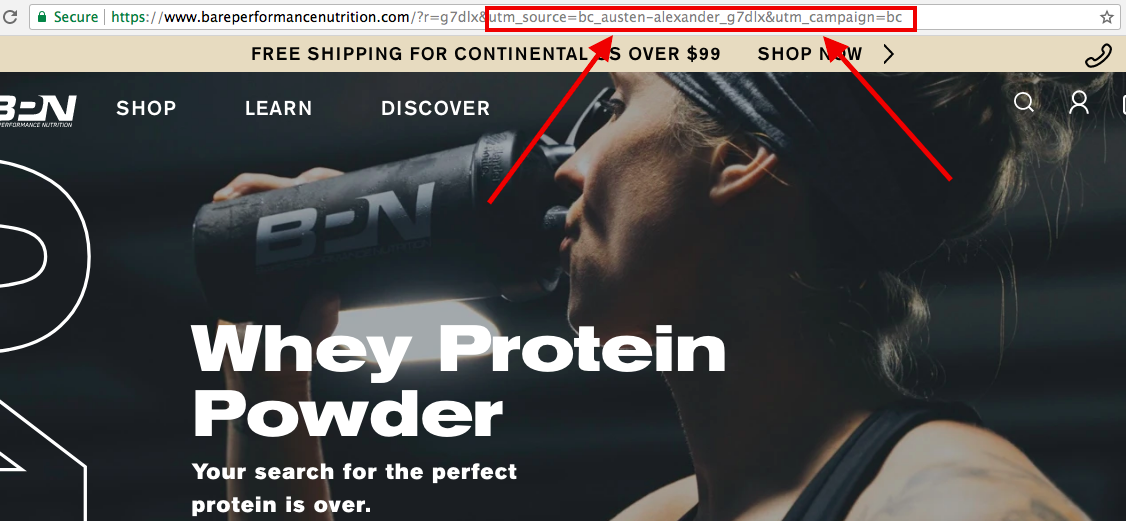 This is how it's done when it comes to how to get paid for YouTube videos via brand sponsorships.
But how do you attract brands?There are two routes you can take to land profitable brand sponsorships.
First, reach out to the brands directly via email. This can be pretty time consuming. You need to draft a pitch email with your YouTube stats, including subscriber count, niche, viewer demographics, previous campaign success stories, and more.
Or you can partner with a reputable influencer marketing platform. Influencer marketing platforms like Scalefluence help influencers connect with brands to maximize influencer profits per post, as well as maximize influencer campaign ROI for brands.
Learn how Scalefluence can grow your YouTube influence and connect you to top brands in your niche.
2. Become A YouTube Partner
To make money directly through YouTube, you will need to join the YouTube partner program. The YouTube partner program can help influencers like you make money from video views, memberships, ads, and Super Chat.
There are, however, requirements to get approved as a YouTube partner. These requirements are:
Have more than 4,000 watch hours within a 12 month period (public watch time)
Rack up 1,000 plus subscribers on your channel
Meet and maintain good standing within YouTube's video and channel guidelines
Be located in a YouTube partner program eligible location
Have a Google AdSense account (since Google owns YouTube)
When approved as a YouTube partner, you need to start producing top quality videos on a consistent basis. This is because the more videos, and the better the video content, the more views your videos will get. And it will grow your subscriber count.
How do YouTubers get paid from ads? Here's a pre-roll YouTube video ad example . . .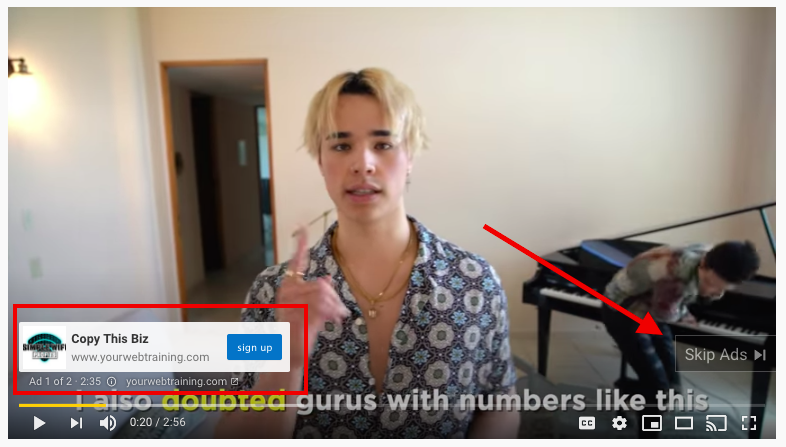 And an example of an ad during the video . . .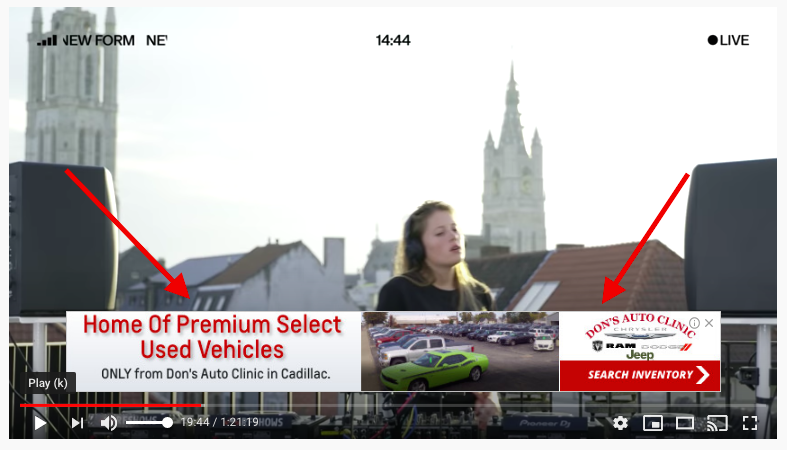 This all equals more revenue per video. But don't forget that YouTube will get their cut of the profits too. YouTube will take around 50 percent of what you make on ads and other revenue streams associated with the YouTube partner program.
3. Understand How To Make Money On YouTube Using Super Chat
While on the topic of becoming a YouTube partner, Super Chat is worth mentioning if live streaming is on your influencer content calendar. Super Chat is a way for YouTubers to make money for simply being live.
How does Super Chat work? Once you are a YouTube partner, you can set up a live stream and earn money from YouTubers that send a message via Super Chat on the live stream message board . . .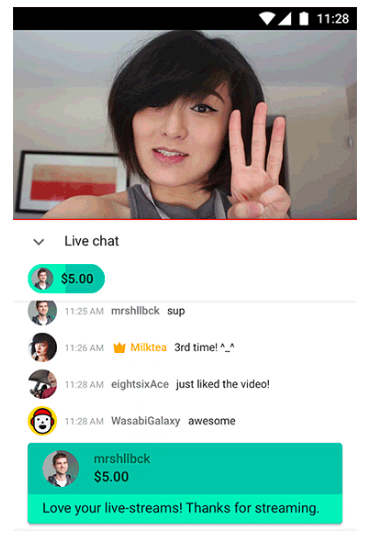 This is a great way for you to make cash money for your creative video content.
YouTube explained, "For creators, this means Super Chat does double duty: keeping their conversations and connections with (super) fans meaningful and lively while also giving creators a new way to make money."
4. Leverage The Amazon Affiliate Program
Amazon has a massive product inventory from brands large and small. What if you could simply mention products in your videos and video descriptions and make money? This is what the Amazon affiliate program is all about.
First, you need to sign up and get approval as an Amazon affiliate . . .

Once approved, you get access to Amazon affiliate products to promote via your YouTube videos.
Here's how YouTube influencer Irina's Tech Reviews makes money via Amazon affiliate products with only 16,000 subscribers . . .
Viewers who are interested in the products reviewed in the above video can find links to the products in the video description section . . .

When viewers click through, they land on the Amazon product page . . .

To emphasize how much money a YouTube influencer can make from Amazon affiliate products, let's do some math. If this YouTuber makes 7 percent of each iPhone 11 sold, and 10 percent of the video viewers make a purchase, this influencer can make $107,000 plus.
That's the profit power of the Amazon affiliate program for YouTubers that want to know how to make money on YouTube.
Wrapping Up . . .
There are a number of ways YouTubers get paid for YouTube videos. The above are simply the tip of the iceberg. They are, however, among the most lucrative when it comes to understanding how to get paid for YouTube videos.
Affiliate marketing through affiliate marketing platforms, selling your own personally branded merchandise, and asking for donations are among other revenue streams for YouTube influencers.
The goal is to diversify your YouTube money making potential by employing various forms of revenue streams. Need help? Our team of influencer marketing experts are ready to take your influence on YouTube to the next level. Sign up today and find out how.