Knowing how to earn money from instagram starts with getting more followers. The more followers you have, the more money you can make, in most influencer marketing areas.
Having more followers can also help you increase your engagement rate per post. And you know how important that is. Engagement rate being te top metric brands look at before hiring an influencer for paid sponsored posts.
Gain more followers on Instagram and you will understand how to earn money from Instagram. It is simply that simple.
However, don't think that you need hundreds of thousands of followers to make money as a social media influencer. You can actually use your influence over only 2,000 followers to make money.
More followers just helps. As long as they are loyal and engaged.
Here's a great example of follower count from lifestyle-travel Instagram micro-influencer @hxrrietday . . .

One of her most recent posts netted an engagement rate of 6.1 percent . . .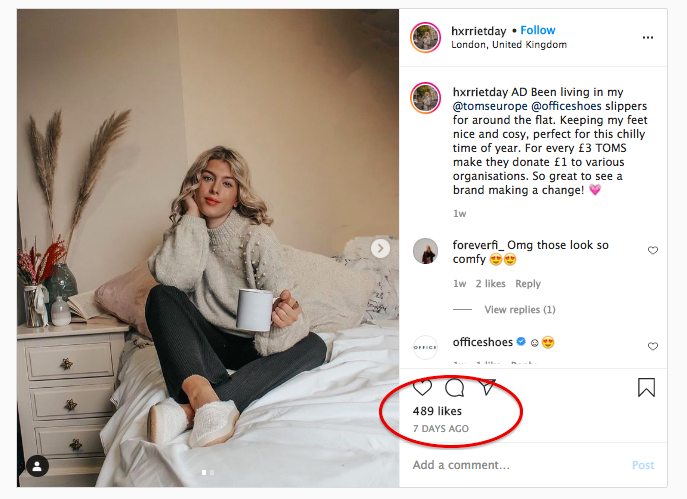 So you can see that having more hundreds of thousands of followers isn't critical, but it does help.
How do you know how to earn money from Instagram and gain more followers on Instagram? Well, we pulled our team of influencer marketing experts together and came up with a few must-do tips to boost your following.
Let's dive in!
1. Get To Know Your Target Audienc Better To Gain More Followers On Instagram
How well do you know your target audience? Knowing your audience better is a very essential must-do when it comes to getting more followers and making money as a social media influencer.
Why? If you truly know and understand your target audience, you can create powerful, personal, and meaningful content that they will love and want more of.
Instagram micro-influencer @wandering_wild does exactly that . . .

She knows her target audience very well, because she personifies her audience as a mom, wife, and enthusiastic family traveler. In fact, she knows her following so well, this post had an engagement rate of 7.5 percent . . .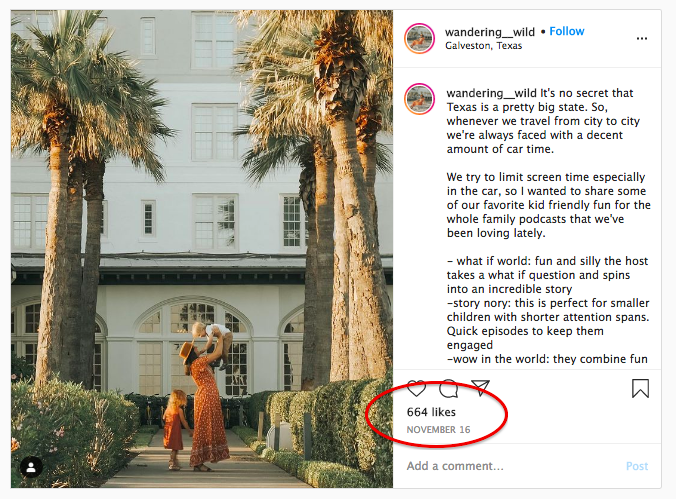 That is amazing engagement!
An average per post engagement rate is normally around 2 percent. Any engagement rate over 3-4 percent is pretty exceptional for any social media influencer, across any niche.


When you are seeing high engagement, likes, views, and comments, you know that you are getting to know your target audience a whole lot better. Instagram Insights can be a powerful tool to start getting to know your target audience better to gain more followers on Instagram.
2. Make Videos And Watch Your Follower Count Climb At An Insane Rate
Type of content is very important these days. More and more consumers want video content over any other type of content, especially on Instagram. And developing video content can help you earn more followers on Instagram.
Instagram has a few video options for social media influencers. You can utilize Instagram Stories, regular video posts, and go Live to net more followers and make money via Instagram. Here are a few video stats to consider:
The engagement rate for a video on Instagram is much higher than the engagement rate of an image.
Instagram Stoies is hot, used by brands to promote products and/or services at least 2.5 times per week.
Live Instagram videos can net you serious views as they are the top video type on Instagram.
Users prefer video content over images because it makes users feel more connected to their favorite influencers.
Stats like the above are definitely a clear call to action to start developing and posting more videos. And if you want to know how to start making money on Instagram, video content is worth trying out.
Here's an example of how videos can net insane engagement arte from Instagram micro-influencer @sweatandtell . . .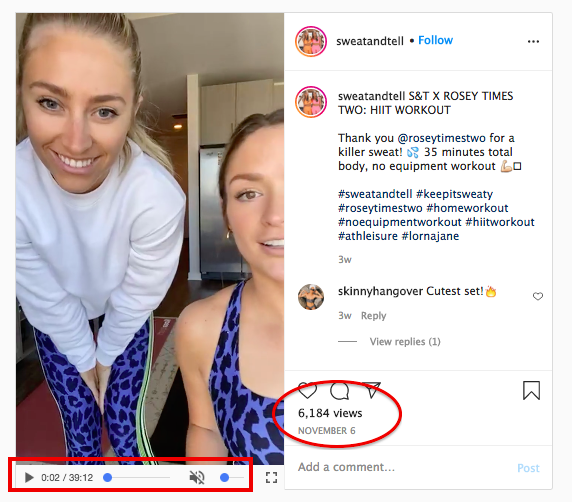 This video netted a total engagement rate of 11 percent! Want the same engagement? Start making videos and watch your follower count and engagement rate increase.
3. Understand How To Earn Money From Instagram By Posting Regularly
Posting on a regular basis can increase your follower count. However, posting regularly can prove challenging for social media influencers. It can simply be challenging to be creative daily, but if you can, you can see a jump in followers, engagement, and make money.
In fact, you can increase your followers by 56 percent if you post evry day, according to a Meltwater study. If you post twice daily, you will definitely see more followers. In some cases, you can double the amount of daily followers you get by posting twice daily.
But there is a catch. You don't want to just pump out content that doesn't mean anything to your target audience. You still need to be aligned with your target audience research to ensure you keep your followers and keep that engagement rate moving in the right direction.
Make a monthly schedule if you can for daily posts and stick to it. Having a schedule can keep you on track and give you the follower boost you want and need to make more money on Instagram as an influencer.
4. Communication With Followers Can Lead To Serious Follower Gains
Communication is definitely a two-way street when it comes to earning money on Instagram as an influencer. This is especially important for Instagram influencers. The more engaged you are with your audience, the more engagement and loyalty they will give back.
For instance, let your followers and viewers know you hear them by communicating back on comments with a reply. A simple like or emoji to a comment can lead to serious follower gains. Here's an example from Instagram health, wellness, and yoga influencer @dedica . . .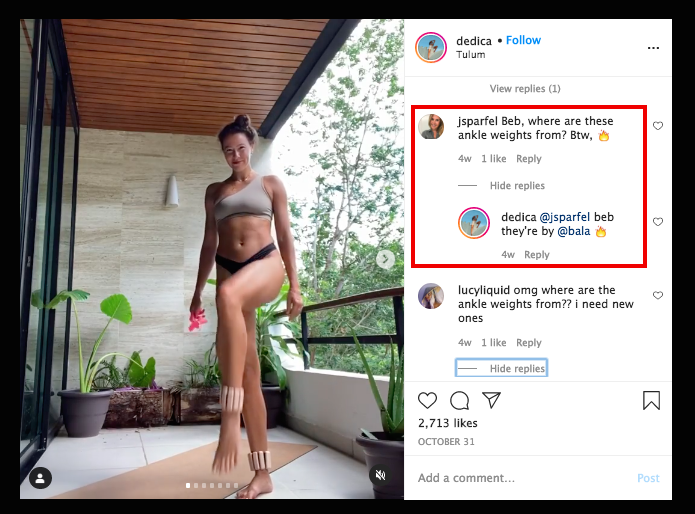 The simple action of replying to your viewers via the comments they leave can make a massive difference in how fast your follower count grows.
Your current followers can be your biggest brand advocates. When you reply to followers comments, or even DMs, you open up a new relationship. This relationship can lead to followers suggesting friends, family, and coworkers follow you.
Take an hour out of each day and reply to comments. It very well could be a big time follower booster. It will surely increase engagement and help you make more money on Instagram.
5. Utilize Hashtags To Increase Brand Awareness And Followers
Hashtags are more important than you may think. They are very important to guiding Instagram users to your content. Think of them like keywords for Google search, only this is hashtags for Instagram.
Utilizing the power of hashtags can help the social media platform serve up content people are interested in. For instance, someone that follows #beginneryoga may come across yoga nano-influencer @one_clumsy_panda . . .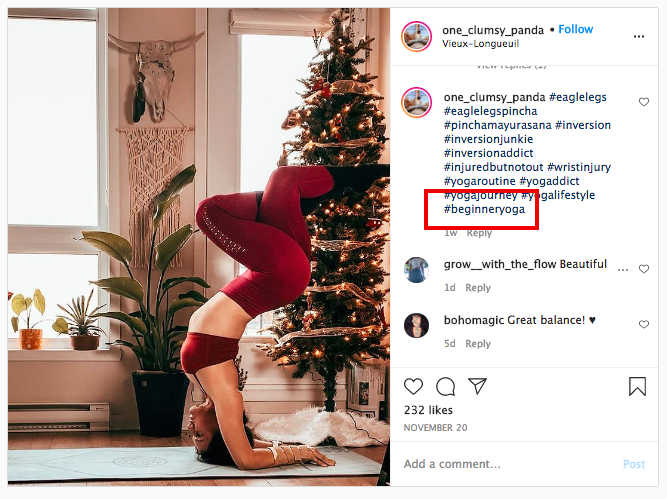 Users also search hashtags via Instagram search to find new influencers, brands, products, and more. Utilizing hashtags can be a game-changer for social media influencers.
6. Partner With A Trusted Influencer Marketing Platform Like Scalefluence
Influencers are busy, and they don't have time to shuffle paperwork, do brand outreach, and hunt down new ways to get more followers and get paid. This is why many Instagram influencers turn to a trusted influencer marketing platform, like Scalefluence, to help.
Our Instagram influencers get access to a team of expert influencer marketers, as well as access to our robust list of brands and marketing agencies looking for influencers like you.
And we make sure you get paid top dollar for your creativity as a social media influencer. If it's time to take your influence to the next level on Instagram, grow your following, and earn more money per post via brand sponsorships, it is time to partner with Scalefluence.
Sign up today and unlock your influencer earning potential.