Understanding how to make money with a YouTube channel can prove difficult. Sure, there are YouTube stars making millions a year positioning video content. And smaller YouTube influencers are also making a living via their YouTube channels. However, the process is what makes it rain.
Up and coming YouTubers can definitely capitalize on the second largest search engine in the world, and largest user-generated video content site in existence. And the revenue is certainly real.
Did you know that YouTube influencers can make between $315 to nearly $4,000 per video?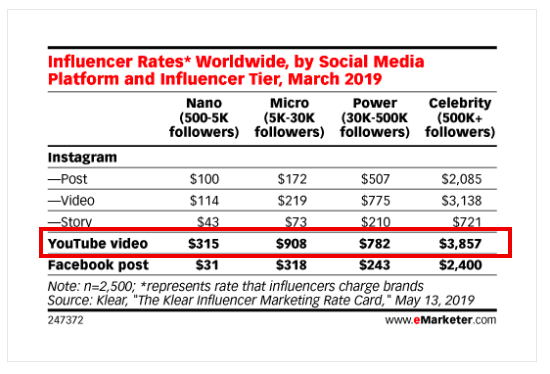 This of course depends on your subscribers and influencer status. But don't be fooled, making money on YouTube can be done, even for YouTubers with little influence. The number of five-figure YouTube earners grows by 50 percent each year.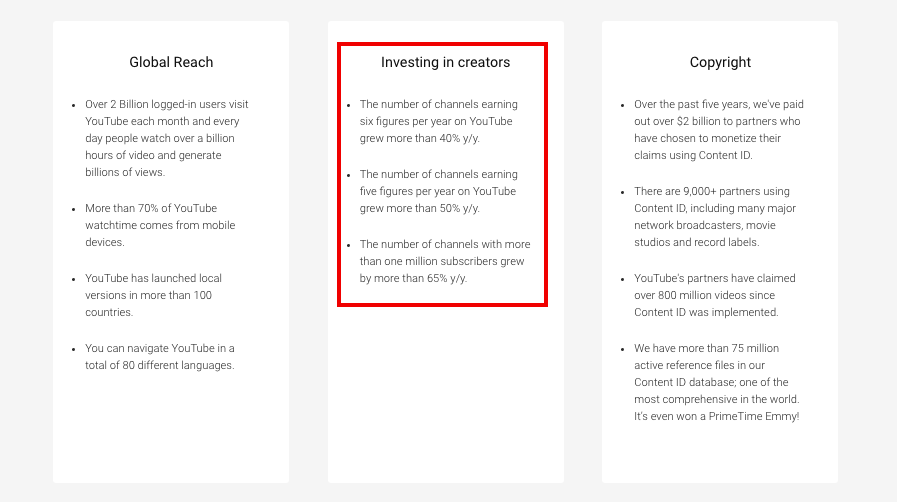 YouTube travel influencer, Dan Flying Solo, is a great example of this.

With under 3,000 subscribers, Dan Flying Solo is able to land partnerships with hospitality and travel brands like Lonely Planet in this video:

Ready to start making money as a video creator? The following 8 how to get paid on YouTube tips for up and coming YouTube influencers may prove useful.
Let's dive in!
1. Brand Mentions & Features
Brand mentions and features are one of the most common ways to get paid on YouTube for up and coming influencers. This is also called branded integration. A few different types of brand mentions and features include:
Product placement. Product placements are of course a great way to make money as a social media influencer. This type of branded integration is very common in YouTube videos, and of course is for product marketing.
Brand feature video. This is a video that features a brand throughout the entire video. This is great for brand awareness and to market products and/or services.
Brought-to-you-by branded videos. Brought to you by videos are videos that are sponsored by a brand, but the video will be not about the brand. Most of the time, a brand and product mention is done at some point during the video.
Here's an example of a brought-to-you-by video from YouTube star BroScienceLife:

Brand mentions and features are a top way to make serious money on YouTube, even if you're an up and coming YouTube influencer.


2. Brand Reps Via YouTube
This is the next how to get paid on YouTube tip for budding YouTubers. What is a brand rep exactly? A brand rep on YouTube is a YouTuber that develops a number of videos for a single brand.
For example, if a YouTube influencer partners with Sephora, that influencer will post several videos featuring Sephora.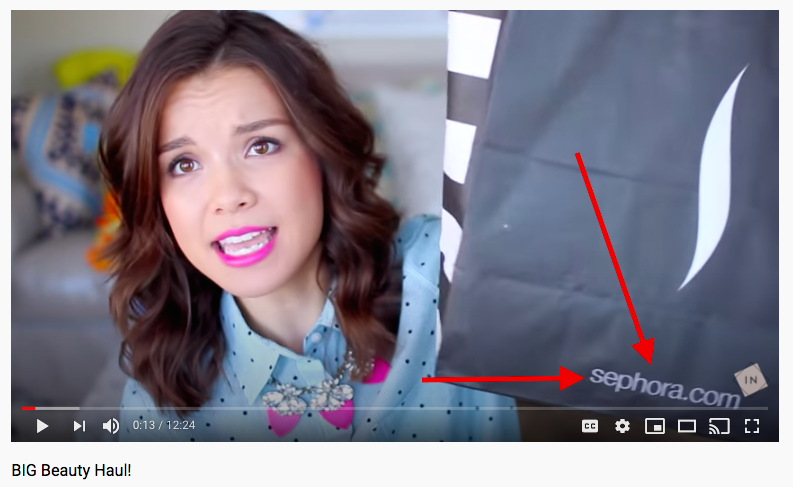 When it comes to how to make money with a YouTube channel, it is important to be selective when it comes to the brands you choose to be an influencer brand rep for. You want to ensure your values, and the values of your audience, will be aligned.
3. Make Money Cash Money With Affiliate Links
Affiliate links are unique URLs brands designate to social media influencers in return for promoting a product and/or service. These unique links ensure an influencer gets paid when someone buys a product and/or service using the link.
This is affiliate marketing, and this getting paid on YouTube tip is a must-do for YouTubers, regardless of how many subscribers he or she may have. In fact, you can get paid on YouTube with under 2,000 subscribers with affiliate marketing.
The first step is to become an affiliate by joining an affiliate marketing platform like Rakuten affiliate program, CJ.com, Amazon Associates, and others. Once approved, you can get affiliate links from brands to promote via your YouTube videos.
Here's what affiliate marketing on YouTube looks like for YouTuber Irena's Tech Reviews:
In the video, Irena reviews an old iPhone. Not much to promote there. However, she adds affiliate links to all of her video production gear in the video description for viewers to buy.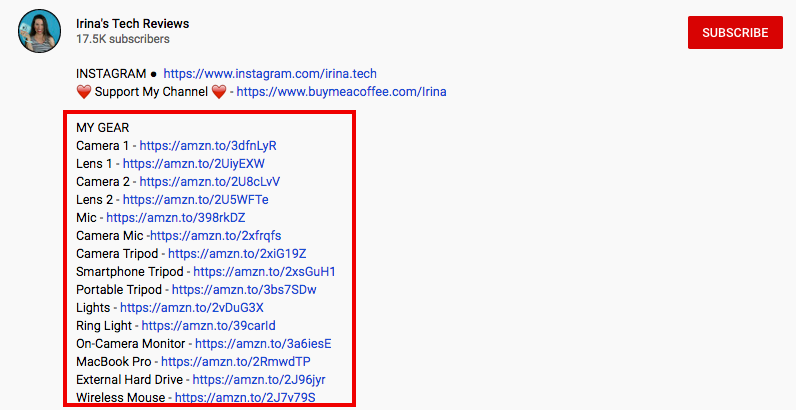 When a viewer clicks through, he or she lands on the Amazon Associates product page via the unique affiliate link (or URL).

When a viewer makes a purchase, the YouTube influencer gets paid. Affiliate marketing is seriously that simple, especially when it comes to making money.
4. Leverage Your Influence On Other Social Media Channels
Using other social media channels to make money on YouTube is all about driving more traffic to your channel. And with more traffic comes more views. This is all about how to get paid for YouTube views and other money making tips via your creative video content.
For instance, you can leverage Instagram to actually make money on YouTube. This can be essential, because the more overall influence you have, the better. If you are an Instagram influencer, you can make those followers YouTube subscribers.
Here's an example from Instagram influencer kylabeland:

This social media influencer mentions her YouTube channel on her Instagram profile and redirects followers to her channel, and other online spaces.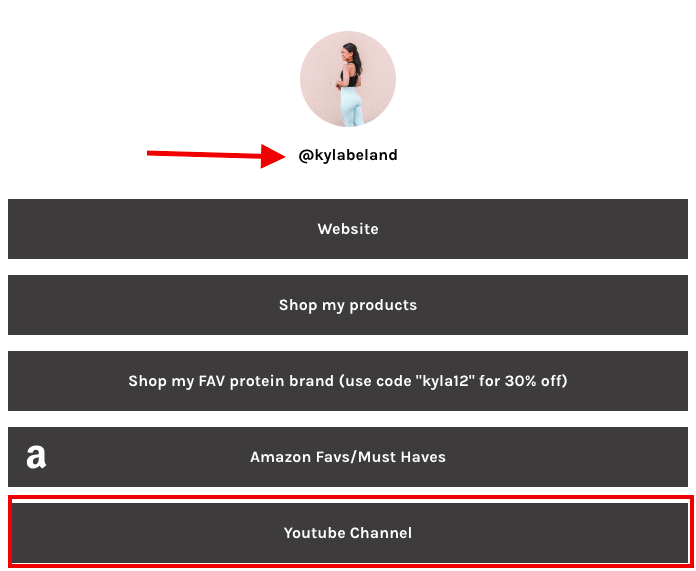 5. Make Money With Ads
Advertising is a great way for up and coming YouTube influencers to make money. In many cases, this is the first place YouTubers turn to start generating money. To do this, you will need to be a YouTube partner and set up an Google AdSense account.
Once you are all set up, you will begin seeing pre-roll and banner ads play on your videos.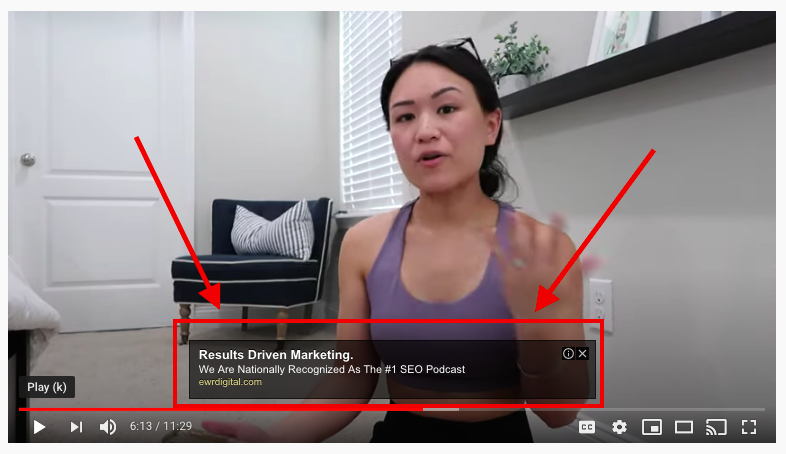 You will need to have an advertiser-friendly channel, however, to begin making money on ads. Your channel also needs over 1,000 subscribers and has had more than 4,000 hours of watch time in the last 12 months.
6. Super Chat Donations During Live Streams
Super Chat is a feature you can unlock once you are a YouTube partner. And it can be very profitable. What is Super Chat? Super Chat is a donation based feature where viewers of your live streams can donate money to you directly.
A viewer's chat message will be shown with an emoji at the top of the live stream chat board when a donation is made. Hence the name Super Chat. If you have loyal subscribers, you can make serious money from Super Chat donations.
7. Sell Your Very Own Branded Merchandise
As a social media influencer, you are a personal brand. Your influence on YouTube has attracted subscribers that love your content and follow you adamantly. To leverage this influence, you can create personally branded merchandise.
The merchandise can be coffee mugs with your brand's logo, t-shirts with your face on them, and other products that you feel your target audience will want to buy. This is a definite must when it comes to how to get paid on YouTube tips.
Even if you are an up and coming YouTube influencer, you can sell a ton of branded swag. If you launch a t-shirt that has a profit of $10, and 1,000 subscribers by the t-shirt, you can make $10,000. And that is just one branded product.
8. Public Speaking & Public Appearances
Another way social media influencers make serious cash money is through public events. This can be a public speaking event, live video production of a new video you will post, or a simple public appearance.
Let's say you are a tech review YouTuber with a massive following in your local city (because you tagged your videos with a location). You can get paid to make appearances at local game shops, electronics stores, or departments at global companies like Walmart or Best Buy.
Making appearances can have serious money making potential. You just need to reach out and book the events. And public events can increase your subscriber count big time.
Wrapping Up . . .
Are you ready to take your YouTube influence to the next level? This is of course easier said than done for up and coming influencers. But it is certainly not impossible to become a YouTuber that earns five-figures, and even six-figures in a very short time.
Want to capitalize on your video content and maximize your ROI per video? Scalefluence can help. We are an influencer marketing platform with a robust network of top brands and marketing agencies looking for influencers like you. Contact us today and amp up your influence.