Knowing how to get paid on YouTube is all about understanding the different revenue streams available. YouTube is the second largest search engine on the planet, so there is certainly no shortage of viewers for your videos.
How you leverage those viewers and subscribers is where YouTube stars profit while others struggle.
There are two major aspects to this. Understand how to make money with a YouTube channel. Generally this is all about sponsored posts and affiliate links.
And there is knowing how to get paid for YouTube views. This is all about amping up views on each video post and earning up to 12 cents per view. Knowing how to get paid for YouTube views also involves getting your subscriber count up.
For example, YouTube star Safiya Nygaard can net 6 cents per view due to her populer YouTube influencer status . . .
The above video hit 7.8 million views . . .

If this influencer gets 6 cents per view, she would have made $468,000 on one video post. This doesn't include any affiliate links, sponsored posts, or ad revenue she may have netted.
Profitable? absolutely! Easy to reach this type of revenue? Not exactly easy, but not impossible. It is all about leveraging how to get paid on YouTube tactics as an influencer.
To help, we rounded up our Scalefluence influencer marketing experts and picked their brains on how to get paid on YouTube as an influencer. Let's dive in!
Start With Ad Revenue To Get Paid On YouTube
Making money on YouTube starts with ad revenue, and knowing how to get paid for YouTube views is what it's all about. The first step is to understand Cost Per Mile (CPM).
What is YouTube CPM? CPM equates to the money you get paid for the ads placed within your video on YouTube. Essentially, every thousand views you get, you get paid. The more views your video gets, the more money you can make via ad revenue.
Pretty simple, but let's take a look at an example.
YouTube beauty and fashion influencer Knot Me Pretty has nearly a million subscribers. Her latest video netted 23,400 views . . .

Let's say this YouTube influencer averages $4 per CPM (every 1,000 views). That amounts to $93.60 of ad revenue. Not bad.
However, YouTube will take their cut of 45 percent. So an influencer that makes $93.60 will only get paid $51.48. This may seem low, but it does emphasize the importance of maximizing views for each video.
Ad revenue is only a small fraction when you look at how to get paid on YouTube as an influencer. Focus on increasing your subscribers and getting more views per video to boost that ad revenue.
Amp Up Your Affiliate Marketing Game And Make Serious Money On YouTube
If you are a YouTube influencer and you are not leveraging affiliate marketing to make money, you are leaving a ton of money on the table. Affiliate marketing is one of the best, and easiest ways for social media influencers to make money.
What does affiliate marketing look like for YouTubers?
YouTuber LuxMommy is a fashion and lifestyle YouTube influencer that recommends a variety of products via style guide videos and how-to videos. Here is one that covers 7 wearable fall fashion trends . . .
This video netted 8,641 views. Probably not a lot of ad revenue to be had. However, LuxMommy is most likely killing it via affiliate marketing . . .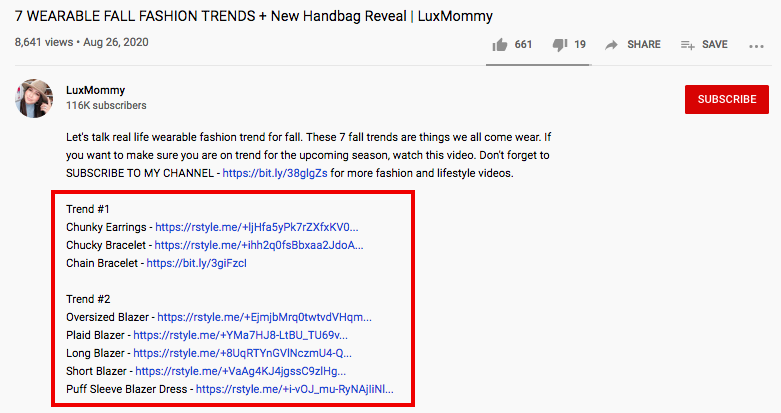 Those are all affiliate links!
If 20 percent of her viewers purchase all the items in Trend #1, this influencer can make hundreds from affiliate link payouts alone.
This is what the unique affiliate link looks like when a viewer clicks through to buy the product . . .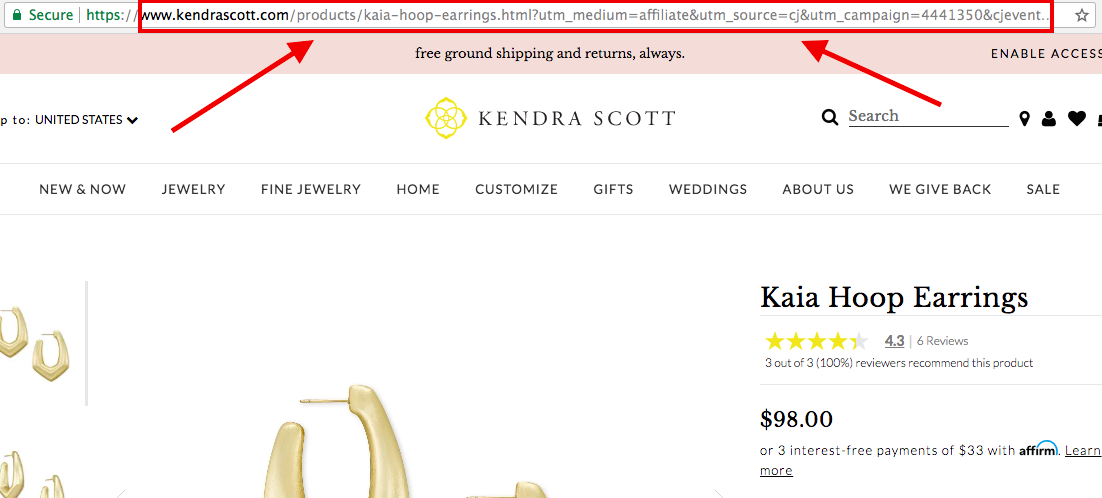 The affiliate link also highlights what affiliate marketing network this influencer is using — Commission Junction (also known as cj.com). If you want to make serious cash as a YouTube influencer, you first need to sign up for an affiliate marketing network like cj.com or Rakuten.
Affiliate marketing networks have a ton of top brands to choose from as an influencer. If you talk about fashion, affiliate marketing networks give you access to Sephora, Macy's, Nordstroms, and more.
Learn more about affiliate marketing and how to get paid on YouTube as an influencer and maximize your channel's profitability.
Sell Personal Brand Merchandise On Your YouTube Channel
If you have a decent amount of influence as a YouTube influencer, you can easily leverage your own personal brand to make money. This is all about knowing how to make money with a YouTube channel as a personal brand.
Yes, you are a personal brand as a social media influencer. One of the biggest mistakes an influencer can make is to not look at your influence as a personal brand. Because there is a ton of money to be made selling personal brand merchandise.
You don't even need to have a ton of subscribers to start selling merchandise via your YouTube channel. YouTube channel, Lockdown 23and1, has roughly 400,000 subscribers. But this influencer's YouTube Store has plenty of merchandise . . .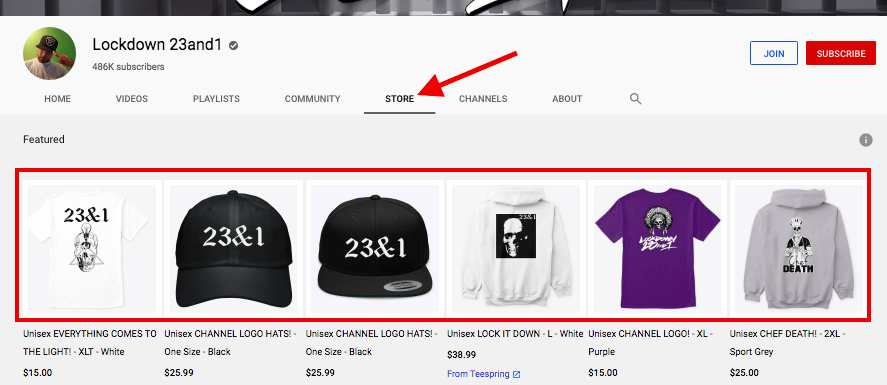 Subscribers are loyal, and they generally love consuming your content. This means they will be happy to buy your merchandise and represent your brand. It's also not difficult to create apparel to sell on YouTube as an influencer.
All you need is to design merchandise that resonates with your target audience. But stay in your niche. Do not try to sell branded yoga pants if you post videos of you playing video games. Might not work too well.


Maximize YouTube Earnings With Sponsored Videos For Top Brands
One of the top tips for how to get paid on YouTube as an influencer is to partner with brands. Like affiliate marketing, you can get paid by promoting products and/or services via sponsored videos.
This can have a big impact on your YouTube influencer earnings. For example, YouTube influencer, Natalies Outlet, mentioned a number of products in this YouTube video . . .
And the links to the products were in the video's description . . .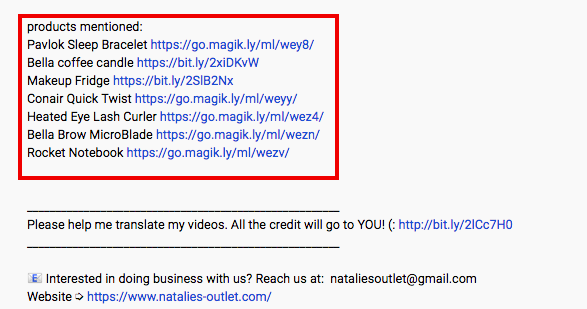 The video didn't say if it was sponsored by any of the brands used, but one could assume that some products were sponsored by the brands for payment. And this popular YouTube star adds a "work with me" note for future sponsored videos . . .

Not a bad idea for any YouTube influencer wanting to know how to make money with a YouTube channel via sponsored videos.
But how can you connect with top brands and maximize profits on YouTube by just mentioning products and/or services? You could reach out to brands yourself and negotiate payment, as well as confusing contracts.
Or you can join Scalefluence, a reputable influencer marketing platform that puts influencers first.
Want To Know How To Get Paid On YouTube As An Influencer? Partner With Scalefluence!
The above ways to earn money on YouTube as an influencer can be easily achieved by joining Scalefluence, a premiere influencer marketing platform with access to top brands. As a Scalefluence influencer, you get a number of benefits:
Fast and easy payments on sponsored videos
Control over creativity, ensuring you keep your personal brand intact
Collaboration with YouTube influencers in your industry
Access to global brands looking for influencers like you
We ensure our influencers get the most out of their influence. Tap into Scalefluence today and take your influencer earnings to the next level.