YouTube is much more than just a website where you can watch videos; it's also the second most visited site in the world, after Google.com. With over 2 billion monthly active users and a billion hours of video content consumed each day around the world, YouTube's status as one of the largest search engines has made it a magnet for brands eager to communicate with their target audience and promote their products and services.
Brands are increasingly investing in influencer video marketing campaigns on YouTube. Customer conversions on the platform have been shown to consistently outperform other social sites. And with 80 percent of the total internet traffic coming from online video, anyone can tap into the power of video marketing, specifically on YouTube, to make money.
There are other important YouTube usage statistics that marketers should keep in mind, too. For example, according to Variety, more than 250 million hours of YouTube videos were watched on television screens as of March 2019—up 39% within a year. This means that more viewers are streaming to multi-task or consume creative, professionally edited content worthy of the big screen. Lastly, there are more YouTube viewers heading to the platform with the intent to purchase. Studies have shown that the amount of watch time for "which product to buy" videos has doubled.
This is all great news for budding YouTubers. No matter what you're passionate about, there's likely an audience interested in your content and there's a brand interested in your audience. Now is a better time than ever to create a YouTube channel and start creating and uploading your videos. And if you already have an active channel with a loyal following, you might be wondering how you can leverage your channel and learn how to get paid with YouTube. With that in mind, here's everything you need to know about sponsored video content and how you can get your first sponsor:
Simply put, YouTube sponsorships refer to a partnership and collaboration between a brand or agency and a YouTube creator. It's a win-win situation; YouTubers get paid for promoting the brand's products or services and the brand gains more visibility and exposure having sponsored it.
Though brands and agencies spend millions of dollars on video marketing through sponsorships, getting sponsorship for a small channel might sometimes seem like a very difficult goal. However, it's not uncommon for small YouTube channels to get huge sponsorships on the platform. Anyone with an engaged audience, great content, and a consistent posting schedule can score a sponsored deal.
Sponsorships are a lucrative way to earn money on YouTube. In fact, it's the main source of income for many YouTubers today. And it can be for you too, even if you're just getting started.


Cultivating a Brand
A curated brand persona is crucial to getting YouTube sponsorship. The first thing brands look for before they can collaborate with YouTube creators is compatibility. No sponsor is willing to invest their funds in someone whose branding doesn't align with theirs. That means you have to establish your brand persona and find your voice as a creator before you start looking for potential sponsorship deals.
Here are some questions to help you establish your brand persona:
Who exactly are you?
Who is your target audience?
What are your core values?
What is the unique style and personality of your brand?
What are you trying to sell?
How is your content different from creators who offer similar content?
Answering these questions will help brands understand whether their core values align with yours. Paint a clear picture of who you are and what your persona is as a brand. This will make it easier for both you and brands to determine whether you can work together.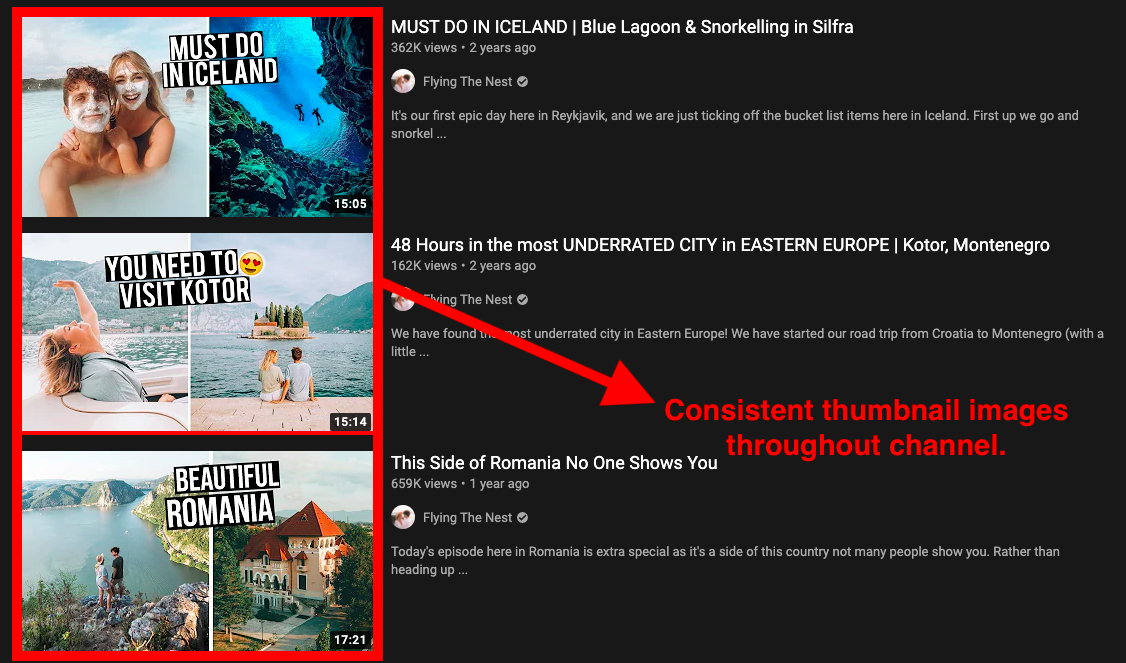 Your branding should include quick video intros and consistent video image thumbnails throughout. Maintaining a consistent brand image helps your channel look more organized and professional, and also helps ensure you stay recognizable.
Create Quality Content
Another important aspect of getting brands to sponsor your content on YouTube is to create and upload quality content to your channel. Brands are looking to invest in sponsored videos to promote their products and gain more exposure. But they won't invest in channels with low-quality content that does little to reflect the quality of their own products and services. Therefore, it's important that you take time to audit the quality of your video content before reaching out to brands for sponsorship or listing your channel on a YouTube influencer program.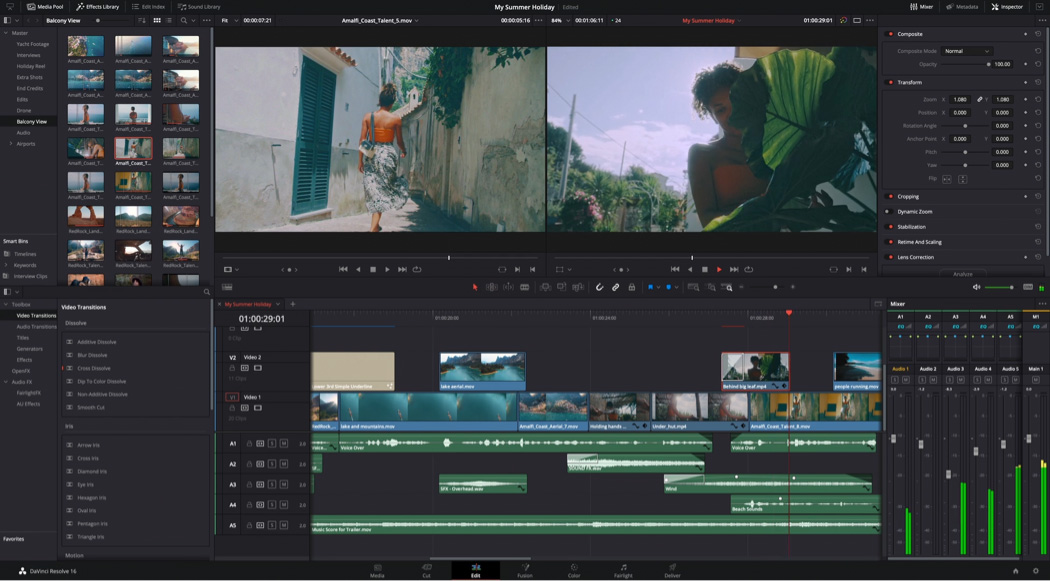 If you want to create better YouTube content, there are two areas you want to invest in: quality equipment and quality editing. You may not be able to invest in a high-end Canon camera, but if you do your research, you'll find that there are many high-end, low-cost alternatives. On the same token, you can shoot quality YouTube videos on your smartphone with some useful accessories and solid editing. If you don't want to handle editing yourself, outsource your editing to a budget-friendly freelancer.
Consistent Video Content
To get brands to sponsor your videos, you need to not only have quality content but also a great portfolio of videos on your channel. Make sure you have a decent number of videos uploaded so that brands can get a clear picture of what your YouTube channel is all about, how your viewers interact and engage with your content, and how you may have evolved over time.
Create a video content calendar and stick to your schedule. You'll notice that your favorite YouTube vloggers post once or twice per week consistently; this is because not only does it help grow their SEO value on the YouTube platform itself increase channel awareness, but it looks good to potential sponsors.
Assess Your Audience
A sponsor will only work with you if they believe your content will appeal their target market. Before you start a YouTube channel, you have to know your audience. Brands will want to know if you have a similar target audience or rather if your content can appeal to their audience. A roofing company would want to work with a baker on a YouTube sponsorship deal as they are likely to have different audiences.
But this where things can get a little tricky. As you examine your audience, you have to evaluate your audience segments. Audience segmentation is the process of dividing a larger audience into smaller groups of people. For example, consider the energy drink RedBull. RedBull's marketing strategy doesn't revolve around targeting consumers who like caffeine—instead, they target adrenaline junkies and other nontraditional markets.
Another example is Surfshark, a VPN service. Their target market isn't just individuals who care about securely browsing the Web—they also target travelers who want easy access to content from their home country.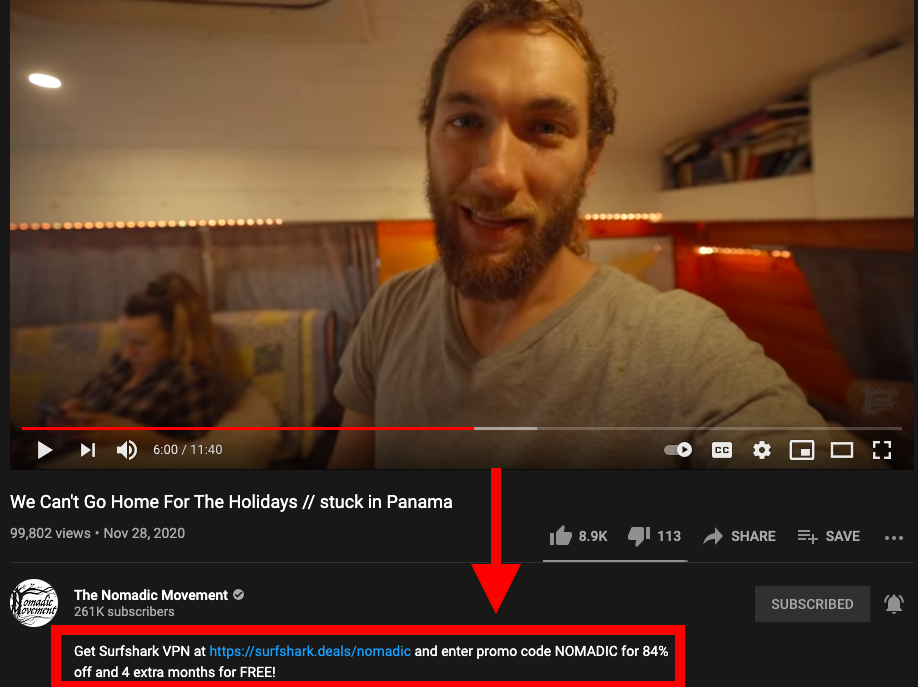 Content Reach
It's not enough to just upload a couple of videos on your channel and wait for brands to start reaching out. Brands and businesses typically leverage sponsored video content with high-reach YouTube channels. As such, you need to make sure your channel has a decent number of engaged subscribers.
While there's no exact number of subscribers YouTube creators need to have before they can get sponsorship, you can probably start earning money with a couple of thousand subscribers on your channel.
Sponsors may also consider the number of views on your videos and your engagement rate. Build a community of engaged subscribers if you want to have sponsored video success. There is no magic number of subscribers necessary to score sponsored deals. Some brands and agencies work with YouTubers who have a few thousand subscribers, while some channels have over 100,000 subscribers and don't have any sponsored deals.
Once you feel comfortable with your channel content and growth, you can start connecting with sponsors and gaining real-world experience in how to get paid with YouTube. If you're just getting started, finding paying sponsors can be a bit confusing, but the fact is, it's much easier than you might think.
The first thing you want to do is get signed up on the Scalefluence platform. Scalefluence works with hundreds of brands and agencies who are looking for YouTubers of all sizes and audience segments. Sign up for free and you'll appear in relevant influencer searches.
For example, let's say you run a budget cuisine channel. A low-cost meal kit company would use the Scalefluence platform to search for YouTubers in the cooking niche and discover your channel. They'll be able to glance through your profile and pricing and can request sponsored content through the platform. You have total control over whether you'd like to accept or decline the post. And just like that, you'd figured out how to get paid on YouTube with just a simple profile setup.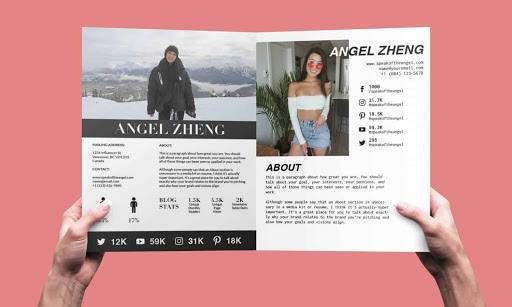 There are also plenty of other influencer marketing platforms to choose from. Search for influencer marketing tools on Google and be sure to do your due diligence; look for platforms that allow you to set your own price, hold funds in escrow, and have versatile profile making options.
Alternatively, you can reach out to brands you resonate with directly. After you locate the appropriate contact, send them your media kit explaining why you'd be a great channel to sponsor. It helps to offer a few ideas for how you'll create content that appeals to their audience.