There is no denying that competition is fierce across every industry. From tech to real estate, getting the attention of potential customers can be challenging, regardless of how innovative your solution is.
This has led many businesses searching for new strategies. One of the most powerful business strategies to date is influencer marketing.
And the greatest influence can be found on social media.
Facebook, YouTube, and Instagram are among the top social media networks for influencer marketing. But among those social channels, one is leading the way. Instagram.
Instagram influencers and Instagram micro-influencers have the loyal following that businesses need. Sure, your business can use a chunk of the marketing budget to build your Instagram business page. You may even build a decent following.
However, what is the return on investment (ROI)?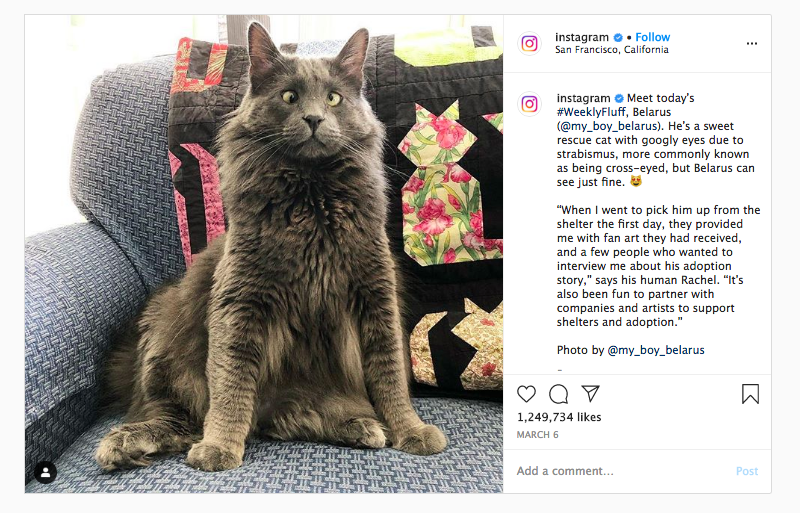 To maximize ROI and net qualified leads for your business, it is best to tap into an audience already interested in your type of business, your products and/or services, and your brand message.
How can you achieve this? Partnering with Instagram influencers that already have the social audience you want and need to outpace your competitors.
The only obstacle is finding the right Instagram influencers for your business.
Not to worry. We called upon our team of influencer marketing pros to develop the ultimate how to find Instagram influencers guide. Here are our top tested business strategies to find influencers on Instagram that actually work.
Let's get to it!
1. To get a competitive edge, begin by looking at the Instagram influencers your competitors use
One of the easiest, and potentially most ROI positive ways to find Instagram influencers is to take a look at your competitors. This is an especially good business strategy if you are just beginning your influencer marketing efforts for the first time.
Why? Well, your competitors have most likely already done their due diligence in order to identify key Instagram influencers in the industry. And if they have had a few influencer marketing campaigns, they have most likely already tweaked their strategies to maximize ROI.
So where do you start? To find Instagram influencers your competitors are using, you will need to stalk competitors a bit online.
Let's say you run a fast growing ecommerce fashion site in the Millennial and Gen-Z space and one of your competitors is Princess Polly Boutique. To find their Instagram influencers, visit their page . . .

Next, scroll down and find a fashion influencer via one of their posts. You will have to select a few to find an influencer post that you can dig deeper on.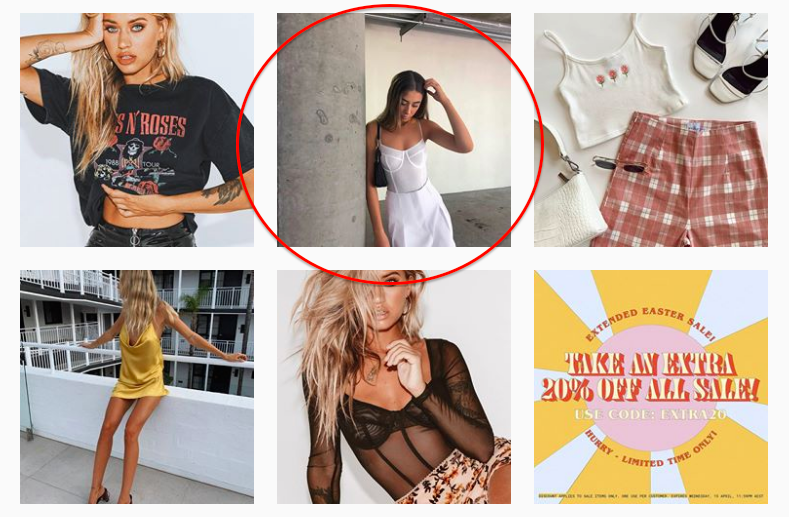 For example, Princess Polly posted that @emmasevilles is wearing one of their items . . .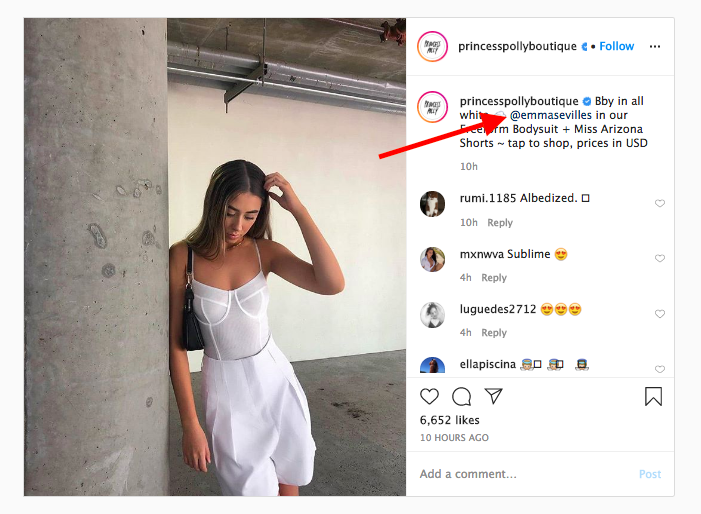 You'll then go to the influencers Instagram page and find the same post to ensure she is indeed influencing and not modeling for the company . . .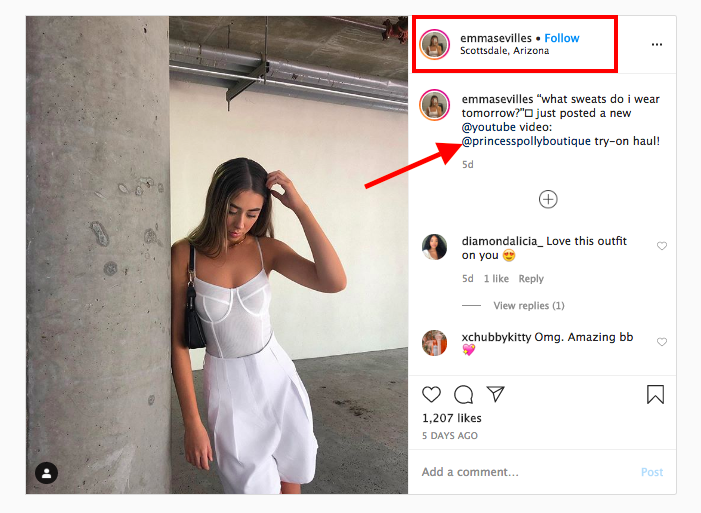 After you identify the influencer, you can add him or her to your list. Reaching out to an Instagram influencer can be challenging, so you should have a good offering to entice him or her to influence for your business.
Not all Instagram influencers are created equal, so check to see if your competitors are doing it right
This is a very important part of finding Instagram influencers, because you need to be sure that your competitors are doing influencer marketing right. Some businesses will simply hire an influencer and forget to track ROI.
To be sure you are connecting with influencers that will be ROI positive, you need to check engagement.
Engagement is a great measure, because the more engaged the audience is with a post, the more likely the audience made purchases. For example, the influencer marketing post for Princess Polly via @emmasevilles had decent engagement . . .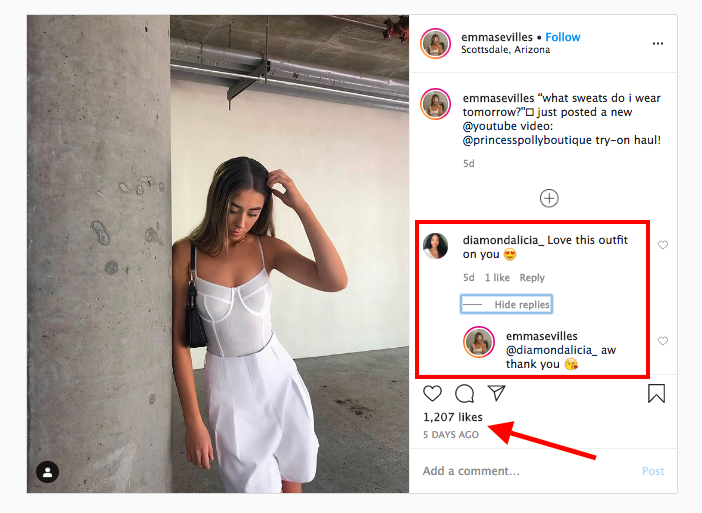 There were 12 comments, over 1,200 likes, and a number of replies to comments from the Instagram influencer in just five days.
This engagement is a good indicator that this Instagram influencer's 11,000 plus following is engaged, loyal, and great potential customers for your business.
2. Find top Instagram influencers in your industry by asking Google
Knowing how to find Instagram influencers for your business doesn't need to be a complicated endeavor. In fact, the process can be simplified. One tested business strategy to find influencers that works involves Google.
What does Google know about Instagram influencers?
Google pretty much knows everything about everything. This makes asking Google about the top Instagram influencers in your industry a must-do. How? Start with a Google search.
It is, however, important to get your Google search query right. For example, you can't just Google "Instagram influencers" to find what you're looking for.
As you can see above, this will return a ton of search results and only result in a basic definition of Instagram influencers. To not waste your time and money, get specific.
Let's say your industry is fitness. You can begin your search with "top Instagram fitness influencers."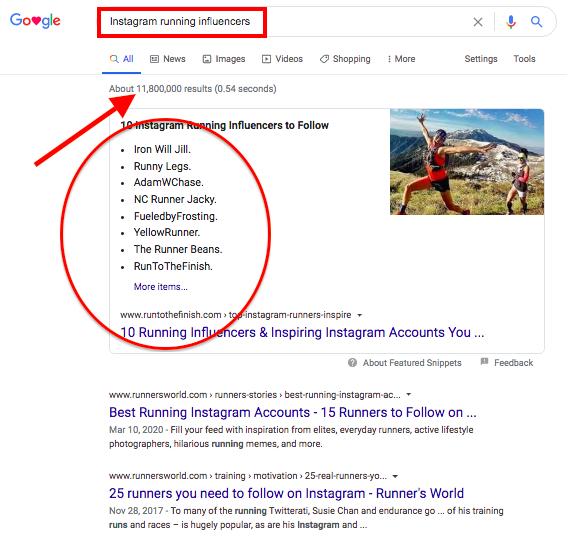 Boom! Now you have a number of running influencers to reach out to in the coming months. If you want to capitalize on the power of Instagram micro-influencers, you would simply add that to your Google search query.
3. Hashtags are an excellent way to find Instagram influencers for your business
This is another tested business strategy that works when it comes to finding Instagram influencers. Since hashtags are prvelent on every Instagram post, you can reverse engineer the hashtag to find influencers for your business.
Using hashtags to find influencers is also fairly easy. First, think of and list all the hashtags that relate to your industry. Let's say you have a tech product geared toward runners.
The obvious hashtag would be #running, so you would do a hashtag search in the Instagram search bar.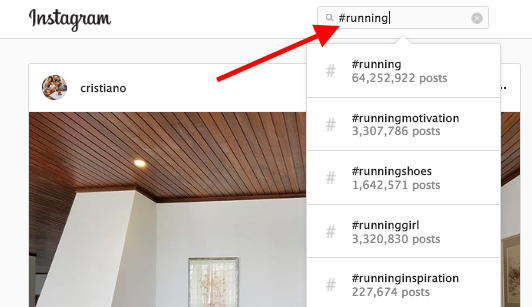 Click #running and you'll get a number of potential influencers . . .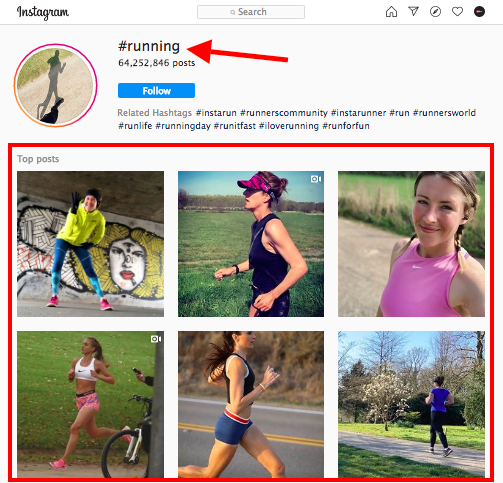 From this point your research begins. Start selecting posts and check the following:
Number of posts by the influencer
Follower count
Average likes per post
Number of comments per post
For example, @kellogs_ontherun from the #running search . . .

You see that this potential influencer is a runner and has nearly 40,000 Instagram followers. She also nets decent engagement per post.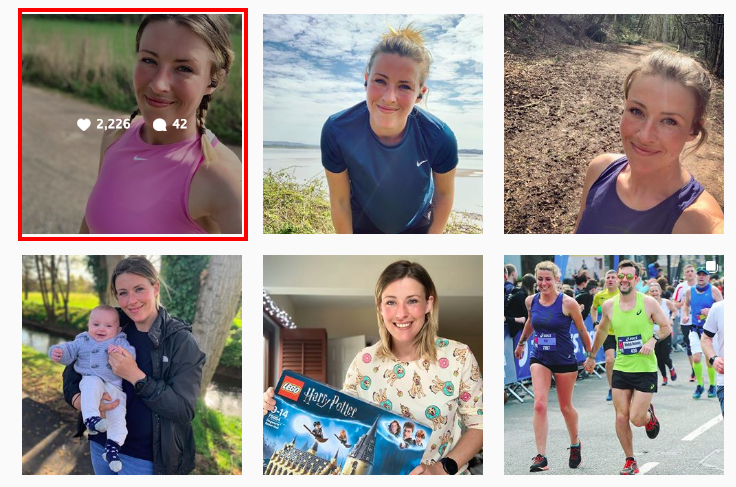 Using hashtags to find Instagram influencers is certainly valuable. And you can easily find those diamonds in the rough in the way of micro-influencers for your business.
4. Team up with a reputable influencer marketing platform to find the best influencer fit
There are several tested business strategies you can employ to find Instagram influencers. From asking Google to digging into your competitors' influencer marketing campaigns, the strategies vary.
One of the easiest strategies to find influencers, however, is to simply team up with the pros.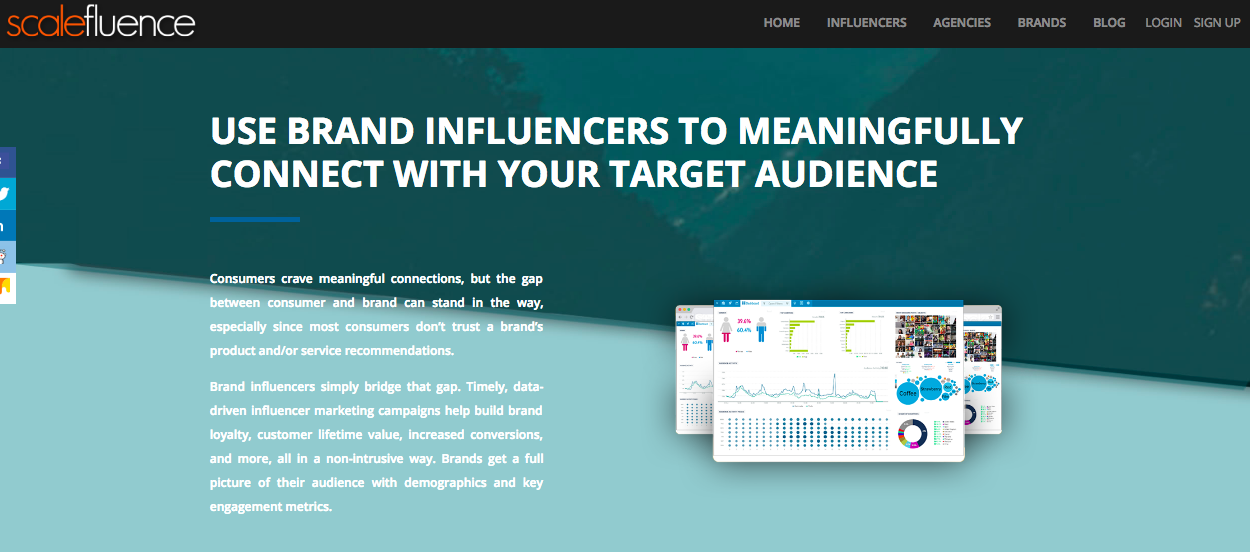 Influencer marketing platforms like Scalefluence have Instagram influencers ready to collaborate with your business. For instance, Scalefluence's network of influencers spans across all industries and niches.
One of the biggest benefits of working with an influencer marketing platform is the ROI positive outcome. Influencers have already been qualified based on his or her influence on Instagram. This means powerful engagement.
Using data-driven analytics, Scalefluence will match your business with influencers that will drive the most results for your business. We simply serve up the best influencer marketing ROI for brands and agencies, in any industry.
Is your business' influencer efforts ROI positive?
The above tested business strategies to help you find Instagram influencers are among the best. Influencer marketing is not a trend. It is a powerful business strategy that should be implemented into the overall marketing plan.
But there is a difference between implementing an influencer marketing and achieving ROI positive influencer marketing results. Finding the right influencer for your business is part of making your efforts profitable. Let social influence give your company the competitive edge it needs.