Knowing how to get paid on YouTube is more than just knowing how to get paid with a YouTube channel. There are a number of steps to implement to create a strong revenue stream via your influence. YouTube influencers definitely have the ability to make money, but relying on ads alone as a YouTube partner won't cut it.
You also need to understand how to get paid for YouTube views, build a sponsored post money making machine, and leverage affiliate marketing links, among other YouTube monetization strategies.
Do you want to get paid for your influence? If you have a YouTube channel, you just stumbled on the right article to turn that influence into serious cash. Let's get right to it with our expert strategy for how to get paid on YouTube in 6 months.
Month 1: Net More Subscribers & Get More Views Per Video
We are going to skip the "set up" part and assume you already have a YouTube channel with some subscribers and video content. If you are starting from scratch, you can check out this video from the YouTube team:
So you want to make money on YouTube and learn how to get paid for YouTube views. To get moving in the right direction, your entire focus for the first month will be on growing your subscriber count and getting more views per video.
Why do you need to do this for a month? Well, the amount of subscribers, views, and engagement level of your audience will dictate just how much you can make as a YouTube influencer, and how easy your journey will be.
Let's be honest, it takes a ton of time to plan a video, shoot it, edit the video content, and post it. Why not get the most from each hard-earned video?
Here's the plan:
Niche down with audience personas. Do you know who is watching your videos? Audience personas can help you define your audience and create content more will view. Audience personas cover demographics like age, gender, education, location, and more. You also want to really find an audience's deep interests and the questions they seek answers for on YouTube. All this information can be found in your YouTube Studio analytics.
Create actionable content consistently. This is a two part strategy that can increase subscriber count, views, and engagement. When you have audience personas ready to go, you need to create very actionable content that viewers can draw from, learn, and share.
Focus on keywords to boost video rankings. The title and description of each video is critical to your success as a YouTube influencer. You might have some pretty amazing video content, but if no one can find your videos, your channel will become stagnant. Use keyword tools, like Google Keyword Planner to find the best keywords to put in video titles and descriptions.


Here is a great example of exceptional keyword use from YouTube fashion and lifestyle influencer Stephanie Jakubek:
This influencer uses a few keywords in her video title, such as "$10 Bikinis":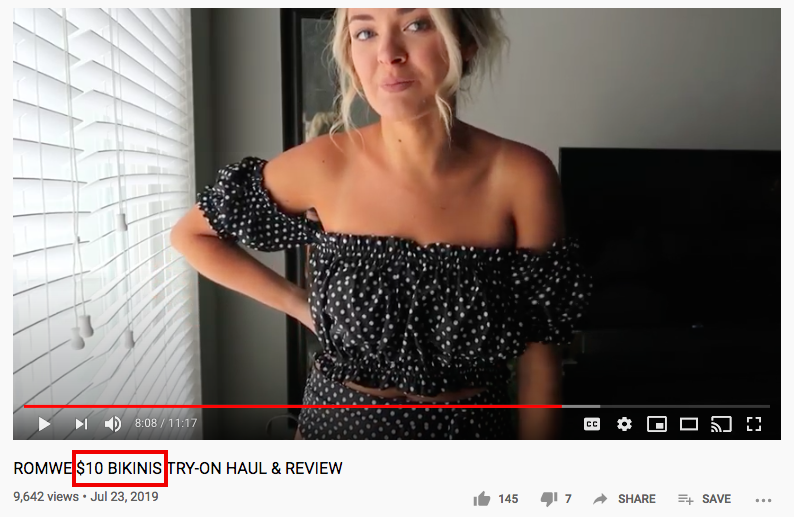 If you Google search "$10 Bikinis" guess what comes up on page one Google in the videos section?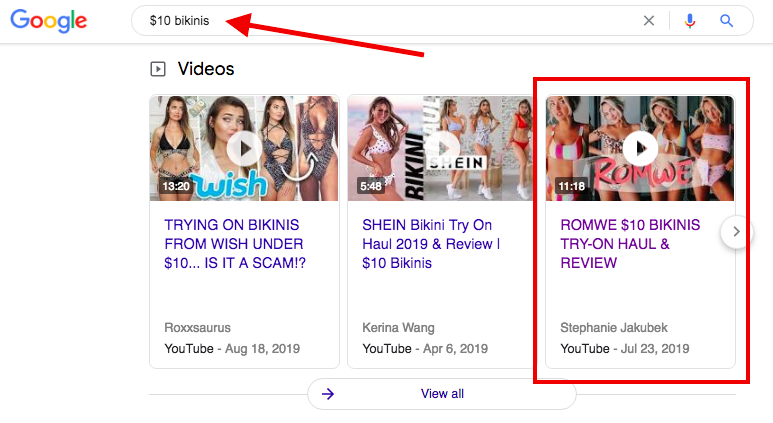 That is how important utilizing keywords is to grow your YouTube channel and get paid for your influence.
Month 2: Become An Amazon Influencer For 10 Percent Commissions
Amazon is the third largest search engine on the planet with a ton of products you can recommend to your subscribers to get paid for your YouTube influence. And the commissions are pretty good, ranging from 8 to 10 percent.
However, becoming an Amazon influencer is not easy. You need to show Amazon that you have the influence to get approved. Subscriber count, views per video, and engagement rate are all key metrics Amazon will look at before approving your channel.
This is why netting more subscribers and growing your views per video, as outlined in the first month's plan is so essential. The first step in becoming an Amazon influencer is to get approved.
Once approved, you can start placing Amazon products in your videos, whether it is in review videos or top rated products videos. This is done via a unique link to you as an Amazon influencer. It looks like this:

And when a viewer clicks on the link, it will have the influencer's unique URL, thus ensuring he or she gets the commission on the sale: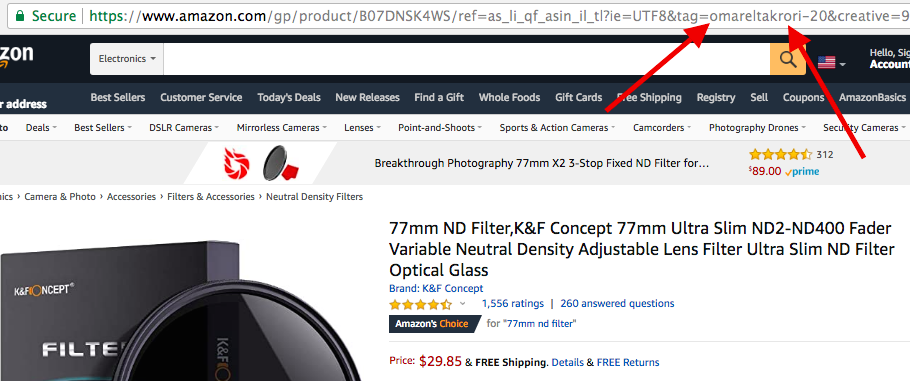 This is one of the easiest ways for how to make money on YouTube. Focus on this for the entire second month. Just be sure to keep your video content true to your niche and audience personas. No spammy "buy this now" stuff.
Month 3: Leverage Affiliate Marketing Links For Top Brand Payouts
Like Amazon influencer links, affiliate links work the same way, only they come directly from brands. What is affiliate marketing exactly? Great question. Affiliate marketing is when you are an approved affiliate with a brand and earn a percentage from each sale. Just like in the Amazon influencer example.
Only this month, you will be building up your brand sales in order to begin pitching brands you want to work with in the fourth month of how to make money on YouTube in 6 months.
Here's the plan:
Sign up to an affiliate marketing network. There are a few affiliate marketing networks you can choose from. Rakuten and Commission Junction are among the best. There is an approval process, so be sure to have all your analytics ready to share.
Choos brands to be an affiliate of. Once approved by the affiliate marketing network, you will need to request approval from the brands you want to work with. But it is easy, you simply tap a "request" button and wait. You can be an affiliate of major global brands like Nike, Macy's, Dell, and more depending on your niche.
Get affiliate links and place them within videos and video descriptions. After you are approved as an affiliate for brands, you can begin pulling links and placing them strategically in videos and in your video descriptions. When a viewer clicks on the link and buys the product, you get a percentage of the sale.
Here's how YouTube beauty influencer Mallory Brooke uses affiliate links via Sephora:
Places link in the video description:

And the unique affiliate link for this influencer: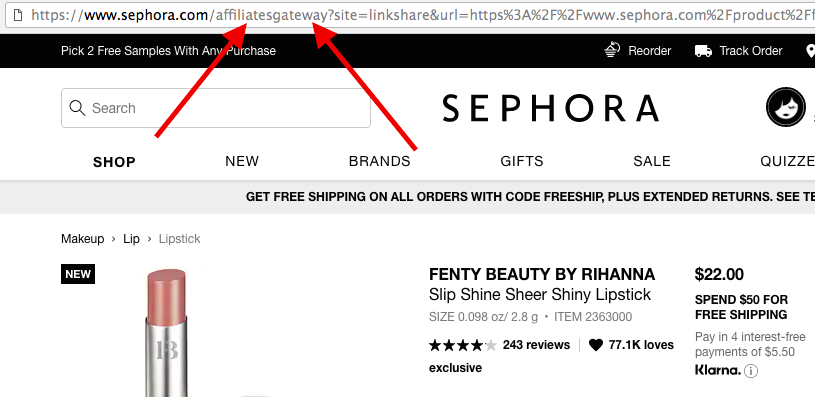 The percentages are not always that great in the affiliate marketing space. They can be as low as 1 percent to 3 percent. But this month is not about getting the big deals, it is about building your YouTube influencer resume to pitch those brands for sponsored post opportunities.
Month 4: Connect With Brands To Net Lucrative Sponsored Posts
Last month you became an affiliate marketer for a number of brands in your niche. You probably had some sales from these video posts, so now it is time to put those sales numbers to work for an even bigger payout.
In the fourth month of how to get paid on YouTube strategy, you will focus on connecting with those affiliate marketing brands to net lucrative sponsored posts. This is where YouTube influencer revenue gets next level digits.
For example, let's say you are a fashion YouTube micro-influencer with 8,000 subscribers, 3k views per video, and a strong engagement rate. These are pretty compelling stats for brands looking for fashion influencers like you.
But what can you really offer top brands like H&M or Ralph Lauren? They definitely don't need more brand awareness.
Well since you were an affiliate marketer for those brands and made sales via affiliate links, you have real-time sales data. This makes the choice to choose you as one of their influencers for sponsored posts much easier.
Month 5: Create Your Own Personal Brand Merchandise To Increase Cash Flow
For the past few months you have been promoting other brands, growing your subscriber count, netting more views per video, and making money on YouTube as an influencer.
Ready to take your YouTube earning potential further?
It is time to set up your personal brand and use your influence for yourself. Starting a personal brand is easy, because you already have one, since you are an influencer. The only thing missing is the brand merchandise.
Personal branded merchandise can bring in a ton of cash. From shirts and yoga pants to fitness and health supplements, merchandise is all about making money and building brand awareness.
Ever hear of Ryan's World?

This kid turned his YouTube toy review channel into a personal brand empire. Ryan has toy merchandise in Walmart and Target stores across the globe.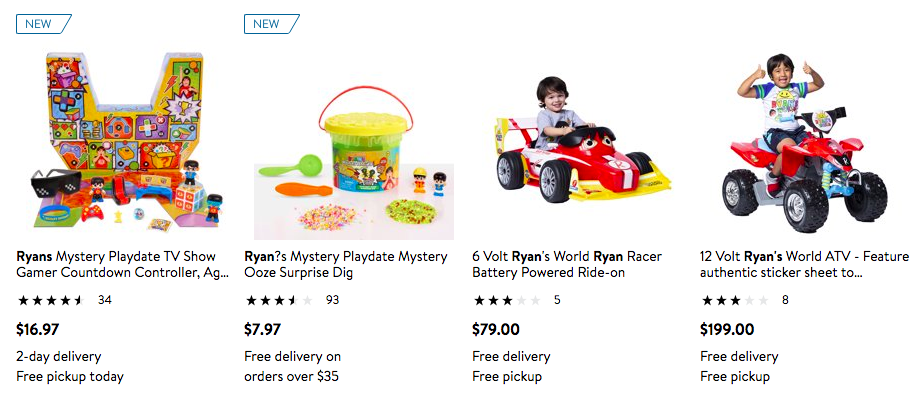 How do you make money on your personal brand via merchandise? By selling it direct to your subscribers on YouTube, and also setting up an ecommerce store for subscribers and video viewers to visit and buy your swag.
Here's what YouTube selling looks like via social media influencer Sarahs Day:

Create your own personal brand and get your merchandise out there. This can have big time profit potential when marketed right. You already have a loyal following, so sell them you.
Month 6: Partner With An Influencer Marketing Platform To Amplify YouTube Revenue
This is what you have been working towards the last 5 months. You have a substantial amount of subscribers. Your videos are getting great views and engagements. And your earnings on YouTube have been better than ever.
What's next?
It is time to partner with an influencer marketing platform that can help you amplify your YouTube revenue as an influencer. With so many good things happening for you, it will be much easier for an influencer marketing platform, like Scalefluence, to market you to their network of brands and agencies.
Scalefluence influencers get several benefits that other influencer platforms can't compete with.
With top brands in our network, spanning multiple industries and/or niches, influencers like you can earn more via sponsored posts, influencer takeovers, and collaborations with other top influencers in your niche.
YouTube stars team up with our team of expert influencer marketers who know how to make money with a YouTube channel. And you keep your personal brand intact with creative control.
Do You Know How To Get Paid On YouTube?
The above how to make money on YouTube in 6 months strategy can unlock your ability to influence and get paid. Don't let your YouTube channel stagnate, create more content and maximize your influencer earnings today. Signing up with Scalefluence is easy. What's your 6 month influencer plan?