Is it time you learn how to get paid on YouTube? If you are a budding YouTube star, or have a decent number of subscribers, why no start getting paid for your creativity. People spend countless hours on YouTube watching videos and catching up with their favorite video influencers.
Start making money from YouTube viewers!
However, becoming a professional YouTuber and making money on the top video platform is not as easy as it may seem. You will definitely need to hustle, be highly motivated, consistent, and creative.
To understand how to get paid on YouTube and how to make money with a YouTube channel, you need to have a few money making skills in your influencer arsenal. For instance, you should certainly know how to make money from advertisements, as well as how to optimize your YouTube channel to attract top brands.
If you want to make fast cash, becoming a YouTube influencer may not be right for you. It does take a bit of time and effort to grow your YouTube channel into a money making machine. Ready to learn more about how to make money with a YouTube channel?
The following how to get paid on YouTube tips for budding YouTube Stars may prove useful. Let's dive in!
4 How to get paid on YouTube tips!
1. Know how to get paid for YouTube views via video advertisements
Knowing more about how to get paid for YouTube views is all about setting up ads on your videos. Ads may not generate massive income for influencers, but it is a definite start to making money via YouTube video views.
Ads come in a few different forms. They can be pre-roll ads like this one: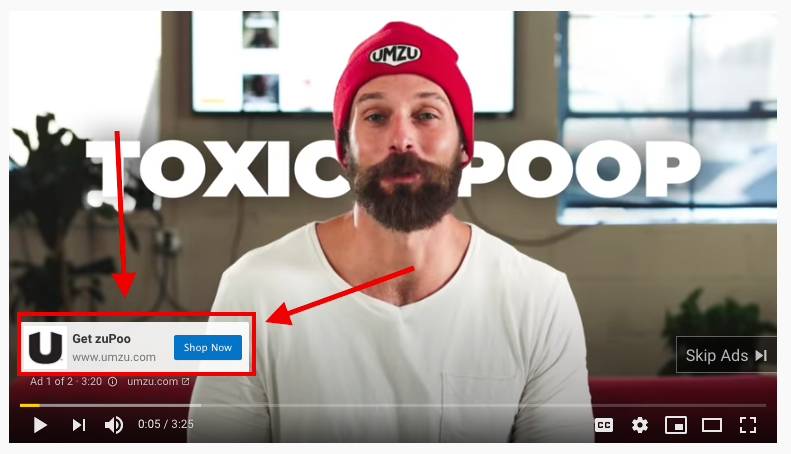 Or the ads can be rolled during videos. This often comes with a "skip ad" option that many viewers will use in order to get back to your content.
Either way, video ads are a good, consistent way to make money when it comes to how to make money with a YouTube channel. How do you get ads rolling before and during your videos?
It starts with the YouTube Partner Program.


To make money via ads on YouTube, and to take advantage of other great Partner Program benefits, you need to get approved as a YouTube partner. Once you get approval, you can start monetizing your channel.
There are, however, guidelines your channel and videos will need to meet. These guidelines include:
Be 18 years or older
Be located in an eligible location
Have more than 1,000 subscribers
Have more than 4,000 organic watch time
Sign up for Google AdSense
To meet these guidelines, you may need to step up the amount of video content you are publishing each month. When you do get approved as a YouTube partner, the gates open up to other benefits, like memberships, merchandise, and YouTube Premium.
Let's explore a little bit more into the YouTube Partner Program and how to set up Google AdSense and more on YouTube Premium.
2. Setting up Google AdSense is essential to making money
In order to get Partner Program approval, you need to set up and connect a Google AdSense account. This is the YouTube/Google ad platform/system. Advertisers will utilize AdSense to bid on online space based on aspects relating to audience, topic, and keywords used.
The amount paid per ad/keyword differs, but the way payment is done, impressions are used. When a user clicks on an ad that is played before or during your video, it counts as an impression.
The more impressions, the more you get paid. Most YouTubers get paid around $3 to $4 per CPM (1,000 views/impressions). On a video. So if you have 30,000 impressions per video on ads, you can generate up to $120 per video on ad revenue.
That is not too bad when it comes to how to get paid on YouTube utilizing the partner program and advertisements. The only downside is that YouTube/Google will take a 40 percent cut of your ad money. So be aware of that.
Here's more about Google AdSense for further research:
3. Leverage affiliate links via affiliate marketing platforms
Another how to get paid on YouTube tip for budding YouTube stars is affiliate marketing and affiliate links. Video influencers, like Instagram influencers and Facebook influencers, can use affiliate links to make serious cash.
How does affiliate marketing work for YouTubers?
First, you will need to sign up and get approval on one or more affiliate marketing platforms. These affiliate marketing platforms include Rakuten, CJ.com, Impact, FlexOffers, Amazon Associates, Walmart affiliate program, and others.
Once approved, you can then get access to top brands and their products and/or services. For instance, if you are a tech-minded YouTuber, you may be able to recommend tech products, as well as tech products via affiliate links.
Once you have a few affiliate links from top brands in your niche ready to go, you simply start making videos and posting the links in the description section of your videos. When a viewer clicks the link, they are then taken to the product and/or service page to make a purchase.
Most affiliate marketing influencers get paid 3-10 percent of the product and/or service sale price. For instance, if 1,000 viewers bought a $20 product voa your unique affiliate link, you could generate up to $1,000. That is just for one product recommendation on a single video.
Affiliate marketing and affiliate links are definitely profitable for YouTubers. If you want to know how to make money with a YouTube channel, you certainly need to look into affiliate marketing.
4. Paid brand sponsorships are top how to get paid on YouTube tip
Last, but certainly not least, we have the top how to get paid on YouTube tip — make money via paid brand sponsorships. When a company wants to leverage influencer marketing to promote their brand, products, and/or services, they will begin to research influencers.
YouTube is a must for companies that want to leverage influencer marketing these days, because they know that consumers want more video content. Rather than the standard Instagram image post.
And videos have higher engagement rates than image posts. In fact, over 80 percent of marketers agreed that video:
Is used in their marketing strategies
Generates much better ROI
Increases website traffic
Boosts leads generated via campaigns
Those are pretty convincing stats. But how do you land those profitable paid brand sponsorships as a YouTuber? The best way is to partner with a reputable influencer marketing platform like Scalefluence.
Scalefluence has a large network of brands and marketing agencies looking for social media influencers like you. And our influencer marketing experts know how to get influencers top dollar for their creative efforts, especially when it comes to video content.
Wrapping Up . . .
The above how to get paid on YouTube tips for budding YouTube stars are just the tip of the iceberg. There are definitely a ton more ways to get paid via YouTube influence. The above, however, are the most important and most profitable.
Is it time to take your influence to the next level? Sign up to Scalefluence today and maximize your YouTube earning potential.