If you are a social media influencer, you understand the importance of how to make money on YouTube. The second largest search engine in the world is all about video content, and by harnessing the profitable power of videos, you can make some serious cash. Did you know that YouTubers can generate up to $3,800?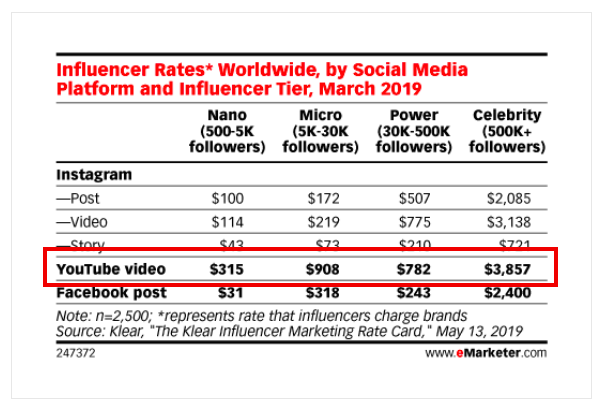 Even if you are not a YouTube influencer celebrity, you can still get paid $300 to $800 per video post. Rinse and repeat $300 a few times a month and you can make serious revenue.
Views, subscribers, watch time, and more are all factors for rising YouTube stars like you. The two major aspects of making cash money via YouTube are how to make money with a YouTube channel, and how to get paid for YouTube views.
By mastering these two specific aspects, you can take your influence, and profits, to the next level. Amp up views, build up your affiliate links, and land those sponsored posts from top brands.
Is it profitable to be a YouTube influencer? Absolutely. Can you do it overnight? Not a chance. It takes determination, motivation, consistency, and creativity. It is time to learn how to make money on YouTube as an influencer.
Let's jump right in!
Understand how to get paid for YouTube views via YouTube Partner Program ad money
If you want to know how to get paid for YouTube views, ad money and the YouTube Partner Program should be your first step. This is a great how to make money on YouTube tip every influencer should employ.
But first, it is important to know more about Cost Per Mile (CPM). CPM is the money you can generate for ads on your videos. It is the amount you get paid per every 1,000 views. More views equals more money on ad revenue.
Here's a pre-roll YouTube ad example . . .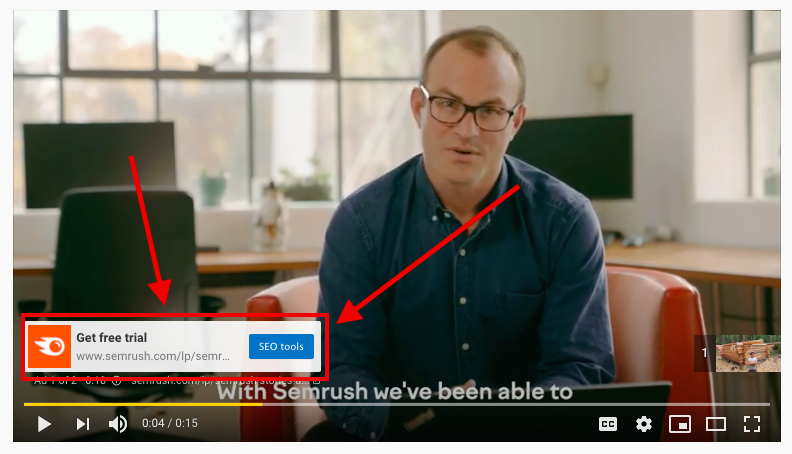 For instance, if you have $4 per CPM (1,000 views), and you net 30,000 views in a video, your ad revenue will be $120. That is not bad for a single video. And that is just the beginning of the money you can make.
There are affiliate links, branded merchandise, and paid sponsorships to leverage for influencer cash money.
However, it is important to know that YouTube (Google) takes a large cut of the profits from ad money earned from an influencer. If you earn $120 in ad money, you will only get paid around $70.
YouTube, i.e. Google, takes the rest.
You do need to have a YouTube channel that meets a few guidelines in order to be approved as a YouTube partner. These include:
Have a channel with over 1,000 subscribers
Have more than 4,000 hours of organic watch time
Be an ad-friendly channel
Be 18 years of age and be in a participating location
Have a Google AdSense account
Ads and being a YouTube partner opens up doors to other money making routes as a social media influencer on YouTube. Super Chat, Premium, and our next how to make money on YouTube tip — branded merchandise are all benefits of being an approved YouTube partner.
Selling your own branded merchandise is a how to make money on YouTube must
Having a good amount of influence can generate serious revenue on YouTube when it comes to selling your own branded merchandise.
Knowing how to make money with a YouTube channel is all about leveraging your personal brand as a social media influencer. This goes for YouTube, Instagram, Facebook, and TikTok.
There is actually a ton of cash to be made when selling your own merchandise. How is this possible? People follow you and see you as somewhat of a celebrity in a way. This makes your personal brand valuable. Thus the money making potential.
This is what selling merchandise on a YouTube channel looks like . . .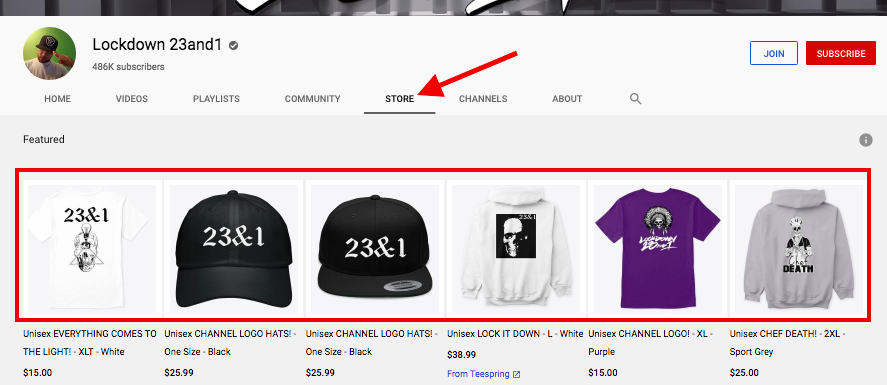 If you have very loyal subscribers that want more of your content every week, they will be more than willing to wear your street swag. This could be hats, t-shirts, or products that relate to your niche, such as yoga mats, protein bars, and more.
Creating your own branded swag is actually pretty easy. Design what fits you as a social media influencer with influence over the masses, and make it meaningful for your target audience too. Do not sell off branded swag, because the profits may not be there.
Leverage affiliate marketing & affiliate links to make money on YouTube
Leveraging affiliate marketing and affiliate links as a YouTuber can be very profitable. If you have yet to make your affiliate marketing revenue strategy, the time is now to get started. You are simply leaving way too much money on the table.
Did you know that one of the top ways to make money on YouTube is via affiliate marketing and affiliate links? That's right. But what does this look like for social media influencers that create video content?
Example types of content that YouTubers can leverage affiliate links through include reviews, how-to videos, and style guides, depending on your niche. And what your target audience wants to watch more of.
For instance, 10 percent of 10,000 viewers that purchase a $30 product via an affiliate link can add up very fast. That would be $30,000 in product sales for the brand, and between $900 (3 percent commission) and $1,500 (5 percent commission) of cash for the influencer.
That is what makes affiliate marketing and affiliate links great for earning big time money! You can start by becoming an approved affiliate for Rakuten affiliate program, CJ.com affiliate program, Amazon affiliates, Walmart affiliate program, among other affiliate marketing platforms you can find online.
Do not wait to grow your monthly influencer revenue with affiliate marketing and affiliate links. Get moving in this direction as soon as possible.
Maximize your earning influencer profits via paid brand sponsorships
The number one way to make money as a YouTuber is via paid brand sponsorships. This is no secret! However, it is more difficult to do this than one would think. Like affiliate marketing, influencers on YouTube can get serious cash money by promoting products and/or services from brands.
Influencer paid brand sponsorships in the video description section of a video looks like this . . .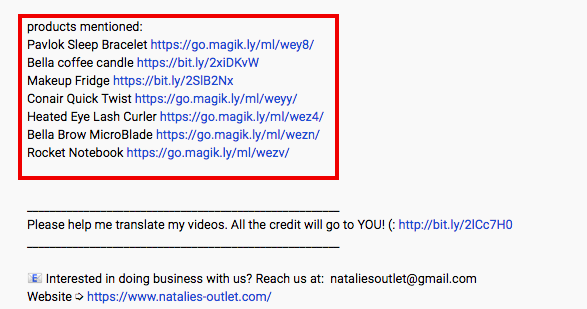 If you want to know how to make money on YouTube and how to make money with a YouTube channel, paid sponsorships via brands is the way to go.
How do you connect with brands and land those lucrative sponsored post opportunities?
One way is to reach out and connect with brands on your own. But this can be seriously challenging. Gate keepers at large companies, and simply finding the ones calling the shots in influencer marketing can prove very difficult to find as well.
One way to get around doing the legwork yourself and maximize your earning potential as a YouTuber is to partner with an influencer marketing platform. The good news is that Scalefluence is a premiere influencer marketing platform that makes influencers cash.
Scalefluence influencers can expect:
Quick and reliable payments on sponsored content
Maximum value for your creativity
Control over creativity, never sacrificing your personal brand
YouTube and other influencer collaborations
Access to a large network of brands and agencies looking for influencers
Want to take your influence to the next level and start earning more as a YouTuber? It is time to turn it up! Sign up with Scalefluence today and unlock your influence.