How do YouTubers get paid? They make high-quality video content that nets a ton of engagement. But simply posting videos on YouTube as an influencer won't generate the revenue you have your mind set on.
Understanding how to make money on YouTube means developing a number of skills. Skills that increase the online visibility of your videos, thus increasing profits per video. The most important skills to hone are all about optimization.
YouTube SEO strategies, like keyword rich video files, or utilizing end screens, can make a big time impact when it comes to growing subscribers and views. And YouTube is the place to make serious money as a social media influencer.
Did you know that YouTube influencers with as little as 500 subscribers can make up to $315 per video? Knowing how to make money on YouTube with over 500k subscribers can net you nearly $4,000 per video post.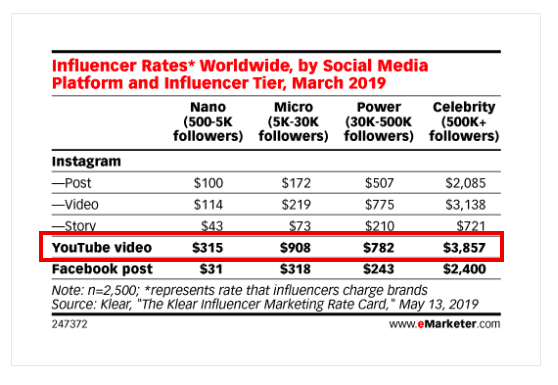 That is more money per post than Instagram or Facebook. Not bad cash flow for a YouTuber.
There are a ton of ways to get paid for YouTube videos. But having the ability to optimize each video to net maximum profits can be a game changer. Are you ready to maximize your social media influence?
Let's take a closer look at how to make money on YouTube using these 6 YouTube SEO strategies.


Tagging your videos utilizing keywords that are relevant and highly searched can boost online visibility and maximize views. This is how to get paid for YouTube videos when it comes to optimization.
Here's a short video via the Creator Academy explaining how the YouTube algorithm works:
Why are keyword-rich tags important? Tags let viewers and subscribers know what the video is about. But more importantly, keyword-rich tags let YouTube understand the content and context of the video.
The more the algorithm understands the video, the more often it will associate it with similar videos, increasing online visibility. For example, if you post a yoga for beginners video, you could use tags like these:

And don't forget about location. If you are a yoga instructor in Austin, Texas, add it in your tags as well, like this:

YouTube SEO Strategy #2: Use Keywords In Video Titles (But Naturally)
A video title speaks volumes when it comes to how to get paid for YouTube videos. If you want more views, you need to attract users to your videos with keywords. Be clear, concise, and compelling with your video titles.
Using exact-match keywords in video titles can increase ranking, according to a Backlinko study: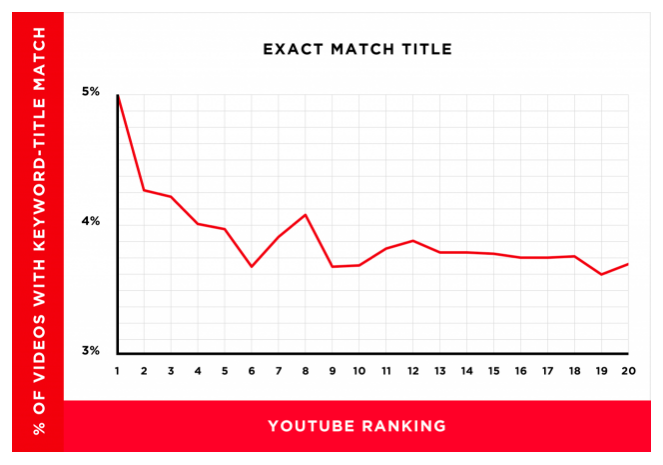 Here's a great example from YouTube star Marques Brownlee: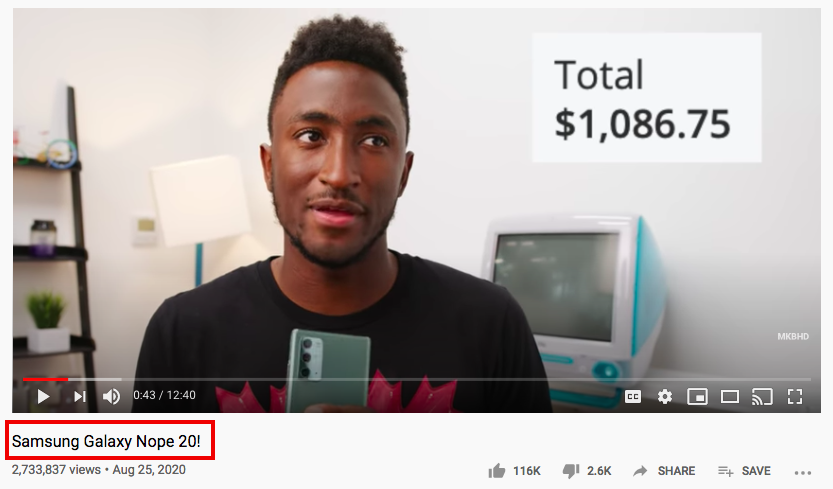 You can see how this YouTuber used an exact-match keyword for Samsung Galaxy Nope 20. To take this further, let's search for the keyword term "Samsung Galaxy Nope 20" in YouTube:

Marques Brownlee's video pops up in position three, page one: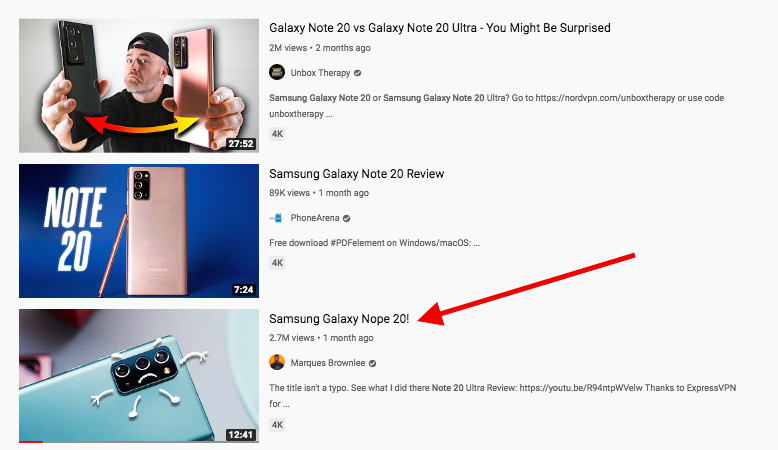 And be sure to keep your video title short, around 60 characters. This helps keep your title intact in search results. Keywords and titles are certainly a match made in video optimization heaven.
YouTube SEO Strategy #3: Video Descriptions Need To Be Optimized
An optimized video description is a must when it comes to YouTube SEO. What should you have in your video descriptions? Start with those highly searched keywords.
Let's breakdown a strong video description from YouTube influencer Yoga with Adriene:
This video is all about yoga for beginners. What would be the keyword term best suited here? It is "Yoga for Complete Beginners." This influencer used the keyword term in the title and right at the beginning of the video description: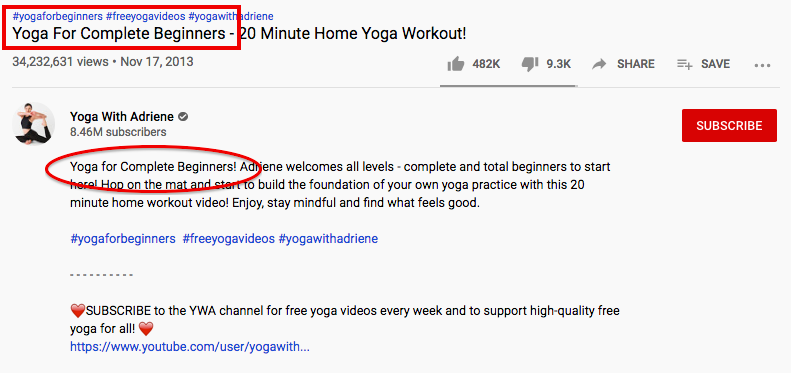 She also used a second keyword term, "20 Minute Home Yoga Workout."

The video description used is also short and concise. This makes it easy for the user to understand what the video is about when the video is displayed in YouTube SERPs. Not to mention that it is at the top of page one results for the main keywords.

Hashtags are also included in the video description, which can help YouTube understand what the video is about, thus increasing the video's overall online visibility.

And this influencer shared with users where to subscribe and find more videos. This can lead to a ton more subscribers, as well as views on a number of other videos in this influencer's video list and playlists.
YouTube SEO Strategy #4: Optimize Those Video Files
Having keyword terms in your video file when uploading it to YouTube can play a role in better rankings. This is because YouTube can determine what your video is about via the file name.
If you want to know more about how to make money on YouTube, it is important to rename those video files before uploading them.
For example, a video that reviews the new Apple iPhone 12 may have a beginning file name like, "23456_reviewFINAL.mov" before upload. You should rename this video file, "apple-iphone-12-review.mov" for maximum optimization.
YouTube SEO Strategy #5: Have A Customized Thumbnail Image
YouTube video thumbnails are very important, since they are the main image users will see when scrolling for the video they want to watch. In many ways, the thumbnail image is the first impression. An impression that leads to more views and more subscribers.
What does this mean? You need to create compelling video thumbnail images in order to entice viewers to click through. You may have the most amazing video content, but if you don't have a strong thumbnail, no one will see your videos.
Here are great examples of thumbnail images from YouTuber MattDoesFitness:

Pretty enticing thumbnail video images!
According to the Creator Academy, 90 percent of videos with custom thumbnail images perform better than those without. A few best practices include:
Use images that are 1280×720 pixels
Ensure the images are set at a 16:9 ratio
Image file size should not exceed 2MB
Files should be saved as .png, .jpg, .gif
Here's more on creating optimized thumbnail video images from YouTube:
YouTube SEO Strategy #6: Implement End Screens And Cards
Cards and end screens are an excellent way to increase views and boost subscribers. This makes it an optimization must-do, since they direct viewers to more of your great content.
What are YouTube cards exactly?
Cards are notifications that help influencers promote their videos and other personal brand features. The cards can be found via the information icon in the video: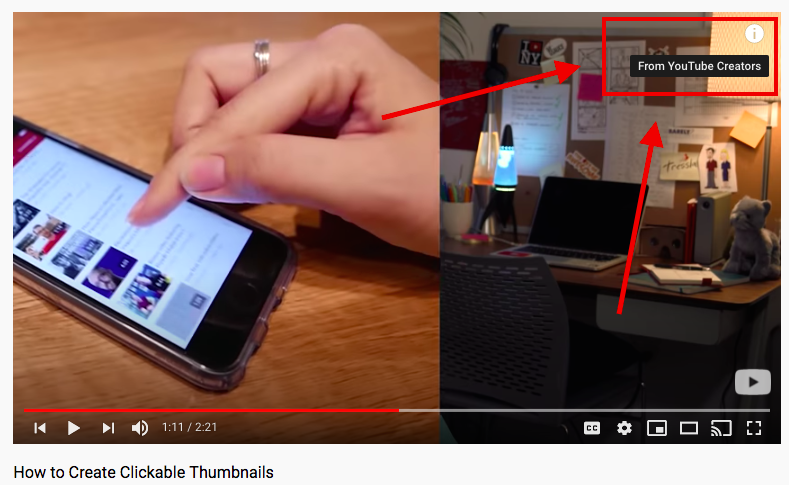 When the icon is tapped or clicked, several cards from the YouTuber appears in a sidebar: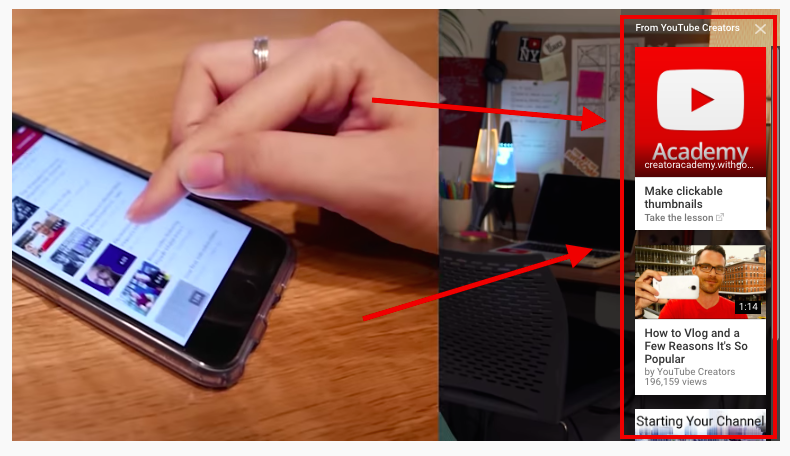 You can add up to five cards per video. And there are different types of cards to add, like Channel Cards, Link Cards, Donation Cards, Playlist Cards, and more.
How about YouTube end screens?
End screens are kind of like cards, only they appear at the end of videos. It is important to have both cards and end screens, because not all viewers will watch an entire video. Here's what an optimized end screen looks like from YouTube influencer AnnieJaffrey: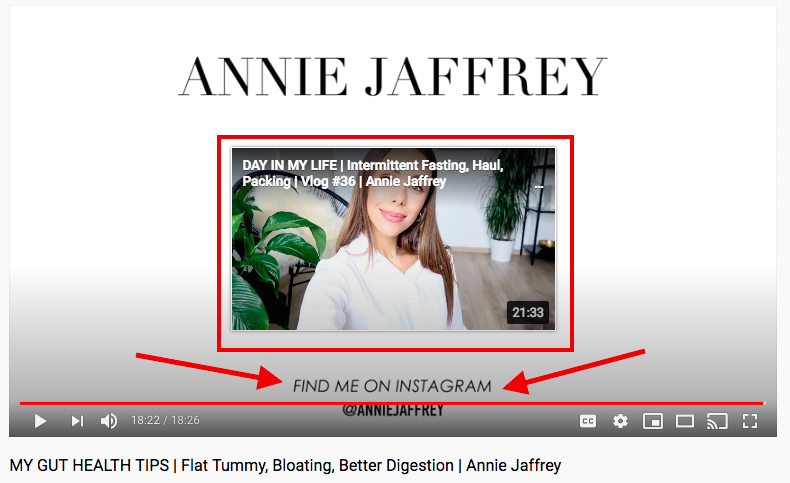 This influencer used her end screen to direct viewers to another video, and also let viewers know where to find her on Instagram.
Learn More About How To Make Money On YouTube
The above YouTube SEO strategies will help you maximize each video for increased views, comments, and subscribers. The main aim is to get your videos front and center on YouTube search results, and keep viewers consuming more of your video content.
However, to know how to make money on YouTube and understand how to get paid for YouTube videos, you need to explore more cash money factors.
How can you simplify that process? By partnering with the experts. Scalefluence is a premiere influencer marketing platform that helps influencers maximize their influence and land profitable brand sponsorships.
Our influencers get support and access to the Scalefluence network of brands and agencies looking for YouTube influencers across multiple industries and niches. Ready to take your influence to the next level? Sign up as a Scalefluence influencer today.