When YouTube first launched, no one could have imagined how many entrepreneurs would eventually make a fulltime living by creating content for the platform. By now, most people are familiar with at least one of the many YouTube success stories like Lilly Singh or Justin Bieber. But top earners in 2019, may come as a surprise.
The top 10 list includes channels that made between $11.5 and $26 million over the course of a year and includes children who review toys and play, gamers commenting on the video games they are playing in real-time, makeup artists, and more.
Granted, that may be unrealistic if it's your first year of monetization but you can certainly make the equivalent of a part-time job or even replace a career in a white-collar field if you're willing to hustle. The YouTube Calculator is a fun way to get a general idea of the stats you'll need to reach specific revenue goals, but it maxes out at about $127,000. While it is fun to take a peek into the earnings of some of the heavy hitters, it's important to note that it is almost impossible to pin down how much an average YouTuber makes because there are so many different opportunities to make money on the platform. From sponsorships and affiliate sales to direct offers for products and services or even fan funding, there are a lot of options out there.
Become a Youtube Partner
If you've been creating content for YouTube for any length of time, you're probably already familiar with the YouTube Partner program. You'll need to live in an eligible country, have 1,000 subscribers who have watched 4,000 hours of content, have an AdSense account, and be in compliance with all of YouTube's extensive monetization policies. If that seems reasonable to you, it's a great opportunity to monetize your channel directly within YouTube. To get started all you have to do is log into your Creator Studio.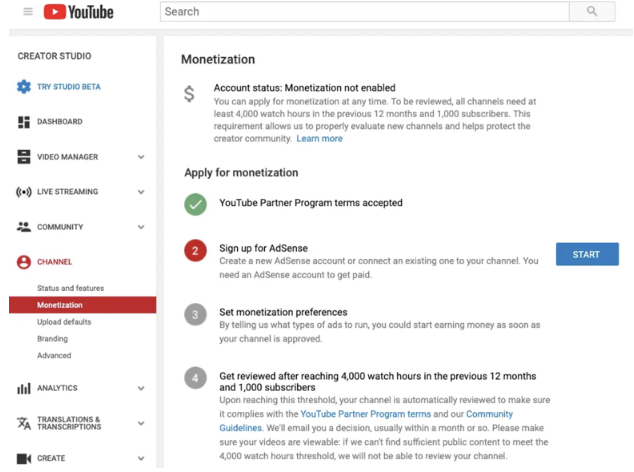 It can take a little while to have your channel reviewed and approved but if it is a critical step to access any of the platform's inherent monetization options. Once you're accepted there are several potential ways to earn money through the partnership. The first option available to all accounts is via ads placed directly into your existing videos. With 1,000 subscribers you can implement Super Chat which allows you to engage with your viewers during live videos. Viewers can purchase stickers for their chat feed or push their comment up in prominence to ensure you see it. This is a great option if you know your fans want to talk to you. When you have 10,000 members you can link to a store to sell branded channel merchandise to fans. This option is ideal for those channels with a brand that has broad appeal because of the name or logo as well as for those who have created a loyal tribe who want to promote you the way they would an athlete, musician, or favorite book.


Affiliate Sales and Sponsored Content
If you don't have enough subscribers to become a YouTube Partner or you aren't interested in going through the process, another option is to use your channel to promote a product or service for which you are an affiliate. This relies on direct sales rather than the number of views or subscribers and can be a great option for YouTubers who are familiar with the best SEO practices for their niche. If you know people will be looking for a review, tutorial, or other information about something and there aren't a lot of options already on YouTube, create the content and let the affiliate sales roll in. Even if there are already thousands of reviews for the latest lipstick, game, piece of tech, or must-have kitchen appliance, you can still leverage ninja SEO skills to bring traffic to your video.
One of the easiest affiliate programs to leverage on YouTube is Amazon because it's one of the largest retailers in the world that offers everything from books and technology to fashion and sporting equipment. However, there are other affiliate programs that may offer greater return on your content creation investment. Take the time to look at your affiliate options and consider partnering with more than one company to optimize your earning potential.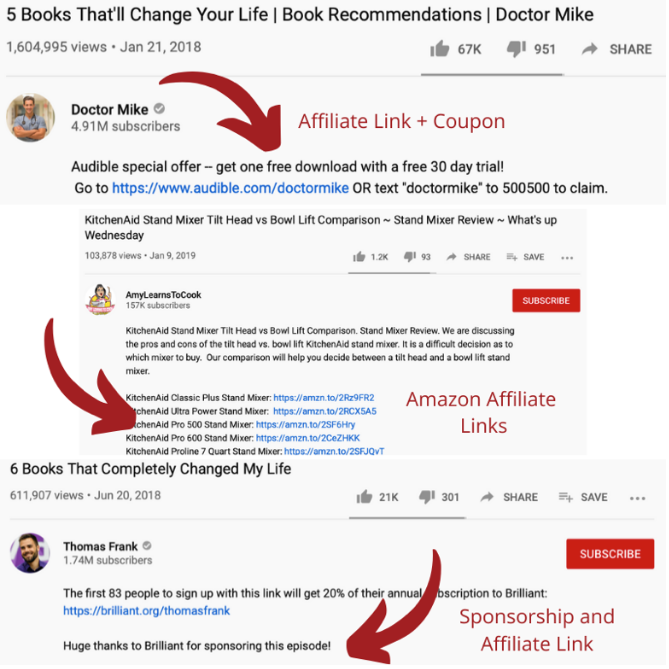 Sponsored content is similar in that you'll be talking about someone else's product or service. However, these types of arrangements are typically dependent on how often your video is viewed and the engagement it receives. That means it is usually better for larger channels and for those with a highly engaged audience. This can be challenging at first but is an excellent option to consider if you've been producing content for a while. A great way to get brands to begin seeking you out is to begin reviewing anything within your niche or that you think your audience might have an interest in.
Fan Funding
You don't have to offer anything other than your unique content to earn money on YouTube. There are many different ways to allow your fans to pay you for your content, or to pay you for access to more content. If you want to keep everything within the YouTube Platform, you may want to consider Channel Memberships.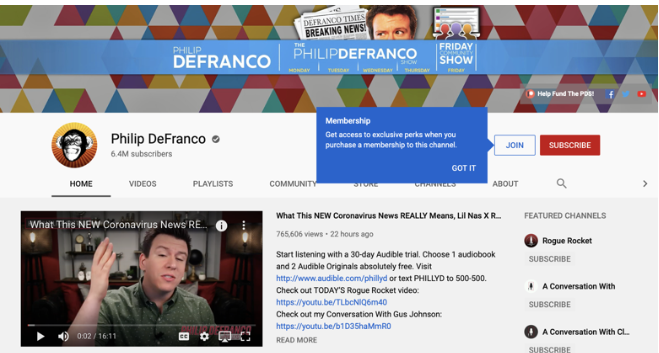 There are a few catches for using this option, however. Your channel already has to be approved as a YouTube Partner and you must have at least 30,000 subscribers (unless you're a gamer and then you only need 1,000). There are a handful of other requirements but those are the most difficult for newer channels. If you meet those requirements, it is definitely an easy way to let fans pay you directly.
Patreon is another option for YouTubers who don't want to outsource their income. Patreon gives user's infinite control of what content they offer and how expensive their various tiers are. The same YouTube creator from before is clearly maximizing this monetization strategy by also offering a Patreon option.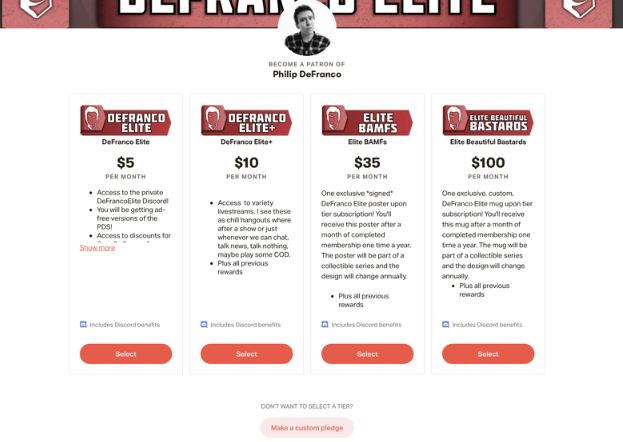 Instead of only offering early access to public content and additional Livestreams, he also offers physical products for super fans who become members at the higher tiers. This is a great option for those with a loyal base or those who have built a tribe around branding that is highly coveted by their followers.
Patreon is one of the best options for YouTube creators of all sizes because it is completely free to use. The company only makes money when you do and how much they take is ultimately up to you. There are three plans that offer varying levels of platform assistance and access.


Learning how to make money with a YouTube channel isn't complicated, but it can be challenging. You'll need to create new content almost daily in the beginning to reach an audience that can make a substantial difference to your bottom line. In addition to the consistency you'll, of course, need great content that has great video and audio quality and you'll need to know how to analyze and provide the metrics which are the foundation for YouTube earnings.
If you're willing to put in the effort and you're passionate enough about your niche to maintain momentum for several years, YouTube still has a lot of opportunities for financial growth no matter how long you've been producing content or your current subscriber numbers.