If you're unfamiliar with the term, "lead magnets" are incentives marketers use to persuade blog readers to provide their email address or join an email newsletter. If you've ever seen a pop-up notification while visiting someone's blog that said something along the lines of, "Subscribe to our newsletter and get a free copy of our ebook", that's an example of a lead magnet.
Many blog readers want to get regular updates from your blog or keep up with your brand. It therefore often doesn't take much to get someone to sign up for your email newsletter. The smallest incentive often does the trick.
Bloggers aren't the only marketers who use lead magnets, but for the purpose of this article we'll focus on lead magnet ideas for your blog.
Since lead magnets are meant to provide the reader with an incentive to provide you with their contact information, the lead magnet will typically offer some type of digital product or free downloadable resource in return for "opting in" to an email list.
Image: Brandy Kennedy on Unsplash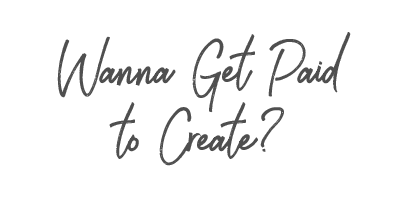 Why Do Bloggers Need Lead Magnets?
The primary reason a blogger would need to build their email list (and would therefore require some strategic lead magnets) is to capitalize on the power of email marketing. How do you get paid for blogging? It's often by selling something on your blog, which is often done by emailing out an announcement of a new product.
In other words, if you sell digital products or services on your blog, building an email list is crucial. If you have a blog that provides business advice, and you're selling a digital product in the form of an online course about starting your own ecommerce business, you need leads or potential customers. Your email list provides you with those leads, and you can use the power of email marketing to convert readers into customers who purchase your online course. It'll often be the well-crafted email that persuades a regular blog reader to purchase your digital product.
If you are a blogger who doesn't currently sell any digital products, building an email list with lead magnets is still a great idea. Why? Because one day if you do decide to start monetizing your blog with digital product sales, you'll be grateful that you built such a solid list of email subscribers. It's that email list that will help you get your first slew of sales.
Writing and blogging requires a lot of hard work. It's therefore important to find a way to monetize your blog and make some money, without annoying your readers. Asking for email subscribers (and offering an incentive) is generally not viewed as "annoying". What fans of your blog would find annoying, however, is too many emails being sent to them once you have their email address.
Every now and then, it's perfectly okay to notify those on your email list about a product or service you're offering. It could lead to sales if you're a great email copywriter. You should also send emails that are simply valuable or informative, but not meant to sell anything. A healthy mix is always a good idea. If you can limit it to two or three emails per month, you'll likely have few people unsubscribing.
Below are some effective lead magnet ideas for your blog to incentivize your readers to join your email newsletter:
1. Gated Content
The ability to unlock gated content becomes an effective lead magnet when a simple email sign up unlocks the second half of a blog post.
Some bloggers who unlock exclusive content for paid members or subscribers have set up a paywall. The paywall only allows paying members to read or access the content. However, many bloggers unlock their gated content for their email subscribers, and don't charge any money. The email addresses are valuable enough on their own.
2. Personality Quiz
Did you know that many people find free personality quizzes irresistible? A short and fun "Free Personality Quiz" will likely be clicked on by many of your blog's readers. This is a lead magnet because once they finish answering the quiz's questions, they'll have to enter their email address to be sent the results of the quiz they just took. They'll check a box either agreeing or disagreeing to also be signed up for your email newsletter.
People love to learn about themselves, which is why they're drawn to a personality quiz. As an added bonus, the data you collect from the quiz itself will help you better understand your customer. You'll gain a better understanding of who your target audience is, which helps you write more targeted emails that connect with them on a deeper level.
There are many quiz maker programs available online, and you can customize your free quiz to be both compelling and aligned with your target audience.
Image: Perfecto Capucine on Unsplash
3. Cheatsheet
Cheatsheets are a download-and-keep PDF resource that offer valuable knowledge of some sort. It's often a type of guide, tutorial, checklist or resource list. Whenever your subscribers need to remember how to perform a specific task or process, they'll find immediate value in being able to consult your downloadable cheatsheet.
This type of lead magnet is often phrased as something like, Enter your email address below to get a free copy of our '30 Exercises for an Hourglass Figure' cheatsheet!
4. Membership
A free membership can be a compelling lead magnet if your blog visitors find value in being a member or subscriber. Perhaps members gain access to exclusive content, weekly video confessions, or fun giveaways. All you have to do is arrange for a pop-up to appear on your blog with an invitation to get a free membership if readers enter their email address.
5. Free eBook
If your readers love your blog posts, that means they'll naturally be drawn to your eBooks. Your readers like your writing and enjoy reading what you have to say. An eBook as a lead magnet therefore makes sense, especially the eBook expands on a popular blog post's topic.
Your free eBook can be a mini eBook. It doesn't have to be a lengthy one. Format it, get the front cover designed by a professional, and package it as a free gift for email newsletter subscribers.
Conclusion: The Power of Email Marketing
Once you have built a solid email list with your lead magnets, it's time to start thinking about your email marketing strategy. According to Mailchimp, the average open rate for email marketers is approximately 22%. This means email marketing is more powerful than social media marketing.
Emails help you connect with your audience, educate your audience, nurture your leads and convert them into customers. In 2021, over 4 billion people around the world are using email.
Don't believe email marketing is a great way to monetize your blog? According to both DMA and Litmus reports, in 2019, the average ROI was $42 for every dollar spent on email marketing. If you're serious about being a popular blogger or influencer, it's time you set up some lead magnets on your blog, and hire a fantastic email copywriter if your skills don't include email marketing. The sooner you master the art of email marketing and leverage your email list, the sooner your blog will reach your monetization goals.