YouTube is a great platform for current and potential influencers. While social channels like Instagram comprise a huge chunk of the influencer marketing pie, depending on your industry, YouTube could deliver a much higher return on investment. To help you understand why it may be lucrative to focus on making money on YouTube, here are a few statistics:
YouTube

has a higher engagement rate than any other

social media platform

, with more users watching content longer (the average watch time is four minutes on

YouTube

,

compared to 10 seconds for Facebook

)

The diversity of

YouTube

audience is vast; unlike other

social media platforms

, it benefits from a strong 1:1 gender ratio, and is loved by everyone from teens to millennials.

There are currently nearly 2 billion

YouTube

users, compared to Instagram's one billion

Based on current monthly traffic data,

YouTube is the most visited webpage in the world

(to put this in perspective, Facebook is #3, Twitter is #4, Instagram is #13, and Google is #14)
YouTube is also ideal for search-friendly, evergreen content, making it the perfect platform for telling stories and connecting with audiences in a unique way, and thus increasing your chances to make money.
Storytelling remains a powerful tool in the marketing world. Everything we do is built around a story; even short television ads are designed to create a narrative. Storytelling helps humanize a brand, and humanization is necessary in the business of influencer marketing. When it comes to attempting to make money on YouTube, this ability to tell stories is more important than ever; disingenuity and lack of authenticity are easily detectable in this platform. And for marketers and influencers alike, this inherent ability to build a real connection from screen to viewer is what makes YouTube the perfect social media network to focus on.


When to Use YouTube as an
Influencer
Platform
Although most influencers establish a presence across multiple social media channels, it's important to know whether YouTube is the best base platform for your influencer efforts.
A wrong choice here could hurt your long-term strategy and opportunity to earn money via YouTube. Think about your brand and industry and where you fit on the spectrum. To help guide you, here are a few reasons you probably should choose YouTube over other networks:
You're in an industry where complex products and services are common (YouTube is ideal for explainer videos)

Your audience tends to access content from the Web, rather than just solely mobile devices (after all, remember that YouTube is the most visited website in the world)

You intend to review products and services

Your brand is built around the necessity for visual and auditory connection (like gaming)
Furthermore, industries that tend to do well and generate income on YouTube include:
Beauty
Travel
Fitness
Food
Gaming
Even with the above considerations, you might find that choosing the right platform isn't always clear-cut. If this is the case, start honing in on your goals. The more refined your goals are, the more likely you are to generate more money. Here are a few things to focus on in order to begin making money on YouTube:
The Three Rs of Influencer Marketing
When it comes to influencer marketing, you have to keep your potential partnerships and audience in mind. It helps to reverse engineer the influencer marketing role and put yourself in the position of the brand.
When brands are searching for the best influencer, they're analyzing the standard three Rs of marketing. Understanding the three Rs can help better shift your goals and ensure you stay on track.
Relevance
Brands seek to understand how an influencer's values align with their image. As you work on growing your follower count and beginning to make money on YouTube, think about the brands that you feel are most relevant to your brand. Start asking yourself, "How could I appeal to them? What would make my channel feel most relevant to their business?"
This doesn't mean that you should craft your personal brand image based on target partnerships, but with a bit or early awareness, you can tip the odds in your favour.
Similarly, you have to hyper-analyze your industry. Is YouTube the social media platform where your ideal audience is most active and therefore where you stand to make the most money? Do a bit of research and make data-backed decisions. After all, this is what agencies do when it comes to choosing the right influencer.
Resonance
Resonance refers to how strongly an influencer can create powerful content that resonates with a viewer and encourages amplification. This is typically measured by the amount of likes, shares, and comments on a post (the "Engagement Reports" you'll find in your YouTube settings). Influencers who build genuine connections and engage with their followers on social media are more likely to resonate with their audiences better, which is attractive for potential partnerships.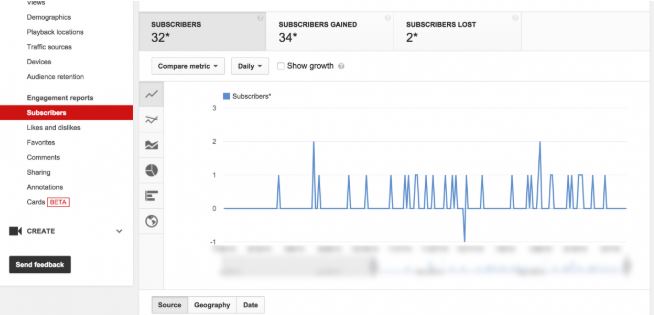 Reach
Reach is based solely on the amount of social media followers that you have. This is your branch of influence, and agencies and brand owners want to know how far that branch extends. Naturally, brands will likely want to partner with YouTubers who have access to a larger number of people, but this isn't foolproof—many modern marketers understand that it's more important to work with an influencer who has relevance and resonance as well.
Growing Your Audience
You'll hear it time and time again—to attract sponsorships and partnerships, you have to grow your audience first. If you want to make money on YouTube, you need a following.
As a content creator, it's your job to prove that you're worthy and have the creative vision to help another brand grow. Some of the agencies looking for influencers are searching for smaller, niche YouTube influencers with high engagement rates. Others do care more about the follower account and reach.
The point is, while you shouldn't feel unqualified to get started with Scalefluence, but to increase your chances of looking attractive to our lengthy roster of agencies, you should focus on building your brand and growing your audience. Here are a few tips:
Don't Try to Appeal to Everyone
This is a mistake that many newbie content creators make. Because they're so keen on increasing their follower accounts fast, they try to be a jack-of-all-trades. Not only will a broad audience be difficult to scale, but you'll have trouble building a loyal fan base – which will in turn hinder your chances at making money on your YouTube videos.
Deliver Content Consistently
As an influencer, you need to always be thinking about creative ways to produce content, and it's best that you stick to a schedule. If you're posting just one video every few months and hoping for a viral hit, you'll be met with disappointment. On the same token, don't rush to create a video every single day. Put time and effort into your production, and keep the "quality over quantity" mantra in mind.
Plan Ahead of Time
Producing a video takes work. If you simply turn on your webcam and start talking, chances are you'll fumble. Write a script ahead of time, and be prepared to edit. If you're not a solid video editor, outsource to cost-efficient freelancers, particularly once you start to regularly generate income with YouTube videos. There are plenty of online video storyboarding tools to help streamline this process. Try Plot, Canva, and Boords to start.
Check Out Successful YouTubers
They say imitation is the sincerest form of flattery. And no, we're not suggesting you copy someone's content, however, it's helpful to check out how other channels are producing content and perfecting their own brands. This can also prove to be a fruitful inspiration.
Build Out Your Profile
Your YouTube profile should be as fleshed out as possible. Yout title should contain keywords to make your content more searchable, and your description should be enticing. This means making the "About" section of your profile thorough and interesting, without being too wordy. Clear, concise descriptions that leave the reader wanting more are the goal; establishing long-term readership is especially important if you're really hoping to make money on YouTube as an influencer. Take a look at popular YouTube channels to see how they're using their descriptions to help others learn more about what their channel offers.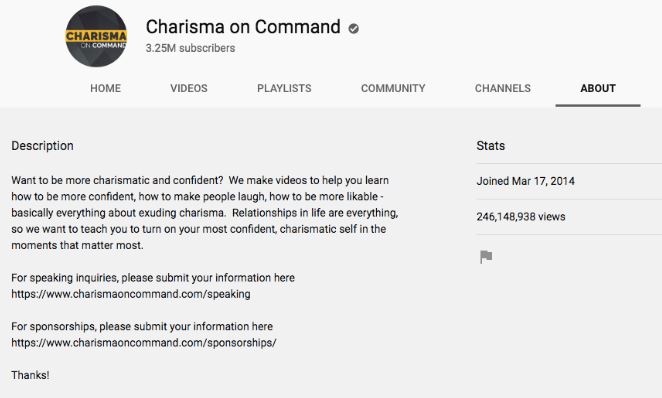 Offer Your Services
If you're a new YouTuber on the path to growth, consider offering your influencer services for free, or in exchange for free product. Think of this as "building up your portfolio." Find a few brands that are relevant to your business, and reach out them to for partnership opportunities; this will allow you to attract their customers to your channel so you can increase your chances of making money on YouTube. Keep your email succinct. The main message you want to convey is what you have to offer them, and why you're a good match.
If you're very new, you can do this free with local businesses and tag them. When you want to start with smaller, more official partnerships, engage with the brand in a natural way before you reach out. This means subscribing and commenting on their posts. And lastly, be sure to mention your metrics when you contact them. Even when you're new, there's data that can back you. For instance, if you started a channel just under a year ago, you can let them know your growth rate for the year, or talk about your engagement rate spikes month-over-month.
Monetization Potential
According to MediaKix, a YouTuber with anywhere between one and three million followers can generate $125,000 per influencer post. Other data has shown that with 50,000 daily views, you could generate $55,000 per year. No matter how far you are along the influencer marketing process, however, there's no denying that the opportunities to make money on YouTube are plentiful and relatively simple, especially in comparison to other social media platforms.
Over the years, YouTube has remained relatively hush-hush over how much revenue its content creators generate. However, YouTube's Chief Product Officer, Neal Mohan, said in a blog post: "The number of creators earning five figures a year is up by 35 percent and the number of creators earning six figures is up by 45 percent."
During an interview, Joe Gagliese, co-founder of Viral Nation (an agency that works with top influencers) told Vox that nano influencers with smaller followings could make anywhere between $30,000 and $60,000 annually, while micro influencers could make anywhere between $40,000 to $100,000.
When it comes to how much money influencers make per YouTube video, Gagliese said, "It depends on the influencer and their follower numbers. A micro-influencer, which is someone that has 10,000 to 50,000 followers, is actually pretty valuable. They used to only pick up a couple of hundred bucks, but today, they get a minimum of a few thousand dollars a post." In today's influencer landscape, it's not uncommon for an individual with a million followers to pull in $100,000 for a single post.
An Inside Look: How Agencies Choose Influencers
You might be wondering, how do YouTube channels make money? If you really want to understand how to be a paid YouTuber, it helps to understand what to expect when you work with a partner as a YouTube influencer. One of the best ways to do this is by looking at examples of different campaigns. As you go through some of the examples, you'd be surprised to discover the breadth of creative opportunities that many brands take in their attempts to make money on YouTube videos.
Subaru – Meet the Owners
Car manufacturer Subaru partnered with different influencers who owned Subaru vehicles with their "Meet an Owner" campaign. This campaign highlighted different Subaru owners and how they live their lives—again, storytelling plays a major role in this strategy.
One influencer they partnered with was Devin Tramp, a thrill-seeker who runs the adventure YouTube channel called "DevinSuperTramp." The YouTuber created three separate videos for the campaign, including one where he parachuted off a 500 foot cliff. Together, his videos generated 1.2 million views and 45K likes.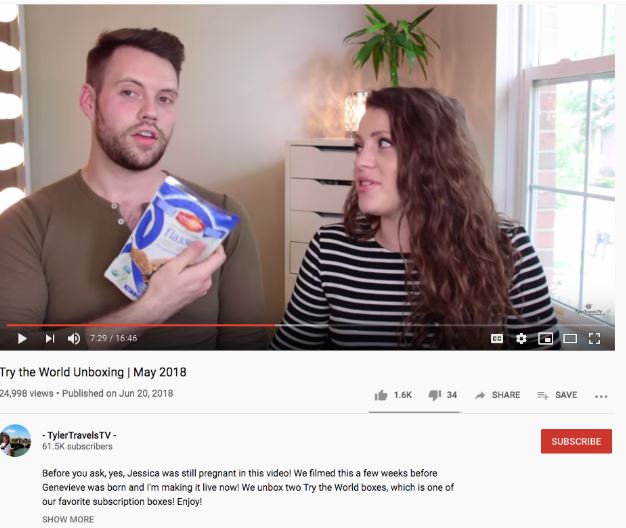 Try the World
Try the World is a food subscription service that offers authentic gourmet food and snacks from around the world. The company is a good example of a brand that wasn't looking for high-profile influencers. Instead, they decided to partner with micro-influencers to help build brand awareness.
One of the micro influencers they chose was TylerTravelsTV—a travel influencer with 60,000 followers. Tyler posted an unboxing video that yielded high engagement rates and views, and many people who commented on the video intended to try the product themselves, which helps both the business and the influencer make money on YouTube.
Society6
Society6 is a platform that empowers independent artists from around the world with a platform for them to sell their consumer goods. Not to be confused with Etsy, Society6 allows artists to create art to be mass produced and fulfilled through their artist program. To build brand awareness, they decided to work with both macro and micro-influencers.
Their goal was to target young, stylish millennial women who were in college. One of the influencers they partnered with included Katherout, a micro-influencer with around 100,000 followers. She promoted Society6 with a video titled, "11 Ways to Make Your Dorm Room Your Favorite Place."
As you'll notice, the influencers chosen across each of these campaigns didn't necessarily focus exclusively on the industries that their partnerships stemmed from. Devin Tramp isn't in the automobile industry; Tyler the traveller wasn't in the food industry, and Katherout wasn't an artist.
Yet, each of these influencers—varying in reach and brand style—were able to produce relevant, create content that resonated with the brand's audience, as well as their own, and maximize YouTube's potential to generate income.
How to
Make Money on YouTube
There are several ways you can make money on YouTube. As a newbie influencer, you might start dabbling in these monetization options to 1) see what works for you; 2) start to gain some traction and learn firsthand how various YouTube monetization processes work; and 3) gain some extra income that can be put back into the brand to help you grow.
YouTube Partner & Google AdSense
Start by joining the YouTube Partner Program, which is free and easy to get started with. You can do this directly through your Settings. From here, you can set up your AdSense account and choose your ad formats and monetization preferences. However, YouTube does review each applicant and has standard minimum requirements (you'll need at least 1,000 subscribers acquired over the last year and 4,000 watch hours), so how fast you'll be able to make money on YouTube via AdSense depends on how quickly you grow your channel.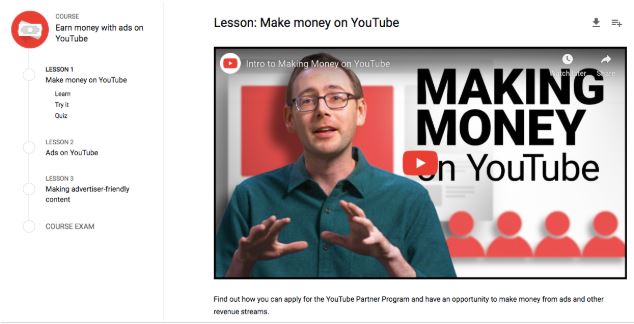 Google owns YouTube, which makes it very easy for YouTubers to connect their channels to AdSense and bring in some extra money. By participating in this revenue program, you agree to show ads to viewers, and the ads that viewers see depend on their search history. For YouTubers that already have a presence, this could be an easy way to generate revenue.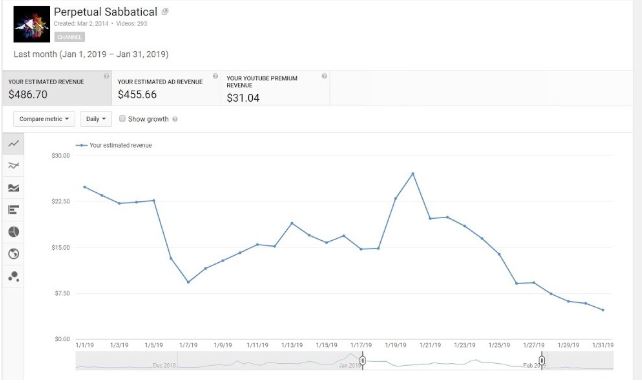 This tailored, targeted ad method sounds great in theory but isn't a foolproof way to make money on YouTube. In fact, the majority of people who sign up for the AdSense program make little to no money from it. Why's that? For starters, Google retains a percentage of what the advertiser pays. And secondly, the ad has to get a lot of views. And the channel owner gets perhaps $1 to $2 for every 1,000 views—and only if the viewer watches the ad from beginning to end.
As you might imagine, chances are Google AdSense won't be your money-maker, but it's worth testing and analyzing your data to see how it works for you. However, you can take a look at this YouTube Money Calculator to get an estimate on how much money you could be making with AdSense. As you can see below, a popular channel featuring a video with eight million views has a projected AdSense revenue of around $12,200.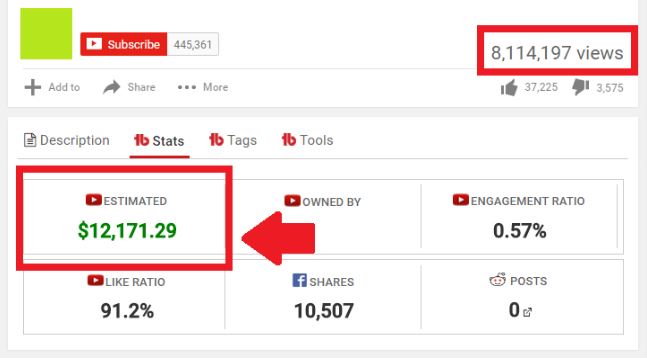 Affiliate Marketing
Affiliate marketing is the process of gaining a commission for products and services that you recommend to others after they make a purchase. This is fairly common in the blogosphere, and it's becoming an increasingly common way for influencers to make money on YouTube, too.
Conduct a simple search on YouTube for reviews on a particular product or service, and you'll likely find pages of results. Many of these videos include affiliate links in the description. Some of these YouTubers have even received the product for free in exchange for a review.
Influencer Marketing
One of the best ways to make money on YouTube is by attracting partnerships and sponsorships. As previously mentioned, chances are you have to build your audience a bit to attract these lucrative opportunities, but you don't have to wait until you have millions of followers to take action.
With influencer marketing, you don't have to rely on ads to generate revenue. You also have the opportunity to build long-term relationships with brands that could lead to additional future projects. And lastly, you also benefit from the reach that those brands bring to your channel, too. When you work with an agency, they also do their best to promote the content you produce, further building your personal brand.
Using Scalefluence for YouTube Marketing
Scalefluence is an influencer marketing marketplace that makes it easy for you to make money on YouTube. The premise is simple:
1) Opt into the Scalefluence platform as an influencer
2) After your credentials are authenticated, you're officially added to the platform
3) Agencies and brands browse the roster of influencers in the marketplace in search of YouTubers who align with the vision and goals
Our goal was to make this process as streamlined and intuitive as possible for both influencers and agencies. Rather than put yourself in arduous negotiation process, or go back and forth over campaign details, we've eliminated the guesswork.
You set your price per promotional video, and an agency decides whether that works within their budget. And because agencies can already see your most important data, such as the number of subscribers you have and the type of content you produce, there's no need to sell them: everything they need to know is handed over on a silver platter. You simply need to focus on creating quality YouTube content to generate income for your business.
Once an agency or brand decides to work with you, Scalefluence handles the payment process for you. Before you even get to work, the cost of your content development is held in escrow and released 1-2 days after the agency approves your work.
With Scalefluence, you can focus on crafting great content and maintaining lucrative relationships with your partners, while retaining genuine connections with your audience.