There are plenty of people making money on YouTube. From tech product reviews to yoga for beginners, YouTubers are growing their subscribers and becoming full-time YouTube influencers.
YouTube videos net influencers more money than any other video on Instagram or Facebook. Even YouTubers with under 10,000 subscribers can make cash money per video post . . .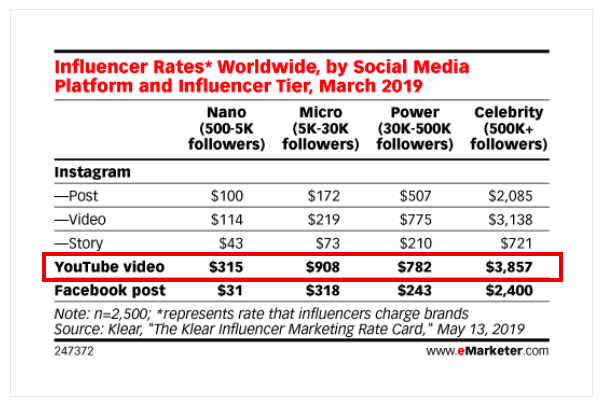 With as little as 500 subscribers, you can make in excess of $315 per post as a YouTube influencer.
But knowing how to get paid on YouTube is a bit more time-consuming and creatively involved than one may think. Creating videos is only part of the how to make money with a YouTube channel equation.
Did you know that 73 percent of U.S. adults use YouTube?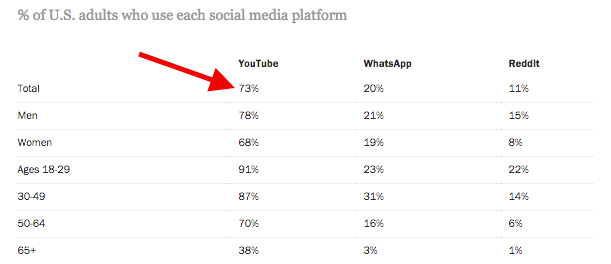 This means there are plenty of viewers to capture and convert to subscribers. But you will need to have a few money making tactics in place.
The following roadmap for how to get paid on YouTube is certainly worth exploring. By employing one or more of the below strategies, your earning potential as a YouTube influencer may increase exponentially.
Let's get right to it!
Focus On Top Notch Content To Increase Subscribers And Video Watch Time
This is an important first step, because it sets the stage for the rest of your roadmap for how to get paid on YouTube. Why? The more subscribers and video watch time you have, the more revenue streams you can leverage.
For instance, becoming a YouTube partner and Amazon affiliate, two profitable channels for YouTube influencers, you need to meet subscriber and watch time requirements. We will go into that further below.
Your focus needs to be on creating top notch content. Each video should be unique, and serve up video content that your target audience (niche) wants or needs. Here's an example from YouTube influencer Breathe and Flow . . .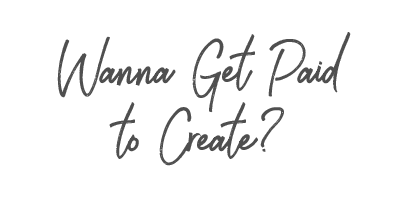 This video has actionable value, since the content is geared for athletes looking to boost recovery. The description says it all . . .
This YouTuber has 137,000 subscribers. The video netted over 126,000 views. A strong signal that the content this YouTuber created was valuable to his target audience.
It is also important to direct viewers to more of your content to increase views, subscribers, and watch time. You can do this using end screens . . .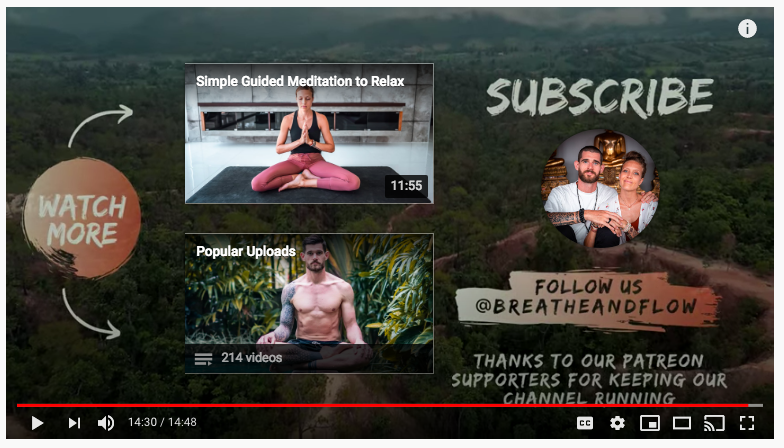 This gives viewers the chance to watch more, engage, and even share your top notch video content.
With your subscriber count on the rise, and watch time growing with every video post, it is time to take your influencer money making potential to the next level.
Become A YouTube Partner And Learn How To Get Paid For YouTube Views
The next stop on your roadmap for how to get paid on YouTube is to become a YouTube partner. This unlocks more revenue streams as an influencer and lets you get paid for views, among other profitable features.
The YouTube Partner Program is how you can monetize your videos with ads, memberships, and Super Chat. Since you have been boosting subscribers and watch time, you will have no problem meeting the partner program requirements:
Be over 18 years old
Have a Google AdSense account
Have more than 1,000 subscribers
Net 4,000 plus hours of public watch time
Be located in a participating country
Follow the partner program rules
Having an advertiser friendly YouTube channel is a must. You can't have poor language, adult content, violence, drug or alcohol related content, and other non-friendly videos. Being aligned with the rules and guidelines will keep that ad revenue coming in . . .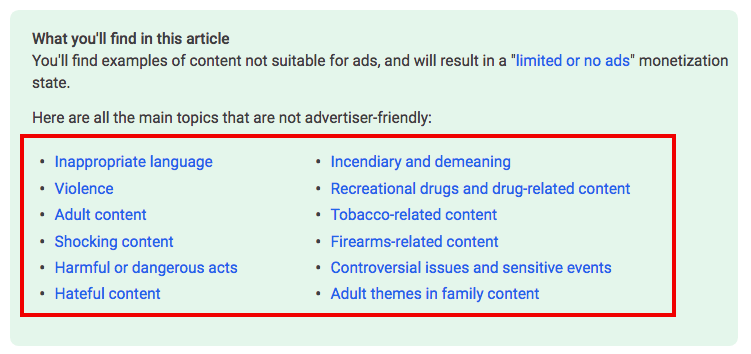 Set Up Your YouTube Channel Membership Program
Pumping out amazing content and being a YouTube partner sets you up for more money making opportunities like YouTube channel membership. This program allows you to charge users for subscribing.
But there are a few requirements you'll need to check off to start charging for memberships:
You are 18 years old
Your channel is set up in an available location
The channel is not "made for kids"
You have over 30,000 subscribers
How much can you make from YouTube memberships? The membership cost is $4.99 with upgrades available. Each upgrade has perks for users, giving more access to your channel's content.
YouTube does, however, take a cut of the profits. As a creator, you get 70 percent of each membership. So at $4.99, the base membership price, you'll receive $3.49. But at $3.49 and 30,000 subscribers, you can make quite a bit of monthly cash.
Get Paid On YouTube Via Affiliate Programs
Affiliate programs can serve up some serious money as a YouTube influencer. You simply place affiliate links from top brands or from Amazon into your video content, and when a user makes a purchase, you get a cut of the profits.
This is the next big step in your roadmap for how to get paid on YouTube. You will need to sign up via an affiliate marketing platform, and become an Amazon affiliate partner. Affiliate marketing platforms to consider are:
Rakuten affiliate program
CJ.com affiliate
FlexOffers.com
Awin affiliate program
Amazon associates
Walmart affiliate program
Each has benefits for influencers, as well as downsides. Just be sre to do your due diligence when choosing what affiliate marketing platforms to partner with.
For instance, the Amazon associates program has a lot to offer. Once approved as an Amazon associate, you get access to a huge list of Amazon affiliate products. This gives you more money making potential for your YouTube channel.
YouTube influencer 9to5Mac generates Amazon affiliate revenue using this posting formula for Apple tech review videos . . .
This video reviews the iPad 7 from Apple. Where can you find a link to buy this product? In the video description . . .

When a user clicks through, they land on the Amazon product page via a unique affiliate link for this influencer . . .

When a user buys this product via the affiliate link, 9to5Mac gets a cut of the sale. Usually somewhere between 3 to 7 percent.
Make Money On YouTube Licensing Content To The Media
This is another how to get paid on YouTube roadmap strategy that many YouTubers don't think about. If you have newsworthy video content, you may be able to license the content to media outlets like CNN, FOX, NBC, Discovery, Animal Planet, and more.
This of course falls into certain niches. You probably won't be able to license your tech review videos. But you may be able to license video content in travel, health, food, fitness, fashion, and beauty niches.
For example, if you are a fashion YouTube influencer and attend a fashion event, you may be able to license that video content to a news source that needs film on the event. This could be a lucrative way to make money as a YouTuber.
Partner With An Influencer Marketing Platform Like Scalefluence
Understanding how to get paid for YouTube videos and how to make money with a YouTube channel is all about taking your influence to the next level. Have you tapped into your maximum earning potential as a YouTuber?
Most YouTubers haven't. This is the line between being a YouTube influencer and becoming a YouTube star. Partnering with an influencer marketing platform like Scalefluence can help take your influence on YouTube, or other social media channels, to the next level.
Next level subscribers, next level engagement, and next level revenue. Our team of influencer marketing experts can assist in growing your social media influence. And you get access to our network of brands looking for influencers like you.
From brand sponsorships to earning top dollar for your creativity, Scalefluence influencers maximize revenue streams. Sign up today and tap into more money making opportunities.