It's no secret that influencer marketing is a trending strategy in today's business world. More and more businesses are turning to influential people to build brand awareness, generate sales, and reach new markets. Influencer marketing has also leveraged the playing field. Newbies with can now earn an income from their influence and passion, while startups and small businesses with lean budgets can work with micro-influencers to achieve their goals. 
Long gone are the days where big-name brands were the only businesses who could benefit from this consumer-to-consumer sales strategy, and where high price-tag influencers and celebs were the only people with access to influencer partnerships. No matter what level of influencer you are—whether you're just starting out or have an established presence—building a great influencer-marketer partnership is essential for long-term success. 
Let's say you've signed up as an influencer on Scalefluence and connected with an agency that's confident in your creative prowess; great! But just because you complete a job and receive your payout doesn't mean it necessarily ends there. How you manage your partnership throughout the project and how you communicate thereafter can help you continue to build your influencer career. 
According to a study conducted by Influencer Marketing Hub, 36% of marketers have difficulty finding the right influencer partnerships. You can help your brand stand out from the rest by being a solid partner. Here are a few tips on how to achieve this:
Create an Influencer Media Kit
An influencer media kit is like a resume for influencers, and it's a great way to show what you're capable of. This document is a representation of the work you've achieved throughout your influencer career. It highlights the brands you've worked with, conveys the aesthetic you've cultivated, and reveals relevant metrics. Many influencers have their media kit easily available for brands on their website. 
Your media kit is a direct representation of your personal brand. If you aren't savvy with design, work with a freelancer to help build this out or search for free media kit templates online. Alternatively, even influencers who are less design-savvy can create beautiful media kits with simple drag and drop design platforms like Canva. 
After the cover page, your bio takes center stage. This gives potential partners insight into who you are and what your core values are. It's crucial that you show your personality, which adds a layer of depth to your metrics.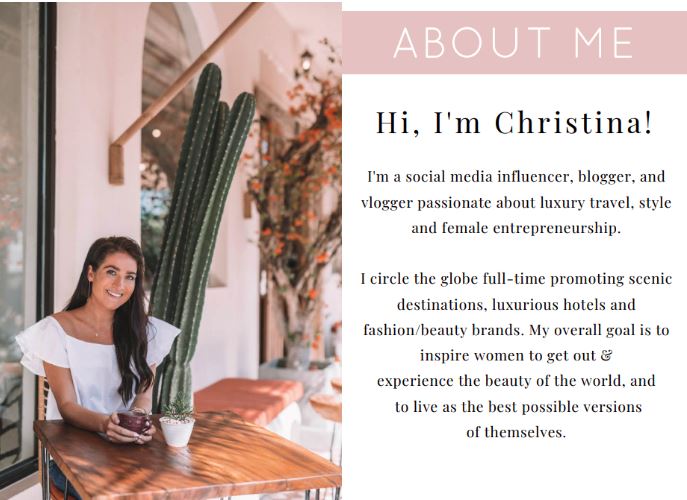 Here's a checklist of what you might include in your media kit: 
Short bio

Social media and/or website metrics (engagement rate, follower count, page visits, etc)

Growth statistics (useful if you're new to influencer marketing)

Demographics

Previous partnerships and/or testimonials

Contact details 

Collaboration options (brand mentions, interviews, video blogs, etc)

Pricing details (if applicable)
And as you can see from the media kit example below, even the boring aspects—like social media stats—can be dressed up to reflect your personal style.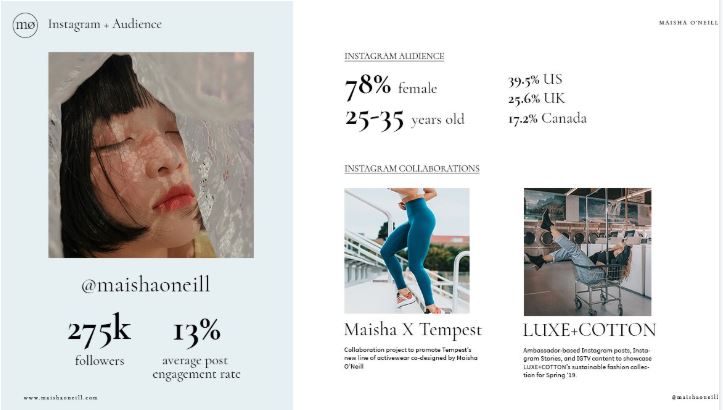 Focus on Your Engagement
One of the most important metrics in influencer marketing is engagement. Engagement refers to how you engage with your audience and build meaningful relationships over time. Studies have shown that the more followers an influencer has, the lower their engagement rates are. 
Engagement is critical. When you engage with your followers, you're they'll feel more connected to your brand and more likely to continue engaging and building trust in your content. 
When it comes to engagement, micro influencers fare better. Influencers with under 1,000 influencers have engagement rates 85% higher than influencers with more than 100,000 followers. Micro influencers tend to react faster, like comments more and reply to questions and feedback. 
When micro influencers become macro influencers, it's easy to get lost in the buildup of comments that your posts receive. However, it's important to always carve out time for engaging with your followers. After all, establishing a relationship with your followers makes you much more relatable than other influencers in the same niche. 
Think about it: let's say you follow two graphic tee designers on Instagram. You like both their products, but because homemade apparel has a higher price point than you'd hope for, you have to choose between them. If you comment on both designers' Instagram stories and receive a reply from one of them, you're more likely to choose them—even if you were previously leaning towards the other product. 
This is where customer loyalty comes into play. Consumers are more likely to be loyal and help influencers who they have a connection with. It helps to make engagement a priority as you build out your personal influencer goals. For example, depending on your workload and follower count, you might prioritize 30 minutes of engagement on your daily checklist. This not only keeps your engagement high, but demonstrates your consistency—which brings us to the next point. 
Be Consistent
Marketers and agencies want to work with influencers who are reliable and consistent. This means following through on your deliverables and always abiding by the agreed upon terms. The influencer industry exists on a creative and fluid plane for content creators, but for marketers and agencies on the other side of the content, there's a hard calendar and time-based goals. 
Don't Forget About Retention
Keeping in touch with your previous partners can go a long way toward cultivating a long-lasting relationship. As part of your agreement, your partner will of course want to know how your content performed. Do yourself a favour, and go above and beyond in terms of delivering insight. Data is critical for businesses, and the more transparent you are about your post's performance, the happier your partner will be. 
You can also use this data and information to reach out in the future. They'll remember your willingness to collaborate, and you can leverage metrics from previous posts to come up with content ideas that will perform even better. Furthermore, even when you aren't involved in an active project with your partner, keep in touch by commenting on photos, following their social accounts, reviewing their products, and recommending their brand.
Balance Creative Control 
Of course, marketers choose you based on what you can bring to the table. Before they even reach out to you on Scalefluence, they've scoured your social media pages, analyzed your stats, and considered your price tag (which is listed front and center on our platform to avoid lengthy financial negotiations that detract from relationship building). Because they've checked out your profile, they trust in your ability to create great content. After all, this is why they've chosen to reach out to you. 
However, it's important to understand that there should be a healthy balance of creative control. On the one hand, you have your own ideas about how to promote a product. On the other hand, the marketer may have a storyboard or key points in mind. They want their product or service framed in a certain way. Some marketers simply outline what they're looking for and give the influencer the freedom to do what they please with it. Others have more stringent guidelines. It may be hard to relinquish control in the latter case, but allowing yourself to flexible will help build a stronger partnership, and will show the marketer that you're a team player. 
If you follow the aforementioned tips, you're well on your way to developing industry relationships that can prove fruitful throughout the duration of your career. Happy partnerships result in repeat work, referrals, and new networking opportunities.