Need more followers to boost your Instagram influence? We turned to the experts for how to get more followers on instagram tips and tricks.
With over 500 million daily active users, getting more Instagram followers should be easy right? Well, not as easy as it may seem. However, over 500,000 active influencers are active on the popular social media app.
Most of those Instagram influencers have less than 100,000 followers, 81 percent to be exact . . .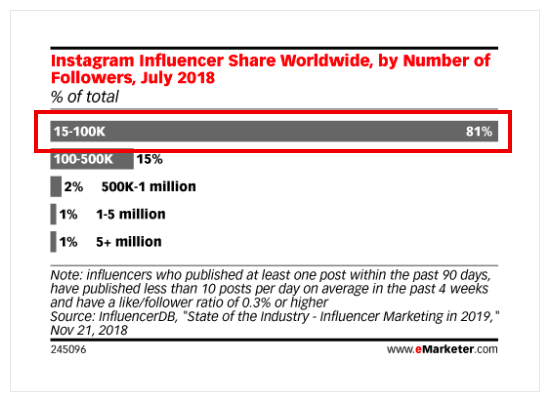 Boosting followers to maximize your influence may prove challenging. Unless you have a number of get more followers on Instagram tricks up your sleeve.
To help, we turned to our team of influencer marketing experts. Let's take a closer look at what they recommend to get more followers on Instagram.
Get More Followers On Instagram With Stories Highlights
Leveraging Instagram Stories is a how to get money from Instagram must-do. Stories can also help you get more Instagram followers when you organize your Stories for Stories Highlights.
What is Highlights exactly? Highlights is an Instagram profile feature that puts all your Stories in bite size sections, placed front and center. Here's what Stories Highlights looks like via Instagram micro-influencer @yogawithadriana . . .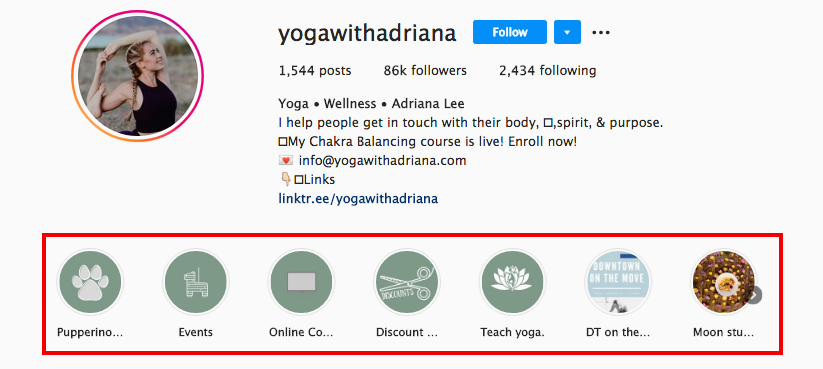 You can see that there are a number of unique sections for users to explore more. This can entice users to tap "follow" when they discover your Instagram profile.
The Highlights feature also gives your Stories longer life on the social media channel. Instead of Stories lasting 24 hours, they can be placed in Highlights. This is an easy to employ tip for any influencer.
Here are a few Stories Highlights best practices to get more followers:
Organize your Stories into themes (travel, lifestyle, products, etc.)
Create trailers for your Stories to entice users even more
Utilize the power of video to create compelling Highlights reels
Swipe up should be in play to promote and sell products
Leverage Instagram Stories Highlights to get more followers and you will quickly learn how to get paid for Instagram posts.
Simply Ask Instagram Users To Follow You — But Do It Right
This may seem too obvious, but not many Instagram influencers ask users to follow him or her. YouTubers do it, so why not Instagram influencers? Well, one reason is that for this to work, it needs to be done tactfully.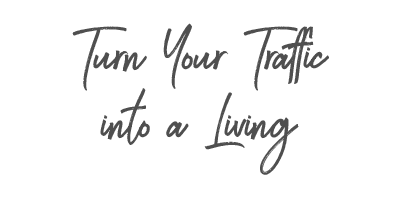 You certainly can ask users to follow you in every post. You can even use hashtags like #follow4follow or #followback.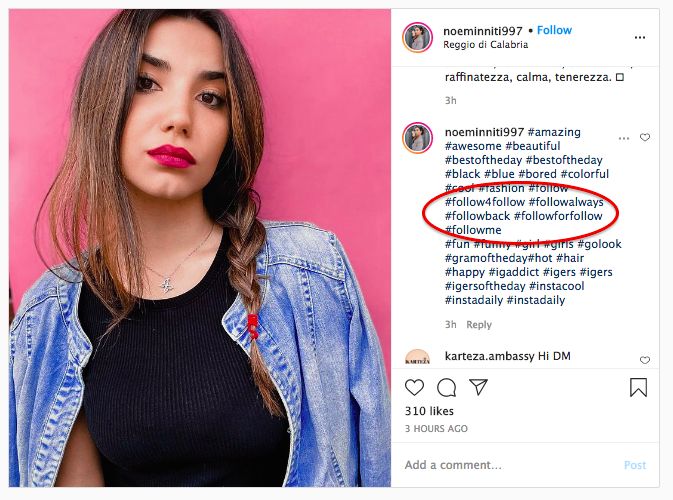 This will not work!
And if it does, you will find your engagement rate going way down per post, since followers will not be true followers.
The way to ask users to follow you the right way is via video, and in a very sincere way. This often works best when you post a personal or more meaningful video, rather than the usual product review, or lifestyle happenings.
Get personal, share something about you, make a connection, and then ask for users to follow you at the end of the video. Chances are, if they watched the entire video, they will follow you, and be a loyal follower.
Find Out What's Trending At The Moment And Post About It
This is a great way to raise your Instagram influencer brand awareness, and get more followers on Instagram. Trends are just as the name entails, things trending, topics people on social media are talking about.
Finding these trends as they first pop up can drive serious views to a post, and subsequently get you more followers. The trends you choose to hop on and post about vary by niche.
Trends can also be a specific day of the year as well. These types of trends are often accompanied with a hashtag. For example, #nationalcupcakeday. Here's how micro-influencer @ourgalchloe owned this trend . . .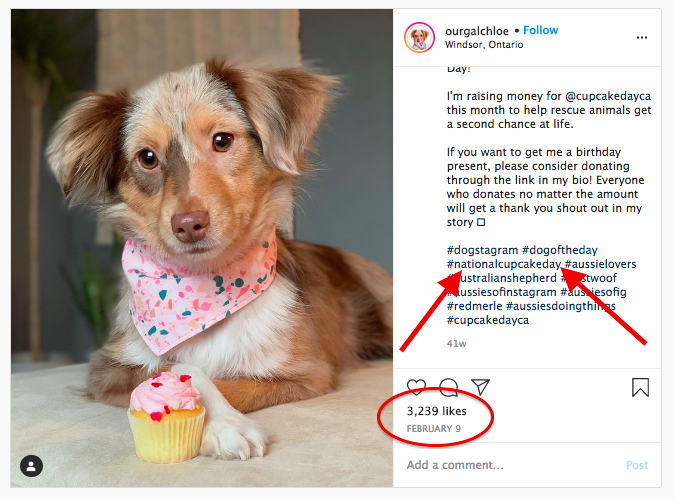 This post got an amazing engagement rate of 13.3 percent. And who knows how many followers. Not bad for jumping on a quick trend.
Go Live For Your Followers — And Get More Followers
Going Live on Instagram is a great way to connect with your followers in a meaningful way. You can do Q&A sessions Live, you can perform a new song, if that's your niche. Whatever it is, Instagram followers love it when their favorite influencers go Live.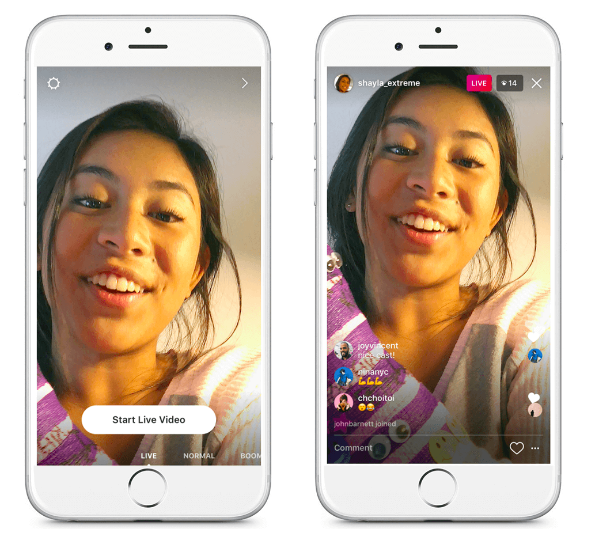 But wait, if they are already your followers, why care? Don't you need new followers? You do, and by keeping a strong connection with your current followers will lead to netting new followers. A lot of them.
How? Why do people turn to social media influencers to find new products, services, and even new brands? They trust influencers, and they view influencers like peers. You could even compare influencers to friends for some followers.
When a friend talks about your Live post on Instagram, those friends will probably check you out and follow you. It is that simple. Word of mouth is the number one way to drum up loyal followers.
Instagram also announced that users will be able to go Live for up to four hours very soon. According to The Verge:
"Generally, people are substituting live-streaming in for anything they did in-person, including shopping, so Instagram is giving more time to do that. At the same time, the company is hoping live videos will keep people in the app for longer, especially given that lives are something they can't watch at any other time."
Utilize Hashtags To Help Users Find Your Content
Hashtags are essentially the keywords of Instagram, and most other social media channels. This is what makes utilizing hashtags so important for influencers learning how to grow their follower count and understanding how to get money from Instagram.
Hashtags are critical to getting more followers because they allow users to find you. For example, a yoga influencer can utilize hashtags like #yoga, #beginneryoga, #yogatraining, and other hashtags that yoga enthusiasts on Instagram follow.
Here's an example from Instagram micro-influencer @zenbaby.yoga . . .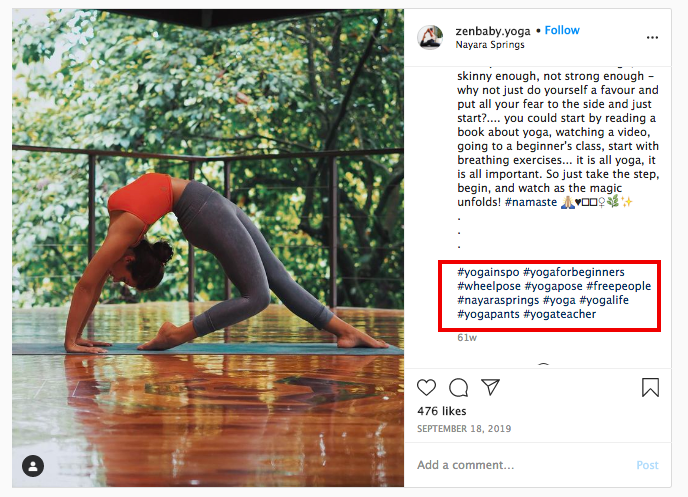 Hashtags can have a big time impact when it comes to building your follower count, as well as getting paid as an influencer.
Team Up With Other Instagram Influencers In Your Niche
Last, but not least, teaming up with other influencers can net you a good amount of new followers. However, you need to be willing to share, because your collaboration partner will be getting some of your followers too.
This may seem like helping the competition, but it really isn't. Most Instagram users follow more than one influencer in a specific niche. Some users may be following up to ten influencers in a specific niche.
Why? Variety!
If you think you're the only lifestyle influencer your Instagram followers are following, think again. So to amp up your followers, connect with a like-minded influencer and collaborate.
Here's an influencer duo crushing it in the fitness, health, and lifestyle space . . .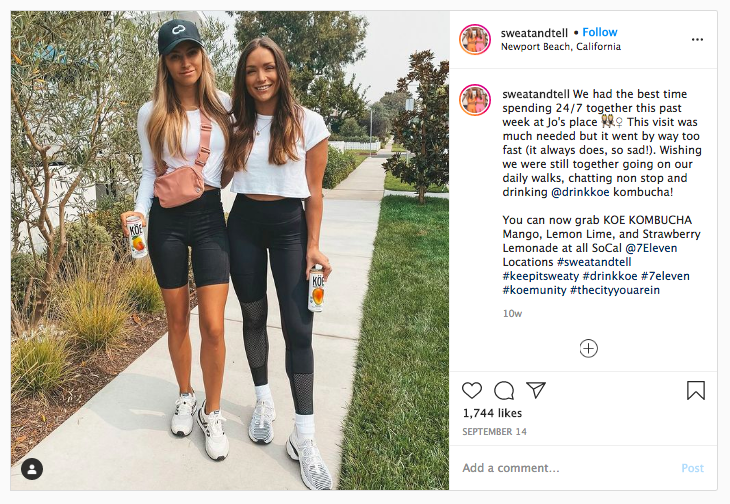 These influencers are on their way to mid-tier influence fast. You can do the same by collaborating with others and sharing followers.
Learn How To Get Paid For Instagram Posts Via More Followers
The above tips and tricks to get more followers on Instagram are among the most essential. There are certainly more out there, but these are ingredients for your more followers recipe.
Have questions? Want to learn more about how to get money from Instagram? Scalefluence can help. Sign up today and take your influence to the next level.