Instagram is one of the largest social media platforms with a billion active monthly users turning to Instagram for the latest and greatest. In fact, Instagram is close to surpassing Facebook as the top social network . . .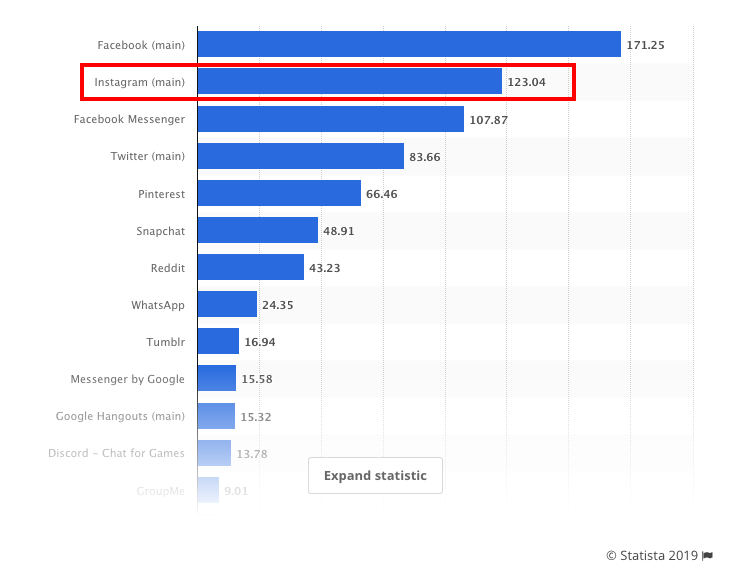 For Instagram influencers, users equal dollar signs, especially for Instagram micro-influencers. But many micro-influencer don't know how to earn money from Instagram.
Are you an Instagram micro-influencer? Do you know how to gain more followers on Instagram and how to start making money on Instagram?
You probably have some influence already built up via your profile. But turning that influence into cash money can prove challenging. It takes dedication, transparency, and a few money making tactics.
And you definitely don't need a massive following to use your Instagram influence to make it rain. Instagram micro-influencer @oliviathomm only has 10,000 plus followers, but still lines up those lucrative brand sponsored posts . . .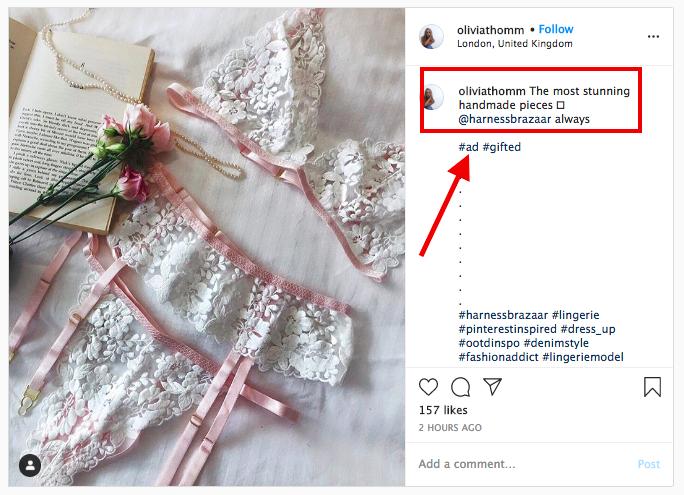 To hammer this point home, a survey found that 84 percent of Instagram micro-influencers charged $250 per sponsored post. You do a few of those per month, as well as other influencer money making stratagies and you can make a decent monthly revenue.
To help you get on that money train, we tapped into our influencer marketing experts to find out how to earn money from Instagram as a micro-influencer. Let's dive in!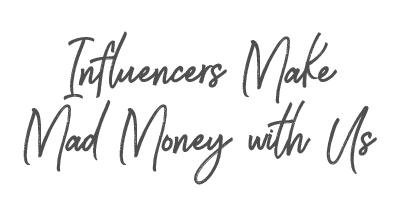 Is Your Instagram Profile Ready To Make Money?
This isn't so much of a tactic as it is a question. But it is a very important question to ask if you want to know how to earn money from Instagram as a micro-influencer.
The content you post is certainly important, but when a user lands on one of your posts, they will turn to your profile to decide if they want to follow you. This is why you need to have a stellar, up-to-date, niche focused Instagram profile.
And having a profile ready to make money is even more important if you are on the edge of achieving micro-influencer status. But what does an Instagram profile ready to make money look like?
Instagram style and fashion micro-influencer @themoptop does this to perfection . . .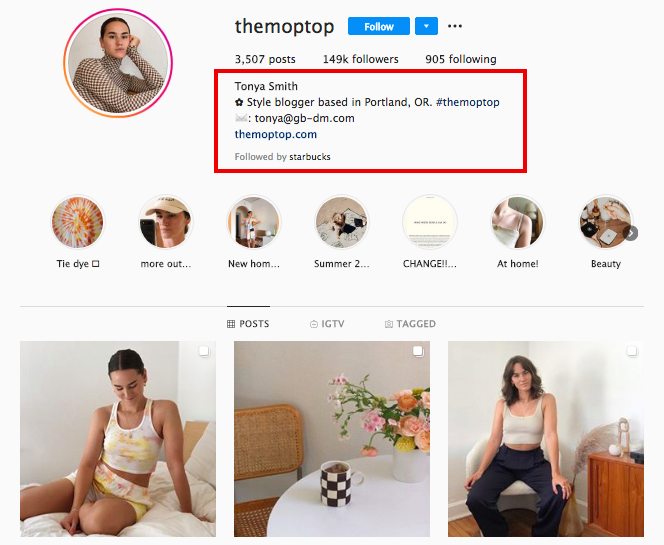 You can see that this micro-influencer has her name, what she does, where she is from, her unique Instagram hashtag, and where you can find more of her content. She also has plenty of Instagram Stories lined up for her loyal audience to check out.
Another ket aspect of a profile ready to make money is style. Our micro-influencer example above does an ex eptional job of this as well . . .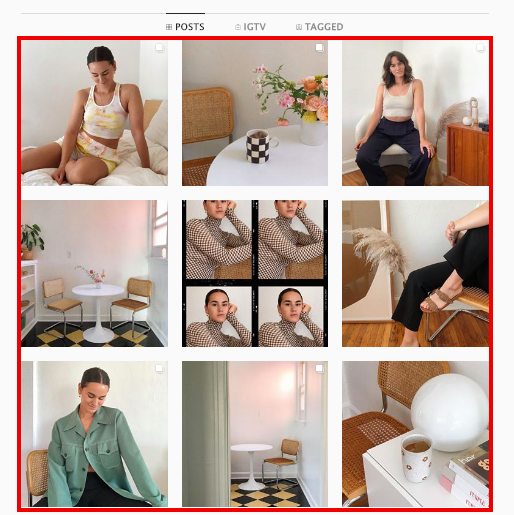 Each post has a white, clean look that really aligns with her niche and unique style as a micro-influencer.
If you want to know how to gain more followers on Instagram and how to start making money on Instagram, look into more micro-influencer profiles in your niche to see what works the best.
Only Post Quality Content To Earn Money From Instagram
At the core of every successful Instagram micro-influencer is quality content. Content is absolutely important. Sure, looks will go far, but having substance to each post can add value to the users that land on your posts.
How do you master this and see how to earn money from Instagram first hand?
This can be challenging for budding micro-influencers, because some view content as simply the text of a post. However, the entire post, from image to hashtags is part of the quality content triangle.
The quality content triangle consists of text, image, and hashtags.
First, look at the text you are placing in each post. Each post should have text that tells a story, like this example from @stevenonoja . . .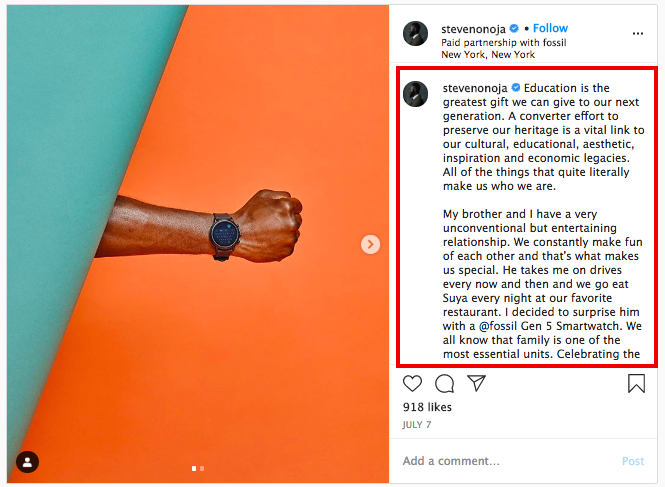 This micro-influencer uses a story to promote a smartwatch, and the post netted nearly 1,000 views and 29 comments. And with partnerships with top brands like Fossil, this is an Instagram micro-influencer to certainly emulate.
With text on point, it is critical to focus on image. This is also part of quality content, because people today are generally visual. You want your image to be enticing, but also niche focused to ensure your audience remains interested.
Here is a great example of an enticing and niche focused images from Instagram travel and lifestyle micro-influencer @livelikeitsthewknd . . .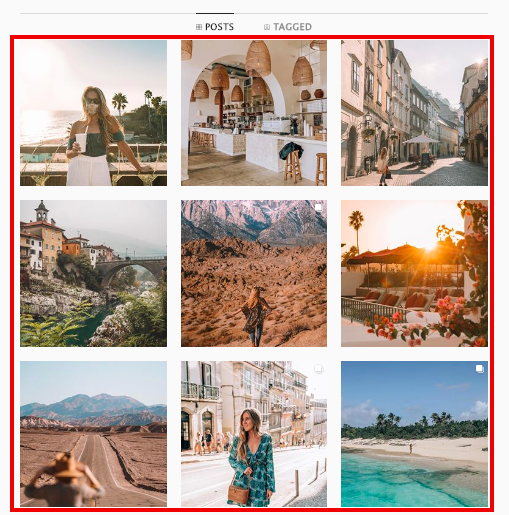 Beautiful landscapes, interesting destinations, and the micro-influencer taking it all in while on-the-go. This is a perfect storm of quality when it comes to Instagram post images.
And then there is hashtags. To ensure your post is of quality, you need to have hashtags strategically placed within the post. As a micro-influencer, a lot of Instagram users will find your posts via hashtags.
Here's a great example of how to leverage a hashtag via Instagram micro-influencer @sweatandtell . . .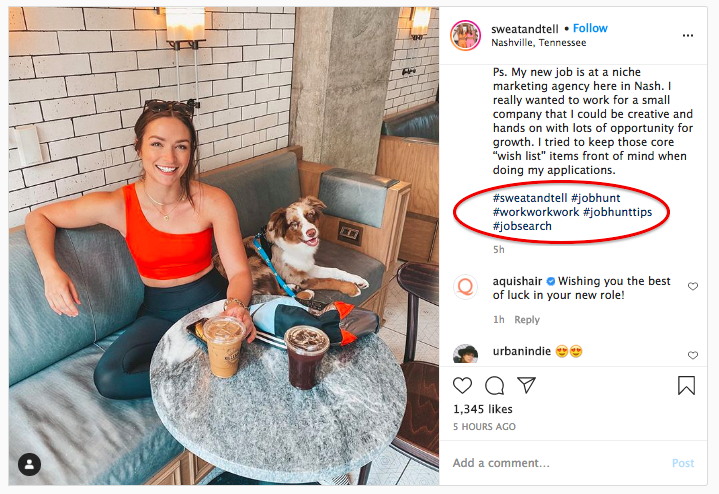 Always post quality content, from text to hashtags. This will help you gain followers and make money from Instagram as a micro-influencer.
Get On The Instagram Videos Train To Massive Revenue
If you want to know how to earn money from Instagram as an Instagram micro-influencer, you need to know how to produce video content. Why videos? Video content is the top type of content users want to consume.
Did you know that Instagram videos generate three times more engagement via comments than images? This is why video content matters to micro-influencers that want to make money from Instagram.
Here's what video posts look like . . .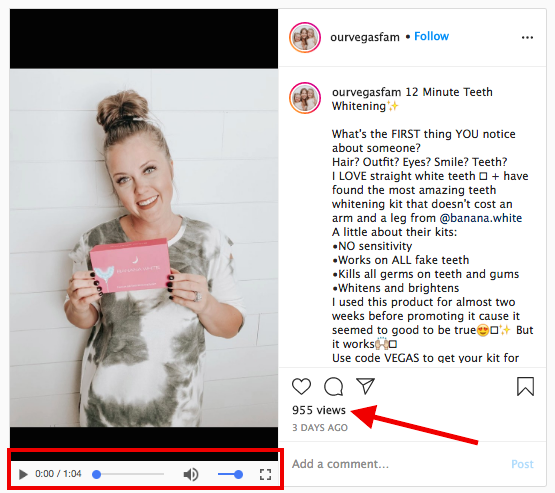 This video post netted nearly 1,000 views and 255 comments. When it comes to engagement, this video post had an excellent Instagram engagement rate of 2.4 percent.
And yes, engagement rate matters. This is the most looked at metric by brands when considering influencers for sponsored post contracts.
Make Money On Instagram By Engaging More
Engagement is not a one-way street. As much as your audience engages with your posts, you need to give it back. This will help you gain followers, and it is part of how to earn money from instagram as a micro-influencer.
And engagement doesn't need to be time consuming. Simply respond back to comments in an excited way. Here's a great example of how to engage with your audience from Instagram influencer @gabrielasage . . .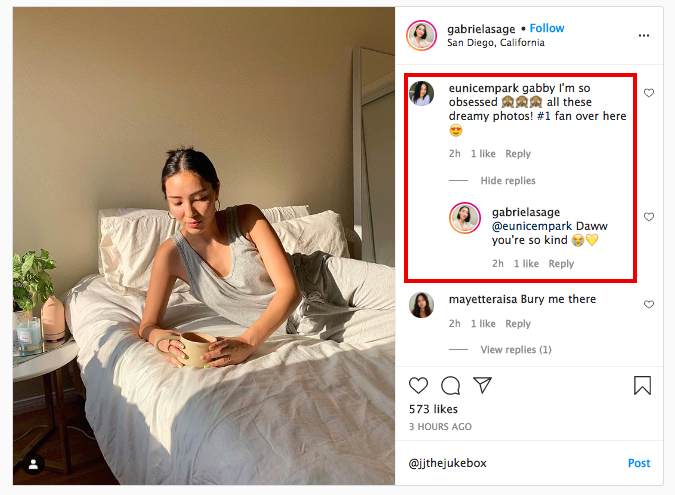 This influencer takes the time to comment back, engage, and increase her following for more profit potential as an influencer.
And how many comments do you really get for each post? Maybe 30 comments? To stay on top of this engagement tactic, schedule a day and time a few days after each post to reply to your loyal followers. You will be surprised by the results.
Partner With Scalefluence To Take Your Influence To The Next Level
Understanding how to make money on instagram can be challenging, or it can be easy. It really depends on you as a micro-influencer. The above how to earn money from Instagram tactics can be easily achieved by teaming up with an influencer marketing platform like Scalefluence.
Scalefluence Instagram influencers can nurture their influence with our team of influencer marketing experts. Want access to top brands for sponsored posts? We can help. Want to gain more followers via influencer-to-influencer collaborations? Scalefluence can do this.
We put our influencers first. Get paid top dollar for your creativity while keeping your personal brand intact. And you get your money faster via our innovative payment system. Contact Scalefluence today and take your influence to the next level.