Having Instagram influence can be profitable if you know how to make money from Instagram. Many Instagrammers don't know how to gain more followers on Instagram, or how to start making money on social networks.
Having followers and a decent engagement rate is only the first step. There is a lot more that goes into becoming an Instagram influencer. A certain level of dedication is needed and a solid marketing strategy.
However, once you know how to leverage your Instagram influence and understand how to get paid on Instagram, you can grow your bank account rather quickly. We are talking about serious cash money in return for simply tapping into that influence.
The following can serve as your roadmap to start making money on Instagram. From knowing how many Instagram followers you actually need to be a profitable influencer to landing your first sponsored posts from brands, making money via social media platforms can be simplified.
Let's dive right in!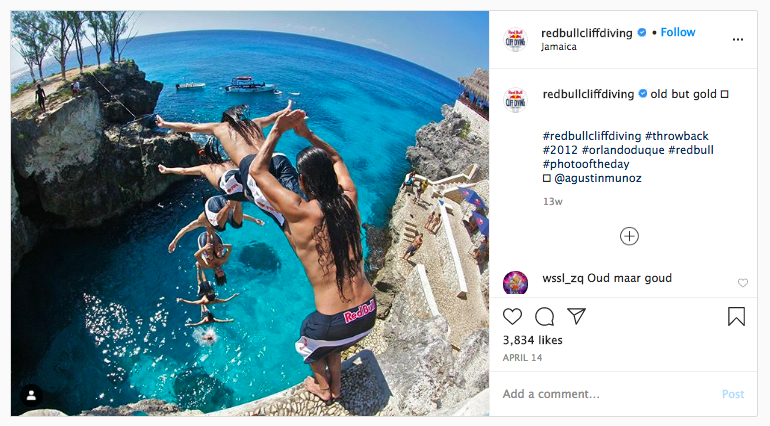 How Many Instagram Followers Do I Need?
Having more followers is always great. But the follower count you are thinking of is probably not what you need to get paid on Instagram. It may be better to think about how to gain more followers on Instagram than focusing on an actual number.
There are a number of factors that will dictate how many followers you actually need to start making Instagram cash money. These factors are:
The niche. Your niche can dictate how many followers you need to make money on IG. For example, an influencer with a smaller niche with a smaller target audience only needs 3,000 to 5,000 followers. But in broader niches, you should be shooting for 10k or more.
The engagement. The engagement has become a standard metric for evaluating the actual influence of an Instagram influencer. If you have 100,000 followers, but engagement from 3,000 of them, that 100k follower count means less.
The profit stream. This is another factor in understanding followers you need to make money. If you are exploring affiliate marketing to make money on IG, you will need more followers, because you are taking a broad marketing approach.
From mega-influencers to nano-influencers, there is no hard rule on follower count when it comes to making Instagram money. If you are a micro-influencer with 3,000 very loyal followers, a brand in your niche will pay you top dollar to reach that audience.
Here's a great example of how to leverage Instagram influence when you have only 2,000 followers . . .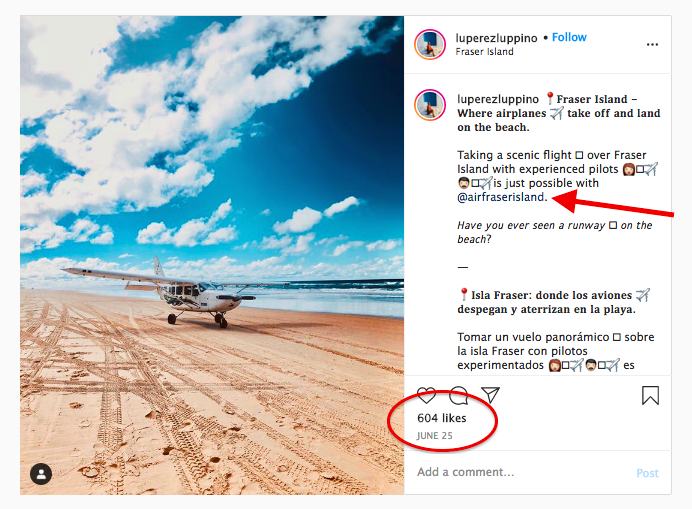 Instagram travel and fashion nano-influencer @luperezluppino has a loyal 2k following that she can use to make money on Instagram . . .

This is pretty clear proof that a lower follower count doesn't mean you can't make money on Instagram. With followers out of the way, let's get to the good stuff — How to earn cash from Instagram.


What To Do Once You've Gained A Substantial Following
Knowing how to profit from Instagram will help you achieve a few influencer goals. You will certainly make money, which is probably goal #1, but you can also learn how to gain more followers on Instagram, thus increasing your influence and revenue.
There are a few different ways to make money as an IG influencer. You can choose one of the below ways to get started. However, it is definitely recommended to combine multiple influencer revenue streams to maximize influencer profits.
Let's take a closer look!
Partner With Brands To Get Paid For Sponsored Instagram Posts
If you want to know how to start making money on Instagram, start with sponsored posts. It is the top way to get paid for your influence, regardless of follower count. Why? Brands want to influence, and if you have loyal followers hanging on every recommendation you make, you'll find plenty of brand partnerships.
Brands want your audience. They utilize the power of influencers because consumers don't really trust what brands are serving up. But when an influencer like you delivers the marketing message for the brand, everyone wins.
Here's a sponsored post example via fashion micro-influencer @mikaela.wightman and Zara . . .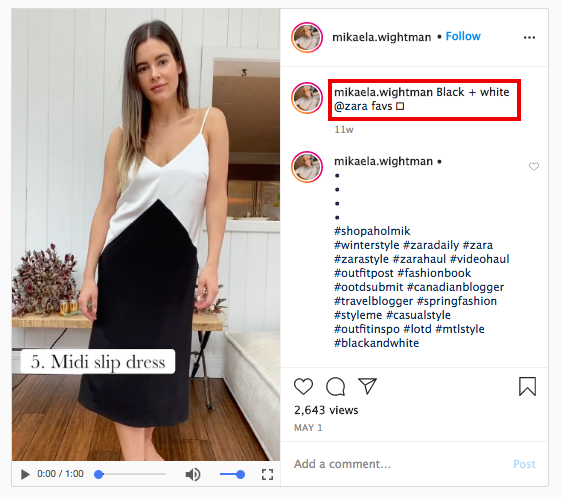 A very simple Instagram video post that netted over 2,600 views and nearly 20 comments . . .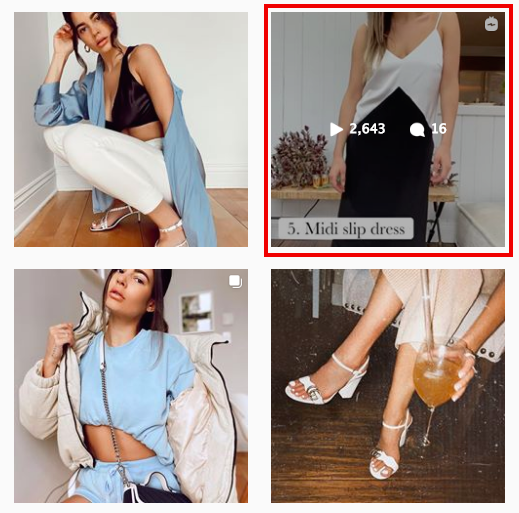 You would think that a major brand like Zara wouldn't be interested in a micro-influencer with only 30k followers.
However, this post may have sold over 2,000 dresses. For Zara, if they had several micro-influencers promoting the same dress, the revenue for that product could be very good for the brand.
To get the attention of brands for sponsored posts, you do need to do a bit of homework. Find brands in your niche and reach out. But be sure you have all your influencer data ready. They want to see the follower count, engagement rate, and success of previous influencer campaigns.
You can also make connecting and partnering with brands easier by teaming up with an influencer marketing platform like Scalefluence. Influencer marketing platforms already have a network of brands and agencies looking for influencers like you across a number of industries and niches.
Make Money On Instagram Via Affiliate Links
This is the second top choice among influencers to make money from Instagram. Affiliate marketing has been around for quite some time now, and skilled influencers know how to turn affiliate links into cash money.
What is affiliate marketing exactly?
An affiliate program is a way for brands and influencers to partner in a not-so-personal way. Instead of partnering with a brand via sponsored posts and contracts, you can simply grab links to products your audience will love and use your influence to get your audience to click through and make a purchase.
How do you become an affiliate of brands? Good question!
It is actually pretty easy. Visit one of the affiliate marketing platforms like Rakuten or Commission Junction. Fill out the request form and get approved to access their brand networks. Once approved, you can begin getting brand approvals as an affiliate.
Each brand that approves you as an affiliate will generate a unique affiliate link for every product you choose to promote as an affiliate influencer on Instagram.
Sometimes a content creator will use their Instagram posts to promote affiliate links via another medium, such as a website, YouTube channel, or podcast. Here's an example from micro-influencer @thelipstickfever . . .

Once you visit the podcast from her Instagram profile, you get more content, more affiliate links to check out, and more opportunities to become a loyal follower . . .


Create Your Own Branded Merchandise And Sell On Instagram
This is the most lucrative path when it comes to understanding how to get paid on Instagram. As an influencer, you are a personal brand. Instagram users come to you for brand information and product and/or service recommendations. It isn't only about entertainment value.
This makes creating a strong personal brand with branded merchandise a must if you want to make money via your IG influence.
Let's say you are a fitness and health influencer with 5,000 followers. These followers have been loyal, giving you great engagement, and you have been engaging back (very important). You have been promoting other brands, but now you want to take your personal brand to the next level.
First, think of products that your target audience will want to buy. This could be a mastermind health and fitness book, a health and wellness supplement, and even basic apparel, like t-shirts, hoodies, hats, gym shorts, and more. You can set up an Instagram Shop to easily sell your brand online. Instagram shopping is a great way to increase brand awareness and promote your product!
Here's a great personal branding merchandise example from @lizarch . . .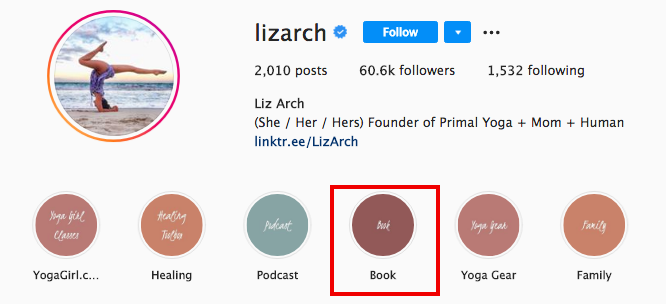 This health and wellness influencer turned her influence of over 60k followers into personal branded book success . . .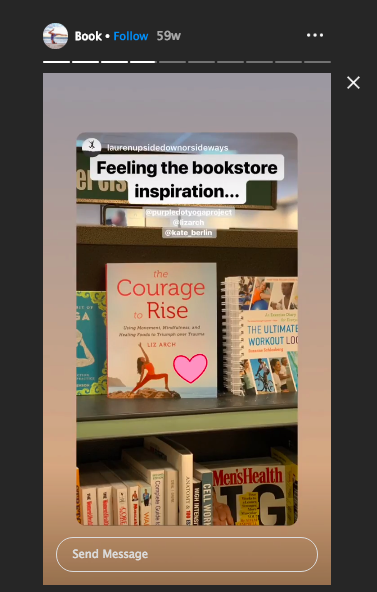 Personal brand merchandise can generate massive revenue when promoted correctly to your followers. Especially when it has serious value.
How Many Followers Does it Take To Start Getting Paid?
Many people believe you need thousands of followers, or over a million followers to make money on Instagram, but it's quite the opposite. While the general rule of thumb is you need at least a couple thousand followers to start seeing revenue, there is no strict minimum to becoming a brand ambassador. Many Instagram influencers have achieved this with only one thousand followers. This means you could potentially make money within a year of making an Instagram account (if you put in the work).
Just be diligent with tools like Instagram stories and reels, and learn about Instagram marketing to reach your full potential.
Do You Know How To Earn Money From Instagram Influence?
The above ways to leverage your Instagram influence to make money as a social media influencer are only the tip of the iceberg. They are, however, among the top ways to get that revenue rolling in.
You can certainly start this journey on your own, or you can partner with Scalefluence, a reputable influencer marketing platform with a skilled team and a large network of brands and agencies looking for influencers like you.
Let us make the connection for you, taking your Instagram influence to the next level. Learn more about us and sign up to start making money on Instagram the easy way.