Attention all marketers!
If you're looking to master how to advertise on YouTube, you're in the right race, since YouTube is undeniably one of the best platforms to advertise your brand or product. With over 2 billion active users each month, who are watching over 2 billion hours of content daily, YouTube is one of the most popular and most powerful digital platforms in existence. It's more than just a video-sharing site. YouTube is the second most-visited website in existence (the 2nd largest search engine in the world) following just behind Google.
If you're looking for ways to leverage the web and leverage the power of video marketing when building a name for your brand, it's a great idea to look at YouTubers. Some YouTubers have a small yet loyal following, and working with micro-influencers can be cost-effective and, well, surprisingly effective.
Alternatively, you can seek out a YouTuber with hundreds of thousands of subscribers that match your niche market. Have a chat about how to best advertise your products on their YouTube channel. Just like any marketing platform, you need a strategy for how you're going to correctly access the advertising goldmine that is YouTube.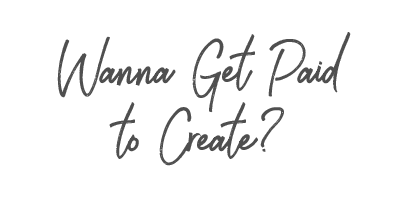 First, let's go over the types of advertisements that you can include in your YouTube videos. While you're thinking about what genres of videos you think will promote your brand the best, make sure you're also thinking about what type of ad will attract the most clicks.
Types of YouTube Ads
Video Discovery Ads
They use your brand to sell your product or service by placing ads alongside content that will likely be viewed by your target audience. These YouTube ads show up on the YouTube Homepage, Watch Feed, and Search Feed.
Skippable Ads
Skippable ads, or TrueView ads, are the most common type of YouTube ads. These in-stream ads play before the video, but sometimes viewers have the option to skip the ad.
TrueView ads allow YouTube account managers to use their Google Ads account to collect data for optimization purposes.
Non-Skippable Ads
Non-skippable ads can play pretty much any time during the video: before, middle, or end. They can appear midway through a video that is 10+ minutes long. These ads are best optimized with a call to action (CTA) to draw the attention of the viewer.
Bumper Ads
These are the shortest type of YouTube ads and are non-skippable. Because these videos can only be 6 seconds long, be sure to make engaging content that will contribute to your ad campaign.
Overlay Ads
Overlay ads appear as a banner at the bottom of the video that's playing. If you don't want your YouTube ads to be overly intrusive, these ads are a great option.
Below, we'll go over some of the creative, effective, and reliable ways you can bring your products to the right leads through YouTube advertising.
Tutorials: Teach Your Audience Something
When browsing YouTube, most visitors are looking for entertainment and information. A "How To" video is one of the best ways to give them the best of both worlds.
Educational marketing sells. Creating "How To" or educational content helps you to promote your brand and product in a multitude of different ways. First, it ensures you can rank for long-tail keyword phrases your customers are probably looking for when they're using their phone, computer, or smart speaker to get answers to a question.
With "How To" YouTube videos, you also demonstrate your thought leadership on a topic. You'll also have a fantastic opportunity to showcase your products or services, without being overly "promotional" and coming across as more helpful or "educational" instead.
The "HubSpot Hacks" YouTube channel, for instance, is packed full of "How To" guides for problems like optimizing blog posts or exporting contacts from your CRM app. The videos simultaneously show customers how to do something important while showcasing the value of the product (the HubSpot software).
YouTube viewers are constantly wanting to learn how to do something, so if you want your product advertised in a video, get a popular YouTuber to unbox it, demonstrate it, and do an educational video tutorial of them using your product.
We've mentioned the concept of working with other people to unbox, review and compare your products above. However, working with influencers is a concept that is important to unpack since there is so much an influencer could do for you on their channel. When browsing YouTube, most of your fans and potential customers aren't going to be looking for advertisements. They want entertaining content.
Sponsoring an Influencer to have a place in their video means you can tap into their unique personality and advertising ability to get your product in front of more customers, from a source they like and trust. An excellent example comes from the very well-loved Ryan George, a comedic YouTube influencer with 1.32 million subscribers.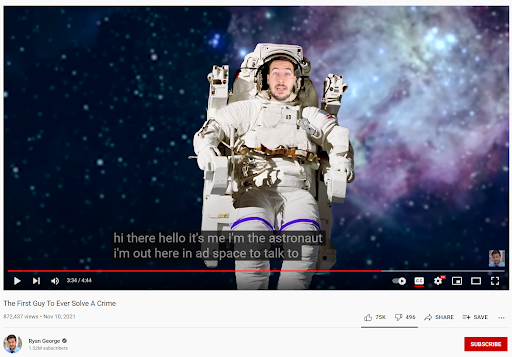 In his hilarious "First guy to ever…" YouTube videos, Ryan adds a fun part to the end of his content where he uses visual effects of outer space to appear as an "ad-stronaut" out in the "ad space" to tell you about the content's sponsor. The fun way Ryan implements the advertisement into his content makes it less likely customers will want to skip or ignore it.
When sponsoring influencers, consider asking for their advice on how you can make an ad placement a little more enticing to a specific audience.
Conduct a Review or Unboxing
People love sharing in the excitement of opening up a brand-new product. The right review or unboxing video from the right influencer can be an excellent way to get customers excited about an upcoming product or an item in your collection. It's also a fantastic way for affiliates and advocates to draw attention to a branded item.
The key to a great review is making sure you answer all the questions you think the viewers might have. You could consider hosting polls in advance to find out more about what your viewers really want to know, or you can research what people are searching for on social media.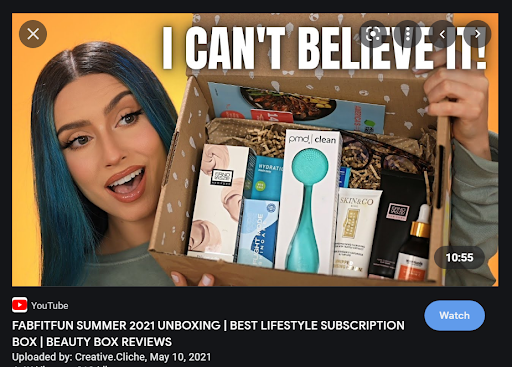 A good unboxing should also include plenty of instructional information. For instance, in this video review from the Mac Cosmetics channel, Mac Cosmetics works with Jaleesa Moses on a review of their "next to nothing" face makeup. The review shows how the product works, what it feels like, how well it applies, and adds plenty of personality from Jaleesa herself.
Product Comparison Videos
During the purchasing journey, your average customer is usually met with a multitude of different products or services promising a similar solution to their problem. It's their job to figure out which purchase is going to deliver the most value.
A quick search online will find thousands of articles, videos, and blog posts discussing the differences between different products and services. You can save your customer the time of having to compare your product to competing items themselves, by producing your own comparison video.
A popular YouTube channel called UsefulCharts compared 5 DNA Testing Kit companies and compared the DNA reports. If your DNA testing kit was in this video, it would have gotten lots of attention.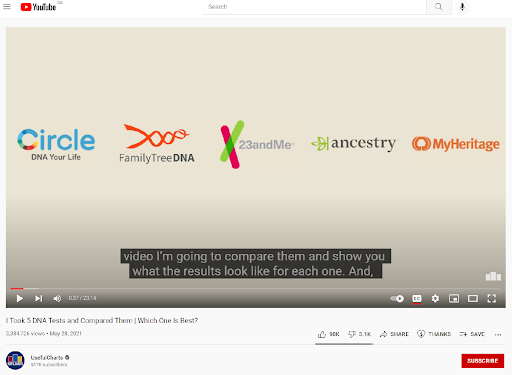 Typically, it's a lot easier to work with an influencer or another person with a connection to your audience on YouTube, than it is to create comparison content yourself. Most customers will automatically assume you'll rank your own product higher than that of a competitor. However, they can trust an influencer or content creator to give a more authentic review that won't be as biased.
For instance, check out this review of Dollar Shave Club vs Harry's by the Kavalier.
Use Live Videos for Q&A Sessions
Live video is one of the most recent trends to hit YouTube and countless other online channels. As video becomes a more natural part of our lives, customers are using it as a way of getting an authentic insight into how certain products work.
A live video is best when you want to connect with customers on a more human level. You can use this technology on YouTube to answer questions customers might have about a product or service, giving them more information in real-time for an important purchase.
The key to successfully using live videos on YouTube is making sure you advertise your upcoming streams in advance. This means making sure you get people hyped about your content on social media, with email newsletters, or on blog posts, before an event happens.
Benefit Cosmetics offers an excellent insight into how effective live video can be by allowing potential customers to ask questions in real-time during a live video on Facebook. The same strategy can be just as effective on YouTube.
Experiment with YouTube Ad Placements
Advertising products on YouTube doesn't have to mean creating your own YouTube channel, or a series of promotional videos. You simply run a YouTube video ad campaign with existing YouTubers to attract the 40% of shoppers who say they purchase items they find on the channel.
YouTube advertising can be a little tricky to get the hang of at first because there are so many different ways to advertise your product in a YouTube video. You can start with the TrueView ads, which appear before, during, or after a video, as well as on a search result page. Since these YouTube ads are skippable, customers can avoid them if they prefer. There are also pre-roll ads, which can be up to 20 seconds long (and aren't skippable). Or you can consider the bumper ads.
The key to a great YouTube ad placement is making sure your advertisements appear in the right content. For instance, Central Penn College uses TrueView instream ads to connect with "younger" viewers who might be interested in enrolling in a course. The ad is short, informative, and gets customers interested in a matter of seconds.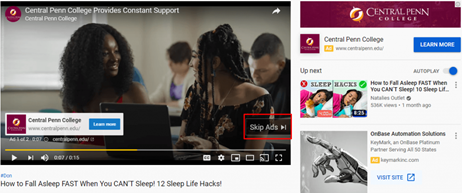 Discover The Benefits of Advertising on YouTube
YouTube can be an incredible tool for advertising, particularly now that video content is more popular than ever. According to SEMRush, YouTube accounted for around 21% of global streaming traffic in 2019. What's more, 48% of people believe that YouTube will contribute the most to improving the effectiveness of PR communications in the next five years.
If you want to leverage the benefits of YouTube for yourself, you need the right promotional strategy. Put in some serious 'thinking time' to decide how you want to advertise your products. With comedy, like with YouTuber Ryan George? Or with a tutorial? Review? The tips in this article should provide you with some creative (and effective) ways to advertise to your niche audience. Remember to track the results (such as engagement, clicks, sharing) of each YouTube video you use to promote your products, as well as tracking sales. This will help you to determine which strategies will work best for you in the long-term.
It's crucial to be matched with a YouTuber who matches the niche of your brand. Use an influencer matchmaker company such as Scalefluence to match with YouTubers who are 'on brand' with an audience in your niche.