How to Live Stream on YouTube
If you're a video content creator, odds are you've already got a YouTube channel to showcase your talents and passions. One of the best ways to engage with your subscribers is by live streaming on YouTube. Live streaming allows you to interact with your viewers in real time, answer their questions, and build a sense of community around your brand or channel.
In this comprehensive guide, we will cover everything you need to know about YouTube live streaming, from understanding the benefits of live streaming and the requirements for setting up a basic live streaming setup to advanced features like chat integration and fundraising options.
Understanding YouTube Live Streaming
With YouTube Live Streaming, creators can interact with their audience in real time while reaching a broader audience worldwide. Similar to Twitch, this feature is ideal for webinars, online classes, gaming sessions, music concerts, and more. YouTube Live Streaming offers a unique opportunity to grow your channel and attract new viewers worldwide.
Benefits of Live Streaming on YouTube
Live streaming on YouTube has numerous benefits that can help improve your online presence and engage with a wider audience. Broadcasting live events, webinars, and Q&A sessions can help you connect with your audience in real time, increasing engagement rates and watch times compared to pre-recorded videos. You can build a more engaged community by interacting with viewers through live chats, answering their questions, and getting instant feedback on your content.
YouTube Live Stream Requirements
Meeting the live streaming platform's requirements is crucial to ensure a successful live stream on YouTube. First and foremost, you need to have a verified channel in good standing and a reliable internet connection. It's also essential to ensure your content does not violate copyright or community guidelines.
You'll need a camera, microphone, and encoder software to broadcast your content. Ensuring the equipment is in good working order will help prevent any technical hiccups during streaming. By meeting these requirements, you can be confident that your live stream will be accessible to viewers and provide them with an enjoyable viewing experience.
Preparing a Basic Live Streaming Setup for YouTube
To start live streaming on YouTube, you'll need to prepare a basic setup that fits your content and budget. The first step is to identify the type of content you want to stream and determine the necessary equipment. For instance, if you're planning to do a vlog-style stream, you'll need a camera with good video quality, while gamers might require a high-end graphics card and capture card for their PC setup.
Once you have an idea of what you need, it's important to choose a reliable internet connection to ensure a smooth streaming experience. A wired Ethernet connection is preferable to Wi-Fi, providing better stability and speed.
Webcam and Microphone Selection
Choosing the right camera and mic is crucial for a successful live-streaming experience on YouTube. A high-quality webcam or DSLR camera can provide clear and sharp visuals, making it easier for your audience to follow along with your content.
When it comes to audio, a good quality microphone can help capture your voice clearly and eliminate background noise. Consider using a separate microphone instead of the one built into your camera or computer for better sound quality.
Streaming Software Selection
When selecting the right software for live streaming on YouTube, many options are available in the market. Free and paid software like OBS Studio, Streamlabs OBS, and XSplit can help you easily create a professional-looking live stream.
However, choosing the right software can be challenging as it depends on factors such as compatibility with your desktop or laptop, features required for your live stream, and ease of use. Testing different options before settling on one that best suits your needs is essential.
Take the time to explore various software and consider factors like customization options and support before making a final decision.
Computer and Internet Connection Requirements
To ensure a streamlined experience for both you and your audience, it's recommended to use an Ethernet connection over Wi-Fi. Additionally, testing your upload speed beforehand can ensure that you can handle the bitrate of your stream without encountering any issues.
A computer (or console) with a good processor and sufficient RAM is also necessary to handle the video encoding process, so take the time to double-check these requirements before your live broadcast. Ensuring your streaming device and internet speed meet these minimum requirements guarantees a seamless live-streaming experience on YouTube.
Lighting and Accessories
Good lighting can make a major difference in video quality, so it's worth investing in some softbox lights or ring lights to create a well-lit environment. Additionally, using accessories such as microphones and tripods can enhance the overall quality of your stream. By investing in these simple additions, you can take your live-streaming game to the next level and create an engaging experience for your audience.
How to Start Live Streaming on YouTube
Starting your live video on YouTube is an exciting prospect but can also be daunting. With the proper preparation and guidance, you can make the process seamless and enjoyable.
Create a YouTube Channel
Creating a YouTube channel is the first step towards live streaming on YouTube. It's essential to choose a catchy name that aligns with your content and upload an eye-catching profile picture and banner. Your channel's appearance should be appealing to your target audience and reflect your brand's identity.
Consider optimizing your channel art by including relevant keywords related to your content. Creating a YouTube channel is simple and can be done in a few clicks. Once you have created the channel, you can begin customizing it according to your preferences and needs.
Enable Live Streaming
To start streaming, you must enable your account's live-streaming feature. This process requires you to meet specific eligibility requirements, such as having a verified account and no live stream restrictions. Enabling live streaming allows you to broadcast your content from your computer or mobile device using the YouTube app.
Once you have enabled this feature, you can create and schedule live streams that fit your needs. Don't forget to configure your stream settings beforehand so everything runs smoothly during your broadcast.
Configure Stream Settings
By adjusting settings such as the resolution, frame rate, and bit rate, you can optimize the viewing experience for your audience. Additionally, configuring your stream settings allows you to ensure stability and prevent issues such as buffering or lag during the live stream. Taking the time to configure these settings beforehand will save you time and frustration during your actual broadcast.
Going Live on YouTube
Transitioning from understanding YouTube live streaming and preparing a basic setup to go live on YouTube can seem daunting. However, with proper preparation and practice, it can be a breeze.
Before going live, testing your internet connection and settings is crucial to avoid any technical issues during the stream. Interacting with your audience is also important to keep them engaged throughout the duration of your stream. Answering questions and responding to comments helps build a community and shows that you value their engagement.
To go live, go to your YouTube account, and follow these steps:
Select the "Create" button
Choose whether you want to stream right now or at a later date
Choose the built-in webcam option
Title your live stream, and select a privacy setting
If your live stream is scheduled, select a date and time
Choose if the video targets kids
Select the age restrictions
Select "more options" to add a description, category, and camera/sound options
Live chat and monetization features can be found under "Advanced settings"
Take a photo for the thumbnail or upload your own image
Click share to promote your live stream across other channels (such as Twitter, Facebook, or Instagram)
Once you're ready, select "Go Live"
You can interact with your followers via the chat box to the right
When the live stream is done, click "end stream"
Using the YouTube Live Control Room
To create a professional-quality live stream on YouTube, it's essential to use the YouTube Live Control Room. It's a powerful platform that enables you to manage your live stream, monitor its performance, and interact with viewers in real time. You can also schedule, start and stop your live stream through this platform.
The control room provides features such as chat moderation, audience analytics, and monetization options, making it an all-in-one solution for your live streaming needs. With the YouTube Live Control Room, you can ensure your viewers have a seamless experience while enjoying the benefits of an easy-to-use interface.
Testing Audio and Video
Before going live on YouTube, testing your audio and video quality is crucial. Poor audio or video can quickly turn off viewers, so it's important to ensure that everything sounds and looks good. Adjust your audio levels to ensure they are not too quiet or loud and practice speaking clearly in front of the camera.
It's also a good idea to do a trial run of your live stream to identify any issues beforehand. Many creators overlook the small details like testing audio and video, but the success of your live stream could depend on it.
Advanced YouTube Live Streaming Features
As you become more comfortable with live streaming on YouTube, you can start exploring its advanced features. Taking advantage of these advanced features not only enhances the experience for your audience but also helps grow your channel and create a loyal community of viewers.
Integrating Chat and Moderation Features
Integrating chat and moderation features into your live stream can take the experience to a new level. With YouTube's in-built chat functionalities, you can engage with your viewers in real time and create a sense of community. Additionally, moderators can help manage the chat by removing inappropriate messages and banning users if necessary.
You can also use third-party tools to add custom chat overlays and create a more engaging environment. However, it's important to set clear rules for the chat and ensure that moderators are well-trained to handle any issues that may arise. By incorporating these features, you can make your live streams more interactive and enjoyable for everyone involved.
Fundraising and Donation Features on YouTube Live
YouTube Live offers several features that content creators and influencers can leverage to raise funds for their causes. Super Chat allows viewers to pay to have their messages highlighted in the chat during a live stream. This feature not only helps the viewers stand out but also provides an opportunity for creators to monetize their content.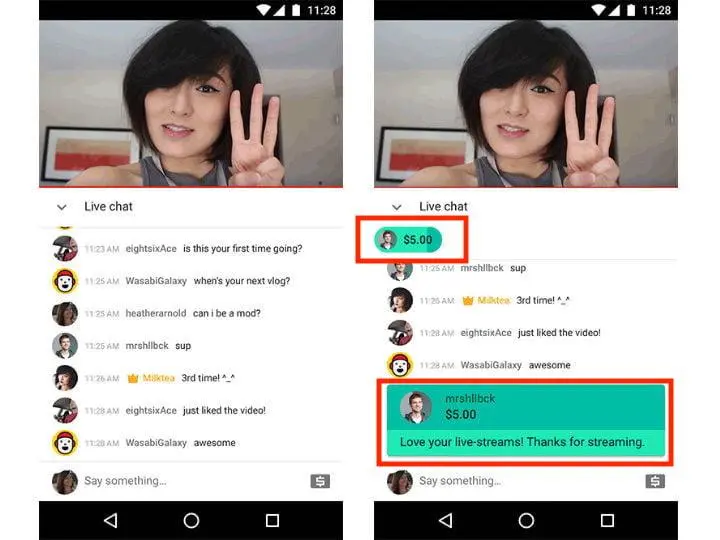 Another feature, Super Stickers, allows viewers to buy and send animated stickers to the streamer during a live stream. Additionally, Channel Memberships enable viewers to support the creator by paying a monthly fee and gaining access to exclusive perks such as badges and emojis. These fundraising and donation features can significantly benefit content creators while providing an enhanced experience for their viewers.
Start Monetizing Your YouTube Channel With Live Stream
In addition to reaching a broader audience, hosting a live event is a fantastic opportunity for monetizing your channel. Promoting your live stream on other social media platforms can increase viewership and engagement, which can translate into higher revenue potential. If you're ready to start getting paid with your live streams, contact Scalefluence today!
Frequently Asked Questions