Understanding how to earn money from Instagram begins with growing your followers. More followers equals more likes and comments, which increases your engagement rate. And having a strong engagement rate influences more brands to work with you.
Can you tap into your Instagram influence and make money with 3,000 followers? Absolutely. However, having 10,000 followers makes life as an influencer easier. Not only will you get more likes and comments per post, you get more opportunity to build revenue.
For example, Instagram lifestyle nano-influencer @ellie.blakeney has 6,300 followers:

Her last post netted 541 likes and 44 comments:

Not bad at all for a nano-influencer on the rise.
However, growing your follower count can have a big time impact. Eco-influencer @sophfei has a follower count of 37,000:

Her latest post netted over 1,100 likes and 29 comments:
This wasn't even that strong of a post, just a simple quote graphic. You can see how having more followers can make a difference in likes per views.
But how do you gain more followers on Instagram and know how to start making money on Instagram? Well you are in the right place. Our team of expert influencer marketing pros have compiled 6 tips to more influencers and outlined how to earn money from Instagram.
Let's dive in!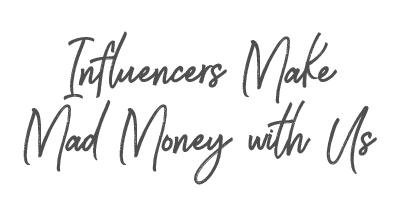 1. Really Understand Your Audience To Gain More Followers On Instagram
Do you know what makes your audience tick? This is one of the most important tips when it comes to how to earn money from Instagram and grow your followers. Why? If you know your target audience inside and out, you can create social media content they will absolutely love.
Instagram influencer @biancaffoley has done this to perfection. She is a "mid-sized fashionista" with over 12k followers. Knowing her audience is all about being mid-size and loving it, she creates content to inspire, motivate, and share her self-love-
This post netted 339 likes and 137 comments: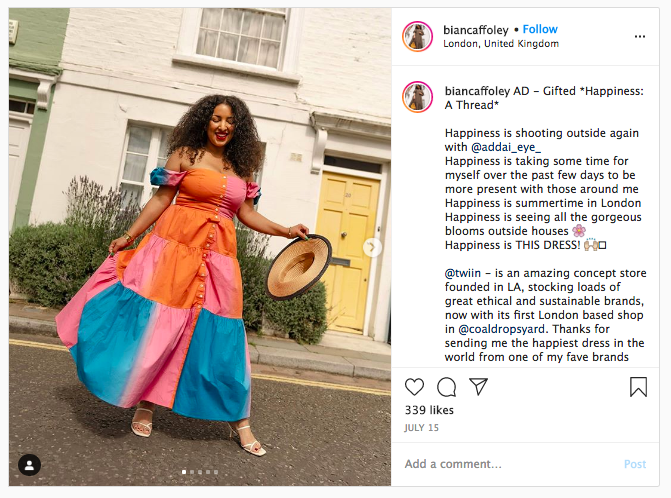 That equals out to an engagement rate of 3.7 percent. That is a very strong engagement rate, considering the average engagement rate of an Instagram influencer is 2 percent.
To really get into the minds of your audience, you need to create audience personas. These personas include important data, such as location, age, interests, online hangouts, forums, gender, devices, and more.
Once you have key data on your audience, create content that satisfies their content needs and wants. Utilize Instagram Insights to begin building your audience personas.
2. Leverage The Power Of Video Content On Instagram
The type of content you create is the key to gain more followers on Instagram. Yes, Instagram is generally a photo-sharing social media channel. However, videos have become a major type of content with users preferring it over traditional images.
Instagram Stories, video posts, and even live videos can be created to boost your follower count as an influencer in your industry and/or niche. Here's why video content is a must-do for influencers today:
Engagement rate on video posts is much higher than image posts
Instagram Stories are used by brands (2.5 Stories per week)
Live videos go to the front of the line for maximum views
Users prefer videos and feel more connected to influencers
Here's a great example of just how powerful video content can be when it comes to how to earn money from Instagram . . .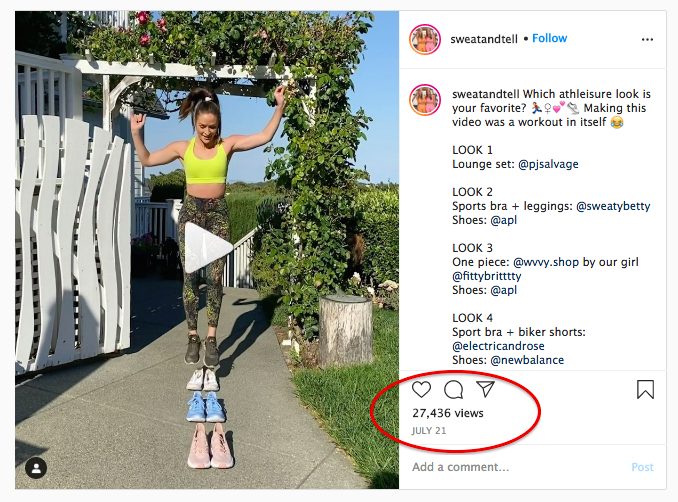 This Instagram video netted influencers @sweatandtell over 27k views with more than 100 comments. This highlights the need to create more video content to gain more followers on Instagram.
3. Post Daily And Know How To Earn Money From Instagram
This is obviously easier said than done. But posting consistently, at least one post daily, can have a big time impact on your follower count. It can also reveal insights into how to earn money from Instagram.
Research has shown that posting daily can increase your follower count by 56 percent. Double dip and post twice daily and your follower count could grow exponentially. There is, however, the importance of posting quality content.
You definitely don't want to post just anything in order to reach your once a day posting quota. Ensure every post is of high quality and true to your personal brand. And by posting daily, you will gain more analytical insights about what your audience wants, helping you create better content.
What's the takeaway? Make a schedule and stick to it. Creating quality social media content as an influencer can be challenging, but if you want to make money from your influence, dedicate yourself to a schedule.
4. Make Engagement A Two-Way Street For Increased Instagram Influence
When you post a video or image, whether you are recommending a product or service, or simply sharing your thoughts, your loyal followers will comment. To gain more followers on Instagram, you need to engage back and open those communication lines.
There are a few ways you can make engagement a two-way street with your audience. You can start by liking your followers' comments. This is of course the easiest way to engage. Here's an example from health and wellness micro-influencer @dedica: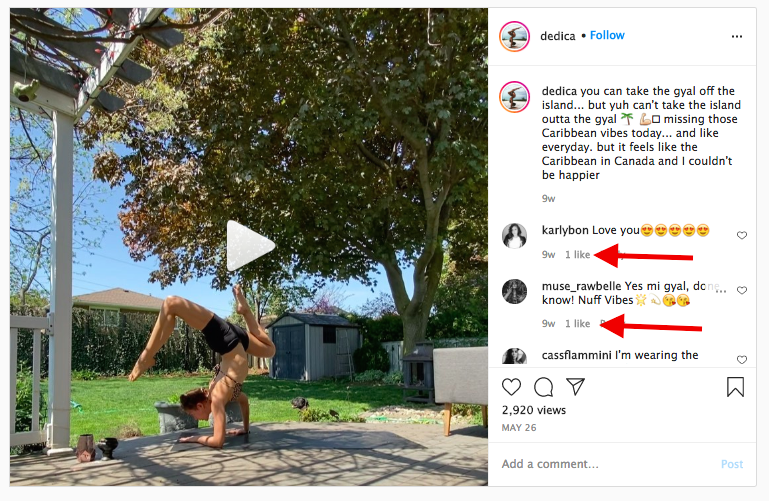 A simple like can go a long way with your faithful fans. Sure, engaging back can be time-consuming, but if you want to increase followers fast, it needs to be a priority. When time permits, reply to comments like this example: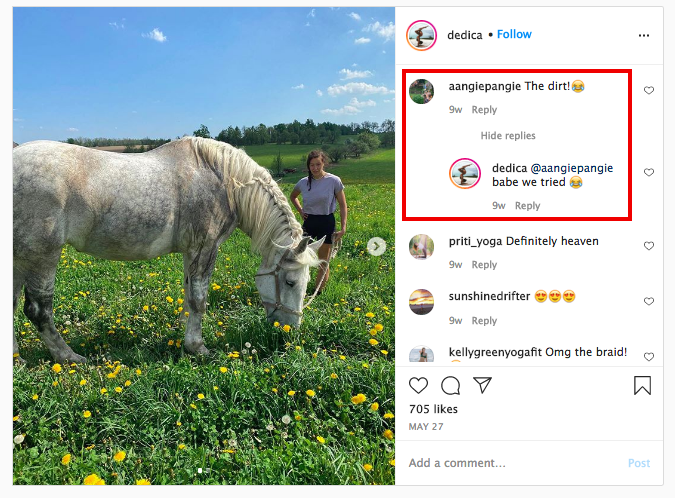 A little engagement back can go a long way. Take an hour out of your day and give your followers some love back in order to grow your Instagram followers.
5. Take Your Hashtag Game To The Next Level
Hashtags are critical to growing your follower count and can help you know how to start making money on Instagram. If you want to get your influencer content in front of more Instagram users, you need to leverage social media keywords — Hashtags!
Hashtags are indeed the keywords of social media. It helps the platform deliver content to those interested. And users will search hashtags in the search bar to find the latest and greatest on Instagram.
For example, let's say a bride-to-be wants to find new fitness influencers to follow in order to get fit for her upcoming wedding. She can use #weddingfitness to get going:

The soon to be bride can find influencers on this Instagram page, or check out the variety of hashtags that can also be useful to find the perfect influencer.
Just from #weddingfitness, influencer @soulsistersfitness pops up:
The hashtags in this post, other than #weddingfitness can also guide you to find more influencers in this niche.
6. Gain More Followers On Instagram With Scalefluence
The growth of influencer marketing has led to the inception of many influencer marketing platforms. These platforms specialize in connecting influencers with brands for increased followers and more revenue. Scalefluence is one influencer marketing platform that gets influencers the money they deserve for their creativity.
Scalefluence Instagram influencers get access to our robust network of brands and marketing agencies looking for influencers across all industries and niches. And we make sure you get paid top dollar for your creativity.
Want to gain more followers on Instagram and learn how to earn money from Instagram? Sign up with Scalefluence today and unlock your influence for maximum profit.