If you're wondering how to get paid to blog, you likely already have your own blog that isn't generating as much revenue as you'd like, or you're thinking of starting a blog with the goal of profiting from it. Sure, some people blog as a hobby, but it makes much more sense to view your blog as a business that can earn money for you. Writing blog posts and maintaining a blog takes time, and you deserve to be paid for your time, especially if you're providing quality content to your readers. If, through your blog, you're providing value to your audience, you deserve and will earn compensation. If you're educating readers, teaching them something new, helping them solve a problem, reducing their stress or showing them how to cut costs or live smart – that's value added. Your blog is valuable.
While some bloggers consider their blog to be a source of side income, other bloggers earn a full-time income from their blog. When it comes to getting paid for blogging, you get what you put in. In most cases, those who are earning a full-time income from their blog are also working on their blog every day.
Another common correlation is time. It's very common for bloggers to not get paid to blog until their blog has been live for years. A newer blogger might get paid to blog in small increments, but a blogger who started their blog 5 years ago could now start seeing a six or seven-figure income from their blog. My blog is 7 years old, and I can attest to the fact that I earn more money from it now than I did when it was new and exciting. However, I still earned some money when my blog was new, through sponsored posts sold at reasonable rates.
Remember that brands love working with bloggers, as it's bloggers who can help them appear in search engine results, which is evergreen in terms of longevity. A blog post can be found via a Google search more easily than a sponsored Instagram post which soon gets buried under a sea of new Instagram posts. Most brands, however, tend to include a mix of sponsored content in their marketing plan, with social media marketing and blog collaborations being high in priority.
How Much Money Can You Make Blogging?
For those of you wondering how much you can actually earn when you get paid to blog, the answer is, a lot. There are countless bloggers earning over $10,000 per month, and therefore earning a six-figure income just from their blog. There are also many bloggers out there who are earning over $100,000 per month (yes, they're earning a seven-figure income getting paid for blogging).
If you're a blogger who is not earning that much, know that there's always room for improvements and room to grow. Your blog could start earning much more revenue simply by following some of the advice in this article.
Michelle Gardner's blog Making Sense of Cents, for example, earns her over $1 million per year. Her blog's monthly revenue is over $125,000.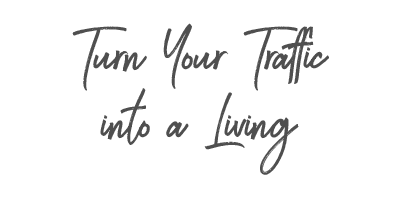 Michelle's blog centers on personal finance tips. She blogs about things like controlling emotional spending, frugal lifestyle habits, money-saving tips and side hustle advice.
The blog Making Sense of Cents started out as a hobby for Michelle. Today, she is living every blogger's dream as it has made her a millionaire. Her blog revenue is largely from her success at affiliate marketing on her blog, and from selling her online courses via her blog. The readers who buy her courses likely view her as an expert in the personal finance niche.
Lindsay Ostrom also earns over $100,000 per month running her food blog Pinch of Yum. Similar to Michelle, Lindsay's blog started as a hobby. She only worked on it some evenings and weekends, as her main job was as a teacher.
Lindsay's exceptional food photography skills helped her blog stand out. She blogs about food, shares interesting recipes, and shares amazing photographs of culinary delights that she took herself. This proves that visuals certainly help a blog succeed.
The majority of Lindsay's blog revenue is from sponsored content, ads, affiliate marketing, and her e-book which teaches food bloggers how to take amazing food photos.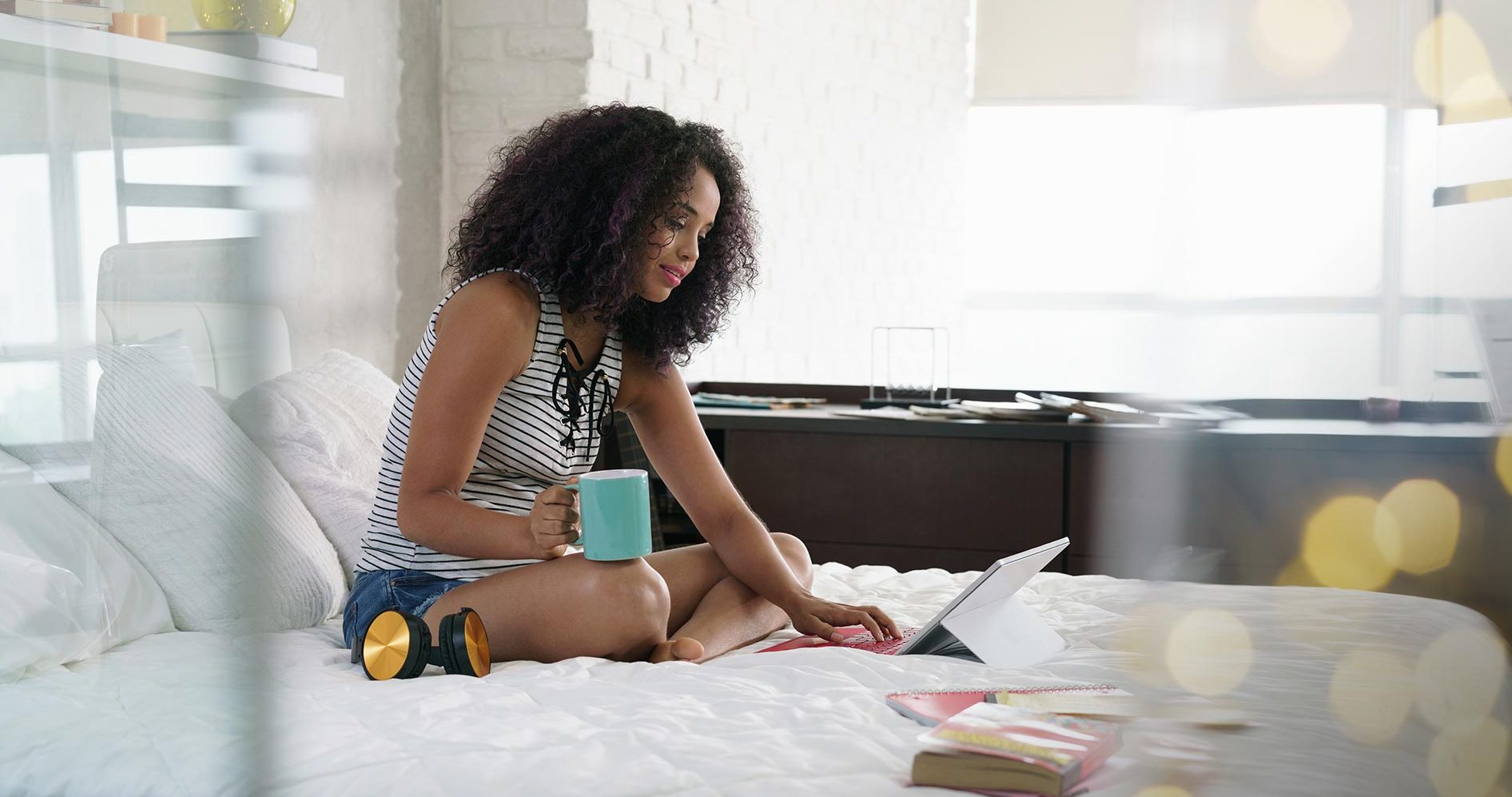 Source: Shutterstock
Best Ways to Get Paid For Blogging
We just discussed two bloggers who started blogging as a hobby, and now earn $1 million per year from their blog. Notice how both of these mega-successful blogs center around a very niche subject, and both blogs sell at least one digital product. Michelle sells her readers online courses, and Lindsay sells her readers an e-book.
Selling digital products is something even new bloggers can do, with or without huge blog traffic (more on this later.) Affiliate marketing only works if you have significant blog traffic, since you earn money from people clicking your affiliate links. Without much traffic, you won't be getting many clicks, and affiliate marketing won't be your best bet when it comes to mastering how to get paid to blog.
If you're serious about learning how to get paid for blogging, below are some of the best strategies to get paid to blog, as well as key tips that will set you on the right path:
1. View Your Blog as an Investment
We've already discussed how bloggers should view their blog as a money-making business, not just a hobby. But you should also view your blog as an investment.
You see, blogging is a long game. As the years go by, your blog's domain authority goes up, your blog gets ranked higher by Google over time, and your traffic grows with time.
Will a blog be an overnight success? No. It remains true, however, that with patience, dedication, commitment, consistency and time, your blog could become your six-figure earning machine.
Imagine a new blogger is putting in the time and effort, every week, to produce high-quality, valuable content. They aren't making money yet, so what's the best mindset to have? They should view their blog (and the effort it requires) as an investment. If they speak to any mega-successful blogger, they'll find out that it takes time to start earning real money from your blog. You will get paid to write blogs, but expect that it's the norm for this achievement to take awhile. This is where patience, dedication, consistency and viewing your blog as an investment becomes your advantage.
2. Establish Yourself as an Expert in a Niche Market
One of the main reasons why it's important to position yourself as an expert in a given field is because this way, readers are more likely to want to buy your knowledge. People who read your blog will be inclined to want to buy knowledge from you, the expert, in the form of e-books, consulting, or your online courses. It's not that difficult to position yourself as an expert, either.
First, ensure your blog revolves around a niche topic that you already feel very knowledgeable in. Then, expand your knowledge within this niche by self-educating in the form of reading, watching YouTube videos, researching, experimenting and taking appropriate courses.
Finally, establish yourself as an expert by getting high-authority publications to quote you as an expert in their posts. You can achieve this by pitching publications or answering HARO (helpareporter) queries.
You're more likely to be viewed as an expert if your blog focuses on a niche topic such as personal finance, low-carb eating, hiking, emotional health, solo travel, etc. Choose a niche that already has a large audience, that you feel you are skilled in or already have significant knowledge.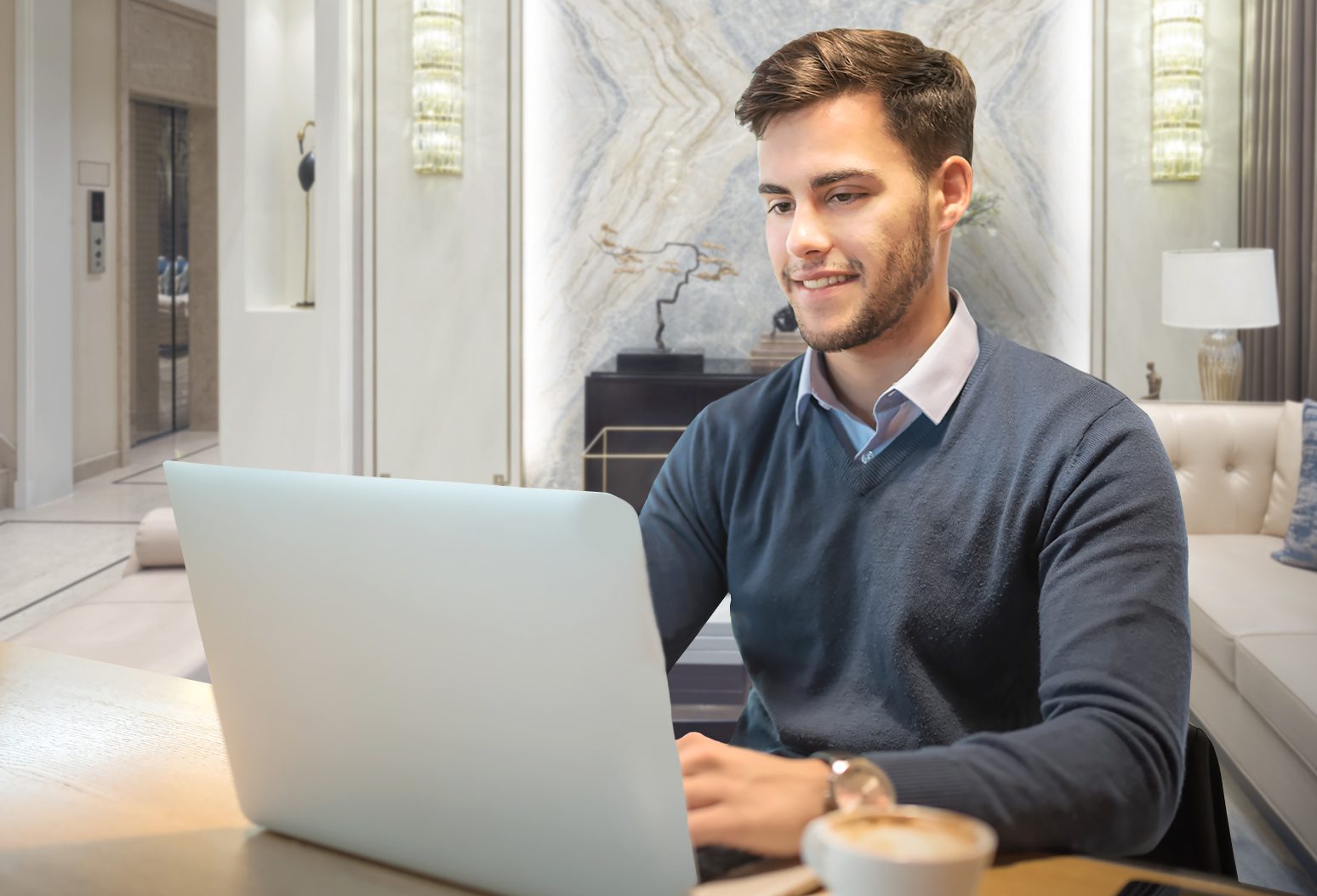 Source: Shutterstock
3. Research and Implement Strategies to Grow You Blog Traffic
The more traffic you have, the more money you stand to make from your blog. If you do a little online research, you'll find plenty of growth strategies when it comes to growing your blog traffic. For example, you'll find out that there are dozens of ways to promote your blog to increase your readership. You can answer questions on Quora (positioning yourself as an expert) and promote your blog in your answers. Similarly, you can promote your blog on Reddit. Pinterest has also been known to be a great platform to drive traffic to your blog. You'll of course want to use your other social media accounts such as your Instagram and Facebook to promote your blog as often as possible, and guest post on other blogs to promote your blog.
You can also grow your blog traffic by learning SEO strategies. Writing SEO-friendly blog posts using strategic keywords that are often searched for on Google will help your blog start showing up in search results. There are various SEO strategies that will help readers find your blog from Google searches, and you can educate yourself or hire an SEO consultant. Either way, learning SEO best practices and applying them to your blog will help grow your blog traffic.
4. Consistently Publish Valuable, High-Quality Content
Speaking of growing your blog traffic, the more content you post, the easier it is to gain followers and blog traffic. The key is to be dedicated yet realistic. If you don't feel that it's realistic for you to post a new blog article every single day, do not make that your goal. Instead, commit to publishing a new blog post every Monday. Or, every Tuesday and Thursday. It's simply important to be active on your blog, consistently. That's why I always suggest not starting a blog until you've already pre-written at least 3 months worth of content.
Related Post: Productivity Tips For Bloggers
The quality of the content matters too, because the Google algorithm favors high-quality content. This means you should express yourself with a good vocabulary, and exercise great writing skills. Before you publish your content, always edit for spelling and grammar, and check your readability score. There are many ways to check your article's readability (there's WordPress plugins, etc) but why is it important? Google ranks content higher if it is easy-to-read with good grammar. This means that you should avoid run-on-sentences and have short paragraphs, for example. Try to keep sentences under 20 words. Separate your blog with at least 5 sub-headings. Make sure your blog posts are easy-to-digest and that the writing is high quality. If you're not confident in your writing skills or your proofreading skills, hire an editor. I've edited many blog posts for grammar and spelling, while also improving the overall readability and quality for many bloggers who understand the importance of not publishing a first draft.
5. Always Think About the User Experience
A profitable blog requires a loyal audience and returning visitors. The user experience is the experience a person has when they visit your blog. They aren't going to want to return to visit your blog again if they read low-quality, crappy content, overly salesy content, or content full of advertisements. Aesthetically, the design of your blog should be clean, not messy. The user experience is integral to a successful blog. Pay attention to the details. The website design, your blog's logo, the font – everything.
Your goal should be to monetize your blog without ruining the user experience, which means you shouldn't have too many ads or pop-ups on your blog. A blog post can contain one or two relevant banner ads without harming the user experience, because the post is still mostly text or visuals, and doesn't look like a post full of ads. You'll improve the user experience if your blog posts contain high-quality images and infographics. Blog posts full of annoying ads can send users running for the hills, never to return again.
Sponsored posts shouldn't read too salesy, as that can tarnish the user experience as well. Imagine that a mattress company has offered to pay you for a sponsored post on your blog. It's best to write a blog post on Tips for a Better Night's Sleep with a comfortable mattress being one of the top tips (and suggest that mattress company), rather than publishing a blog post that is simply all about this particular mattress and how comfortable it is.
6. Ad Placements on Your Blog
You can earn money by placing private ads on your blog (selling ad space) or by signing up for Google AdSense where Google chooses relevant ads to place on your blog and pays you per click. This is often referred to as CPC ads which stands for "cost per click" or PPC ads, "pay per click".
The more traffic your blog receives (number of daily visitors) the more money you can make on ads. More visitors equals more potential people to click on an ad, so you should see your Google AdSense revenue going up as your traffic increases over time.
When it comes to private ads, you can charge more for the ad placement if your traffic is high. If your traffic is low, it's more difficult to find companies willing to purchase ad space, but pitching companies is never a bad idea, since many brands do advertise with micro-influencers and smaller blogs. Often, private ad revenue comes from a private arrangement with a company where you set your advertising rate and they pay you a monthly fee for a permanent ad placement somewhere on your site.
Try pitching brands that align perfectly with your blog's content. Offer them an introductory rate and even if your blog is currently quite small, you may get lucky. Or, sign up for Scalefluence and get matched with suitable brands.
7. Sell Digital Products on Your Blog (Such as E-books, Online Courses, or PDFs) or Coaching Services
Whether you're a new blogger with only a couple hundred visitors per month, or an established blogger with thousands of visitors per month, you can make money by selling digital products on your blog.
If you want to sell an e-book, for example, check your blog data to see which topics get the most hits. Start by creating evergreen content around that popular topic, and publish many blog posts on that topic. Evergreen content is the type of content people always search for, like advice on how to re-enter the dating scene after a divorce, for example. It's not trending news, it's not a fad, it's the type of thing that people always search advice for, and it's therefore evergreen.
Any blog posts relevant to that topic can sell your coinciding e-book at the bottom of the post. At the end of the blog post, simply write, "If you'd like to learn more about this, buy my e-book for only $5." The reader doesn't have to think too hard about spending $5, and if they loved the advice they got in the blog post (the teaser content) they'll be inclined to buy the e-book.
Another great digital product is an online course, and many bloggers earn thousands of dollars per month by directing their blog readers to their online courses. Over 40% of Michelle Gardners's million-dollar annual income from her blog, is from her online course about affiliate marketing. Many people don't understand how to best succeed at affiliate marketing, so they'll buy a course about it from a trusted source. See below some of the text and visuals Michelle Gardner uses to sell her course: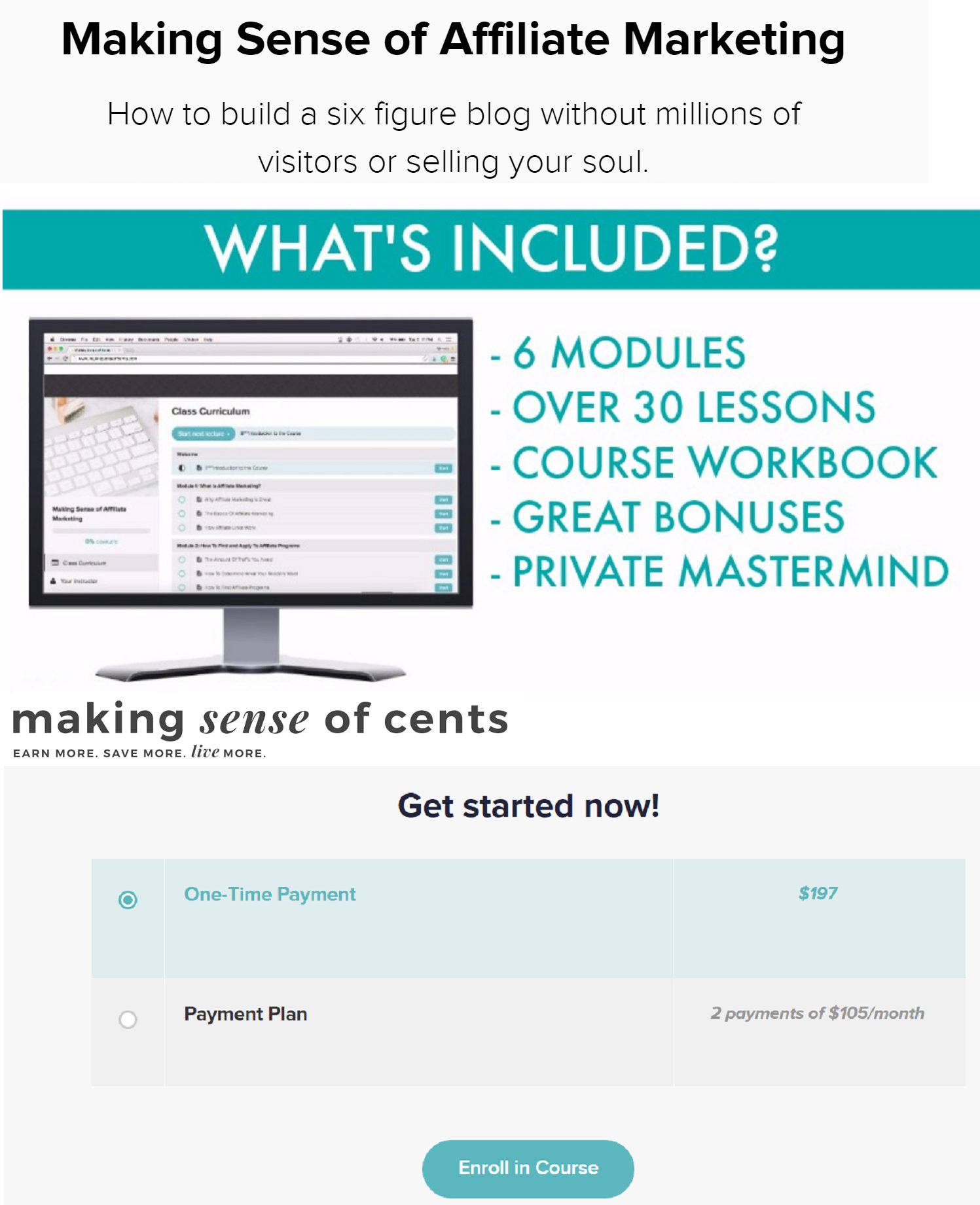 Since online courses require a lot of time and effort to create, you can charge more than you would charge for an e-book. Many bloggers charge hundreds of dollars for their online courses. Yes it's a lot of work, but you only have to record the course once, and then it's passive income earned from its sales from that point on.
Some bloggers even sell $5 or $10 downloadable PDFs. These easy-to-create digital products could be checklists or guides of some sort. Think about what your readers are eager to learn about, and sell your knowledge.
Online courses are the digital products that could earn you the most money, but you have to research and learn how to create an online course that is professional and valuable.
When through blogging you establish yourself as an expert in a given field, readers are likely to be interested in your courses and they'll even be interested in buying your coaching services or consulting services. Many bloggers sell coaching or consulting appointments, for readers who want some personalized, one-on-one advice.
8. Sell a Membership or Subscription
This method of getting paid to blog is less common, but we do see some bloggers selling optional memberships. A famous blogger named Mark Manson has become quite successful selling exclusive membership subscriptions to his readers. If you look at Mark Manson's member log-in page, you can see that a membership includes e-books and exclusive articles that the general public can't view. Membership even includes exclusive video content and audio recordings. Below is an example of how Mark Manson promotes his blog's membership option: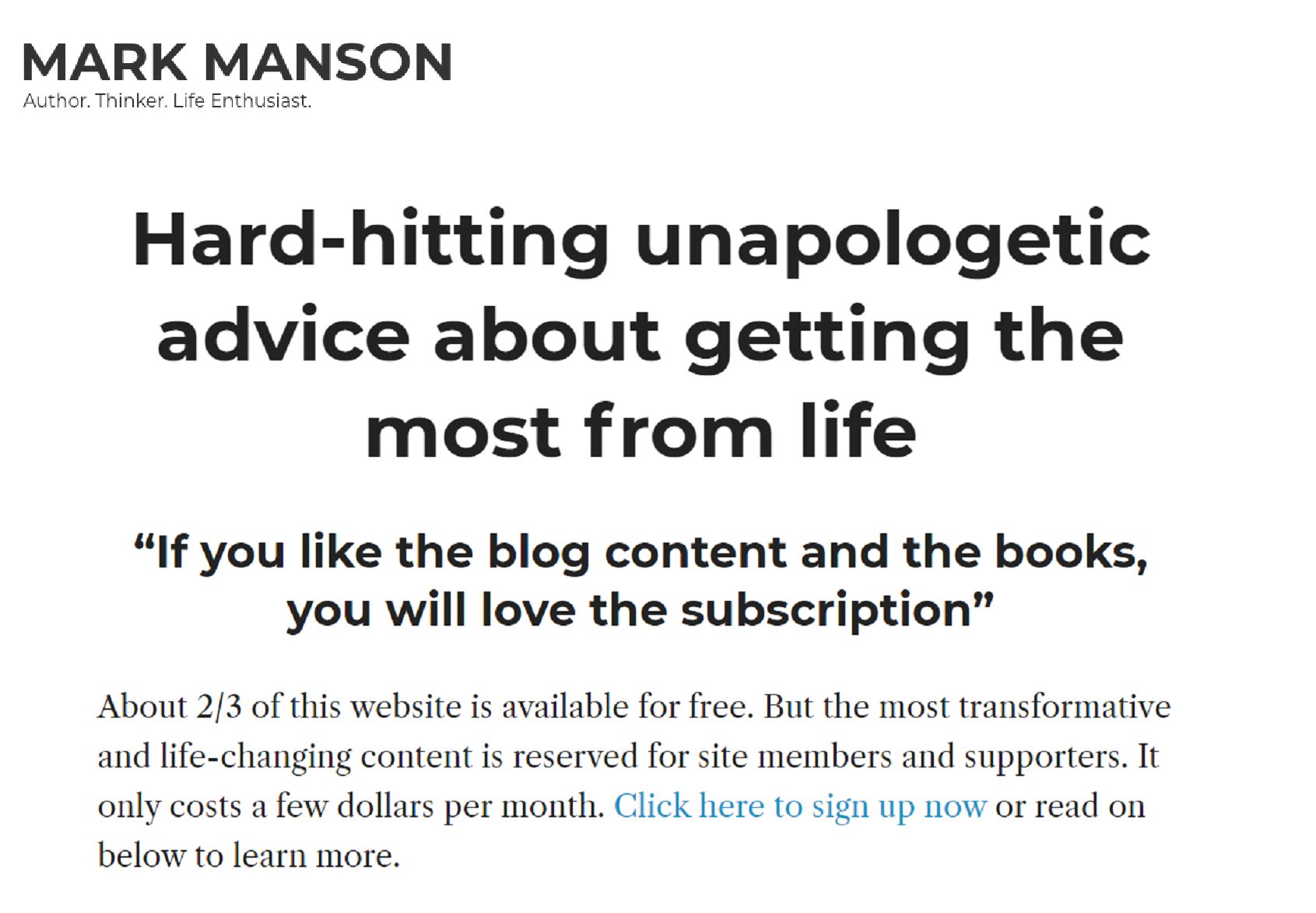 Since Mark Manson has such a great fan base of readers who can't get enough of his content and his genius insight, many will gladly pay extra to see more of his content.
9. Sell Merchandise on Your Blog
Selling merchandise requires some e-commerce knowledge, but that can be self-taught by doing online research and hiring consultants. Let's say you have a travel blog. Why not sell travel-related merchandise? You could sell beach towels that are branded with your blog's name, branded hats, or beach bags. If selling merchandise or swag interests you, speak to an expert who can guide you with regards to what to sell on your blog, and how to sell it.
Saving the best for last, it's undeniable how much money you can earn with sponsored posts with very little effort on your part. Unlike creating an e-book or online course, you can simply get paid to write blogs by brands who want to advertise themselves on your blog. Of course the blog post should be high quality, but writing a sponsored post requires much less effort than creating a course or writing an e-book.
If you want to get paid to blog, always aim to secure sponsored post deals monthly. If you do a great job, many brands will be returning customers for additional sponsored posts.
You'll find as you grow that many brands will approach you for sponsored content agreements, but you can pitch brands yourself, too. One of the best ways to find brands to sponsor your blog is through Scalefluence.
Use Scalefluence to Land Sponsored Post Deals and Get Paid to Blog
Scalefluence matches brands with bloggers for sponsored post deals. When you sign up for Scalefluence, you will be in the system and your blog will be matched with brands in your niche or relevant to your content. Sign up for Scalefluence today and make it easier on yourself to get paid to blog.