Business growth is the objective of every business owner, regardless of company size. Growth checks the boxes when it comes to increasing your customer base, and client relationships, and let's not forget profits.
And there are a lot of ways to facilitate business growth, from automating workflows to creating more content for greater online visibility. This is where blogging plays a major role.
Blogging, just like social media posts, has become pretty standard for businesses. Chances are, if you have a business website, you probably have a blog page. However, simply having a blog for your business doesn't necessarily equate to more organic traffic, leads, and sales that will help grow your business in 2022.
Blogging is not simply a post about your business, products, and/or services once or twice a month. It is far more than this. But many businesses do put the blog page on the back burner, which is a big mistake.
Blogging is one of the best marketing tools a business has. For instance, a successful blog allows you to capitalize on more industry keywords and own more Google real estate.
If you want to grow your small business in 2022, you need to take a serious look at the state of your blog and how you can leverage blogging at scale. The following essential blogging tips for business will get you moving in the "growth" direction. Let's dive in!
Stop selling your business and start delivering actionable blog content
This is an essential blogging tip all big or small business owners need to adhere to in order to grow their businesses. Blogging is not about pushing your business, products, and/or services down the throats of potential customers.
It is about serving up actionable, authoritative, fresh content that blog readers will find meaningful. There is also an added optimization benefit when posting actionable content. There is only so much keyword research you can capitalize on when constantly selling your business, products, and/or services via a blog post.
But when you deliver valuable content that visitors can run with, you get more keyword value Google and other search engines want to rank. Here's a good example from LimeLight's blog . . .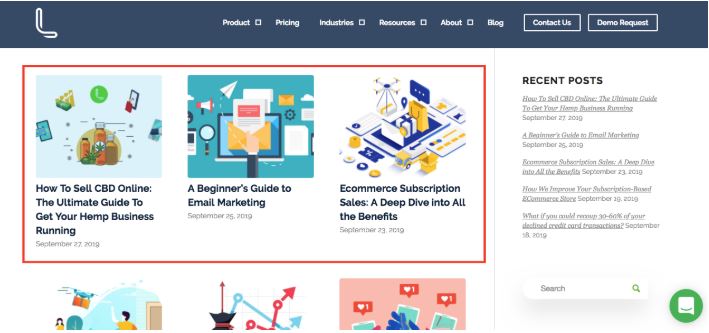 You'll see the most recent business blog posts are offering a "how to" for visitors to dive into and get questions answered. The keywords are also pretty prominent for these current blogs as well. The blog "How to Sell CBD online . . ." is ranking on page two in Google SERPs.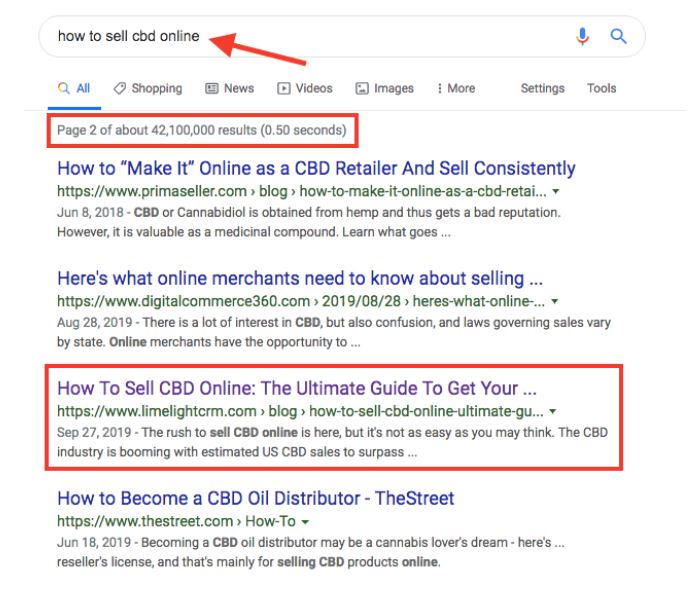 This is pretty good, considering the competition for that keyword. Give people the answers they need, as well as content that makes life easier for them. This is a far better content strategy to boost search engine rankings than simply pushing your value proposition via business blogs.
Blogging needs to be consistent
When it comes to blogging for business growth, you want to pump out as much content as possible while staying consistent with your posting intervals. Now you may be looking at some of the top companies in your industry and thinking, "They don't blog very often."
Yes, but top dogs in any industry don't need to. They have a large marketing budget that is dedicated to a number of other marketing strategies that are very costly. Until your profits hit hundreds of millions of dollars, you need to pump out content consistently if you want to use a blogging strategy to grow your business in 2022.
The Re/Max real estate blog is a great example of posting content consistently . . .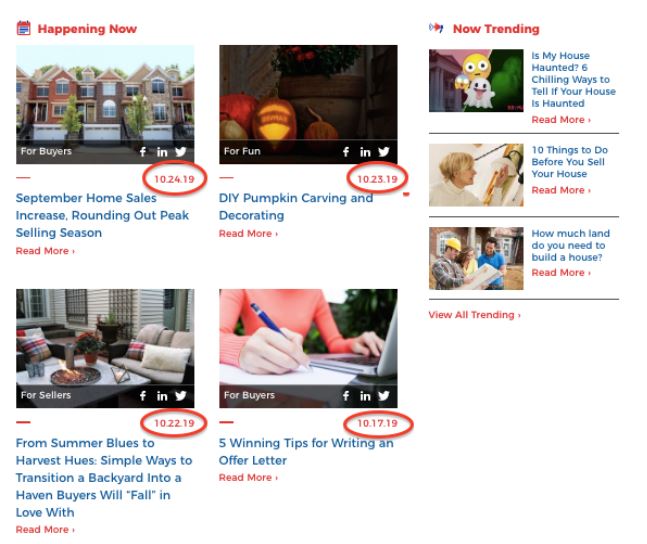 They are posting content nearly daily. And some have nothing to do with real estate at all, like "DIY Pumpkin Carving."
How do you run a business and find the time to create and post content consistently? Organize and automate. You may not be able to hire a full-time writer, but you can find a very affordable wordsmith via Fiverr. Once you have the articles, you can schedule blogs in WordPress to post five days a week.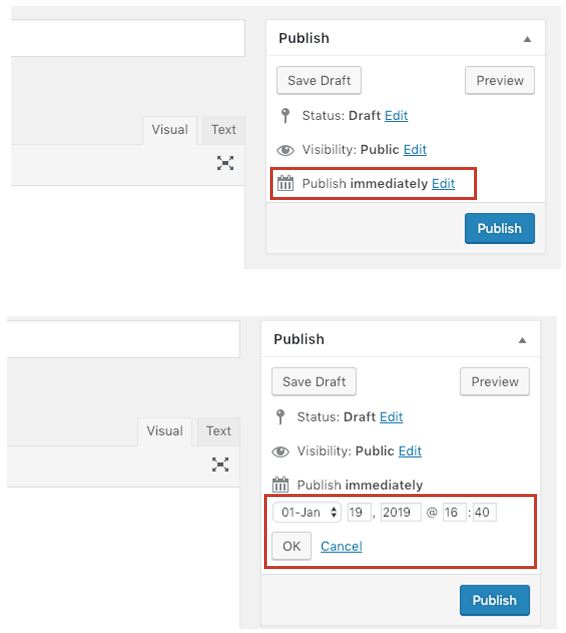 If you schedule and post five times per week, you will have 20 blogs per month, 240 business blogs total for 2022. That will give you a ton more online visibility in a single year, giving you a great shot at growing your small business.
Optimize your blog for maximum Google rankings
Having a blog is not always about the content. There are many optimization must-dos in order to get your blogs ranking above competitors in search engines like Google. For instance, the load time for a blog is critical. You could have the greatest blog post, an enticing title, but if a user can't access it fast, all hope is lost. At that point, blogging to grow your business just simply isn't possible.
You can check page load time using Google Analytics, or you can use Google PageSpeed Insights. Just enter the blog URL . . .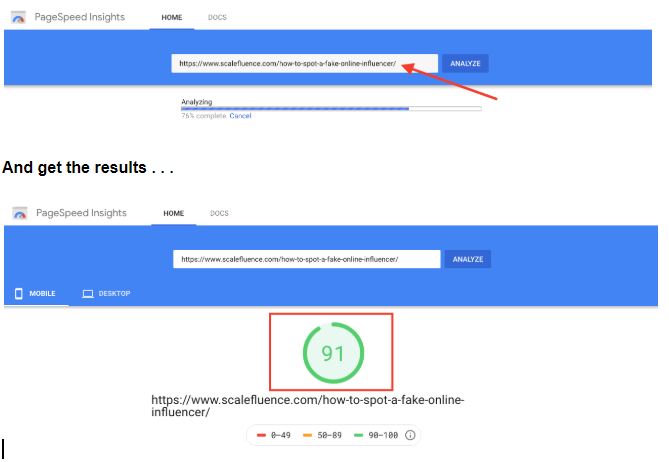 If the score is not the best, you'll need to look at factors that could be slowing download time. One major factor for slow blogging load time is image size. If an image is too large, it can slow load time significantly. But you can use WordPress plugins like Smush.
Become an authoritative business leader in your industry
One of the best ways to grow your business is to grow your professional profile online. As an authoritative business leader in your industry, you can raise the online visibility and brand awareness of your small business. It is a win-win.
How do you become an authoritative leader in your industry? Start producing blog content across multiple authoritative online publications. You can begin by pitching your expertise via articles to publications like Entrepreneur, Business 2 Community, Mashable, and all the popular publications that cover your industry exclusively.
You can also become a Forbes council member to raise your professional profile. They will even include a link back to your website in your Forbes council member bio.

Amping up your professional profile on LinkedIn and publishing articles and authoritative posts on that platform is also a good strategy to grow your business in 2022. You can also become an expert and provide advice to budding professionals in your industry via LinkedIn.
Look into the future of blogging and blog search traffic
Being forward-thinking is certainly a must for business owners. You most likely follow the trends in your industry, predict future trends, and make business decisions based on your research. The same goes for blogging to grow your business.
Keyword research and actionable content that delivers answers to visitors in a meaningful way are great. However, how they find your blogs via Google and other search engines is changing. And changing pretty fast.
Innovative technology has ushered in smart home devices that are focused on voice search, rather than traditional text search queries. Your blogs need to adjust for this for better search engine results. For example, instead of creating a blog title that informs, make it a question a voice search user will actually ask.
Here's an example that aims to answer a common home sales question . . .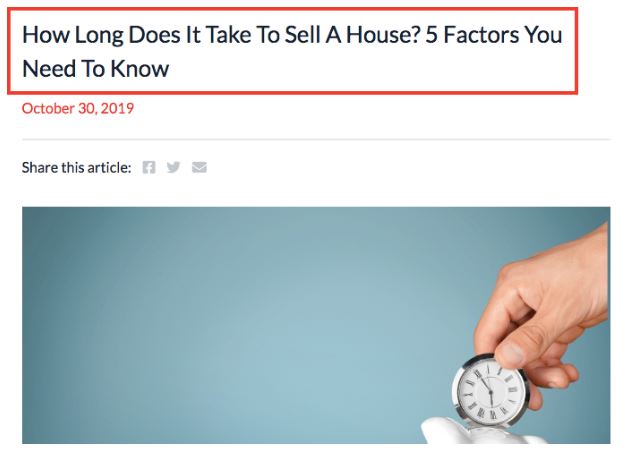 This blog's title is in the form of a question, and it is ranking Google page one among the top publications for that industry . . .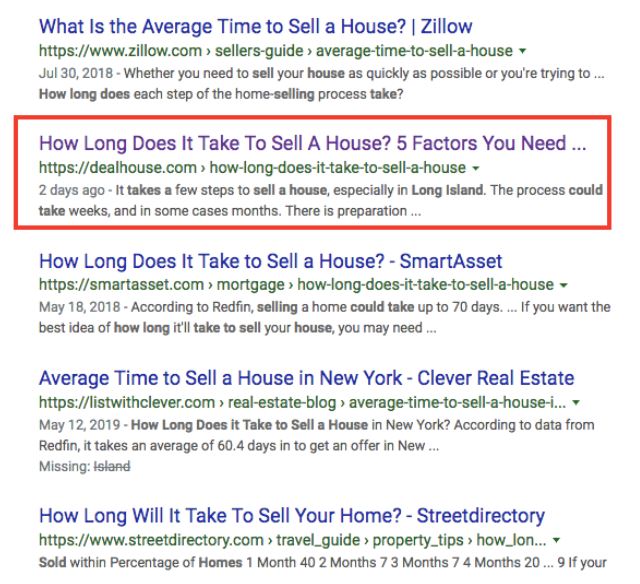 Consider optimizing for voice search optimization in order to stay ahead of the competition if you're trying to use blogging to grow your business. After all, studies suggest that in 2022, 50 percent of all online searches will be made via voice.
Need a blog topic? You can use AnswerThePublic to generate a huge list of questions pertaining to any topic. Here's what happens when you use the platform for the keyword "roofing" . . .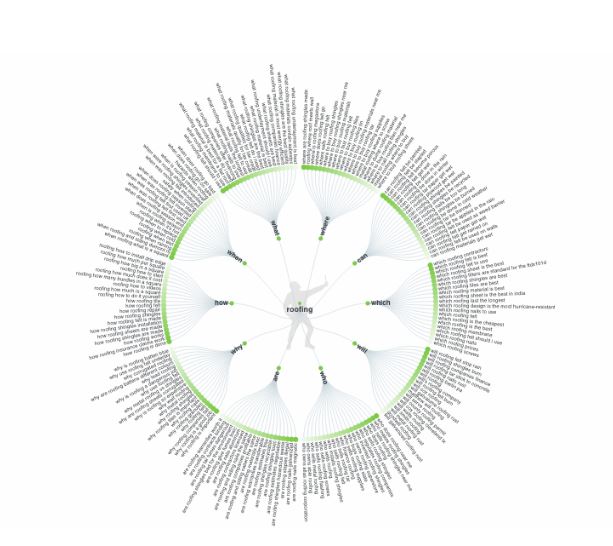 Let blogging influencers do the work for you — They're better at it anyway
To grow your business with blogging in 2022, you may not need to focus as much on your blog. Instead, you can lean on professional blogging influencers to do a lot of the heavy lifting for you. From product reviews to featured services, a blogging influencer can take your business to the next level.
What is a blogging influencer exactly? They are professional bloggers that have a massive following online. And just like social media influencers, blogging influencers have captured the loyalty of their target audience with all of them deeply interested in any recommendations made via blogs.
Some bloggers even have a cult-like following like Mr. Money Mustache, a popular blogging influencer in the financial space . . .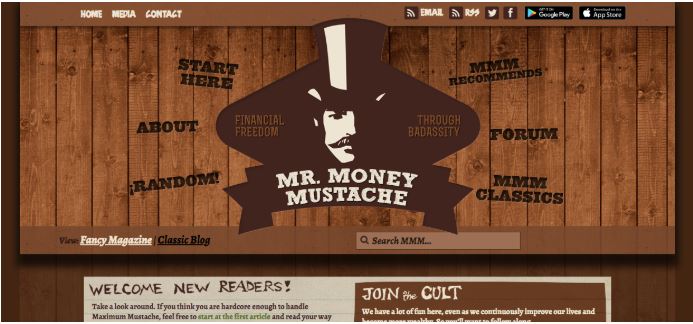 This blog averages over 110,000 monthly organic views. It has more than 1.5 million backlinks and has an estimated blog traffic value of nearly $90,000. Pretty impressive. Needless to say, a recommendation or guest blog by Mr. Money Mustache can boost a business' growth goals substantially.
This is the power of blogging influencers. Not taking advantage of their influence would be a business mistake, especially when it comes to growing your business via blogging. But where do you find blogging influencers?
Grow your business with influencers using Scalefluence
Scalefluence makes connecting with blogging influencers and social media influencers easy for businesses. You not only get access to influencers with large built-in followers, but you can also create a data-driven influencer strategy that is ROI positive.
The brand influencers and micro-influencers we have meaningful partnerships with can create authentic, highly shareable content that drives action from readers. And we have influencers across all industries, from tech to alternative wellness.
Let Scalefluence grow your business with blogging influencers while you focus on actually running your company. Influencer campaigns can be developed for lead generation, sales conversions, brand building, increasing traffic to your blog, and more. Sign up today and let us help you use blogging to grow your business in 2022.