The way people receive and process information online continues to shift toward social media and blogs. This perpetual shift continues to mark the value behind brands, businesses, and marketers having an influencer marketing strategy. Online influencers can persuade their loyal following to buy products and services, download apps, and attend events.
This is why 70 percent of marketers plan on increasing their influencer program spending, or keeping their online influencer budget as is, according to a Tomoson study.

Social influencer marketing simply gets results. Marketers also believe that influencer programs are the best customer acquisition methods available.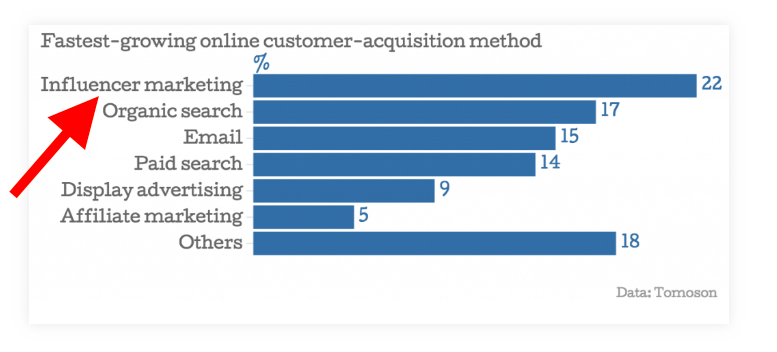 Not even paid search can compete with the power and sway online influencers have over the masses. And the proof that influencer marketing tools work is more than abundant. Here are a few important consumer-centric statistics to keep in mind:
86 percent of women turn to online influencers on social media before making a purchase.
70 percent of teens online trust influencer recommendations over celebrity endorsements.
60 percent of consumers are more likely to make an in-store purchase based on an influencer's recommendation.
49 percent of consumers rely on media influencers to make purchase decisions.
40 percent of social media users made a purchase after an influencer's Tweet.
All praisable influencer statistics aside, influencer programs and influencer marketing strategies are not always as successful as you may think.

Fake online influencers are everywhere, and brands are wasting money on them
We've all heard that the ROI on any given influencer program can reach $6.50 per every dollar spent. However, the rise of fake influencers, fake followers, social media bots, and more has put the value produced by online influencers into question.
For instance, an influencer marketing agency set out to prove that social media influencers are not always what they seem. They created Calibeachgirl310 and Wanderingggirl, two fake Instagram influencers that have since been deleted.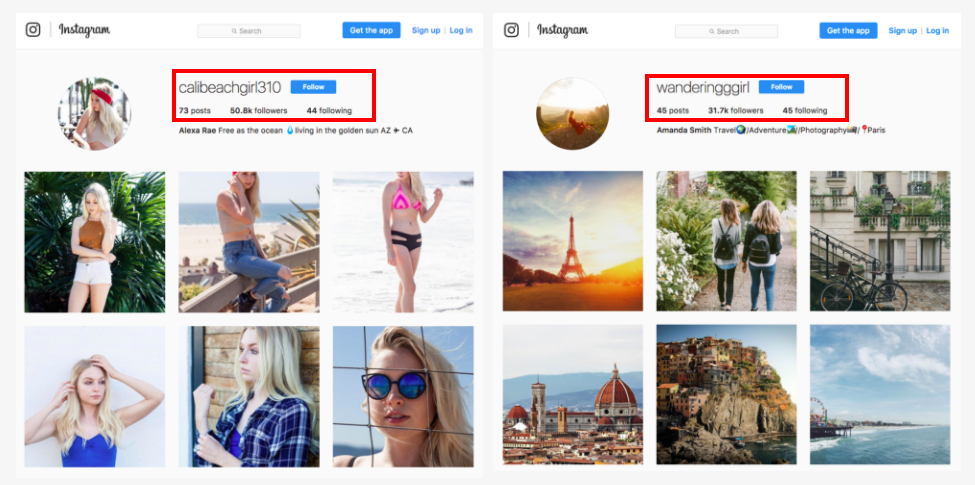 Looks real enough, right?
"By using services readily available online, we bought followers and engagement for both of these accounts (about 50,000 and 30,000 fake followers, respectively)," according to an Adweek article outlining the story.
Easily spotted as fake? On the contrary. Within weeks brands were throwing cash and free products at the fake Instagram influencers to post to their fake followers. That's how easy it is to launch a fake influencer account on any social media platform and get brands to waste valuable marketing spend with no ROI.
Qualify influencers to avoid wasting money on influencer programs that lead nowhere
When it comes to developing a successful influencer marketing strategy, you need to do your due diligence. Hopping on any old influencer platform and hiring someone with a high follower count could spell disaster for your influencer program. This makes doing a bit of research a must. The following criteria should be part of your vetting process.
This is quite possibly the easiest and best way to know if your potential online influencers are legitimate. Facebook, Twitter, and Instagram all have an account verification process. When a social media account is verified, there will be some form of verification stamp.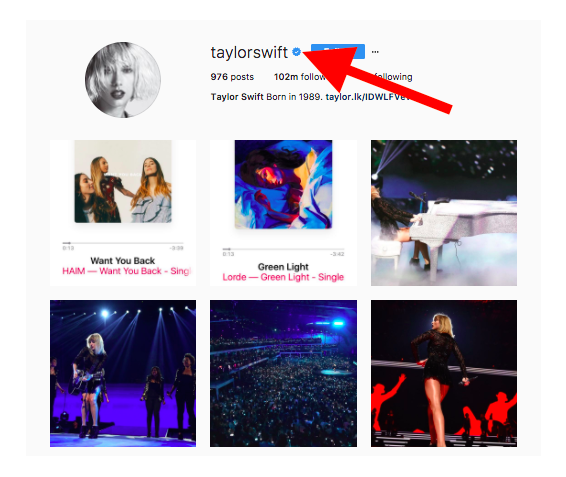 A verified social media account means that the powers that be at that specific social network have done a bit of poking around and found that person to be who they say they are. However, this method only works for big brands, celebrities, and major online influencers. So more qualifying needs to be done for others.
Spot fake followers and unlikely growth patterns
Many brands assume that the number of followers an influencer has, the more success the brand will have when he or she posts for them. This is 100 percent not the case. Why? Fake followers can be bought for nothing at all. For as little as $500, you can increase your social followers by 50,000 in a few short days.
Learn how to spot these oddities to ensure you're not wasting valuable marketing spend on nonsense. One way to spot fake followers is by looking at the age of the account versus the follower count. If the account is three months old, but the influencer has 30,000 followers, it doesn't add up. It takes years to net 30,000 followers!
To hide this, fake influencers might increase their fake followers over time. So be on the lookout for a sudden increase of thousands of followers in a single day. This is a clear indicator they were paid for.
Engagement is a key metric for spotting fake followers
Let's say you checked the follower growth of a potential social media influencer and everything checks out. There are no odd increases in followers in a single day, and their account has aged well in the time/follower count algorithm. Should you hire that influencer on the spot? Not so fast.
You want to check the engagement rate next to ensure the followers are not fake. For instance, Instagram has an engagement rate of approximately one to five percent per post. If an influencer has 10,000 followers, you should see 100 to 500 likes per post. If there are 5 to 10 per post, fake followers may be in play.
Here's a great example of how to gauge a real influencer's "likes" versus "follower count":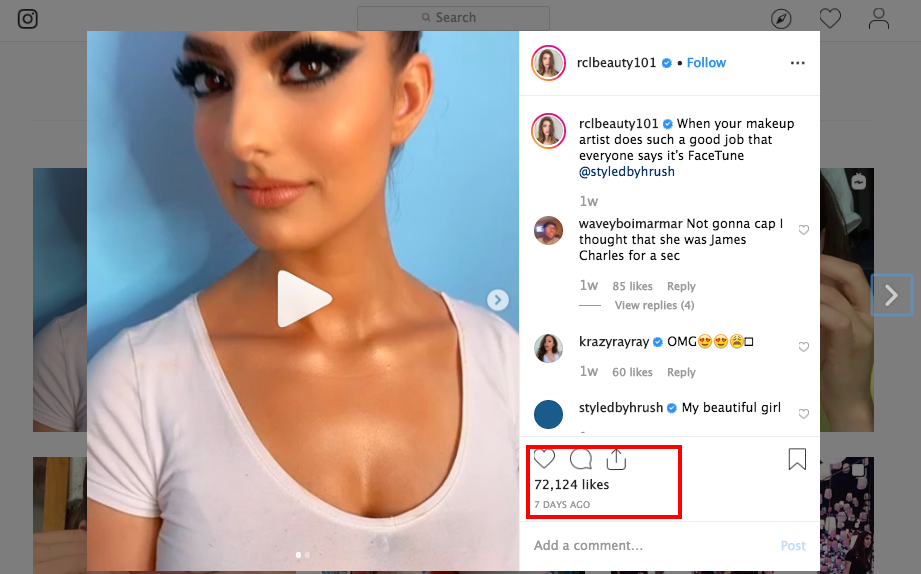 With 3.5 million followers, Rachel Levin's recent post has just over 70,000 likes, a rate of around two percent. This is a legitimate engagement rate!
Checking engagement is also important for influencer program ROI. Even if an influencer is legitimate, you want his or her audience to be engaged in the post you are paying for.
This is another great qualifying metric to check. Traditionally, influencers grow their following and build loyalty by engaging with their followers. This is, after all, the only interaction they have with their fans. Influencers with bots instead of real people will not have a lot of comments, and they will not be commenting back.
This is because they know their followers are fake, simply a number to take brands and businesses for a ride. Go through as many posts as you can and really look for the social media influencer's comments. If the comments are few and far between, avoid the influencer like the plague.
Get maximum influencer program ROI with Scalefluence
Wondering how to find influencers while saving time? Luckily, there's a solution for brands, businesses, and marketers to find real social media influencers without doing the research outlined above. Scalefluence has a robust list of influencers that have been carefully vetted to ensure quality and top-notch engagement. This lets you focus on other marketing initiatives while we focus on your influencer marketing strategies and influencer program ROI.
A few notable features include the ability to separate different marketing budgets for different clients and campaigns, a wide range of influencers for every industry and niche, scalable influencer programs, and more. Collaboration and reporting are also simplified to ensure best in class results, making us a leader in influencer marketing.
If you have questions about what Scalefluence can do for you, contact us today. Get maximum ROI with influencers that have the power to make their followers your new customers.