Instagram is booming! There are over 2 billion active users on Instagram monthly.
And 500 million of those Instagram users are using Stories daily, 70% of them watch stories and around 86.6% of the post stories. These are only a few Instagram statistics.
What does all this mean? If you want to maximize your online visibility, broaden your audience demographics, and take your business to the next level in 2022, you need to make Instagram part of your marketing campaign.
The year 2022 is a big one when it comes to influencer marketing. All the fake followers and influencers have been exposed, likes and other metrics are being removed from Instagram, and micro-influencers have matured into money-making machines for brands. If your business is not thinking Instagram influence to grow, you will find a massive gap between you and your competitors by the end of the year. And yes, you will be the one trailing behind.
This is a serious call to action for taking Instagram seriously for your business. What can social media influencers do for your business?
They can . . .
Create a buzz around an event
Raise brand awareness
Drive insane traffic to your website
Increase product sales
Introduce your company to a new audience
Make your brand a household name
And the list can go on. If you are ready to employ Instagram influencers for your 2022 social media marketing campaign, read on!
Type Of Instagram Influencers You Need For Social Influencer Marketing Success
To develop a powerful social influencer marketing strategy, you need to know what type of Instagram influencers are best. In the beginning of influencer marketing, follower count was the major metric. Businesses would simply choose influencers based on how many followers he or she had. Things have changed a lot since those early Instagram influencer marketing days. In fact, follower count is no longer a viable metric in the slightest bit. To make the Instagram marketing campaign successful, businesses need to focus on engagement rate.
The engagement rate of an Instagram influencer is calculated using follower count, post likes, and post comments. It looks like this: Engagement Rate = (Likes + Comments) / Followers x 100 Here is how you can employ engagement rate calculations to find Instagram influencers that could max out campaign ROI . . .

Kylie Jenner is one of the most popular Instagram influencers to date, with 188 million followers. One of her most recent posts netted 4 million likes and 21,600 comments . . .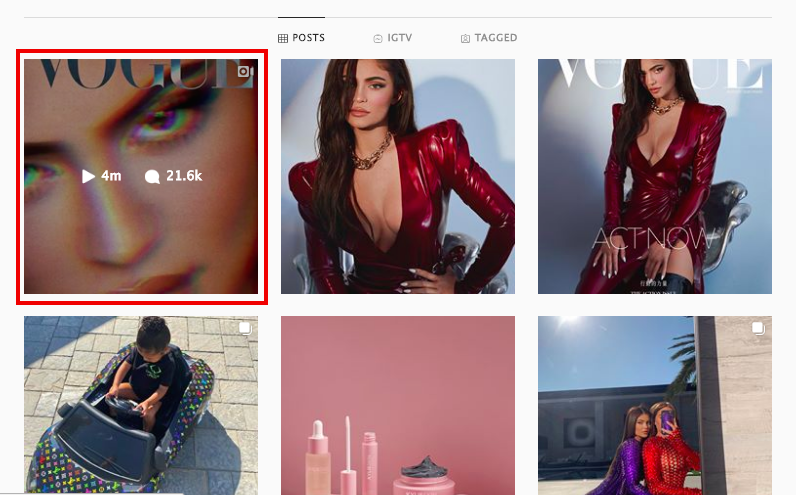 Let's calculate the engagement rate for this post: Engagement Rate = (4,000,000 + 21,600) / 188,000,000 x 100 The total engagement rate is around 2.1 percent. This is not bad, but you would think that it would be much higher considering her Instagram mega-influencer status.
Let's now look at beauty micro-influencer @intheglamroom . . .

This micro-influencer has 11,000 followers, and her last post netted 249 likes and 26 comments . . .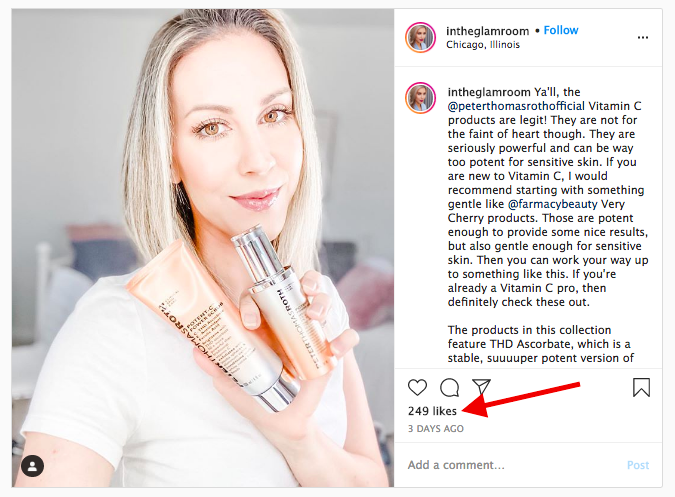 Her engagement rate was 2.5 percent, 0.4 percent higher than Kylie Jenner. This paints a pretty clear picture for businesses that want to find Instagram influencers. Micro-influencers, and even nano-influencers are driving better ROI on influencer campaigns. In fact, nano-influencers, influencers with less than 10k followers have the highest engagement rate of all influencers.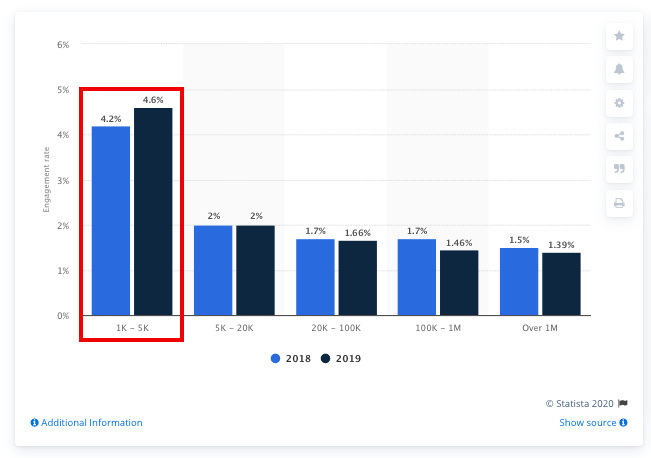 Even big brands want to find Instagram influencers with lower follower counts, since they know engagement rate is higher. Here is a great example from Dunkin Donuts and Instagram micro-influencer @rachel.habersham . . .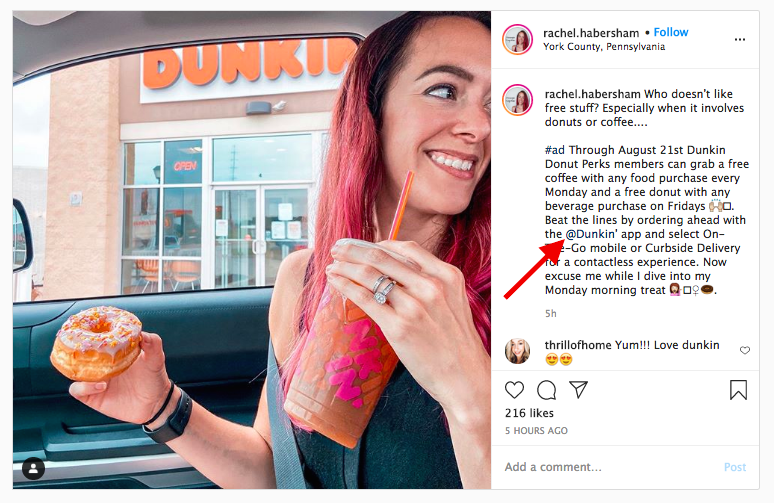 When you find Instagram influencers for your business, ensure you make engagement rate part of the decision to hire him or her. Shoot for engagement rates of 2 percent or more. Remember, follower count does not make an impact when it comes to social influencer marketing success.
Define Your Influencer Marketing Goals Before Doing Anything Else
Finding top rated Instagram influencers online is easy. You can just Google it. But finding top rated Instagram influencers that will help you achieve influencer marketing success is not. This is because you need to tether your brand's goals with the influencer.
To have success, you need to narrow down the marketing objectives for each of your influencer campaigns. These marketing objectives are:
Increase sales

Build brand awareness

Grow followers

Enforce brand identity

Boost engagement

Increase site traffic

Build leads

Grow custom loyalty
When you define the objective for an influencer marketing campaign, you can then find the RIGHT influencer.
For example, if building brand awareness is on your influencer marketing to-do list, an influencer with a larger follower count and engagement rate may be best. Brand awareness via an Instagram influencer looks like this: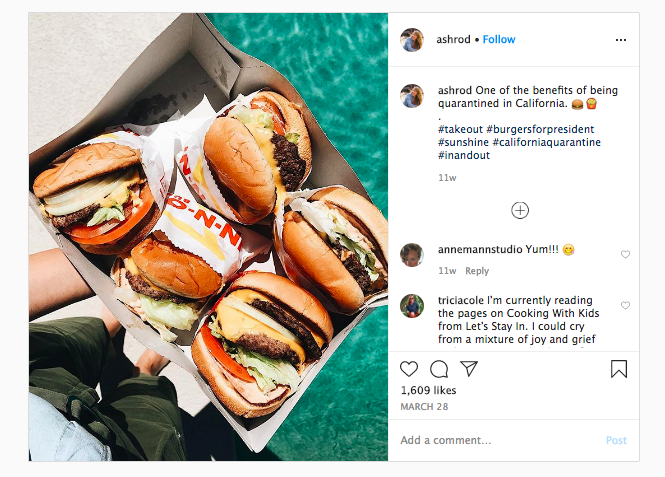 Subtle, yet all 100k plus @ashrod followers probably wanted In-N-Out burgers after seeing the post.
What Type Of Influencer Marketing Campaign Will Maximize Results?
This is one of the most important questions to ask before launching any influencer marketing campaign. Knowing the type of influencer campaign can help you find top rated Instagram influencers that fit your brand's needs.
Let's say you want to partner with an Instagram influencer for a brand ambassador campaign. This type of campaign makes an influencer your go to rep on Instagram, thus enforcing trust and confidence among his or her followers to buy from your brand.
Nike is the ultimate at turning influencers into brand ambassadors, like this ambassador campaign from @dylanalcott: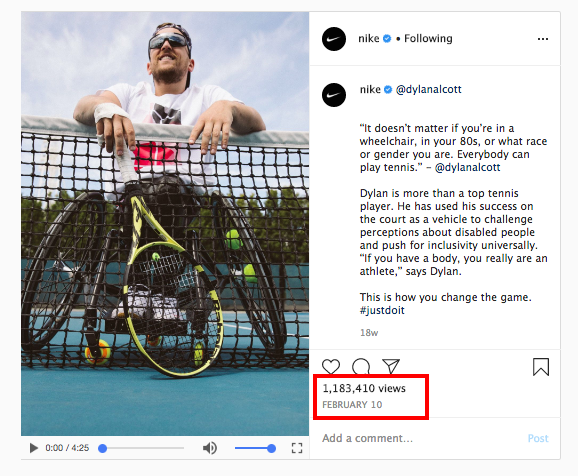 This brand ambassador approach can net massive results for any brand. The above post generated over a million views in just a few short months. Yes, it is Nike, but brands large and small can make this type of Instagram campaign a success.
Other types of influencer campaigns you can leverage include:
Sponsored content.

Paying influencers to post content that is tethered to your brand

Gifting.

This is the exchange of gifts from your brand in exchange for mentions

Blogging.

If the Instagram influencer also has a blog, they can blog about your brand and promote the blog to his or her Instagram followers

Contests.

Influencers can host a contest that revolves around your brand, products, and/or services

Affiliate campaigns.

Making

influencers affiliates

gives them a percentage of each sale made via unique URLs

Influencer takeovers.

Giving an influencer the ability to run your Instagram page for a set amount of time (usually has lots of videos involved)
Develop Your Instagram Influencer Budget
When you find Instagram influencers, whether micro or nano-influencers, it is important to know how much influencer marketing budget your business will need. One study found that influencer ROI averages $18 for every dollar spent. That is pretty amazing, but a powerful social influencer marketing strategy is a must for this kind of influencer ROI.
Spending too much on influencers can decrease potential campaign ROI pretty quick. This is why micro and nano-influencers are enticing. They are relatively cheap considering the engagement rate and ROI they deliver. And spending a little more is well worth the influence. Facebook research found that 80 percent of consumers use Instagram to decide if they make a purchase . . .

So how much should you be paying to tap into influence when you find Instagram influencers for your business? Here is what we found online:
$270 is the average spend per Instagram post
The price per nano-influencer post with 1,000 to 2,000 followers is $90
Influencers with 100k followers make at least $750 per post
Beauty and lifestyle nano-influencer @oshnapitzlizzie delivers an Instagram sponsored post and YouTube video promotion post for only $250 . . .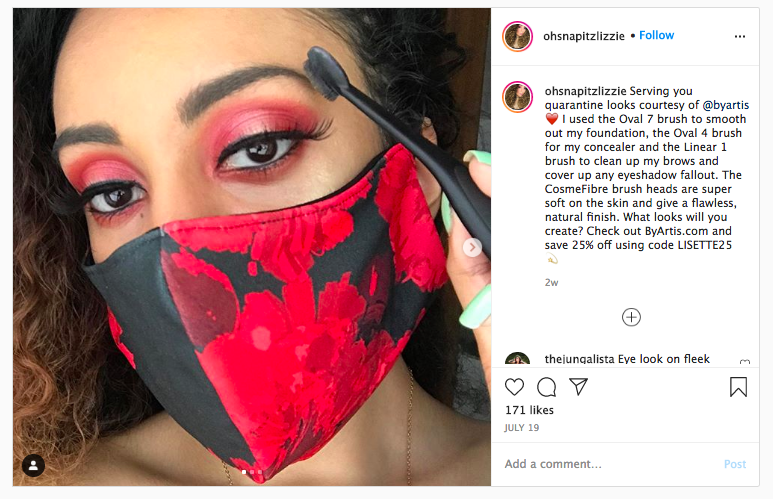 Of course price per post depends on the form of content you want an influencer to create for your business. For example, a video or Instagram Stories post may cost more. This is due to the time and editing involved when creating video content. If you want to run an influencer campaign with one post per week for 8 weeks using nano-influencers, you should budget at least $800. For micro-influencers, you may need three times the influencer marketing budget.
The search for Instagram influencers begins from within your business
This may sound like some old ancient proverb or something, but no joke, the search for influencers does begin from within your business. You won't be looking for influencers in your actual business, but you will need to make a business decision about your campaign approach. And how social media and influencer platforms play a role. For example, if you want to raise brand awareness and simply get greater social visibility for your business, then you will want to drive your campaign in that direction. This means you need to find the type of influencers that specialize in boosting brand awareness among their followers, and beyond.
Here's a great example of raising awareness through highly visual content from Instagram travel influencer @jeremyaustiin . . .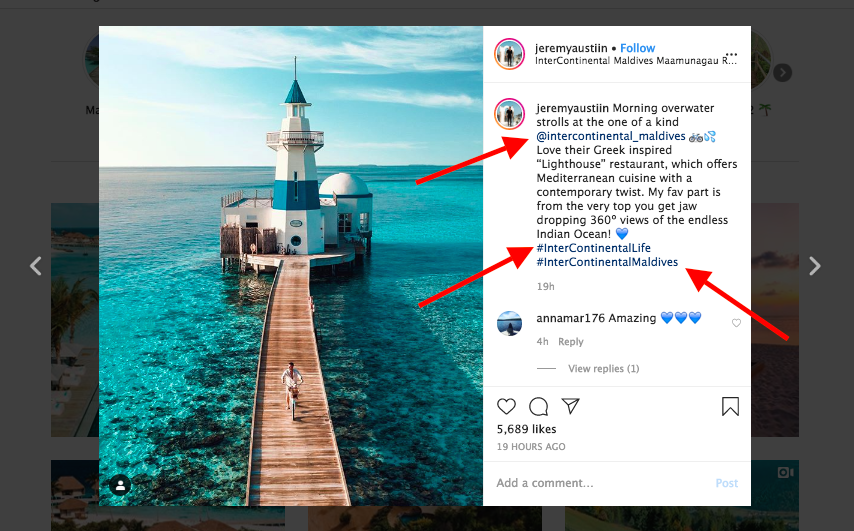 There are other decisions to make as well, like shaping the idea of the right influencer for your target audience. If you are an insurance agency that has a large boomer demographic, the young millennial influencer may not be the best choice. You may want a gen-x professional instead. These types of questions and discussion points need to be thought through in order to ensure your influencer and marketing campaign are synergized for success.
Hashtag Searches
Hashtags are the social network's SEO equivalent to keywords. Hashtags are important to understand because they make content searchable and accessible on Instagram. Each hashtag adds another information layer to your post, making it easier to discover. Start by creating a list of relevant hashtags for your brand. And instead of simply throwing a bunch of hashtags together that you think to align with your goals, be strategic about your approach.
In addition to general hashtags, it's critical that you consider niche, ultra-targeted hashtags that are hyper-relevant to your audience. For instance, as an outdoor apparel company, rather than focusing on broad hashtags like #travel, you can speak your audience's language by using hashtags like #vanlife or #campingvibes—this way, your posts are less likely to get lost in the shuffle.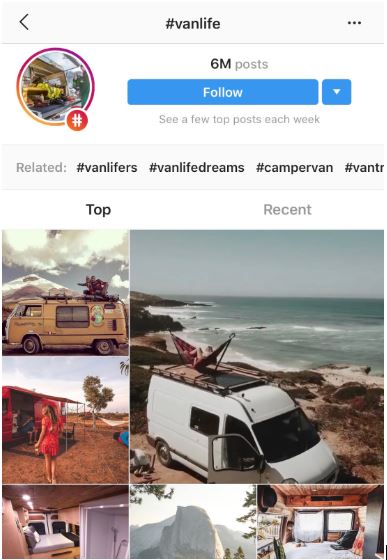 Take a look at a few posts in your industry, and continue looking at the hashtags you see from image to image. If you're having trouble with manual discovery, you can also use Instagram analytics tools to help you discover new, popular, and relevant hashtags. And of course, never forget your brand hashtags, including your slogan (for example, REI's is #TravelWithREI).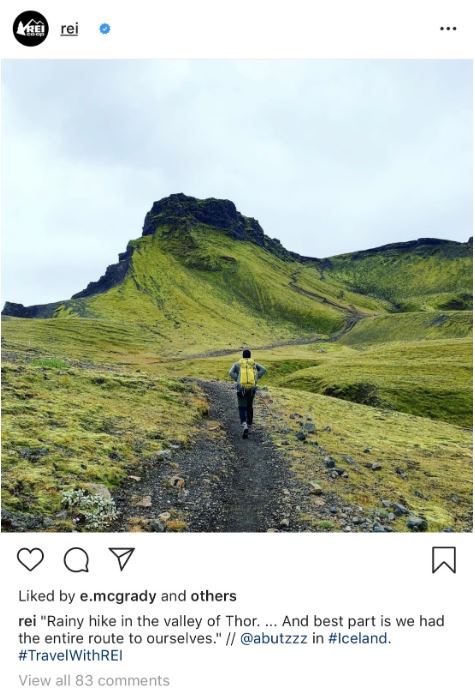 Lastly, pay attention to how many hashtags you're using. Too many hashtags are like keyword stuffing for Instagram, and it detracts from the authenticity and user-friendliness of your post. According to studies conducted by Sprout Social, there's a correlation between the number of hashtags you use and the engagement rate for posts.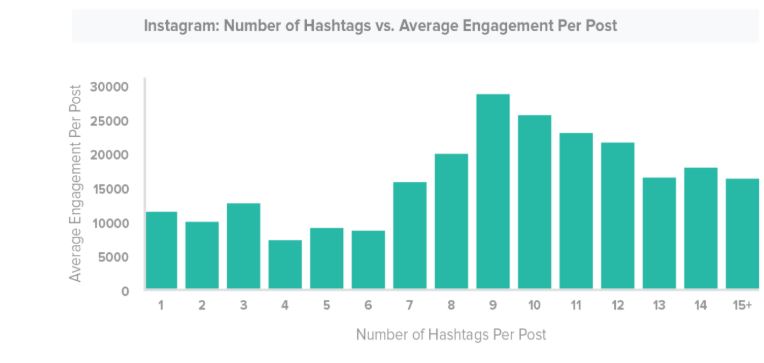 To avoid crowding your caption, many brands include captions in the first comment of their post. The key is to focus less on filling up your posts with keywords and focus more on experimentation, delivering more with less, and collecting data to see which hashtag strategies are hitting the mark.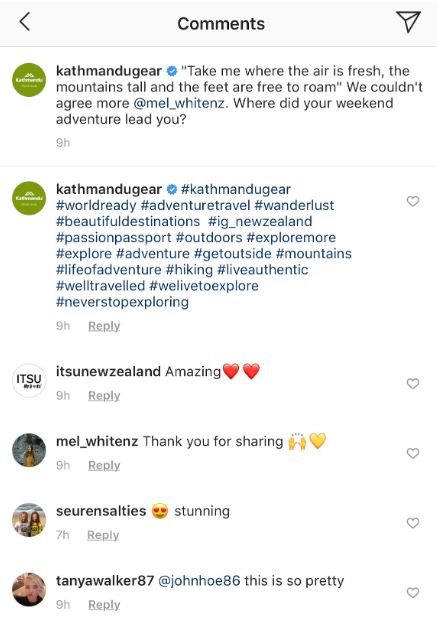 Pay Special Attention to Engagement
There are multiple metrics to consider when you're searching for the right influencer. However, engagement is among the most important. True engagement yields referrals and conversions, and size doesn't always matter when it comes to this. For instance, studies have shown that although macro influencers have a wider reach, the more followers an influencer has, the lower their engagement rates are.
Striking the right balance is important.

The comments section is the best indicator of this. A great influencer stimulates conversation, replying and reacting to what their followers say. You'll always want to pay attention to how often followers tag their friends—these digital referrals can go a long way.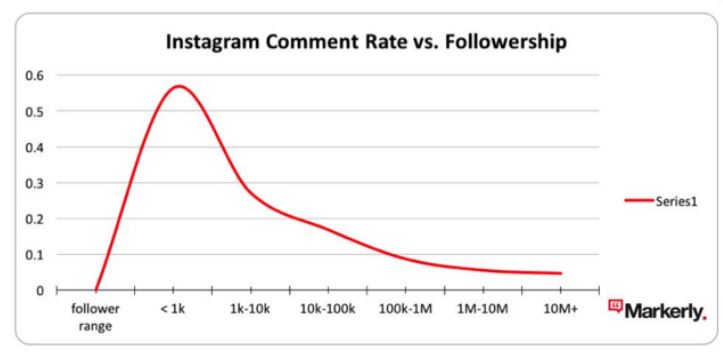 As you analyze engagement, pay attention to the comments to avoid getting roped in by fake influencers. Vague comments and low discussion rates are signals of a fake influencer.
Google can be pretty helpful when it comes to finding Instagram influencers for your business
Once you are done diving deep and have a pretty decent idea of what you want to get out of your instagram influencer marketing campaigns and Instagram influencer, it is time to get to the search. Where to begin? Well, your first stop should be Google. Google is the perfect place to begin your influencer search since it holds the largest amount of information — Ever. Let's say that you are in the travel niche. To consult Google and begin compiling a robust list of potential influencers for your business, you simply type in "top travel influencers."

And boom! You get a massive list of travel influencers that are Instagram ready . . .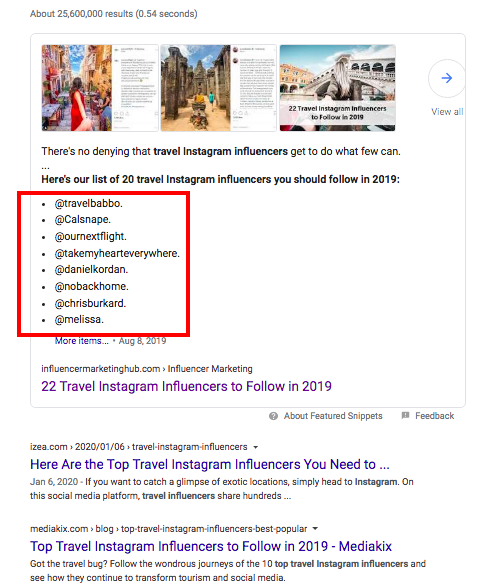 You may think you are done. Think again. Most of the time, Google searches like the one above will return a list of mega-influencers or celebrity influencers that will be pretty expensive to work with. And sometimes, mega-influencers are not the best. Related Post: How to Contact Instagram Influencers This is where the micro-influencer plays a major role in your Instagram influencer search. So, instead of searching for the top Instagram influencers, let's go back to Google and type in "travel micro-influencers on Instagram."

These are the Google search results that you were probably looking for. You will see a number of articles to get Instagram micro-influencers with a smaller follower count . . .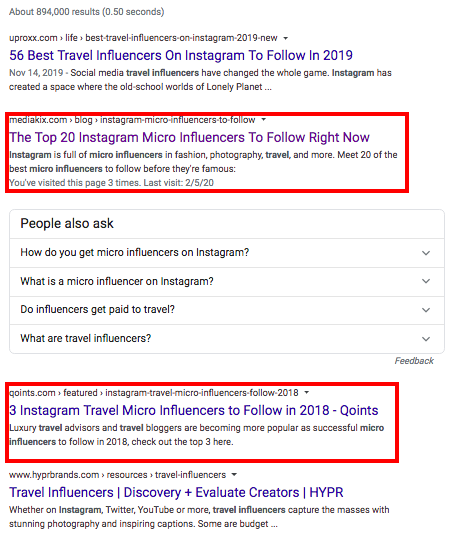 Google is definitely worthwhile when it comes to finding relevant influencers for your 2022 social media marketing campaign.
Do your due diligence and see what Instagram influencers your competitors are using
This is another great best practice to find your ideal influencers for your next Instagram marketing campaign. Chances are, your competitors are utilizing the power of Instagram and influencers to grow their businesses and profits. So why not do a bit of reconnaissance and see what influencers they are using? Why is this a good strategy? For one, you can almost be sure that the influencers your competitors are using are in your industry and niche. They are also most likely real influencers with decent engagement rates. Otherwise, your competitors wouldn't have hired them. However, you can't be totally sure that your competitors qualified the Instagram influencers they are working with. This makes it very important to do your own research on them. Here's what to look for . . .
How often do they post per week?
How many comments do they get per post?
Do they comment back and engage with their followers?
How was the engagement on your competitors' posts?
The above questions can guide you in your decision to reach out to the influencer or not. But remember, they may have signed an agreement with your competitors, so be very tactful in how you hire them if you decide to move forward.
Online chats across various platforms allow you to meet influencers who are serious about the work they do. When you participate in conversations pertinent to your industry, you can gain a better perspective on where the most involved influencers are putting themselves and may even learn more about your target audience by participating in the dialogue.
For example, although your core campaign utilizes Instagram, you can also partake on Twitter chats—public conversations that follow a specific hashtag. Host your own, or get involved in others. You'll find that the community here is strong.
Similarly, now that you've learned a few hashtag tricks, you can sort through them and start commenting and liking photos. Getting involved gets your followers, builds brand awareness, and makes it easier to send an authentic introduction for a working relationship later down the line.
And lastly, don't forget your offline efforts, too. Instagram may be the power player here, physical connections create lasting impressions. Attend networking conferences, industry events, and local meetups to learn more about what's happening in your market and get in touch with fresh and establishes faces in the field.
Find Instagram Influencers With Matching Audiences
Finding social media influencers in your industry is certainly a must-do. However, influencers with the same audience and not the same industry can be beneficial to your brand as well.
For instance, if your brand sells sports sunglasses, you could tap into different influencers across various sports-minded industries because they share the same audience. This can be almost as valuable, and the online reach is greater.
How do you find Instagram influencers with the same audience as your brand? First, you will need to do a target audience analysis. A target audience analysis helps brands define the location, demographic, and preferences of your brand's ideal consumers.
With this analysis in hand, you can cross-reference the data with influencer audiences via Instagram. You will get a robust list of non-industry influencers from doing this research, thus helping those with the audience you want and need to reach.
Dig Deep Into Instagram Influencers That Spark Your Interest
This is a very important tip when it comes to finding top rated influencers. You may find social media influencers that look great online, but what about their true authority? The true authority of an influencer comes down to a few key metrics:
Number of followers

Quality of posts

Depth of industry/niche coverage

Engagement rate on posts

Rank on an influencer platform
Why are these metrics important? There are a lot of fake influencers out there, especially on Instagram. Did you know you can buy followers and engagement on posts?
This makes it critical to do a bit of digging on any influencers that spark your interest. Let's take a look at fashion and travel Instagram micro-influencer @mikaela.wightman as an example: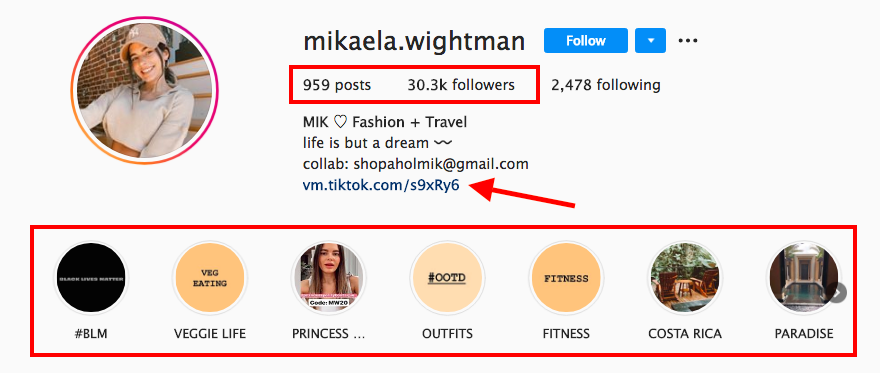 You can see that she has a decent follower count for a micro-influencer, and she has plenty of posts and categories. This influencer is also active on other social media platforms like the popular TikTok.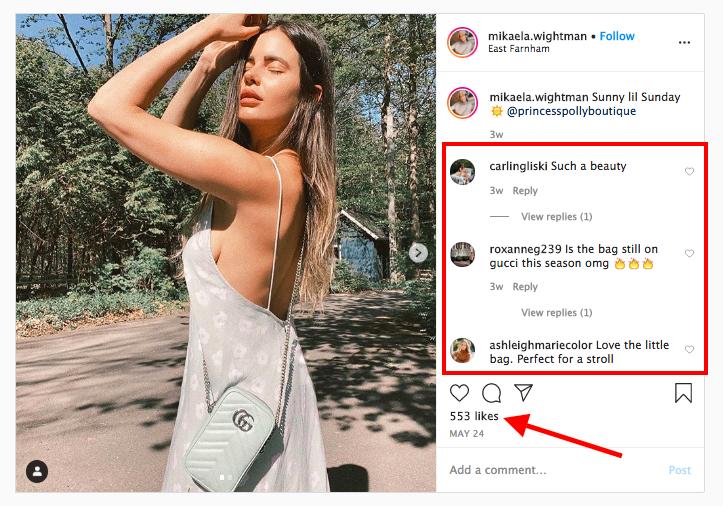 She averages around 350 to 600 likes per post, like the one above with over 550 likes. Likes are great, but you also want to look at comments, which this Instagram micro-influencer nets with each post.
Could this micro-influencer be valuable for a fashion brand? The research would suggest that she certainly is.
Partner with an influencer marketing platform like Scalefluence to get the right Instagram influencers for your business
Instead of doing all the heavy lifting yourself, you can lean on professional support for a better return on investment. What are influencer marketing platforms? They are platforms that bring together brands, agencies, and influencers in one place. And for brands, it makes finding the right influencers easy.
Scalefluence is one such influencer marketing platform . . .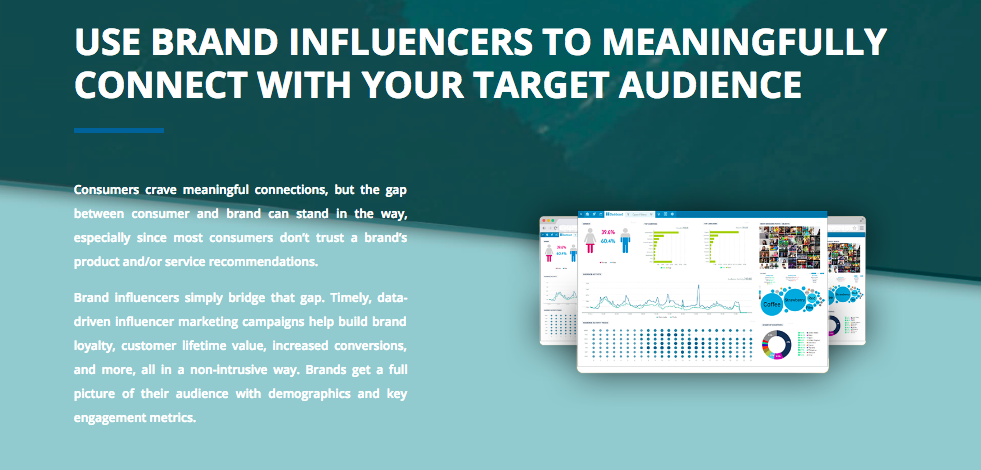 We are a professional and reputable source for Instagram influencers. Businesses like yours can get top-notch social media influencers in your industry at a very affordable rate. And we have already done all the due diligence for you. Since there are so many fake influencers out there, especially on Instagram, we developed a very in-depth vetting program influencers need to go through before working with any Scalefluence brand or agency partners.
The Influencer platform's 1-2-3 step process is as follows:
Influencers opt into the service
Each influencer is authenticated, vetted, and added to the platform
Agencies browse the marketplace, where they can view all data in an influencer listing before contacting them
Once you've joined the service, you'll be able to search its comprehensive database for influencers in your industry. From here, you can filter your results based on desired factors, such as geographic area, cost per post, and reach. Because each influencer is vetted against their metrics, you're able to leverage your research efforts, spend more time on the creative aspects of your campaign, and circumvent the fake influencers plaguing social networks today.
Scalefluence also makes it possible to take advantage of sponsored posts. The benefits are twofold here: you're able to talk freely about the brand but can circumvent the "filtered ad noise" syndrome by working with an influencer to create cool sponsored content.
Each time you reach out to an influencer on Scalefluence, the small details are ironed out and simplified. You can see exactly what the influencer charges, who their audience is, and much more. Sign up today to access our network of Instagram influencers and maximize your 2022 Instagram marketing campaign results.
Wrapping Up . . .
Knowing how to find influencers on Instagram is very important for your business if you want to see some impressive growth in 2022. The above tips to find those influencers are only a few, but they are among the easiest and most effective. Finding the right influencers for your target audience takes a bit of research. But remember, you can also partner with us to make the process of finding an influencer easier. Ready to make the most of your next influencer marketing campaign?
Let us scale your business' influence in 2022. Learn more about what Scalefluence can do for your business here!