Influencers are always looking for new ways to grow their audience and influence. This is especially important for Facebook influencers since the competition is fierce on the top social media network.
Did you know that over 250 billion photos have been uploaded to Facebook since its inception? And there are 350 million photos uploaded daily. That's a tone of images.
The good news is that this article has nothing to do with images. Sure the traditional image with enticing text and a few clever hashtags still performs well for Facebook influencers. But video is stealing the show.
There are about 100 million hours of daily video watch time on Facebook. What does this mean? Opportunity. A Deloitte study estimated live streaming revenue to reach nearly $7.4 billion in 2018. That number has since increased significantly.
If you're an influencer that wants to grow your audience, boost influence, and attract more brands and businesses for lucrative promotional posts, video is a must. Posting videos you curate is great, but leveraging Facebook Live is better.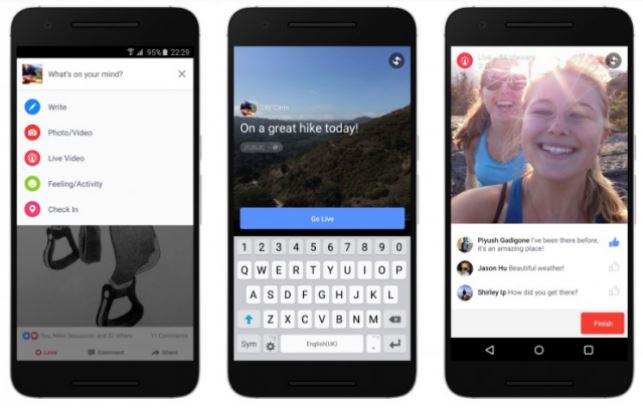 "During your Facebook Live broadcast, you will be able to see the total number of live viewers, the names of Facebook friends who are watching your live broadcast, and respond in real-time to comments from your audience," siliconANGLE explained.
Influencers that utilize Facebook Live to build more influencer bankroll say it is a fun and very simple way to combine video with powerful communicative power. You can share brand stories, reach a wider audience, and build authentic relationships with your fans in real-time.
As simple it is to use Facebook Live to boost your influence, there are little idiosyncrasies you need to learn for Live success.
For instance, you need to know how to:
Stream live using your smartphone

Stream live via your desktop computer

Sort through the video's performance data

Use tips and tricks to optimize your Live videos
The above is important. If you're an influencer already using Facebook Live, you already know how to use it. Not difficult by any means. Where it does get challenging, however, is optimizing Facebook Live to build your influencer bank roll.
For example, Yoga With Adriene uses video to promote upcoming events like her #30daysofyoga for free promotion . . .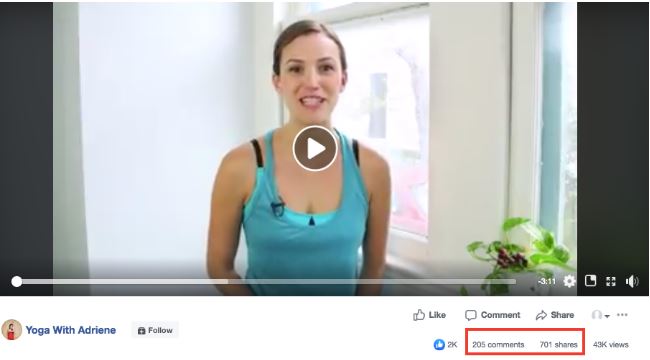 The video is short and sweet, just over three minutes long. But the response was huge with over 205 comments and more than 700 shares. That's pretty powerful engagement for any Facebook influencer.
The following will take a deeper look at how you can build your influencer bank roll using Facebook Live. And it is not all about the video, but more about what you can do with it. Let's dive in!


One of the best ways to build your influencer bankroll using Facebook Live is through affiliate programs. This is similar to collaborating with brands and businesses to launch promotions, only without the collaboration. You still promote the brand's products, but only through links you pick via an affiliate platform.
You can think of it like a promo code, only it is a product link. There are two main affiliate platforms you can use to get these links and share them with your Facebook Live videos viewers.
Rakuten is the first. They have big brands like Foot Locker, Walmart, and more. They also have smaller brands that cover nearly every product category and service.
You can sign up to be a Rakuten affiliate here . . .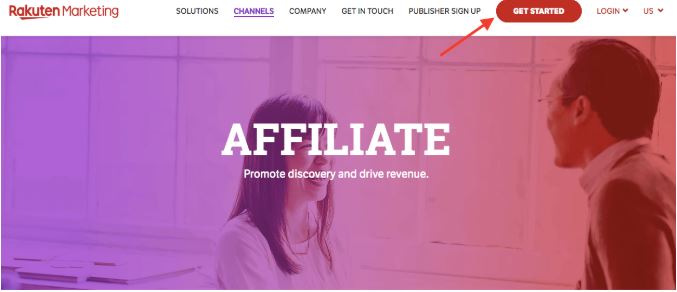 Commission Junction, also known as CJ, is the second biggest affiliate platform. They have big brands like JCPenney, Dell, and more. You can sign up to be a CJ affiliate here.

If you produce a lot of Facebook Live videos, you can quickly build your influencer bank roll. Just be sure to be authentic and serve up product and service links your followers will want to purchase via your recommendation.
Run ads during your Facebook Live video streams
Pre-roll and mid-roll ads are not only for mobile apps. They have proven very lucrative for influencers that produce Live videos as well. And the best part is that you don't even need your followers to purchase anything since ad revenue is based on the number of people who actually see the ad.
It looks like this . . .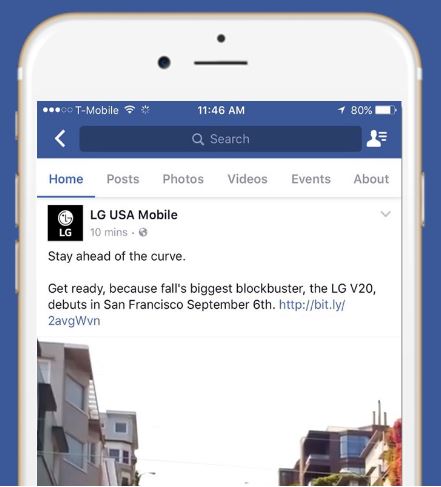 How does it work? During one of your Live videos, streamers will get an option to take a short break from consuming your content and watch an ad. After the short ad, they will be redirected back to your video stream. It is kind of like YouTube ads, only Facebook users get to choose if they want to watch the ad or not.
The downside to this is that only certain Facebook influencers can take advantage of the pre-roll and mid-roll Live ads.
Some of the guidelines are:
You need to have over 50,000 followers

300 or more constant viewers in a recent video stream

Stream must reach 300 current viewers to trigger the ads

And you must have a Facebook page (easy one)
Yes, rules. But if you are an influencer, you probably meet all of the above. Give it a try-out, because the payout could be very lucrative.
Take cash money donations from viewers during Live streams
Donations can be a great way for influencers to build their bankroll using Facebook Live. This making money influencer tip may not be right for every type of influencer, but if you are in the space of gaming, DIY, education, and other skills teaching niches, a donation could be warranted.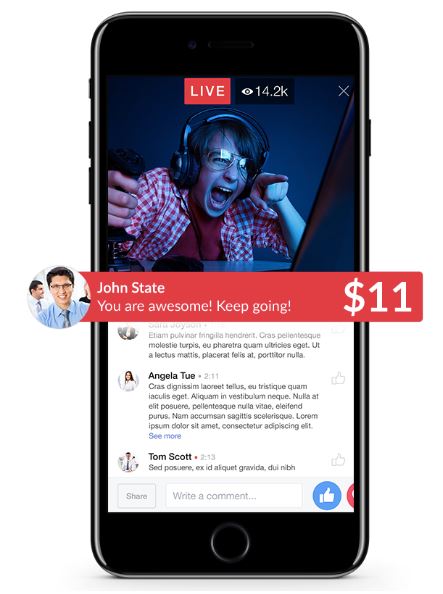 You can insert donate buttons into your Live video, giving your viewers a chance to send you any amount of money they want. The usual method of payment is done via PayPal.
If you're turning your skills and passions into video content that others can benefit from, asking for donations during your Facebook Live videos is certainly not intrusive. If you're super tech-savvy, you could even accept digital coins as donations and turn them into cold hard cash later.


Brands and businesses know the power of influencers, and many are allocating a large portion of their marketing budgets toward influencer marketing campaigns. In fact, brands and businesses increased their influencer marketing budgets by 65 percent, according to Bigcommerce.com.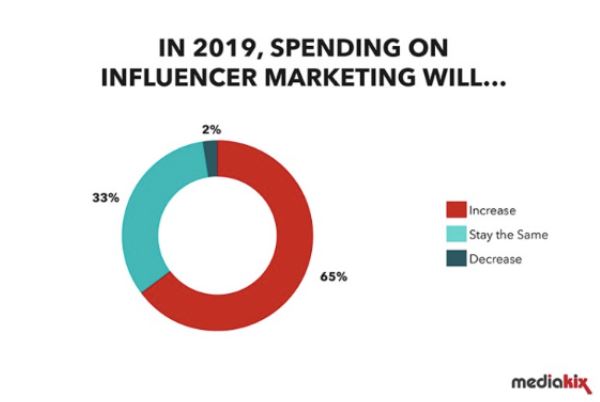 Striking a deal with big brands and businesses can be very lucrative for influencers. Not only do you get paid more for your promotional posts, but you have a chance to nurture an ongoing partnership.
Here's one via Kourtney Kardashian's Facebook page featuring Calvin Klien . . .
How do you connect with brands and businesses to seal these types of influencer deals? By joining an influencer marketing platform like Scalefluence.
Let Scalefluence help your build your influencer bankroll
Scalefluence is a premier influencer marketing platform with a large network of top brands and businesses across nearly all industries. You can take the next step in your influencer career and collaborate with well-known brands, grow your followers, and earn top dollar for your creativity.
And we know the importance of staying creative. Scalefluence ensures all our influencers have creative say in every collaboration. You worked hard to grow your audience, and we don't want you to jeopardize it by straying from your personal brand.
Are you ready to build your influencer bankroll?
Sign up with Scalefluence today
and take your influence to the next level.