Influencer marketing continues to be a valuable asset for brands. From global brands to budding businesses, influencer marketing has the majority share of overall marketing spend. The forefront of it is influencer platforms as the influencer marketing industry worth is estimated to hit $21.1 billion in 2023.
How do brands and agencies find the right influencers? Influencer platforms. How do influencers connect with brands in their niches? Influencer platforms. There is certainly no denying the need for influencer platforms in today's fast-paced social media age.
Influencers are essential to reaching target audiences in the most non-intrusive way, leading to high ROI. For example, this Instagram post by @sweatandtell, promoting global ice cream company Halo Top . . .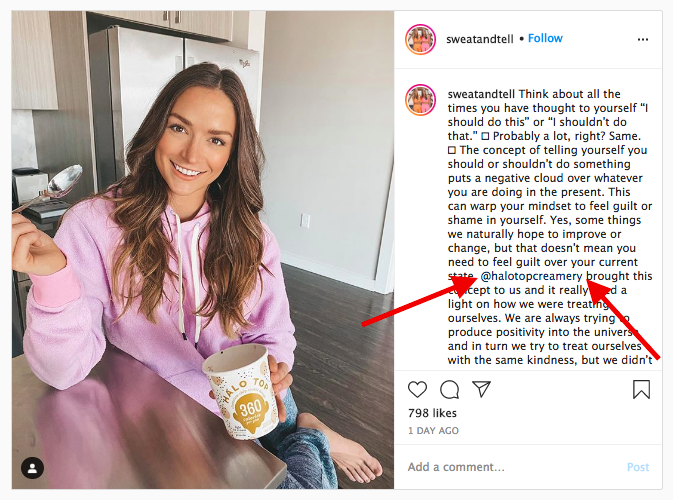 Instagram is especially enticing for brands when it comes to influencer marketing. This popular social media channel has 76 percent of the influencer market for brands. That is massive compared to social media platforms like Facebook at 46 percent, and YouTube at 36 percent.
For many brands, as well as influencers, Instagram is the top platform when it comes to tapping into influence to grow revenue. However, getting the maximum ROI out of an influencer campaign is easier said than done.
Brands and marketers need to find influencer marketing strategies that fit the KPIs, negotiate the best prices to stay on budget, and grow long-term relationships with influencers that perform. Influencer platforms, like Scalefluence, help brands achieve results.
Let's take a closer look at six influencer marketing benefits reshaping social media for brands.

1. Develop The Best Influencer Strategy With REAL Influencers
This is one of the top benefits of influencer platforms. Why? Time and time again, brands get burned by fake influencers. Influencer marketplaces eliminate this common industry problem, because the experts that work for influencer marketing platforms qualify all relevant influencers in their network.
Your brand may have been burned in the past by fake types of influencers. If you hired an influencer with 100,000 followers and the sponsored post yielded little ROI, that influencer probably had fake followers.
Fake followers can be bought easily online, and for relatively cheap. Just a quick Google search using the keyword term, "buy Instagram followers" returned this search result . . .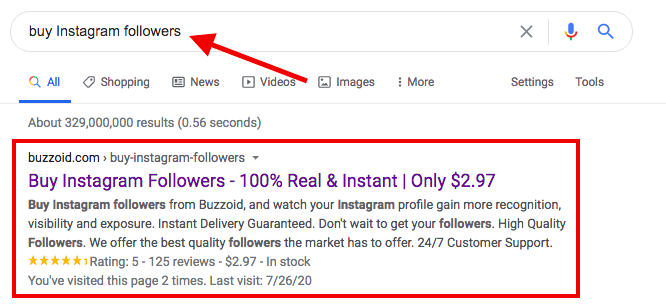 Anyone with an Instagram account can buy 5,000 followers for just $40!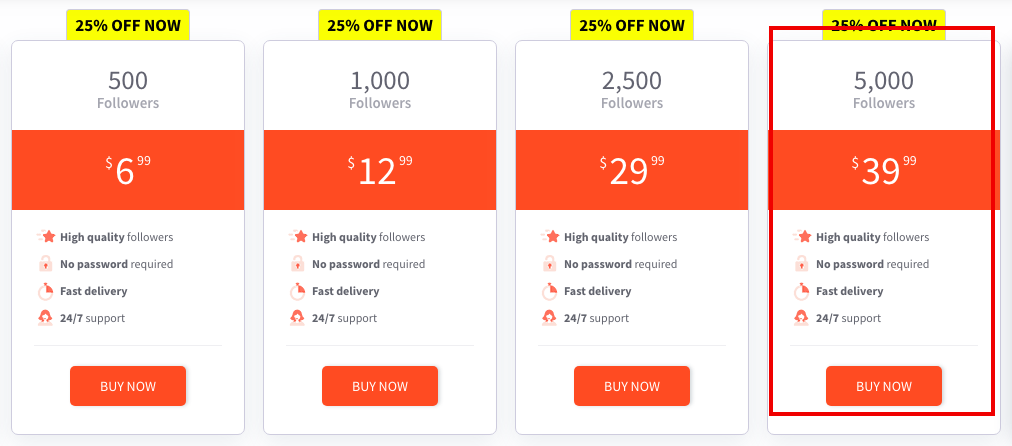 When you work with a reputable influencer marketplace, your brand will only get matched with REAL influencers that have the loyal target audience you want to reach.
2. Match Your Brand To Influencers Via Data-Driven Insights
Having access to real influencers is only one part of the influencer marketing battle for brands. You may have access to a ton of influencers, but choosing the RIGHT influencer for your brand's upcoming campaign can prove challenging.
The good news is that influencer platforms have a lot of influencer campaign data, from Instagram to YouTube. This allows the influencer marketing platform to utilize data-driven insights to match your brand with the right influencer for the job.
For instance, let's say your upcoming campaign needs a video promotion via Instagram. Using analytics, an influencer platform can quickly identify the best video production influencers in your brand's niche. The platform may even have some competitor data they can draw from.
Matching your brand and upcoming campaigns with the right influencer via data-driven insights ensures top-notch results and maximum ROI.
3. Build Visibility With Multiple Influencers
Finding real influencers that are perfectly matched with your brand can be difficult. Finding and managing one or two can be done if you are an enterprise company, simply because you have the workforce to do it. But when it comes to building massive brand awareness, you need multiple influencers.
Each influencer has a specific target audience, and when you tap into that audience via valuable content like a sponsored post, you achieve increased brand awareness and social media presence. However, if you multiply that by five influencers, brand awareness skyrockets.
Let's take a look at this brand awareness post from micro-influencer @itslivb . . .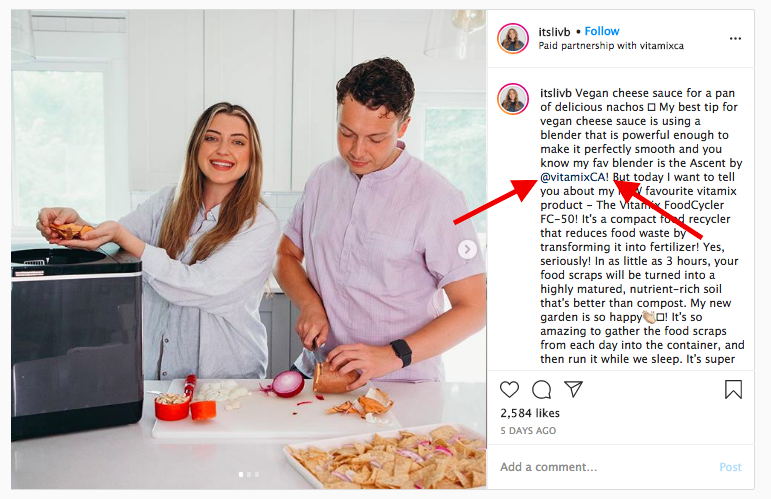 This post raises awareness for blender company Vitamix. The follower count of this one influencer is around 100k. Pretty successful post with decent engagement.
Now let's add four more influencers, which is easy when you have an influencer marketplace like Scalefluence helping you achieve influencer campaign success. Here are some potential influencers . . .




You can see by the follower count that by utilizing all these influencers for a single product campaign in the health and wellness niche, your brand awareness can go from 100k target audience reach to over 500,000.
This can have an impact on your brand's awareness, as well as conversions for the campaign's duration. And the best part is that you already know that the influencer platform vetted each influencer for maximum ROI potential.
4. Get The Most Out Of Your Influencer Marketing Budget
Partnering with an influencer marketing platform is a sure fire way to get the most out of your influencer marketing budget. This is due to the extensive knowledge an influencer marketplace has when it comes to pricing.
If you Google search how much to pay influencers, you might have a bit of sticker shock. This can be contributed to the exponential amounts mega-influencers make per post.
Did you know that the three highest paid influencers on Instagram are Kylie Jenner ($1.2 million), Ariana Grande ($966,000), and Cristiano Ronaldo ($975,000). And that is per post! If you find that article, you will throw in the towel on influencer marketing before you even get going.
The truth is, it doesn't cost a lot to have an influencer promote your brand on Instagram, YouTube, Facebook, or even LinkedIn. In fact, it can be pretty cheap.
Here are some benchmarks when it comes to paying influencers:
5k – 10k ($100 – $500)
10k – 25k ($500 – $800)
25k – 50k ($800 – $1500)
50k – 100k ($1500 – $2000)
Now the price of an influencer promotional post varies, because many elements are involved. Let's break down a post and potential price . . .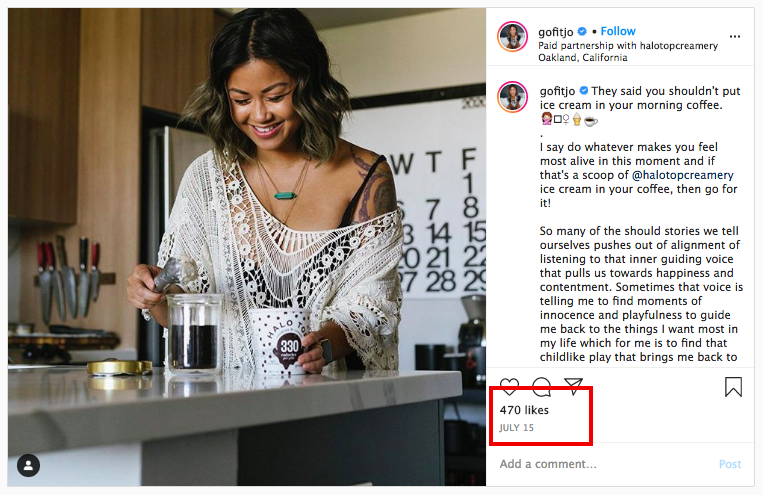 This post netted 470 likes and 39 comments. This gives it an engagement rate of .63 percent. Not great. It is also just a single image. With nearly 80,000 followers, this influencer can expect $1000 for a similar content strategy.
If engagement rate was higher, and the post was a video post or Instagram Stories post, a brand may pay in upwards of $2,500. It simply depends on the type of influencer content, niche audience, and analytics of the influencer.
5. Influencer Management Made Easy
This is a pretty enticing benefit of influencer platforms. Having a single platform to track influencers, influencer marketing spend, influencer campaigns, and campaign results is a must for brands large and small.
Quality influencer marketing platforms, like Scalefluence, have a dashboard with all the influencer management and tracking bells and whistles. It also serves up ease of use, keeping the learning curve simplified for any marketer or business owner new to influencer marketing.
6. Position Your Brand Above The Competition
Influencer marketing is the future of marketing for brands. This is because consumers no longer trust marketing messages that come directly from brands. Especially on social media. And when a consumer's favorite influencer recommends something, it is like a recommendation from a friend.
Did you know that 83 percent of consumers research products and/or services on Instagram? 80 Percent of consumers will also make a buying decision via Instagram research.

This is just one social media channel!
It is hard to ignore the statistics of influencer marketing. And if your brand is not leveraging influencers to increase brand awareness and drive more conversions, you could be losing out to competitors.
If you are not active on social media, your brand is in many ways irrelevant. Social media is changing the way people interact with brands, find new products and/or services, as well as make buying decisions.
Are You Ready For Scalefluence To Reshape Your Brand?
Influencer strategy, and the influencer platforms that help brands navigate influencer marketing as a whole, are essential in today's social world. Do not let your brand waste digital marketing spend on poor performing influencers and influencer campaigns. Partner with an influencer marketing platform that delivers all the above benefits. Contact Scalefluence today and tap into influence that nurtures growth and success.
Frequently Asked Questions
What is the main benefit of being an influencer?
The main benefit of being an influencer is the ability to reach a large and engaged audience. Influencers have the power to shape public opinion through quality content, which can be used to spread ideas, generate interest in products or services, and even create social change. Additionally, influencers often collaborate with brands on sponsored campaigns, giving them the opportunity to earn money for promoting those brands.
Being an influencer also gives you access to exclusive events and experiences that you wouldn't otherwise have access to. Finally, being an influencer gives you the chance to connect and build relationships with like-minded individuals from all over the world and across social networks.
All in all, becoming an influencer can be extremely rewarding and beneficial for your personal and professional growth. The main benefit of being an influencer is that you can make a real difference in the lives of your followers. You have the ability to influence their decisions and help them find new products or services that they may not have otherwise found. Additionally, you can make new connections within your brand or niche.
What are the benefits of influencer marketing?
Influencer marketing is a form of marketing that focuses on utilizing influential people to reach a wider audience and drive more engagement. There are many benefits to using an influencer marketing campaign for businesses, including:
1. Generating brand exposure: Influencers have a large following, which can help increase your brand's visibility and reach.
2. Establishing trust: Influencers have built relationships with their followers, making them more likely to trust their recommendations and engage with your brand.
3. Increasing conversions: By partnering with influencers, you can tap into their followers' enthusiasm for your brand and drive more sales or conversions.
4. Boosting SEO efforts: Working with influencers can help you generate backlinks to your website and increase your search engine rankings.
5. Enhancing potential customers' loyalty: Influencers can help create a sense of community around your brand, increasing customer loyalty and engagement over time.
How do you find the best influencers to work with?
To find the best influencers to work with, consider using an influencer marketing platform like Scalefluence. Unlike traditional marketing strategies, or social media marketing, influencer marketing platforms offer access to a large network of influencers, campaign management tools, and analytics. This can help you save time and money while ensuring that your campaigns are successful.
How Many Followers Do You Need to Be an Instagram Influencer?
The number of followers you need to be an influencer varies depending on your niche, industry, and goals. However, typically, you will need a minimum of 10,000 followers to be considered an influencer. If you're just starting out or are still growing your following, don't worry – there are plenty of ways to get started with influencer marketing. You can start by partnering with micro-influencers in your niche who have a smaller but more engaged following.