Growing your Instagram audience and building your personal brand is an Instagram influencer must-do. The more followers you have, the more engagement. And the more engagement, the more money you can make from promoting brands, businesses, products, and/or services.
This is where the money lives for Instagram influencers. Affiliate marketing and promotions in collaboration with top brands can be very lucrative. In fact, it could lead to a full-time influencer gig — When done right.
If you grow your audience to 50,000 followers, you can earn around $200 per promotional post. If you grow to mega-influencer status with hundreds of thousands of followers, your pay out per post could be pretty amazing.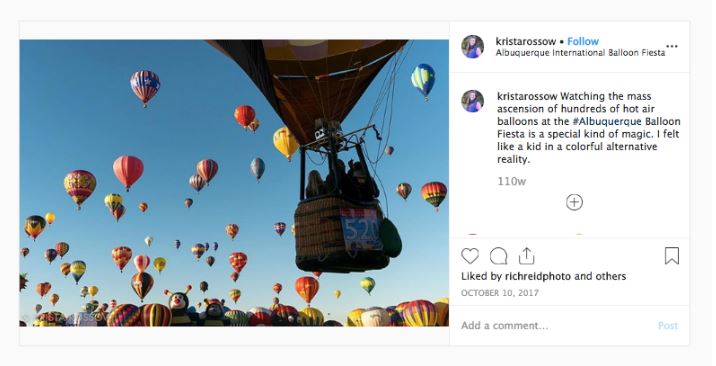 So how can you grow? There is a ton of influencer competition battling for the attention of the masses. Did you know that there are now over a billion Instagram users? In order to carve out your slice of Instagram influencer pie, you'll need to be highly creative.
This is why we compiled 6 creative Instagram post ideas for you to leverage. Let's jump right in!
1. Do an #AskMeAnything (AMA) post
This is a very creative Instagram post idea influencer love, since it normally generates a ton of engagement. It also serves as a gateway for a new audience to find and follow you.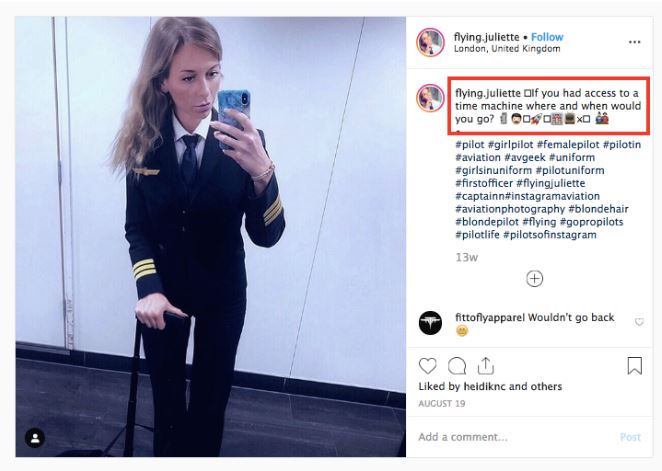 This example of a #askmeanyhting post racked up pretty good engagement from micro-influencer @pilot.juliette.
How do you do it? First, think about what your audience would like to answer, and what they want to know about you. In the example above, the Instagram influencer is a pilot, so naturally she asked about travel destinations.
If you're a fitness influencer, morning routine or top post-workout routine could be a good question. Your followers certainly want to know yours. Be creative and don't forget to comment back.
2. Show some love with user-generated posts
User-generated content is another great way to boost engagement and show your audience how much you love them. This is also a very easy post to do, something manageable on the days you may not feel like creating a video, or another type of time-consuming content.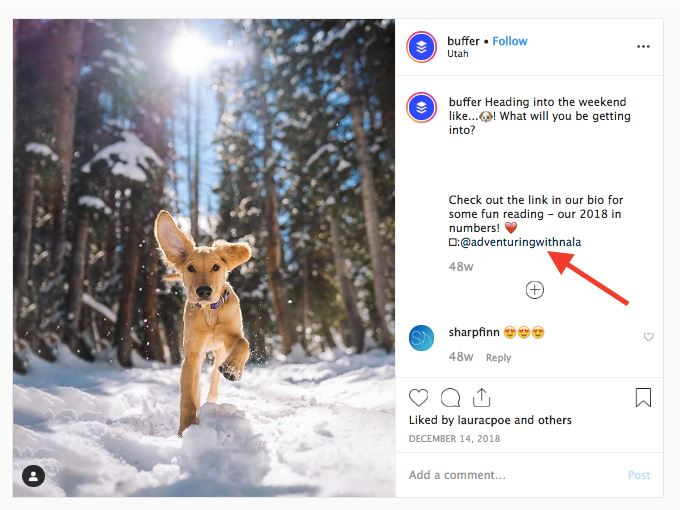 This one from Buffer (a brand I know) highlights one of their followers photos. It's cute, creative, and easy to do. Now, many brands take advantage of user-generated content on Instagram.
But not many influencers do it. Why not? Show some love, and you will get more followers in return since your followers will share your thoughtful user-generated posts with friends, family, colleagues, and even complete strangers they just met at happy hour.
This may seem like a very obvious content idea for Instagram, but you would be surprised how many influencers get a bit of influence and forget about these little gems.
#TuesdayTips
#WednesdayMotivation
#TBT
#TGIF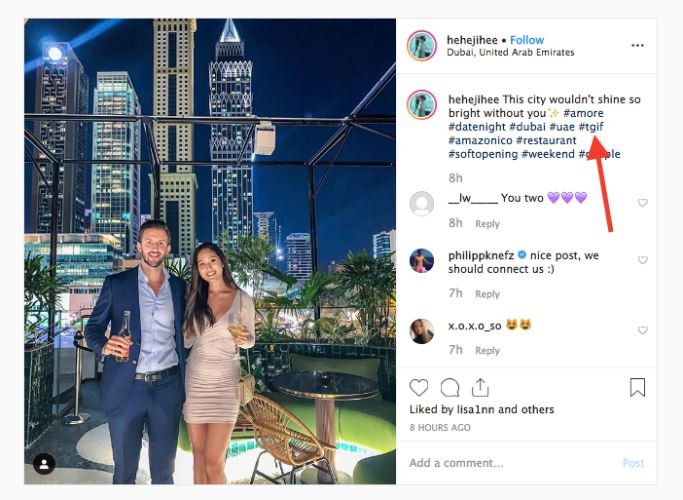 This is a great, sincere example of how to use daily hashtag #TGIF from micro-influencer @hehehijee.
These little daily hashtag affirmations are certainly in high use. You may even feel like they are a bit below your Instagram status standards. But don't be fooled by the commoner power these hashtags still hold.
The goal with daily hashtags is to be as creative, or as sincere and personable as possible. You want to either showcase extreme creativity, or break it down to the personal level.
But above all, don't stop the daily hashtag grind!
4. Create video content for maximum creativity
There are a few reasons why video content is a must-do for Instagram influencers. First, it is a great way to boost engagement. Why? Instagram's users, and the general public, craves video content. There is a reason YouTube is the second largest search engine on the planet.
Second, brands want to promote their business, products, and/or services via video. Especially top brands, because they have spent the money, did customer research, and know how valuable video content is.
So if you want to land brands and get paid for promotion posts, you'll need a lot of videos in your Instagram feed.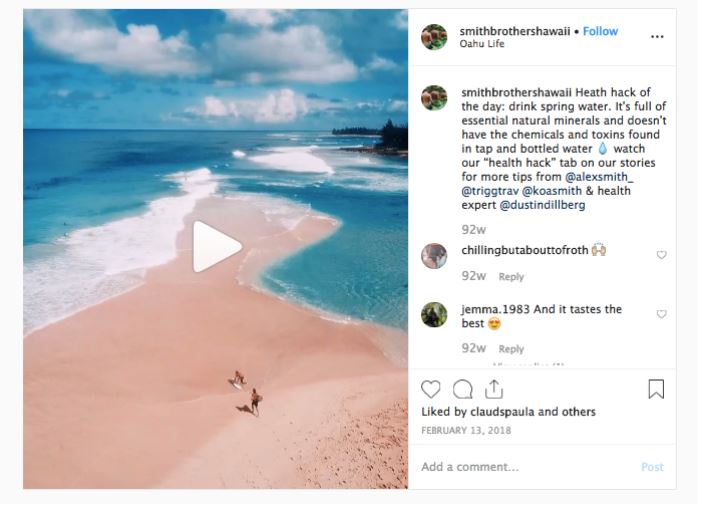 This video from micro-influencer @Smithsbrothershawaii is short and super creative. These Instagram influencers have a ton of video in their feed. They are just under 10,000 followers, but surely the promotions will be coming quickly.
Now it is important to know that you don't need a drone, expensive camera, microphone, etc. to start shooting your Instagram videos. In fact, it is best to just use your phone, because it feels more real to your audience and future followers.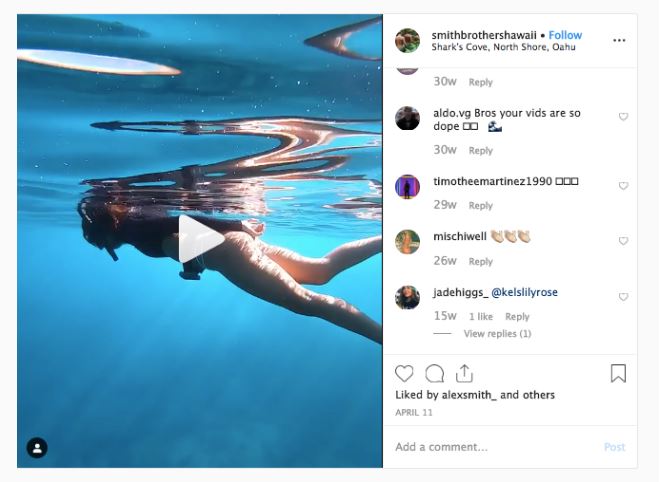 "In fact, videos shot on a budget can often appear more authentic (and be more effective) than high production videos," Lauren Ufford of Shopify explained. "You can shoot compelling videos for your brand's Instagram page on just a smartphone, with the option to edit it using Instagram itself, a computer, or a variety of useful mobile apps."
Long story short, create creative video content for your audience, and your influencer future.
5. Share your valued advice with Instagram users worldwide
As an influencer, people from around the world and of all walks of life are turning to you for insight on places to travel, products to purchase, brands to checkout, apps to use, and the list goes on.
One creative Instagram post idea is to share your insight on a non-promotional level with your audience. For instance, micro-influencer @samanthakozuch shares how she makes it in the social media game, and how others can too.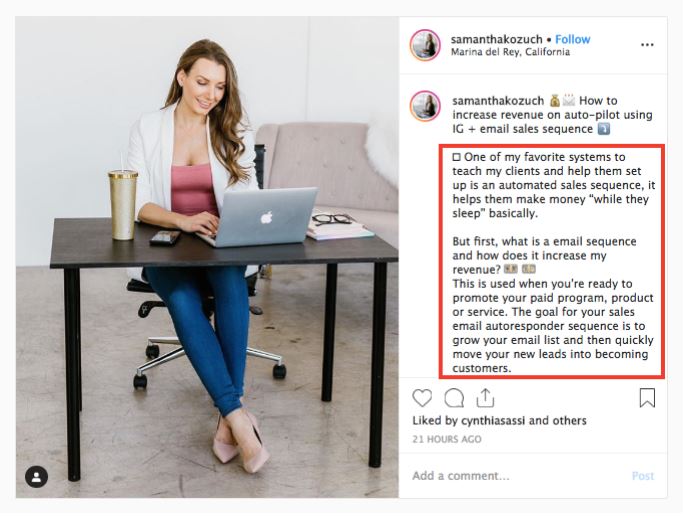 This post gives a tidbit of insight into email marketing and how her audience, and future followers can take first steps to success.
This is what you should aim for, whether it's giving up marketing advice to sharing how your morning routine can reshape the rest of the day for the better. However, make sure it is something you can backup, because you may get questions from followers, and you'll need to answer them.
6. Interview someone your audience finds interesting
Interview Instagram posts are certainly creative. Influencers love them, and so do the Instagram masses. One of the major benefits of this type of creative Instagram post is that it will be a video. So you can check the video content box on this one.
Another benefit of the interview post is that you're giving Instagram users, especially your audience, what they want. People love little glimpses into others' lives. Who do you interview? Well, ask your audience. This can be a post before the post, generating even more engagement.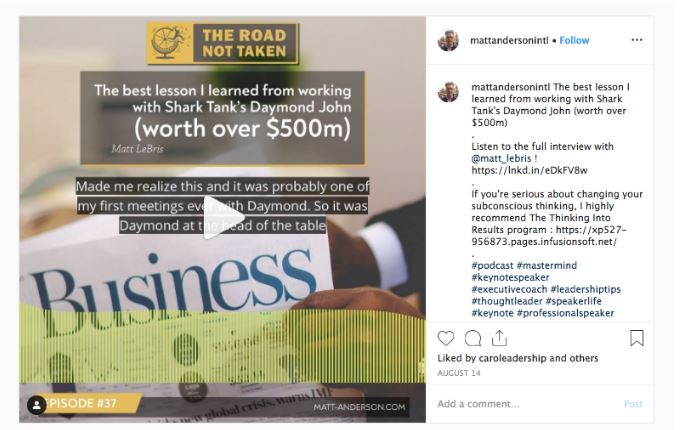 The above from @mattandersonintl is a great example of an interview specific to his Instagram audience.
How do you conduct an interview? First, find someone your audience wants you to interview and set it up. Next, send over a list of questions you will be asking your interviewee to ensure they are prepared. Then, you do the interview, edit as needed, and post.
It is really that easy to do an Instagram interview, so make it happen to maximize engagement and grow your audience.
Stay creative and connect with top brands with Scalefluence
There are a variety of creative Instagram post ideas at your disposal as an influencer. However, sometimes when you work with brands and businesses, that creativity can get micromanaged. Not with Scalefluence.
Scalefluence Instagram influencers keep their creativity when working with our network of brands and businesses. This is because we know how important it is for you to stay true to your personal brand while ensuring your audience gets your best.
Working with us, you also get paid what you're worth. No low offers per post here. This is your craft, and as an influencer, you deserve to get paid top dollar for your creativity, time, and follower count.
Get paid as a Scalefluence influencer and take your creative talents to the next level.