Micro-influencers are hot commodities in today's socially influenced world. From beauty products to business services, influencers are helping brands generate leads, increase brand awareness, and make sales via social media.
Knowing how to earn money from Instagram as a micro-influencer is essential.
Why are micro-influencers so enticing to brands? Micro-influencers have influence over loyal niche audiences. In most scenarios, the following of a micro-influencer hangs on his or her every recommendation.
Brands want influencers with massive engagement, and micro-influencers provide these must-have metrics. Influencers with 1,000 to 20,000 followers have the best engagement per post.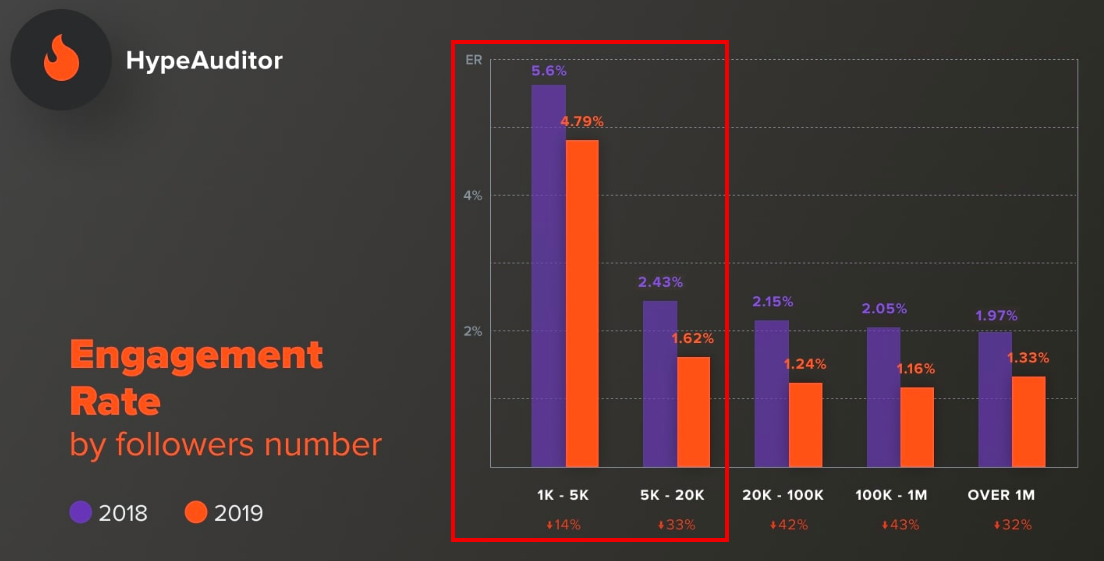 There's also the matter of trust. "For starters, people with a few thousand followers generally seem more trustworthy, authentic, and relatable than those with huge followings," Business Insider explained.
Where does this influence have the most sway when it comes to influencer marketing? Instagram. According to eMarketer research, over 75 percent of marketers turn to Instagram.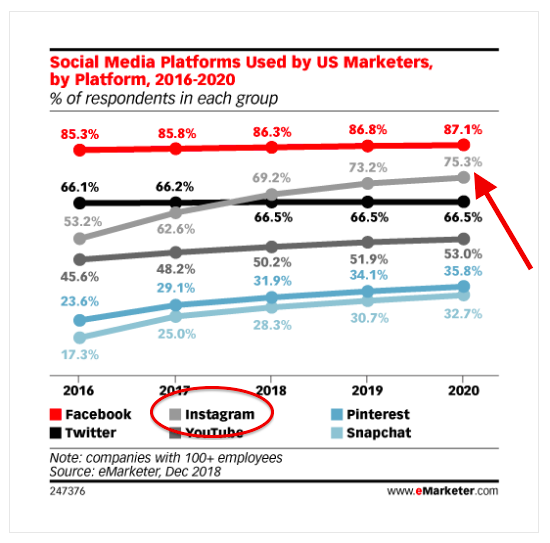 That is nearly as much as Facebook. The nearly year-over-year increase in Instagram use by marketers is definitely a strong signal for any Instagram micro-influencer looking to understand how to start making money on Instagram.
The money is real for Instagram micro-influencers. For instance, fashion micro-influencer @acteevism generates around $400 per post with just over 10,000 Instagram followers.

How can she charge that much for sponsored posts from brands? Engagement. This post, for example, netted an amazing engagement rate of 10.8 percent.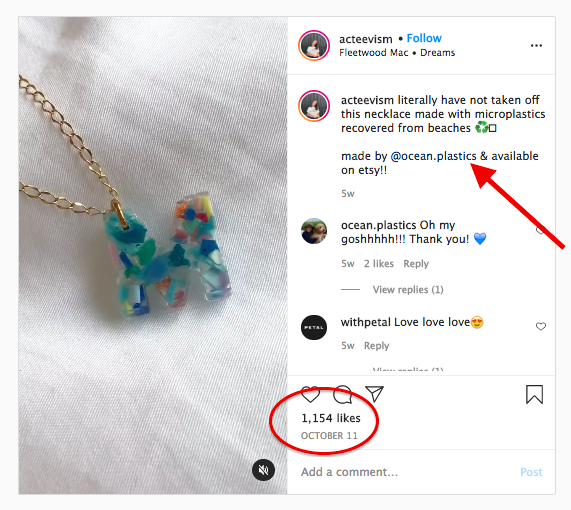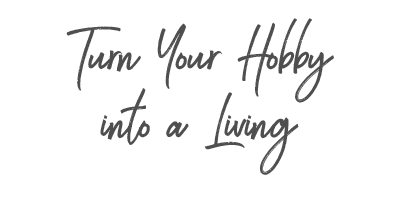 This is how powerful your influence is as an Instagram micro-influencer. And if you are not maximizing that influence to learn how to earn money from Instagram, you are missing out on serious cash money.
To help get your micro-influence generating serious revenue, we compiled a few tips and tricks. Let's get to it.
Start With Your Instagram Micro-Influencer Profile
To gain more followers on Instagram, attract brands for sponsored posts, and really learn how to earn money from Instagram posts, you need an attractive micro-influencer profile.
Your profile is like a website landing page for your influence. You want it to explain who you are, what your niche is, and more. For example, Instagram micro-influencer @gabbywhiten serves up a strong profile.

You can see Gabby is a new York based influencer that is interested in design, education, and lifestyle. She also gives her followers and potential brands interested in her influence an email to connect.
Here's another profile example from micro-influencer @darrianchamblee.

This micro-influencer is about mom life and showcases her military wife lifestyle via Instagram. She also highlights her blog and unique Instagram hashtag.
Having an enticing influencer profile is a must-do for micro-influencers ready to gain more followers on Instagram, land brand sponsored post opportunities, and make money.
Learn How To Earn Money From Instagram Via Videos
Video content is in high demand. Instagram users want to consume more video content, and brands want to partner with influencers that know how to create great social media videos.
If you are a micro-influencer that can create highly engaging videos, you have a recipe to make money on instagram. Like this video from micro-influencer @acteevism.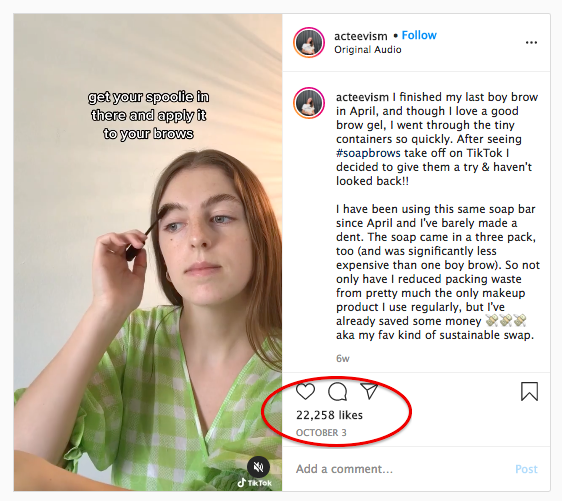 This micro-influencer repurposed her TikTok video for massive engagement on Instagram. The video post netted an insane engagement rate of 205 percent.
With engagement examples like this, any fashion or beauty brand would pay top dollar for a sponsored post. This definitely highlights the power videos have on social media, especially for micro-influencers wanting to know how to start making money on instagram.
The average micro-influencer can make as little as $219 for an Instagram video.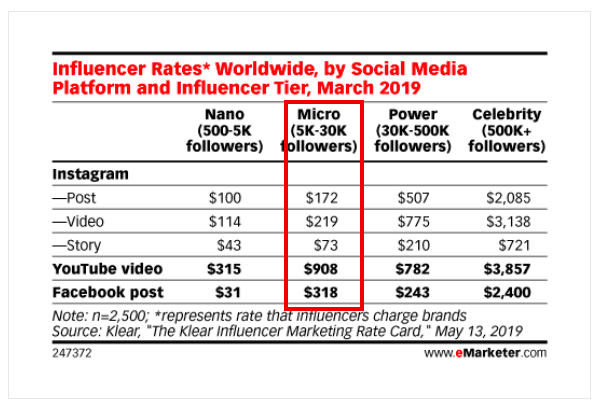 Repurpose a video across multiple social media channels like Facebook, YouTube and TikTok, and the earning potential is huge. Research would suggest that earning potential is higher for celebrity influencers when it comes to video content.
But brands and marketers are not all that interested in working with celebrities and mega-influencers. In fact, 56 percent of marketers agreed that micro-influencers deliver better value.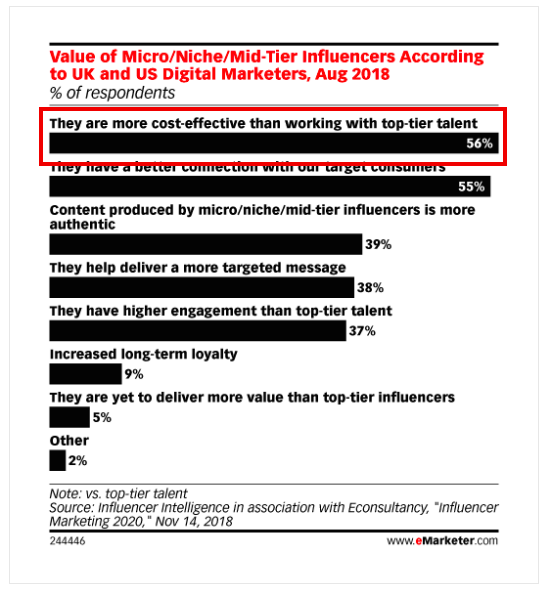 Video content is a great way to get paid for your influence. If you are a micro-influencer that has yet to produce videos, the time to start is definitely right now. You may be surprised by how fast you land a lucrative brand sponsorship via video content.
Brand sponsorship opportunities are of course great. And they represent the most earnings for micro-influencers. However, you don't always need to rely on brand sponsorships to earn serious cash as an Instagram influencer.
Affiliate marketing is a great way to turn your influence into revenue. What is affiliate marketing exactly? Affiliate marketing is like working with top brands to promote products without the contracts and creative oversight.
To start posting affiliate links to make money on Instagram, you need to join an affiliate marketing platform like CJ.com, Rakuten affiliate program, Amazon affiliates, and other affiliate marketing platforms.
Once approved as an affiliate, you can pull product and/or service links via your affiliate dashboard and promote them via Instagram posts. Here's an example of how to leverage affiliate links from influencer @chelsss.rose.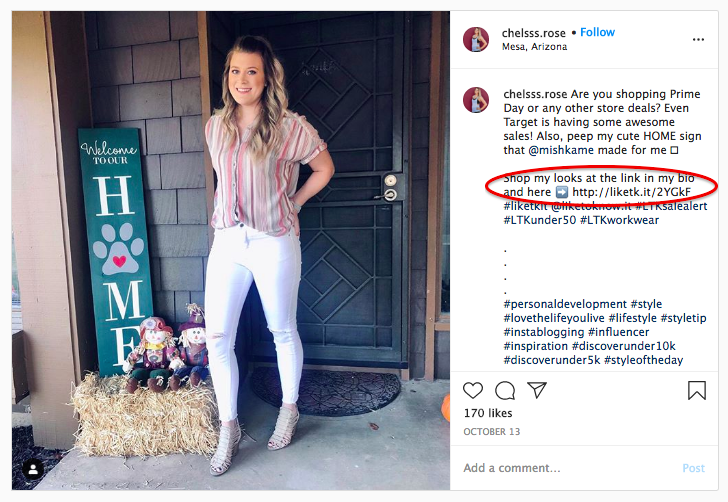 First this influencer posts a outfit to her loyal following. From there, her audience can tap through to a separate web page that has all items of the outfit the influencer is promoting.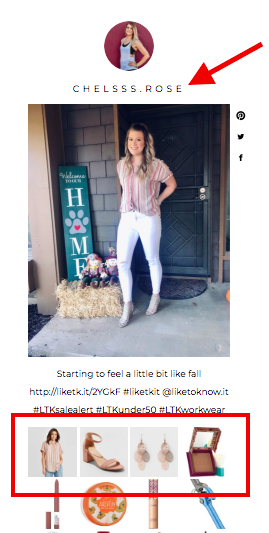 Now let's say that someone wants to buy the shirt from the Instagram post. They would tap and land on the brand's product page. In this case it is a shirt from Target.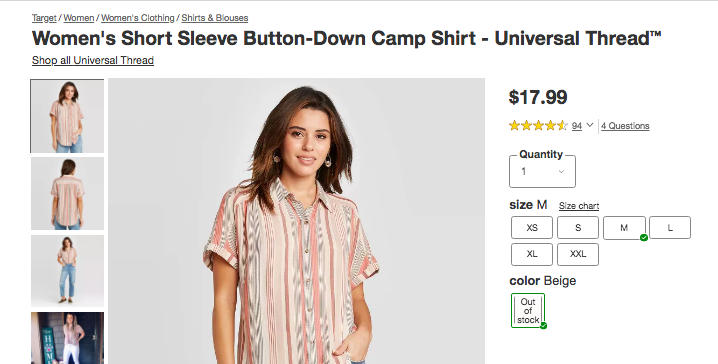 When a purchase is made, the influencer gets a percentage of the sale, normally around 3 percent to 10 percent. If this shirt was purchased by 100 followers, the influencer can net between $54 and $180.
Multiply that by all the affiliate links for the Instagram post, and revenue could be in the thousands. This influencer is also featured on Target's product page for the item, which could lead to other money making opportunities.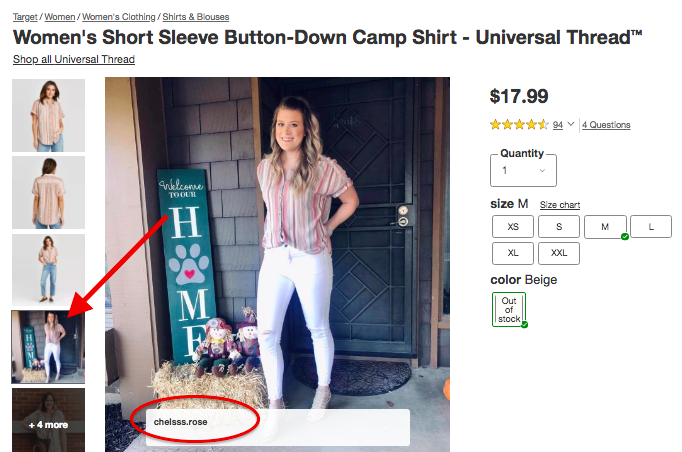 This is how profitable affiliate marketing can be for micro-influencers. And it's very easy to do. You already have the audience.
Learn More About How To Earn Money From Instagram As A Micro-Influencer By Partnering With An Influencer Marketing Platfrom
Influencer marketing platforms are excellent resources for micro-influencers. Scalefluence is a premiere influencer marketing platform that helps influencers in all niches learn how to start making money on Instagram, gain more followers on Instagram, and how to land those lucrative sponsored posts.
In fact, Scalefluence has a robust list of brands and marketing agencies looking for micro-influencers like you. Our expert influencer marketers know how to take your influence to the next level for maximum earning potential.
We also know the importance of keeping your influence intact as you navigate the often stressful waters of influencer marketing. We ensure you never sacrifice your personal brand and creativity as an Instagram micro-influencer.
Are you ready to land more sponsorship opportunities from brands in your niche? Ever consider partnering with a reputable influencer marketing platform? The time is now to get paid for your influence. Contact the professionals at Scalefluence today and learn how to start making money on Instagram the easy way.