Knowing how to get paid on YouTube is not only about uploading videos. And YouTube videos are not automatically monetized. When it comes to how to make money with a YouTube channel, there are a number of best practices to follow. Learn how to monetize your YouTube channel with the steps discussed below.
For instance, having video thumbnails that entice viewers to click through and watch your video. Enticing thumbnails look like this:

We will explore the power of thumbnails later in this how to make money with a YouTube channel ultimate guide.
Is making money as a YouTuber easy? Yes, if you know how to do it, stay consistent, and stay motivated.
Want to know how to get paid on YouTube? Here's a hint, it isn't all about subscribers. Having millions of subscribers can be good, as long as those subscribers actually engage with your video content.
If you have a million subscribers, but your engagement rate is less than one percent, it will be difficult to land profitable sponsorship deals from brands and marketing agencies.
The truth is, you really don't need millions of subscribers to make money on YouTube. You do need enough loyal subscribers that engage constantly with each video you post.
Essentially, you need to have enough subscribers to begin monetizing your YouTube channel and start taking the next steps toward bringing in decent monthly revenue. Let's take a closer look at how to make money with a YouTube channel and become a YouTube star.
Understand Your Target Audience Before Doing Anything Else
When you are just beginning your money-making journey on YouTube as an influencer, it is important to get to know who your viewers will be above anything else.
Why? The target audience of your niche will be your future subscribers. If you fail to fully understand your audience, your channel will fail. Ask any comedian that gets on stage. If they don't know who their audience is, they will be short on laughter.


Defining your niche and target audience will also open doors faster when it comes to working with brands and marketing agencies. Here are some key audience data points to compile:
Age
Gender
Location
Interests
Family
It is also important to know where your target audience hangs out online other than YouTube. For instance, if you find that your audience spends as much time on Instagram as YouTube, you will want to build your Instagram influence as well.
Having a better understanding of your audience will guide you as a YouTube influencer. The information you compile can give you video content ideas, marketing insights, and more.
Build Your YouTube Influence And Join The YouTube Partner Program
If you are wondering how to get paid for YouTube video views, you want to build enough influence to join the YouTube Partner Program. As a YouTube (Google) partner, you can monetize your channel a few different ways.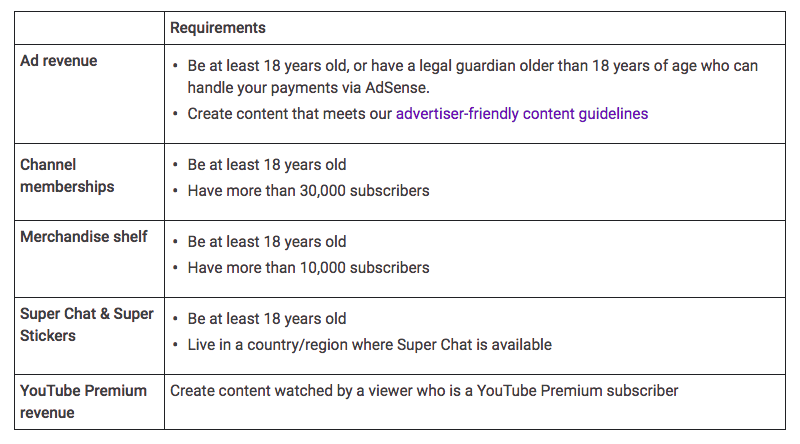 Ads can prove profitable for YouTubers. And they come in a few different forms: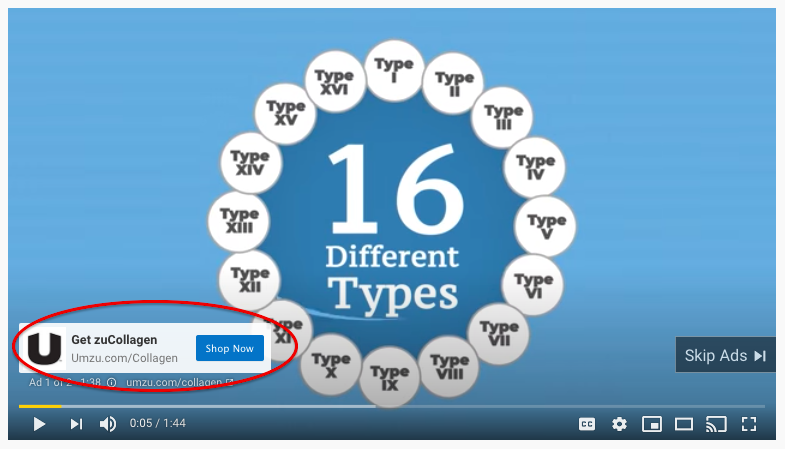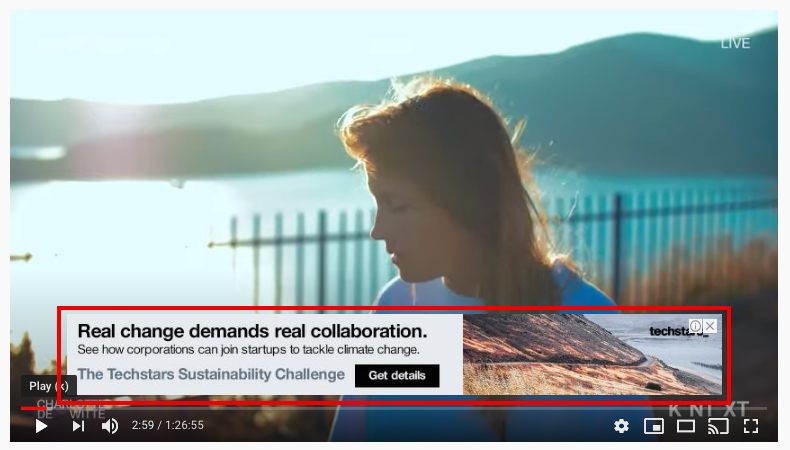 But before you can get YouTube Partner Program approval, you need to meet their eligibility requirements to join. These guidelines are:
Follow the YouTube monetization policies (ad-friendly content)
Live in a location where monetization is eligible
Have over 1,000 subscribers
Have more than 4,000 public watch hours in 12 months
Have a Google AdSense account
It is simple enough to be a YouTube partner as long as you meet the guidelines above. Here are the steps you need to take to become a YouTube partner:
Meet the guidelines for the YouTube Partner Program (YPP)
Have 2-step verification for the Google account you are using
Have 1,000 subscribers and 4,000 hours of public watch time
Sign the YPP service terms
Link only one AdSense account (this is how you get paid)
Get reviewed by Google/YouTube
Get approved!
After approval, your videos will be monetized via advertisements. Be sure, however, to sign up for the other YPP benefits like Super Chat, YouTube Premium subscription fees, and channel memberships.
Leverage Affiliate Marketing For More YouTube Influencer Cash
Affiliate marketing is not just for bloggers. It can be a very profitable revenue stream for social media influencers, especially for YouTubers.
What is affiliate marketing exactly? Affiliate marketing is actually pretty simple in the big scheme of influencer marketing for money. It is definitely all about how to get paid on YouTube.
Here's how affiliate marketing for YouTubers works:
First, you need to join an affiliate program like CJ.com, Rakuten Affiliates, Amazon Associates Central, etc.
Once approved as an affiliate, you can set up your dashboard and sign up as an affiliate for top brands
When the brands approve you, a percentage will be assigned for every sale you make (typically 3-10 percent)
You make a video about, or mention, a product and/or service, placing the affiliate link unique to you as an influencer in the video description
Viewers click through using the link and make a purchase
You get paid a percentage of the sale
Affiliate marketing is so easy, you can be up and running as an affiliate for top brands in a week. Let's take a look at an example of how tech-minded YouTuber The Tech Chap uses affiliate links to make money:
This video is a 12 minute tech comparison of MacBook Pro vs. Dell XPS. The YouTuber does a great job of highlighting the comparison points. And guess what? You can buy each of these tech products via affiliate links in the video's description: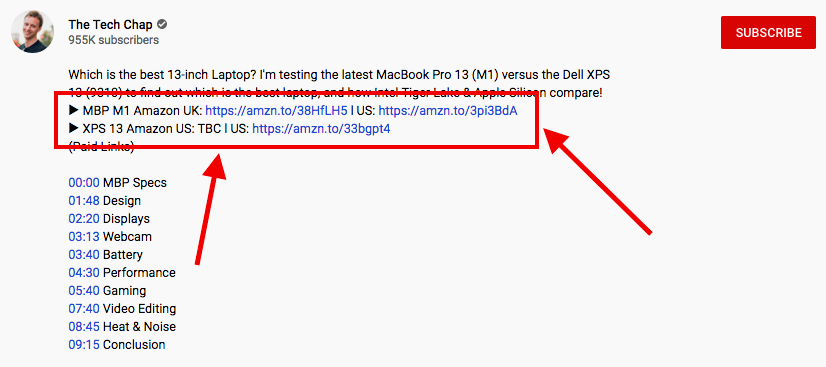 When a viewer clicks through via the affiliate link, he or she is redirected to the Amazon product page. This content creator is an Amazon Associates Central partner. Here's what the Amazon product page looks like for the MacBook Pro:
You can see the unique affiliate link with the influencer's YouTube handle, and the price for each MacBook Pro is $1,449.
Now let's do some math. This video netted 97,000 views. If a mere one percent of the viewers bought this product via the YouTuber's affiliate link, that's 970 sales. With a minimum 3 percent cut of each sale, this YouTuber potentially made over $42,000.
That is a pretty amazing profit for just one video. Affiliate marketing can make you a pretty decent revenue. Be sure to get this how-to make money with a YouTube channel tip going as soon as possible.
Utilize YouTube Studio
YouTube Studio is an essential tool for content creators. It's a place where you can optimize your YouTube account and control multiple channels all from one place. With this tool, you can upload, edit, and schedule multiple videos in addition to keeping track of real-time channel analytics.
Once you get the hang of YouTube Studio, you'll find it is easier to monetize YouTube videos and ultimately build a successful YouTube channel.
Brand sponsored videos are the top way to make money as a YouTube influencer. YouTube influencers can make between $315 and $3,857, according to an eMarketer survey: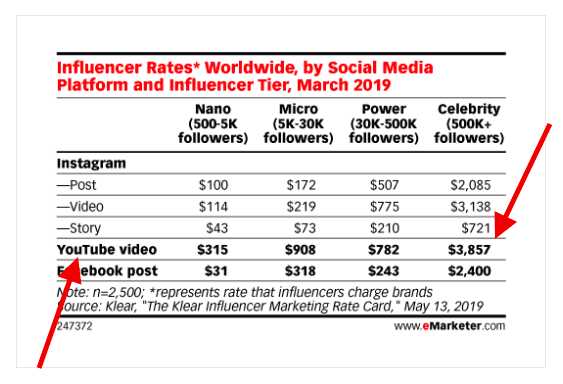 The survey showcased the fact that you definitely don't need millions of subscribers to make money from brand sponsorships. You can be a YouTuber with as few as 500 subscribers and make over $300 per video post.
But how do you connect with brands to land those very profitable sponsored video post opportunities?
You could reach out to brands on your own, or wait for them to contact you. However, the fastest way to start getting brand sponsorship money for YouTube videos is to tap into an influencer marketing platform network.
Influencer marketing platforms, like Scalefluence for example, have a robust network of top brands and marketing agencies looking for YouTube influencers like you daily. And these brands span across nearly every industry and/or niche.
If it is time to start building serious monthly cash money via your YouTube influence, Scalefluence can help. Sign up today and take your influence to the next level.