If you want to get more followers on Instagram as a new influencer you're in the right place. More followers can amount to more likes and comments per post, boosting your engagement rate. And engagement rate is all about how to get paid for Instagram posts.
Why does engagement matter so much? Brands know that engagement is a top metric when deciding to work with an influencer. The more engagement an influencer has, the greater the ROI for the influencer marketing campaign.
More engagement simply equals more loyal fans willing to buy based on a recommendation of a product and/or service.
This is critical for new social media influencers to understand. To land those profitable brand sponsorships, you need a stellar engagement rate. Here's an example from Instagram influencer @robinnyc . . .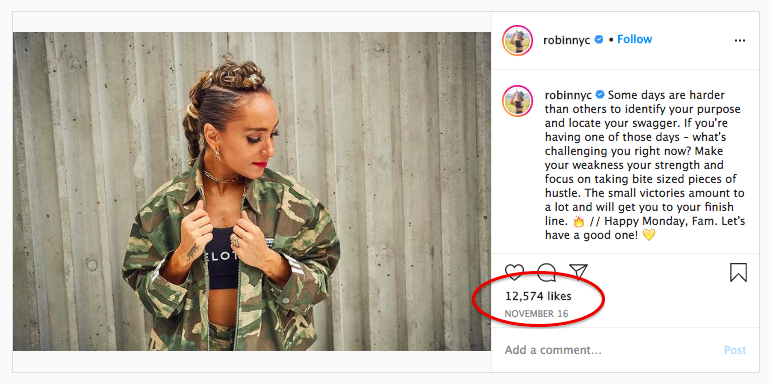 This simple post netted an engagement rate of 2 percent. This is the average engagement rate for most social media influencers on Instagram, a good benchmark to keep in mind as a newbie.
To get more followers on Instagram, and understand how to get money from Instagram, you need a plan. To help get your new influence moving in a powerful direction, we gathered our influencer marketing experts and compiled 7 ways to get more followers on Instagram for new influencers.
1. Get More Followers On Instagram Via Your Profile
Your Instagram profile is the first step to get more followers on Instagram. A new influencer's profile is often lacking in the luster department, which is understandable, since you're just learning how to get paid for Instagram posts.
An Instagram profile needs to have a few key elements in order to entice users to follow you. These key profile elements include:
Your real, or influencer name
What you're about
What You're interested in
Location
Contact information
Instagram Highlights section
These elements can make an impact on how many new followers you attract with every post. Let's take another look at Instagram influencer @robinnyc . . .

You can see that this powerhouse influencer has a number of the key Instagram profile elements at the ready to entice users to follow her. She includes her real name, her accomplishments, her agent (for any interested brands), an actual phone number for users to text her, and a link to her YouTube channel.
This is definitely a strong Instagram influencer profile, and probably has something to do with her having over 636,000 followers. Not to mention Adidas following her as well . . .

And don't forget about an Instagram Highlights section. This is a great way for users to check out more of your great social media influencer content. Here's what an impactful, money making, Instagram Highlights section looks like from Instagram micro-influencer @samanthakozuch . . .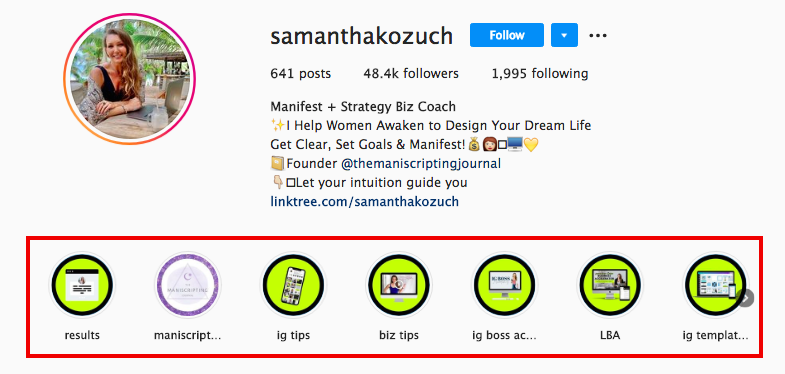 You can see how each Highlight is unique, covering all the areas this influencer is about.
Having a powerful social media influencer profile is essential to get more followers on Instagram. Start with your profile, making it more follower-worthy. Not to mention attracting more brands interested in partnering with you for cash money.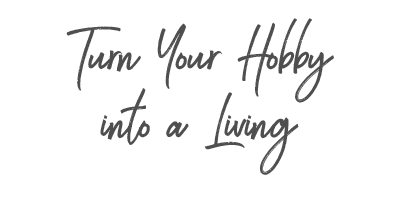 2. Understand Your Target Audience On Instagram For Maximum Followers
To get more followers on Instagram, you need to know your target audience front and back. You need to know what content they want, what images and videos that will attract them to your profile, and why they will be more likely to follow you.
Understanding your target audience is a must. However, a lot of new influencers forget about this very important social media influencer step. For example, influencer @thisisjessicatorres is all about her plus-size target audience . . .

By understanding her target audience, she is able to pump out relevant content that nets her more followers. Like this post . . .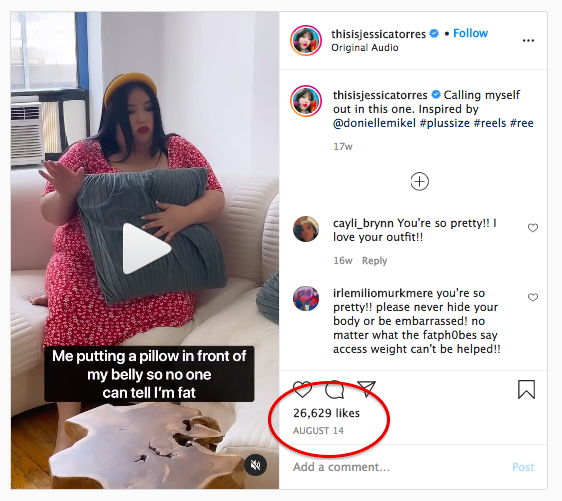 This post that speaks to her target audience has an engagement rate of 20.7 percent. This engagement is insane. By understanding her target audience, this influencer is able to grow her followers, as well as her influence.
3. Videos Are Excellent For Getting More Followers On Instagram
YouTube is generally the go-to video content platform for internet users looking to be inspired or motivated via videos. But don't count out Instagram. Videos on Instagram can increase your follower count and help you learn how to get money from Instagram.
According to an eMarketer study, Instagram influencer videos can generate revenue between $111 to over $3,000 per video post . . .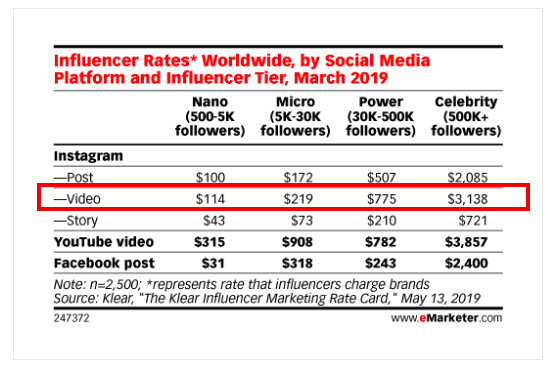 That is some serious cash for any type of influencer. An Instagram micro-influencer can make an average of $219 per every brand sponsored video post. That is some decent cash money for a social media influencer.
Here are a few video content highlights to consider:
Videos on Instagram generate higher engagement rates
Instagram Live videos have maximum views
Brands prefer video content when working with influencers
Video content helps influencers connect with users better
If you want to gain more followers, then you need to start creating more videos. There is a bit of a learning curve for new Instagram influencers, but once you get it down, you will see your follower count increase.
4. Engaging With Your Audience Is Extremely Important
Your engagement rate is important. It is how you measure your success as an influencer, and a key metric for brands when they are considering your influence for paid brand sponsorships.
However, engagement is a two-way street when it comes to becoming a profitable influencer. If you are not engaging with your audience, you are losing out on engagement rate, and losing a key moment to get more followers on Instagram.
Why? People generally want to feel connected to the people they follow or watch on social media. It makes people feel connected in a meaningful way. This is simple human nature. If you engage with your audience, they will feel good about you and your content.
Here's how engaging back with your audience looks from Instagram micro-influencer @intheglamroom . . .
You can see that this influencer replies thoughtfully to those who comment on her post. In fact, this influencer replied to every comment for this post.
It may be time consuming, but engaging back can generate serious engagement rates and help you get more followers. Give your target audience something to talk about, let them share your influence with their following.
5. Keep Posting Consistently To get More Followers On Instagram
If you want to net more followers, you need to have more content going out. This means posting consistently to ensure your social media content is relevant, and enticing. Not many users will follow someone based on a two week old post.
If you look at Instagram influencers with hundreds of thousands of followers, and good engagement rates, you will notice they post daily. Like fitness influencer @noelarevalo_ . . .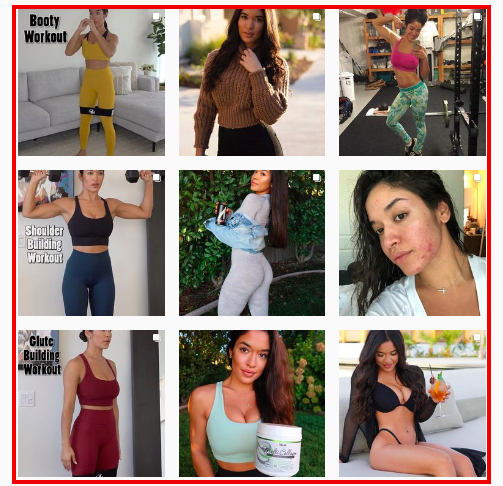 She posts nearly every day to ensure her content is fresh and follower worthy. This is the aim for new influencers that want to get more followers and understand how to get paid for Instagram posts.
6. Use Hashtags To Boost Social Media Influencer Visibility
Hashtags are social media's keywords. If you are not using hashtags, you may be losing out on followers. Why? Hashtags are often followed by Instagram users to find new content in areas they are interested in.
For instance, let's say you're an Instagram user interested in yoga for beginners. You would be following hashtags like #yogabeginner and #yogaforbeginners. If a new yoga influencer uses one of these hashtags in his or her post, it may pop up in the users feed.
Yoga influencer @yogawithmarina does this perfectly to attract more followers to her Instagram posts . . .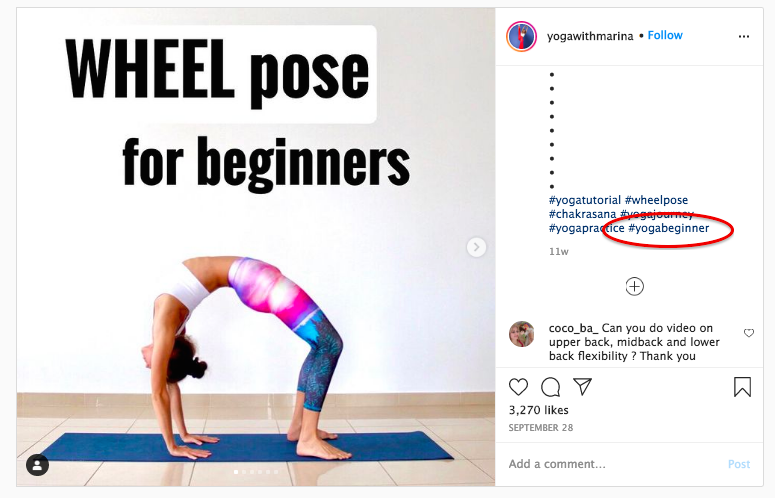 Use hashtags that speak to your influence for more followers. This can be a game-changer for new influencers.
7. Increase Your Influence And Get More Followers With Scalefluence
The above ways to get more followers on Instagram are certainly worth employing as a new influencer. They can all prove to be beneficial. But having a little help from an influencer marketing platform could make the journey to more followers easier.
Scalefluence is here to help. Scalefluence is a reputable influencer marketing platform that gives Instagram influencers a competitive edge. We have a network of brands and marketing agencies looking for influencers like you to promote products and/or services across multiple industries.
And our influencers never need to sacrifice their creative talent, or pay. Our influencer marketing experts do the heavy lifting for you. From strategizing new follower growth to negotiating brand sponsorships, we have the experience and connections.
Sign up to Scalefluence today and take your influence to the next level.