If you want to find Instagram influencers for your business, you are in the right place. Influencer marketing is essentially a marketing strategy within your overall marketing mix up. But the strategy behind the strategy is where social influencer marketing gets a bit complicated.
Like any marketing strategy, detailed planning and targeting the right audience is essential to campaign success. The good news is that influencers already have the target audience you want to reach. And their influence is far more profound than that of any brand.
Even big name brands are tapping into influencer marketing and need help to find Instagram influencers that maximize campaign ROI.
Are you ready to develop a powerful social influencer marketing strategy? The following can serve as your roadmap to social influencer growth via Instagram.


Type Of Instagram Influencers You Need For Social Influencer Marketing Success
To develop a powerful social influencer marketing strategy, you need to know what type of Instagram influencers are best. In the beginning of influencer marketing, follower count was the major metric. Businesses would simply choose influencers based on how many followers he or she had.
Things have changed a lot since those early Instagram influencer marketing days. In fact, follower count is no longer a viable metric in the slightest bit.
To have influencer marketing campaign success, businesses need to focus on engagement rate. The engagement rate of an influencer is calculated using follower count, post likes, and post comments. It looks like this:
Engagement Rate = (Likes + Comments) / Followers x 100
Here is how you can employ engagement rate calculations to find Instagram influencers that could max out campaign ROI . . .

Kylie Jenner is one of the most popular Instagram influencers to date with 188 million followers. One of her most recent posts netted 4 million likes and 21,600 comments . . .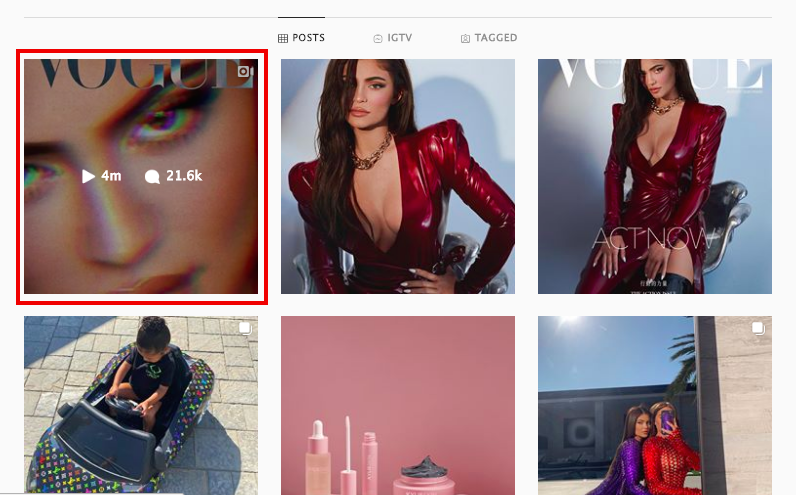 Let's calculate the engagement rate for this post:
Engagement Rate = (4,000,000 + 21,600) / 188,000,000 x 100
The total engagement rate is around 2.1 percent. This is not bad, but you would think that it would be much higher considering her Instagram mega-influencer status.
Let's now look at beauty micro-influencer @intheglamroom . . .

This micro-influencer has 11,000 followers, and her last post netted 249 likes and 26 comments . . .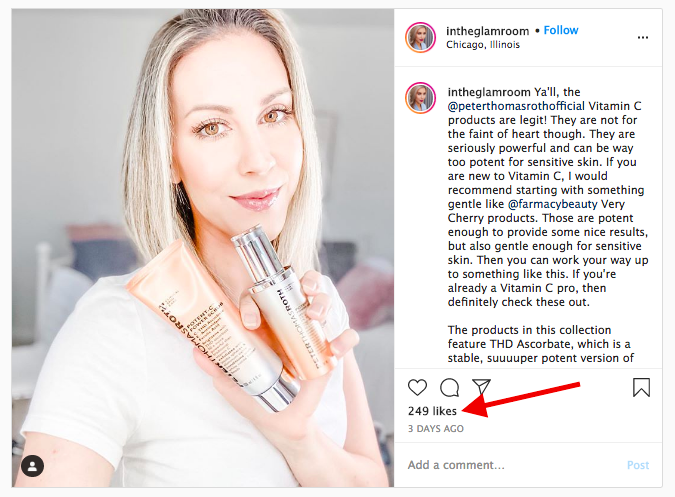 Her engagement rate was 2.5 percent, 0.4 percent higher than Kylie Jenner. This paints a pretty clear picture for businesses that want to find Instagram influencers. Micro-influencers, and even nano-influencers are driving better ROI on influencer campaigns.
In fact, nano-influencers, influencers with less than 10k followers have the highest engagement rate of all influencers.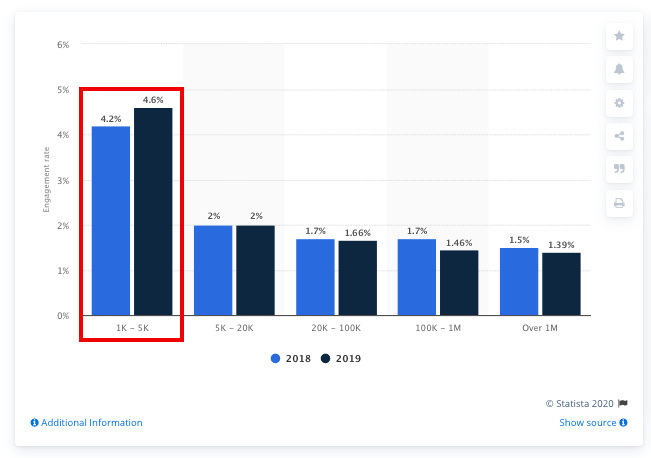 Even big brands want to find Instagram influencers with lower follower counts, since they know engagement rate is higher. Here is a great example from Dunkin Donuts and Instagram micro-influencer @rachel.habersham . . .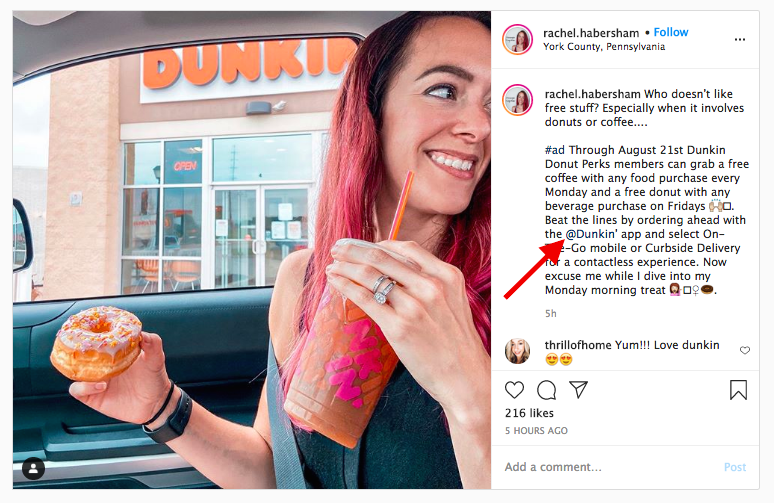 When you find Instagram influencers for your business, ensure you are making engagement rate part of the decision to hire him or her. Shoot for engagement rates of 2 percent or more. Remember, follower count does not make an impact when it comes to social influencer marketing success.
Develop Your Instagram Influencer Budget
When you find Instagram influencers, whether nano-influencers or micro-influencers, it is important to know how much influencer marketing budget your business will need. One study found that influencer ROI averages $18 for every dollar spent.
That is pretty amazing, but a powerful social influencer marketing strategy is a must for this kind of influencer ROI.
Spending too much on influencers can decrease potential campaign ROI pretty quick. This is why nano-influencers and micro-influencers are enticing. They are relatively cheap considering the engagement rate and ROI they deliver.
And spending a little more is well worth the influence. Facebook research found that 80 percent of consumers use Instagram to decide if they make a purchase . . .

So how much should you be paying to tap into influence when you find Instagram influencers for your business? Here is what we found online:
$270 is the average spend per Instagram post
The price per nano-influencer post with 1,000 to 2,000 followers is $90
Influencers with 100k followers make at least $750 per post
Beauty and lifestyle nano-influencer @oshnapitzlizzie delivers an Instagram sponsored post and YouTube video promotion post for only $250 . . .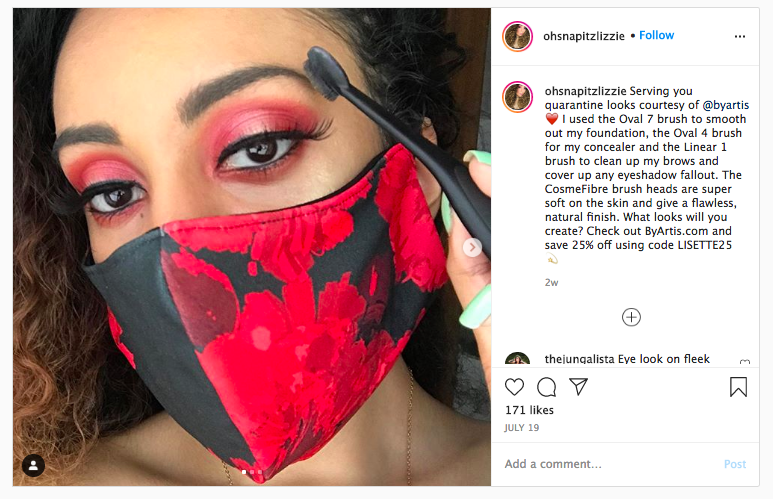 Of course price per post depends on the form of content you want an influencer to create for your business. For example, a video or Instagram Stories post may cost more. This is due to the time and editing involved when creating video content.
If you want to run a social influencer marketing campaign with one post per week for 8 weeks using nano-influencers, you should budget at least $800. For micro-influencers, you may need three times the influencer marketing budget.
How To Find Instagram Influencers For Your Business And Make Contact
To find Instagram influencers, you kind of need to know where to look. And it is a bit easier than you would think. You can start by using Google search. Let's say you are a women's fashion brand looking for the top micro-influencers in your industry.
Google search "top fashion Instagram micro-influencers" and you will get this . . .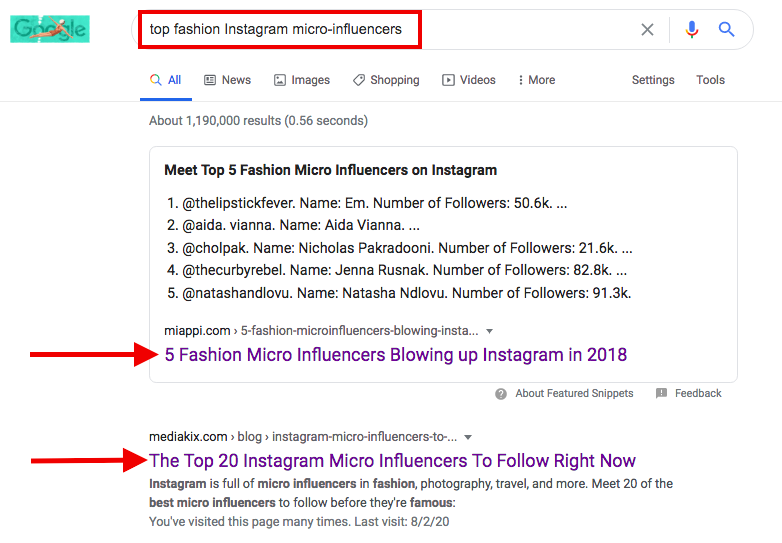 Pretty easy right? You will need to filter through all the noise and click through to each influencer profile to find Instagram influencers for your business.
Next, you can use Instagram by searching relevant hashtags to your business, kind of like keywords to Google . . .

If you are looking for health and fitness influencers, you can find them on the above Instagram page. You can also click through to relevant Instagram pages using the similar hashtags listed.
One influencer on the #fitness page stands out for likes and comments . . .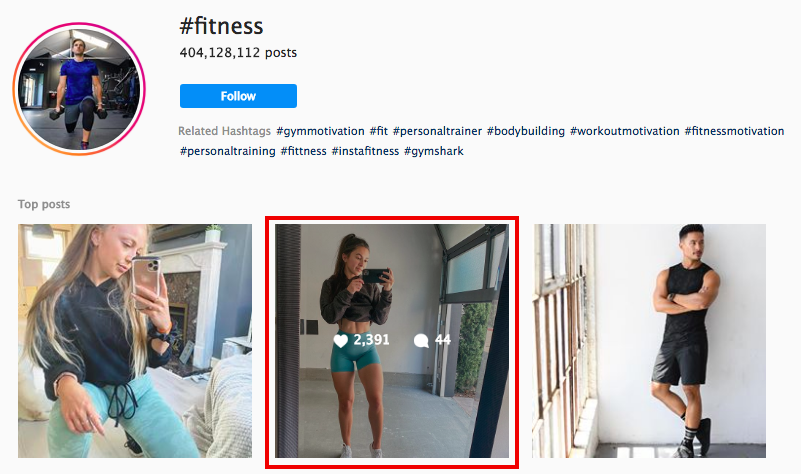 This post belongs to fitness influencer @alexricee, an Instagram influencer with over 600k followers and pretty decent engagement rate per post . . .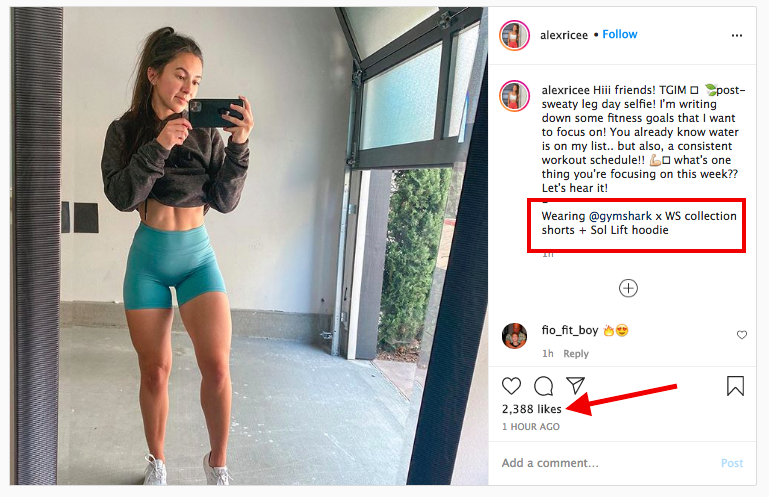 The post above is a good example of what the influencer can do for a fitness brand looking to increase brand awareness and boost conversions.
What about making contact?
Most Instagram influencers have contact info on their profile page, or a link to their websites, which will have a contact page or email. Here is an example from micro-influencer @lipstickfever . . .

To make contact, simply email the influencer, but be sure to be specific in what you have to offer. Show the influencer how partnering with your business benefits them.
Do not DM an influencer unless there is no other way of making contact. Influencers get a ton of DMs daily, and the chances of getting a reply are pretty slim. If you do DM an influencer, be sure to offer value and ask for an email to contact them further.
Get The Most From Your Social Influencer Marketing Strategy
If you have the time and money, you can find Instagram influencers and develop a decent social influencer marketing strategy. But you can simplify the process even more.
How? By partnering with an influencer marketing platform like Scalefluence. Scalefluence is a premiere influencer marketing platform that helps brands like yours maximize influencer campaign success.
This is done via data-driven influencer insights, pairing businesses with the perfect influencers based on campaign goals. And our robust network of influencers spans all industries and/or niches.
If it is time to take your business to the next level, contact Scalefluence to get your social influencer marketing strategy moving in the best direction. Tap into our influence and get the results you need to stay competitive and drive more sales to your business.