Traveling is a lifelong dream for many and a regular routine for a lucky handful of people. Numerous studies have demonstrated the mental and personal benefits of travel; it opens you up to new cultures, takes you out of your comfort zone, relieves stress, boosts creativity, and promotes physical activity. With so many benefits, it's no wonder that so many individuals consider traveling full time and documenting their experience through a travel blog.
But how do you get paid for blogging? The truth is, there are several ways to get paid to blog, even as a travel blogger. In fact, the travel industry is one of the few industries that relies so heavily on content, referrals, and reviews that travel influencers play an integral role in the industry landscape.
Of course, starting out won't be easy. Unless you've already built a name brand, you'll be starting with a small audience size of friends and family. With that in mind, the first rule in getting paid as a travel blogger is to put in the work and stay consistent. Every other method runs parallel to this primary rule. If you dig into the histories of some of the most prominent travel bloggers, you'll find one consistent theme: it didn't happen overnight for any of them. If you're prepared to give it the dedication it deserves, here's how you can get paid as a travel blogger:
Affiliate Marketing
Affiliate marketing is a monetization technique where bloggers and influencers are paid a small commission for products they recommend. Affiliate marketing is a great way to make passive income; over time, as you produce more content and your blog grows, you'll have more opportunities to generate revenue from it.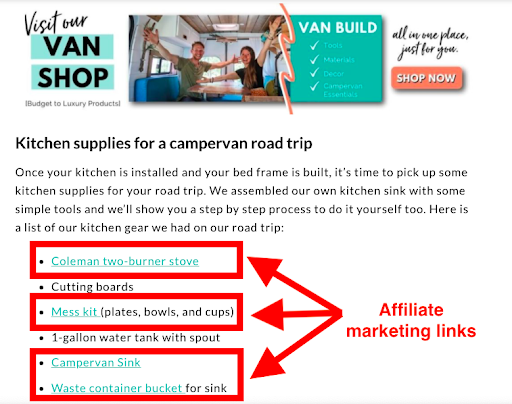 There are endless opportunities for affiliate marketing. Amazon is one of the primary platforms bloggers use for affiliate marketing. How it works is simple; when you want to recommend a product (a travel book for example), you'll be given a special link with a tracking code. Include the link in relevant content and when a reader clicks on it and decides to make a purchase, you'll be credited for the recommendation.
Even if the reader doesn't check out right away and waits several weeks to complete the purchase, you'll still get your piece of pie (assuming the reader doesn't clear their cache and cookies anytime between clicking the affiliate link and making a purchase).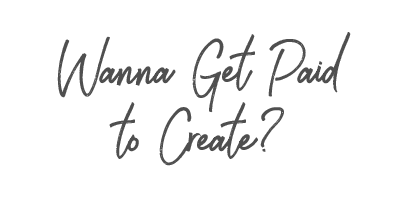 With that in mind, here are a few affiliate marketing best practices to keep in mind:
1) Always disclose that your post contains affiliate links.
2) Choose affiliate products and services that you can vouch for; don't simply recommend products for the sake of adding an affiliate link.
3) Don't oversaturate blog posts with affiliate links (unless you're clearly putting together a Buyer's Guide)
4) Broaden your horizons. Amazon isn't the only affiliate partner. Many other big companies and small companies alike have affiliate programs. If there's a particular product or service you talk about often, you can even reach out to the brand and put together your own affiliate partnership.
Consistent Optimized Blog Posts
It's a fact: bloggers who blog more are more likely to rank higher in search engine results pages. Consistent content makes it possible for you to reach more visitors, and therefore, make more money.
But being a travel blogger can quickly lead to writer's block, especially if you aren't actively traveling full-time. The key is to create an editorial calendar and stick to it. Look back on previous experiences and write about elements of your own adventures.
For example, if you took a trip to Iceland last year, you could easily turn that trip into a few blog posts. One post might be about renting a campervan, another post might be about the best hot springs in Iceland. You don't need to be actively traveling to write, but you do need to be actively creating travel-related content.
That being said, optimized content performs better and will aid your ranking efforts. A simple WordPress plugin like Yoast will guide your SEO efforts to ensure every blog post is optimized to Google's liking.
E-Books
Many travel bloggers create ebooks to generate passive revenue. The great thing about creating an ebook is that, in most cases, you already have material to work with. For example, if you've been writing about living in Costa Rica for a year, you have an arsenal of content to get you started.
Ebooks are becoming increasingly popular within the travel community. For starters, many ebooks contain information that the reader wouldn't find in a traditional guidebook. Additionally, most ebooks are just a few dollars and give readers the chance to support bloggers they like without breaking the bank.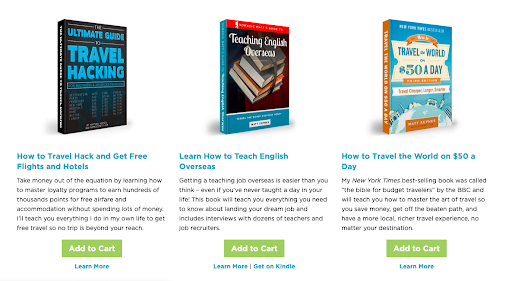 If you want to create ebooks as a way to make money with your travel blog, start by taking a look at some of the ebooks (free and paid) that other travel bloggers have created. This will give you an idea of what's already out there, where the market is saturated, how bloggers utilize design, and much more. From here, start listing potential ebook topics that you could write.
Sponsored posts are a great way to make money as a travel blogger. A sponsored post reads like a regular blog post, but is paid for by an advertiser or company and exists to promote a particular company in some shape or fashion.
Every sponsored post is different and how content is executed depends on the arrangement. For example, a hotel might sponsor a travel blogger to write a positive review about their hotel. On the same token, a hotel might sponsor a travel blogger and offer them free reign on content, so long as the blogger discloses that the content was paid for by the hotel. These are both different promotional tactics that fall under the sponsored post category.
Ultimately, sponsored content should blend in seamlessly with your blog. For instance, you wouldn't take a sponsored deal to work with a company and promote a product that isn't travel related. Even though the outcome of sponsored posts is revenue and traffic, you still have to create content that aligns with your blog. Work with brands that you would be happy to talk about even if they weren't paying you.
In some cases, you might participate in sponsored posts agreements that involve free products or services. Although these don't pay, they do save you money, allow you to travel for free, and create new content opportunities.
As you build your blog, more companies will start to reach out to you directly regarding potential sponsorship deals. In this case, you'll decide which partnerships work best for you. On the other hand, you can reach out to companies directly and request to review their brand in exchange for free product or services. If you take this route, be sure to create a custom email and communicate the benefits of working with you. Create a blog media kit that details your latest website stats and demographics.
Add Videos & Monetize Them
Your content will perform much better if you have videos to complement them. When you travel videos to blogs it creates a more dynamic and engaging experience. Not only are you telling your story, but you're (literally) showing it. Furthermore, there are dozens of statistics that demonstrate that power of video marketing. Leveraging videos in your content can attract more readers and further build your brand.
In addition to creating more powerful content with videos, you may also be able to monetize those videos if you choose YouTube as a hosting platform and embed the videos into your blog posts. Even if you have no desire to become a "YouTuber," you can still use its platform to manage your content and glean powerful insights into who and how your content is being viewed.
If your videos do well, you may eventually qualify to become a YouTube Partner. This enables you to monetize your videos with ads and to get paid when people watch your videos and view or interact with those ads. YouTube ads are always relevant to the user, so you don't have to worry about your viewers seeing ad content that isn't personalized to them.
Start Getting Paid
As a blogger, it's important for you to treat your blog like a business. The domain name you choose, the logo you design, the tone of your writing, and many other details are all a part of your brand. And your brand is a business. Being a blogger is similar to being a business owner; you choose your hours, research competitors, decide on content, design a publishing schedule, and more.
Similarly, you should be creating a cohesive brand image, tracking your monetization efforts, and regularly changing your strategies to see what works best. You can make it as a travel blogger with consistent blogging and regular auditing, no matter who or where you are.