Influencer media kits are digital documents designed to help potential clients better understand who an influencer is and what they have to offer. If you're wondering, "how do YouTubers make money?", you can bet that influencer kits are a part of their game plan.
Whether you're a nano influencer or a mega influencer, influencer media kits are specifically useful if you want to work with brands through sponsorship deals. While there are several ways to make money on YouTube, one of the most common methods is through sponsored YouTube videos.
Sponsored YouTube videos are branded videos created by influencers to highlight and promote a specific service or product. There are several ways to create sponsored videos, but generally speaking, before you even begin to discuss your creative approach, the potential client evaluates your media kit.
An influencer media typically includes the following components:
Branded, beautiful design

An introduction/short bio

Testimonials/reviews from previous clients

Social media statistics

Audience demographics

Collaboration options

Pricing information
Whether you're reaching out to brands directly to pitch an idea or have received some interest from a brand, you'll need a media kit to demonstrate what you can bring to the table as a dedicated influencer. Think of your media kit as your influencer resume or portfolio; it can mean the difference between landing becoming a potential brand partner or missing out on an opportunity.
With that in mind, this blog post shares a few tips on how to build an impressive media kit to start building strong relationships with brands.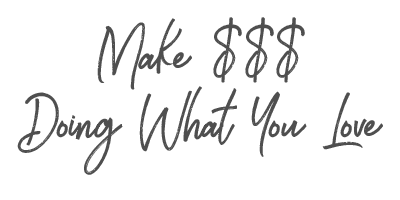 Beautiful Design
Your media kit should be beautifully designed and reflect your brand image. Potential clients will make quick judgements about your strengths as an influencer based on initial first impression. If there's a dissonance between your design and your YouTube content, it could create the impression of an unorganized brand image. For example, if you're a YouTuber that specializes in creating instructional tutorials for woodworking projects, you'd want your media kit to reflect that with the right imagery, color scheme, typography, and other design elements.
Chances are you aren't a designer yourself, but that's no problem. You can find influencer media kit templates readily available on platforms like Canva, Envato Elements, or Etsy. You can download some templates for free from companies like Later.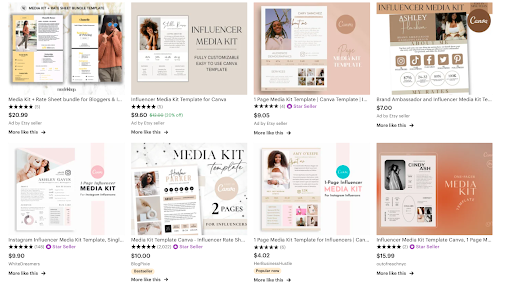 Source: Etsy
Introduction
Your introduction is the first page of your media kit. This short bio should tell potential clients who you are behind the camera and what you can bring to the table. It helps to take a look at how other successful influencers introduce themselves to give you some inspiration. Use these examples as the foundation of your own introduction structure.
Let your personality and brand shine through in your introduction section, but keep it short and succinct. Keep in mind that the media in its entirety works as a pitch deck, so you want to refrain from being sales in your bio section or making it read like a business pitch.
This is where you get to help readers understand who you are, what you do, and why you do. Take your time and write different variations of your introduction until you hone in on the bio that truly captures the essence of your YouTube channel (and other applicable social media accounts). Be sure to include your email address, website, and social handles.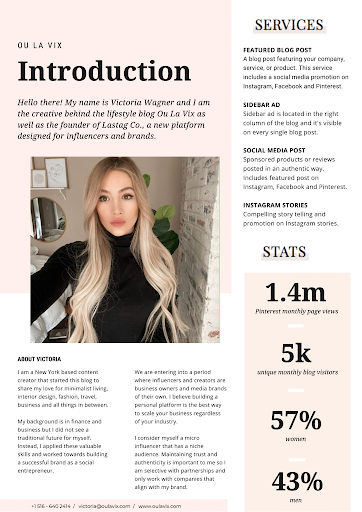 Source: Oui La Vix
Testimonials & Reviews
Traditionally when you apply for jobs the hiring manager asks for recommendations from previous employers or clients. The same is true for the brands you'll work with on YouTube partnerships. Your media kit is a great place to show off testimonials from clients you've worked with in the past.
Depending on your experience, you might want to include both testimonials that include quotes and logos for companies you've worked with. This demonstrates the breadth of companies you've partnered with in the past, coupled with quotes from your most notable clients.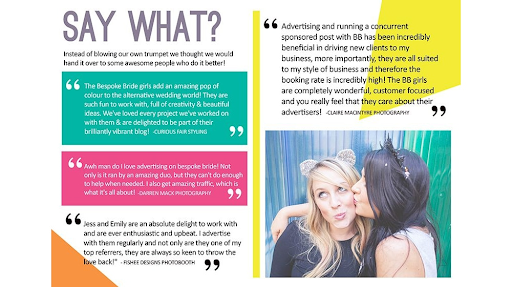 If you're new to influencer marketing and don't have testimonials or previous collaborations, there are a few ways you can approach this section, but by no means should you leave it altogether. Here are a few ideas if you have little to no experience working with other companies as an influencer:
1) Use testimonials/logos from companies you worked with in any social media or video content marketing positions
2) Consider doing some quick free work for local brands in exchange for positive reviews
3) Highlight positive comments and private messages from subscribers and viewers
It's worth noting that each component of your media kit requires just one page each, but if you're happy with the testimonials you have, feel free to make it two pages.
No media kit is complete without a roundup of your social statistics. While YouTube should be your primary concern, it helps to list all of your social media statistics to give potential clients a holistic overview of your digital presence and social proof. In this section, you can pick and choose what statistics you'd like to show. A few common audience metrics from Google Analytics you might include are:
Number of subscribers (for each applicable platform)

Number of views (for each applicable platform)

Average engagement rates (for each applicable platform)

Website views

Bounce rate
Percentage of followers
It's important to understand that even if you don't have a high subscriber or view count, this section of your media kit is important. Don't be tempted to be generous with your audience stats; there are plenty of apps that make it easy for companies to verify your claims.
Furthermore, brands aren't always looking for influencers with significant follower bases. Niche brands and brands that want to reach a local or highly specific target market prefer to work with microinfluencers because they have higher engagement rates and connect with their subscribers on a deeper, more intimate level.
If you're trying to appeal to clients as a microinfluencer in the early stages of your influencer journey, you can highlight your growth rate instead. For example, if you started your channel a year ago, how much has your channel grown since then? If you look at your statistics from a growth perspective and chart your growth, that upward trajectory will look pretty impressive to prospective clients.
Audience Demographics
One of the first things a potential partner wants to know about your brand is whether your core follower demographic aligns with theirs. This is where you'll help other companies answer the question, "Does our company want to reach the subscribers this channel attracts?"
Demographics consists of a variety of different factors and you can pick and choose which demographics should be included in your media kit based on your goals:
Location

Gender

Education

Language

Income level

Race

Marital status

Occupation/industry
Gathering your demographics is easier than you might think. Open your YouTube Analytics dashboard and you'll see a quick overview of the target audience that watches your videos. However, keep in mind that you may have limited access to audience demographics if YouTube doesn't have enough data to display.
You should also look at other metrics using YouTube or Google Analytics. Important audience metrics include bounce rate, engagement, and percentage of followers.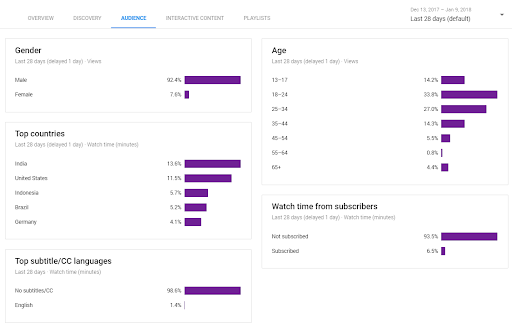 Source: Oberlo
As previously mentioned, your demographics might be different from platform to platform, but there should be a clear overlap between each (otherwise, it won't see like your brand image is cohesive). Here's how audience demographics can be displayed in a media kit: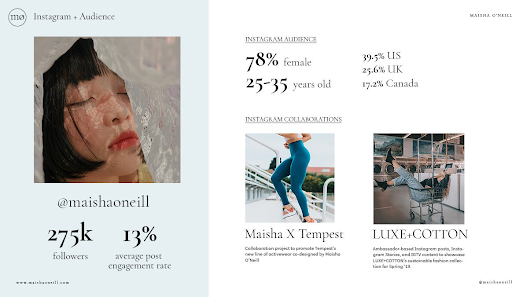 Source: Later
Collaboration Options
Next, you can briefly describe different collaboration options potential clients can choose from. This page isn't included in every media kit, but is worth a half a page if you're struggling with media kit content or want to differentiate your media kit from others.
Your collaboration options detail different ways you'd be interested in working with brands. This could include a social media takeover, interview, how-to, product review, or a simple integrated brand mention in a vlog. While you don't want to pigeonhole yourself into a certain type of collaboration, mentioning what you're best at can help narrow a client's choices and highlight your talent.
Pricing
This is where your media kit gets down to business. The decision to make pricing rates available is a tactical one; some influencers clearly state their prices, while others encourage brands to reach out to them for pricing options. There are pros and cons to both approaches depending where you are on your YouTube influencer journey.
On the one hand, upfront pricing can reduce the amount of messages you get from brands who can't offer a partnership arrangement that fits within your budget. Secondly, it can eliminate nasty business of negotiation and pricing.
However, if you're still growing as an influencer, you may feel more flexible with your pricing options as you find your footing. Leaving yourself in a negotiable position means you won't scare away brands with smaller budgets and also gives you an idea of how you value your work and what you want your prices to look like in the beginning.
Constantly Evolving
Your media kit is a testament to who you are as an experienced influencer, but as you grow as a YouTuber, your media kit will, too. As the number of subscribers, views, and other metrics increase, you'll alter your media kit as needed. When you begin working with bigger brands and land sponsorship deals, you'll also add those clients to your portfolio. If your channel gets a rebranding, your media kit should match it, too.
As a final note, your media kit should be easily accessible. Add a link to your media kit on your YouTube channel page. Your media kit can be a digital download or a live website.