Becoming a YouTube influencer has serious earning potential if you have the dedication and love for serving up video content to an online audience. In fact, many YouTube stars are self-made millionaires.
Like Ryan's World, which began as Ryan's Toy review . . .

This kid has racked up over 25.5 million subscribers and is worth around $26 million. He also has contracts with Walmart and Target, pushing his personal brand.
However, reaching small-screen celebrity status is not easy. Knowing how to get paid on YouTube is just part of the equation for influencers. You also need to employ what you know to capitalize on your niche.
Making money on YouTube may be your primary goal. You may already have a decent subscriber count, but tapping into that influence is how you can amke it rain as an influencer.
How Do You Make Money On YouTube?
This is the million dollar question. First, you need to monetize your YouTube channel. This is the first step to YouTube influencer greatness. The best part is that you can monetize without millions of subscribers. The YouTube Partner Program requirements are:
Have over 1,000 subscribers
Have accumulated over 4,000 hours of watched videos
Have a Google Ads account
Get approved by YouTube/Google gatekeepers
It is actually easier than the above sounds to monetize your YouTube channel. Once approved, you will begin making money on the ads watched during your videos. This is why having more subscribers improves your cash flow from ads.
But monetization via ads is not the only way to make money as a YouTube influencer. Ads are actually a very small part of your influencer earnings once you get going.
We will go over the many ways to get paid on YouTube. Let's cover subscribers a bot more in-depth first.


Increase Earnings By Focusing On Your YouTube Viewers
To get paid on YouTube as an influencer, you first need to grow your audience. Yes, you only need 1,000 subscribers to start making money on ads. However, if you want to make serious money from your influence, you will need to have serious influence.
How do you do this? Niche down and post exceptional video content. If your videos serve up actionable, informative, and/or fun content, your subscriber list will quickly grow.
Here are a few key elements to look at:
Age group of your viewers
Gender of viewers
Your audience's interests
Geographical location
Device used by your audience
Engagement (watch time) per viewer
Undertsanding the "why" is also important. If you notice that actionable videos get more views, comments, and shares, then this may be the bread and butter of your channel. Use the data to tweak your YouTube influencer approach.
Top 3 Ways To Get Paid On YouTube (Other Than Ads)
Ads aside, there are a ton of ways to get paid on YouTube as an influencer. Even if you have 2,000 loyal subscribers and continue to post great video content.
2,000 subscribers? That's right. You can have a small subscriber count and still make money on YouTube. YouTube travel micro-influencer, Dan Flying Solo, is a good example.
The above collaboration video netted nearly 8,000 views. And it most likely earned Dan a pretty decent payday from the insurance company he collaborated with.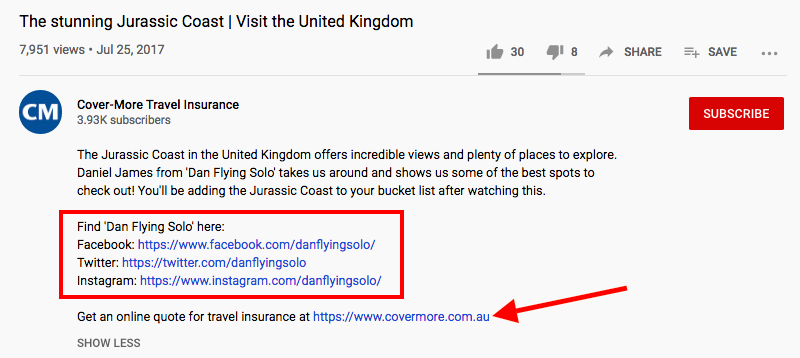 You see, you can make money on YouTube without millions of subscribers. It all depends on the YouTube influencer tactics you utilize. Let's explore the top three ways to get paid below!
1. Get Paid On YouTube By Brands Via Promotional Posts
This is one of the most common, and most lucrative, ways to get paid as a YouTube influencer. If you have loyal subscribers and a high engagement rate, brands will be happy to shell out cash for your influencer recommendations.
Here's what this looks like . . .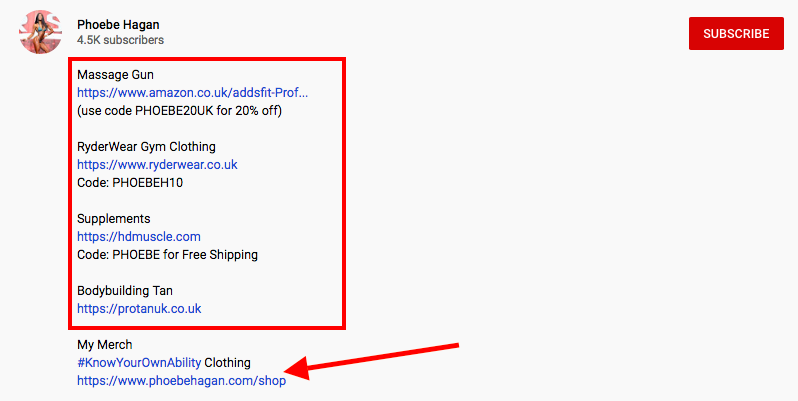 You can see that fitness YouTube influencer Phoebe Hagan is promoting several products in this one video.
How do you get paid to promote products and/or services from brands? One way is to reach out to the brands that fit your niche. You can find the marketing director/manager, social media manager, or community manager for the brand.
But if you do this, be ready to send over engagement stats of your channel, and even analytics from previous influencer campaigns. Subscriber count, engagement, watch time per viewer per video, and more are all stats to have ready.
You can make connecting with brands easier by partnering with a reputable influencer marketing platform like Scalefluence.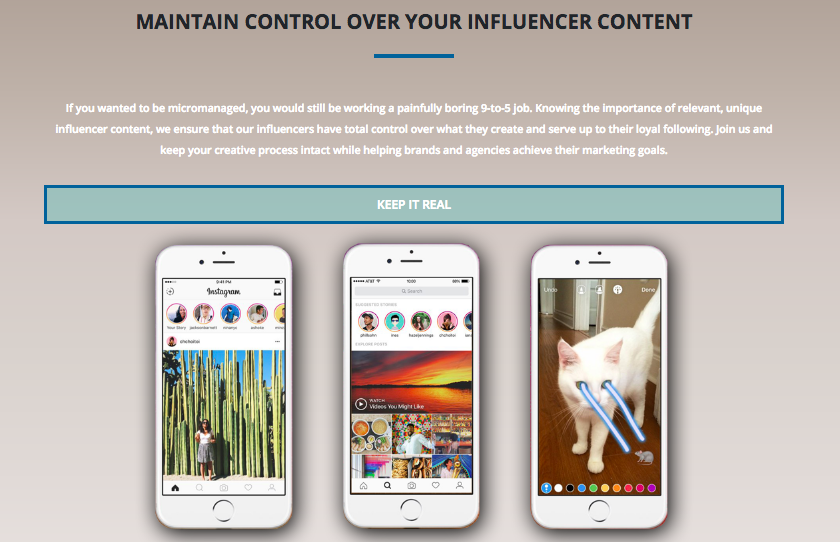 Scalefluence has a network of brands and marketing agencies looking for quality influencers in your niche.
The influencer example above is also promoting some of her own brand merchandise, which is next on our list of top ways to get paid on YouTube.
2. Get Paid On YouTube By Selling Personal Brand Merchandise
This is another very good way to make money on YouTube as an influencer. Only this time, you are using your influence to sell your own merchandise. This is pretty common for influencers after they have built up a pretty decent subscriber count.
Over time, you will become a personal brand. Remember the Ryan's World example at the beginning? Ryan and his family started promoting other brands, but once they hit a certain number of subscribers, the tables turn in the influencer's favor.
You have probably seen many of your favorite influencers promoting there own swag on YouTube, like this example from mega-influencer Dude Perfect . . .

The video with the branded merch seen above received over 277 million views!
Let's say that 0.0001 percent of the viewers of this video bought a shirt for $25.99. The total revenue on personal brand merchandise for this one video would be $719,923.
Extreme example? Yes. But you can see that personal brand merch can create mind-blowing revenue.
3. Leverage Affiliate Marketing To Get Paid On YouTube
Affiliate marketing is a top way to get paid on YouTube because you don't need to create your own merchandise or connect with brands for paid promotions. All you need to do is become an approved affiliate on one of the many affiliate networks like Rakuten and Commission Junction.
How does this work exactly? First, get approved to be an affiliate from an affiliate network. Once approved, you can begin pulling links from brands that fit your niche as a YouTube influencer. Then you promote those products and/or services via videos.
When a viewer or subscriber clicks the affiliate link and purchases the product and/or service, you get a cut of the sale. The percentages vary from brand to brand. You may get 3 percent from one brand, but 7 percent from another.
This may not seem like a lot. However, when you get 7 percent on 100 $20 products, you can make $140 from a single video. Not bad at all, especially for simply copying and pasting a link in your video description section.
Are You Ready To Get Paid For Your YouTube Influence?
From ads to selling personal brand merchandise, there are plenty of ways to get paid on YouTube. The best way to maximize revenue from your influence is to combine a number of the above money making tactics.
To make it even easier, you can team up with Scalefluence's influencer marketing experts to turn your influence into money. If you have subscribers and engagement on your YouTube channel, it is time to start making money. Sign up today to learn more.