Trying to dominate your niche on YouTube? Do you have
YouTube influence
? Are you ready to make money on YouTube, but not exactly sure how? Well, you have landed on the right article. 
There are a number of ways to make money on YouTube. From partnering with an influencer marketing platform that has a network of brands and agencies that need YouTube influencers like you to building your own money making stream, read on.
And why YouTube? There are over 2 billion active monthly users on the popular video platform. 
Here are a few other insane YouTube statistics influencers can't afford to ignore . . .
30 million people visit YouTube daily

Over 5 billion videos have been shared since YouTube's inception

40 minutes is the amount of viewing time per user

62 percent of businesses are on YouTube

70 percent of YouTube videos are watched via mobile devices
Those stats are great, since you are looking to capitalize on all of those users. And knowing more about users' habits on the second largest search engine in the world is critical to making money on YouTube as an influencer.
To help, we compiled a few of the most lucrative and easy ways to make money with your YouTube influence. Ready to boost those influencer profits via video content? Let's get right to it!


Use the power of sponsored posts to turn your influence into cash
If you already have a decent subscriber count, you can start making money on YouTube via sponsored posts. This is the most traditional form of influencer marketing, and contrary to what some think, you can earn big time sponsored post money.
You may be wondering, what if I have less than 100,000 subscribers, can I still make money as a YouTube influencer? Absolutely. In fact, many top brands are searching for micro-influencers.
Here is one YouTube fashion micro-influencer making a name for herself with only 100,000 subscribers . . . 

You can see that her videos are pretty engaging, which has allowed her to cultivate a very loyal following . . .
Why? Micro-influencers may have a smaller subscriber count, but their influence is powerful. In some ways, more powerful than any mega-influencer. This is because micro-influencers have a strong loyalty from followers.
"Micro-influencers have built-in followers already interested in businesses, products, and/or services like yours," Stephen Seifert explained in a Forbes article. "Their followers also hang on every word and recommendation made with cult-like loyalty. This makes micro-influencers in your industry or niche ROI positive."
But how do you connect with brands and marketing agencies to land those lucrative sponsored posts? You can do the leg work yourself, or you can collaborate with an influencer marketing platform.
Tap into a network of brands and agencies by collaborating with a reputable influencer marketing platform
This is a very important influencer tip when it comes to making money on YouTube. Finding and connecting with the brands and agencies is a lot more difficult than you would think. You need to find the right people to send your influencer resume and sizzle reel to, as well as have a pretty convincing interview. This could take months.
The good news is that you don't need to spend the time doing all of the aforementioned on your own. Instead, you can collaborate with an influencer marketing platform like Scalefluence to get sponsored by top brands and agencies.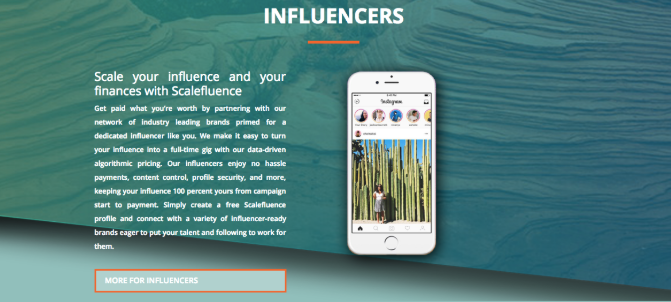 It really is that easy! Scalefluence influencers get access to brands and retailers in their industry and niche while keeping creative value. Trust us when we say that we know the value of your personal brand. And we would never want you to sacrifice your subscribers.
How do you get started? Simply go to the Scalefluence signup page for influencers, fill out the form, and we will get your influence to the right brands and agencies. Don't waste your time on finding sponsored post opportunities. Working with an influencer marketing platform lets you be creative while we take care of the business aspects.
Make serious money on YouTube with affiliate links from top brands and retailers in your industry and niche
The second most profitable way to make money on YouTube is via affiliate links. What are affiliate links? Well, if you don't know, it is time to take notes, because you can make a ton of cash on YouTube with this money making influencer method.
Affiliate links are links (URLs) that you can place in your YouTube videos to get a percentage of the sale. For instance, if you are in the fitness and health niche, you can become an affiliate of say Nike. Then you place a link for a specific type of Nike shoes in your video. 
Once a subscriber or viewer clicks on the link and buys the shoes from the Nike website, you get around three to five percent of the sale. This may not seem like a lot of money, but it does add up once you have a healthy list of advertisers (brands) you are approved for as an affiliate.
How do you become an affiliate? By joining an affiliate network like Rakuten, Commission Junction (CJ), and FlexOffers. These affiliate networks pretty much cover all brands and retailers in the U.S. collectively. 
This is what an affiliate/advertiser listing looks like on Commission Junction . . .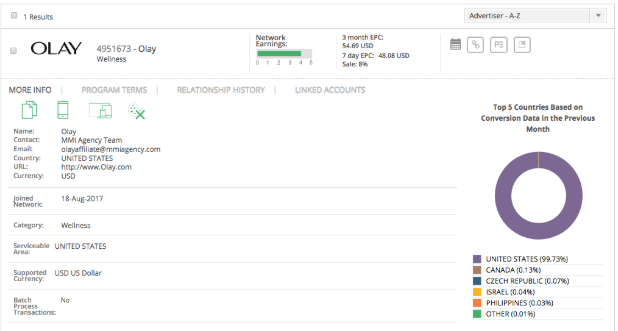 You will see that Olay offers up eight percent for every sale via one of your influencer links on YouTube . . .

This can be pretty profitable for any YouTube influencers in the health, beauty, and personal care niches. And if you have a pretty decent subscriber count with good engagement per video, you are sure to get plenty of affiliate approval from brands and retailers.


Create and merchandise your very own swag and products to your loyal subscribers
This is the next top way to make money on YouTube. You have probably noticed that most of the #1 influencers on YouTube are pushing their own products. This could be anything from shirts and toys to health supplements.
Here is a great example of merchandising from YouTube mega-influencer BroScienceLife . . .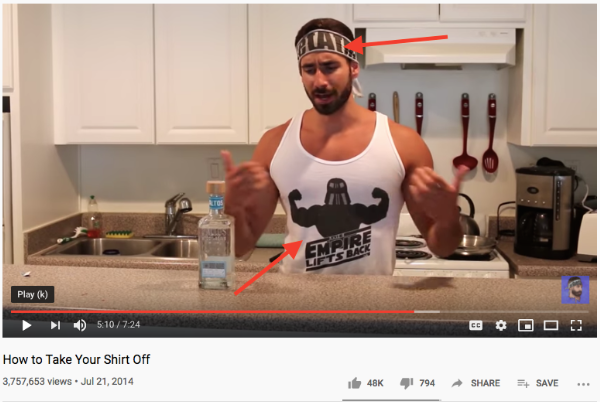 The great thing about creating your own swag to sell to your subscribers is that they are already primed to buy. Just be sure that you can fulfill orders, handle returns, and manage feedback from your subscribers that purchase your merchandise. If you fail in any of those points, you will actually lose subscribers.
Ready to take your YouTube influence to the next level, make money, and dominate?
The above ways to make money on YouTube and dominate are simply the top three tactics many top influencers use to make a pretty sizable profit. In fact, if you do the above to perfection, you may find yourself becoming a full-time influencer.
It is important, however, to know that YouTube influence does not come easy. It takes determination, creativity, and a bit of business know-how. You simply can't post videos and think money is going to start rolling in. You need to be proactive and employ the above to start seeing profits.
Ready to influence? Start with landing those sponsored posts. Scalefluence is ready to connect you to our network of top brands and retailers.