Influencer marketing has become a staple for agencies and marketers. It is a sure fire way to get a brand and their products and/or services in front of the right customers. Did you know that nearly half of consumers rely on influencer recommendations to make buying decisions. 
And if you are a marketer who knows the power of influencer marketing you are certainly not alone. Over 70 percent of marketers believe that influencer partnerships are great for business growth.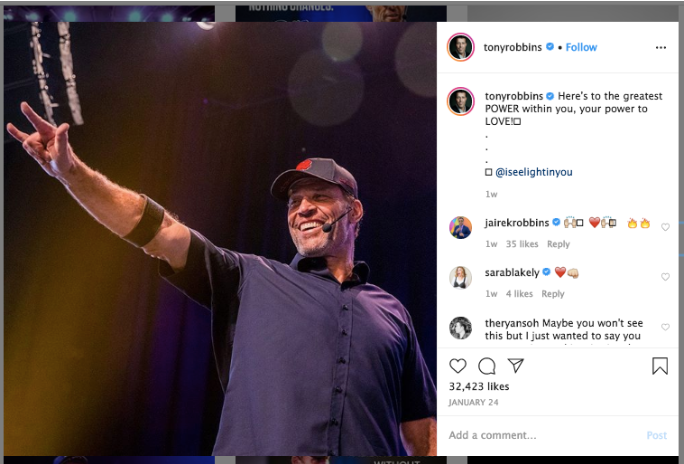 The statistics are pretty compelling for agencies and marketers. However, finding the RIGHT influencers for clients can be challenging. This is especially true when you are hunting down Instagram influencers. 
Instagram boasts a plethora of influencers, and not all are real. You always need to be aware of fake influencers. But that being said, you will need to have a strong influencer plan in place to land influencers your clients will love, and see ROI from. 
The good news is that we are here to help with navigating the Instagram influencer waters. This is why we compiled a list of ways marketers and agencies can find the RIGHT Instagram influencers for clients. Here's what we'll cover:
Have specific influencer marketing goals before you start your search
Think industry and niche, not Instagram follower count
Choose the right Instagram influencer campaign for your client
Find Instagram influencers that promote your clients' competitors
Partner with a premiere influencer marketing platform like Scalefluence
Let's get to it!
1. Have specific influencer marketing goals before you start your search
With so many influencers to choose from, it can be hard to narrow down your search. One of the most common issues marketers and agencies have is simply choosing many influencers and seeing what works best after the fact. This is not the best path, because you are wasting time and money. 
Instead, begin with specific goals and build out your Instagram influencer search from there. You really want to find the RIGHT influencers rather than influencers in general. To do this, outline the outcome your client wants from the influencer marketing campaign. These outcomes include:
Growing an audience
Brand awareness
Product and/or services sales
Brand visibility
Lead generation
And more
Once you have specific goals (outcomes) in place, the search can begin. Here's an example of a brand awareness Instagram influencer campaign: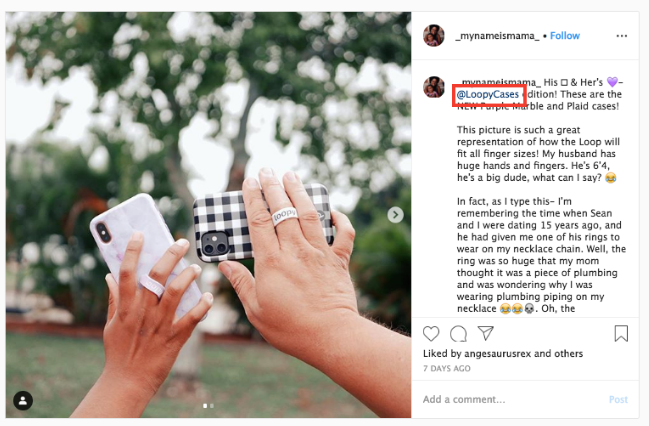 It is a subtle mention of the brand, but with a great story behind it. This Instagram influencer's audience is not only introduced to this brand, they are given a way to recall it later.
2. Think industry and niche, not Instagram follower count
It can be pretty easy to get tunnel vision when it comes to influencers and follower count. When influencer marketing was in its infancy, follower count was the main metric when it came to choosing an Instagram influencer for your client. 
But as influencer marketing became more prominent, research showed that follower count was not always the best metric. 
For example, if Dwayne "The Rock" Johnson posted about your business, you will probably see a significant uptick in traffic to your site.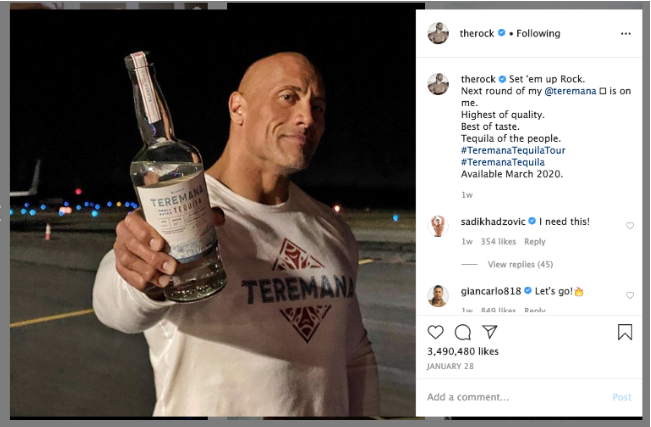 Unfortunately, if your goal is to increase sales, you may not see the ROI from a celebrity influencer. These makes finding influencers in the same industry and niche far more ROI positive.
Instead of The Rock promoting your product, go with a micro-influencer that has nothing but an audience in your product niche. Here's a great example of how even top brands use micro-influencers in a dedicated niche.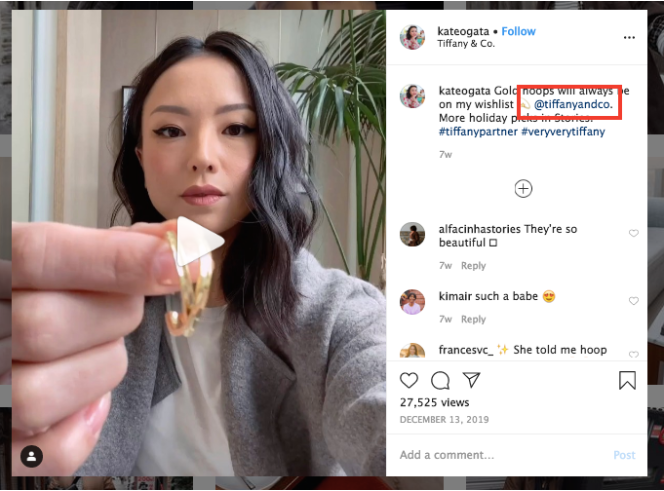 Marketers and agencies should not get follower count tunnel vision, even if they have top celebrity Instagram influencers. Niche down and get greater ROI.
3. Choose the right Instagram influencer campaign for your client
Pairing an influencer with your client's niche is a must. But even if you get that right, you need to know which Instagram influencer campaign will work best. This is part of your campaign plan, and collaborating with influencers is best practice when it comes to the type of campaign you should launch on behalf of your client.
Why? In most cases, influencers know what their audience will respond best to. For example, an influencer may know from experience that a certain product will work best via a contest or giveaway campaign. For a service, like SEO, a simple promotional post with a story may work better than a contest or giveaway.
Here's a great giveaway example that is simple and to the point.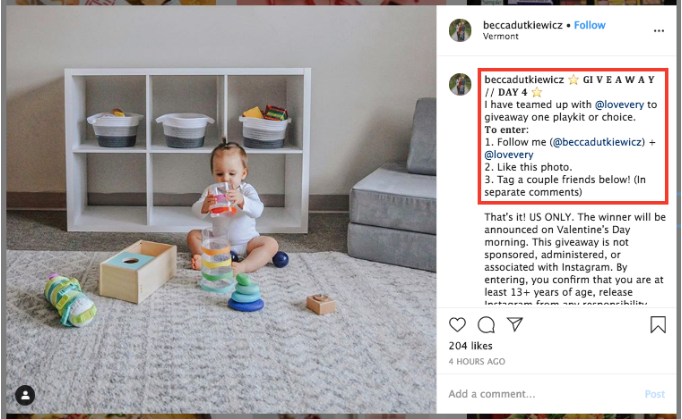 The aim here is to give your influencer a bit of autonomy. He or she has probably been influencing on Instagram for some time, so let them guide you. That being said, marketers and agencies still need to meet client requests, so you will need to be tactful. 
4. Find Instagram influencers that promote your clients' competitors
Another way marketers and agencies can find Instagram influencers for clients is to do a bit of digging on their competitors. Chances are, a client has a competitor very active with influencer marketing.
For instance, let's say that your client is in the fashion e commerce space and one of their top competitors is Revolved. You can begin your search by entering #revolve in the Instagram search bar.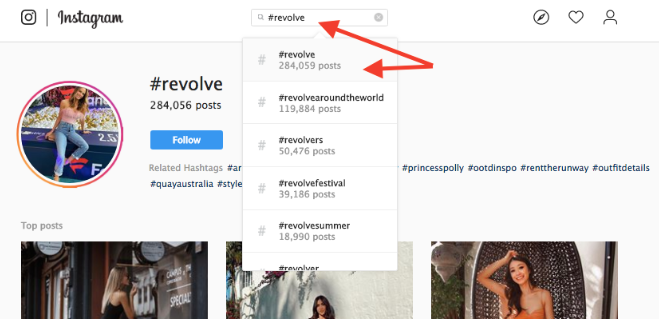 This will return a number of Instagram posts with that hashtag, as well as the influencers using it to promote Revolve products. Here's a good example you can draw from: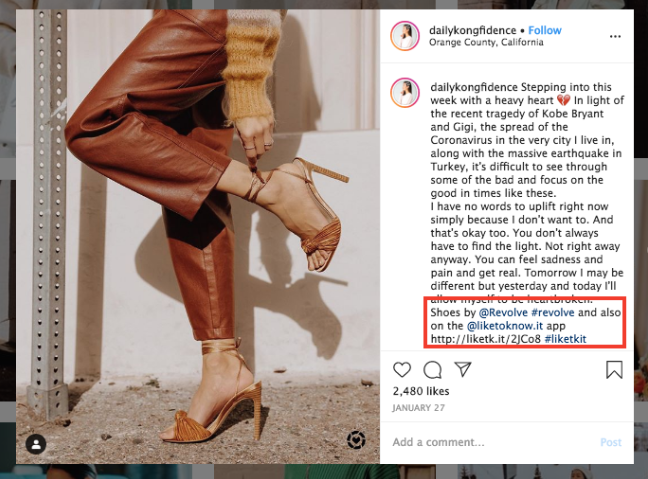 With a bit of due diligence on Instagram, you can compile a robust list of potential influencers for your client. 
5. Partner with a premiere influencer marketing platform like Scalefluence
This is by far one of the easiest ways marketers and agencies can find the RIGHT influencers on Instagram. Why? Influencer marketing platforms already have built strong relationships with influencers across multiple niches. And they have already qualified them as real and ROI positive.
This is where Scalefluence comes in. Scalefluence has a large influencer network marketers and agencies can draw from. Sure, you may be thinking that selling your clients on an influencer marketing platform is difficult. But when you partner with one that has proven ROI positive results, it is really quite easy.
What about managing multiple clients? Scalefluence for agencies and marketers streamlines that too. We have developed a user-friendly dashboard that allows marketers and agencies to create standalone influencer campaigns for each client. You can manage, track, export reporting, and get valuable insight that your clients will appreciate.
Bringing influencer marketing all together
Finding the RIGHT Instagram influencers for your clients no longer needs to be a time-consuming hassle. Do your research, have a plan, and partner with an influencer marketing platform that simply delivers results. Access our marketplace today and give your clients greater brand awareness, sales, leads, or whatever else they need to grow their business.