Instagram is a powerful social media platform. Despite having over a billion monthly active users, Instagram is home to brand and influencer partnerships leveraged to sell products and services to consumers.
There are more than 25 million businesses on the social media powerhouse platform. And this is good news for influencers since that are 25 million businesses they can partner with to make money on Instagram.
As an influencer, you need to know how to make money from Instagram. Paid brand sponsorships are indeed the most lucrative. A study from eMarketer revealed just how much influencers can make on their Instagram account . . .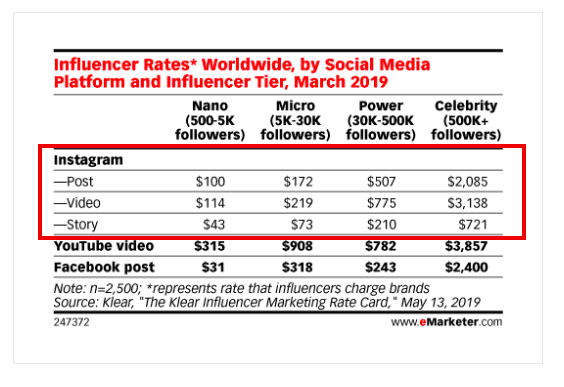 Even with a mere 500 followers, a social media influencer can earn $100 per image post, $114 for a video post, and nearly $50 per Instagram Story post. Way more than Facebook.
This is the power of working with brands as an influencer. But there are other revenue streams to explore as an Instagram influencer. From brand sponsorships to selling your social media expertise as a consultant, you can seriously get paid as an influencer.
To help cultivate more profitable channels as an Instagram influencer, we came up with 4 tips to make money on Instagram from Instagram experts. Let's get to it
Really Define Your Instagram Target Audience Niche
If you want to earn money from your social media influence, you need to gain more followers on Instagram. To gain more followers, you need to know the audience and niche you are targeting inside and out. And it helps if you are passionate about your niche.
Why is this important, other than gaining more followers? Brands will normally only partner with influencers in their industry and niche. Or at least something close.
This is because influencer marketing on a brand level is all about gaining access to a built in audience that will already be interested and engaged in their products and/or services.
If you do not have a defined niche, you may find it difficult to land those profitable brand sponsored posts. This is also why 55 percent of brands prefer working with micro-influencers.
Micro-influencers, like @beautybyjulia, have a very defined niche with very loyal followers ready to make purchases based on influencer recommendations . . .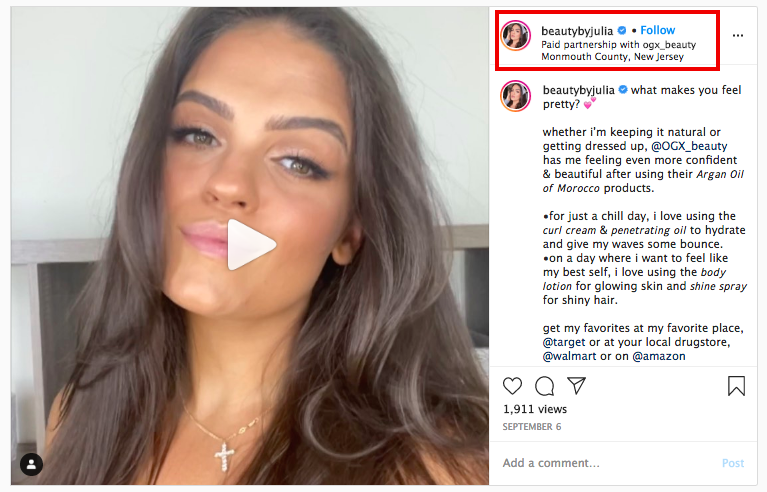 You can see that having a defined beauty niche helped this Instagram micro-influencer land a paid sponsorship with OGX Beauty.
Gain More Followers On Instagram By Building Trust
More followers equal more engagement. But this how to earn money from Instagram strategy also hinges on building trust with your audience. Because if your followers don't trust you, your engagement will be low per post. This decreases the chances of netting brand sponsorships.
How do you build trust? Post quality content that your audience wants more of consistently. Consistent posting is one of the best ways to build trust since you are continuously popping up in follower feeds.
Useful Resource: How Many Instagram Followers Do You Need To Make Money
Posting consistent content within a specific niche has allowed Instagram art influencer @dailyart to reach 9 million followers . . .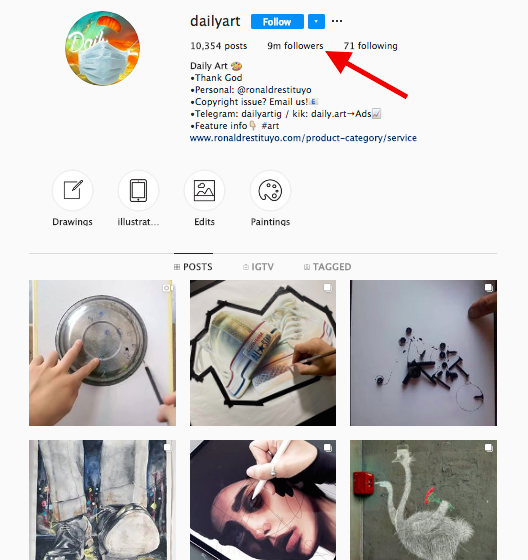 Once you have a clearly defined niche, gain more followers on Instagram, and build loyalty, it is time to land those cash money brand sponsorships. This, however, takes a bit of work.
If you want to know how to make money on Instagram, this is the top expert tip. Brands will pay top dollar for Instagram marketing channels, enlisting the influence of social media influencers to raise brand awareness, sponsored posts, and create a social buzz with original content.
Here's a brand sponsorship example from Instagram beauty micro-influencer @karenncamargo_ and @alamarcosmetics . . .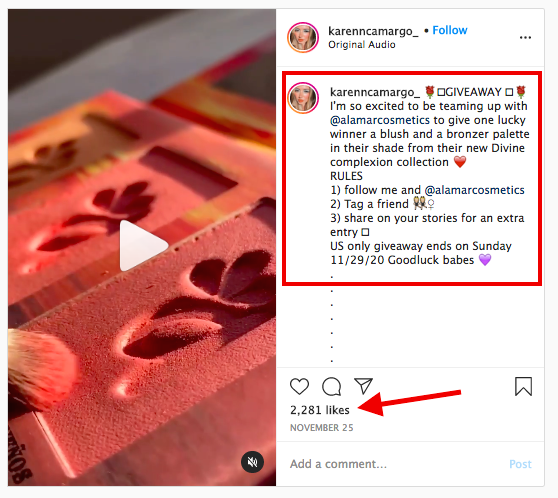 This sponsored post netted an engagement rate of 4.5 percent, far above the average Instagram post engagement rate of 2 percent. This influencer marketing campaign that was the result of a brand paid sponsorship most likely resulted in serious sales.
This was also video content, a must for influencers looking to land better engagement and higher-paying brand sponsorships. In fact, video posts get 2x more engagement than traditional image posts.
How do you get on a brand's radar for influencer marketing campaigns? The most common way is to put in the work yourself.
You need to be posting content relevant to the brand's industry and target audience. You need a strong engagement rate per post. And you need to know how to connect with the brand. This means finding the gatekeeper in the brand's marketing department and pitching them your influencer value and advertising revenue.
This can certainly be time-consuming. The good news is that it is easier to connect with brands and marketing agencies looking for influencers like you. Influencer marketing platforms like Scalefluence can help.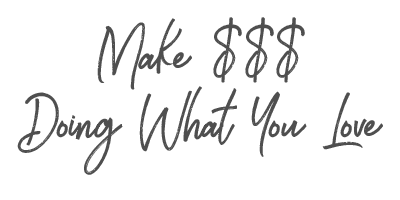 Scalefluence is a premier influencer marketing platform with the expertise to get influencers paid top dollar for their creativity and influence. With a robust network of brands and agencies, Scalefluence makes landing paid brand sponsorships easy.
There are two ways to attract brands and get paid for sponsored posts. The first way is to do a bit of research and compile a list of brands you want to partner with. This can be a bit time-consuming, because you have to do outreach on your own.
When reaching out to a brand, you need to first find the marketer at the brand that handles influencer marketing. Next, you need to compose a pitch email with your niche, key metrics (followers, engagement rate, niche, etc.), as well as your story.
A pitch email example looks like this . . .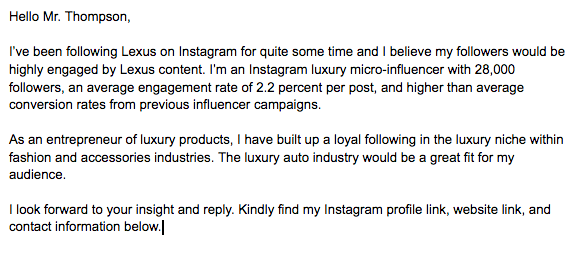 The second way to land brand sponsorships on Instagram is to partner with an influencer marketing platform. Influencer marketing platforms, like Scalefluence, have robust brand networks, as well as marketing agency networks.
Influencers that partner with influencer platforms can access these networks, eliminating the need to find and pitch brands on their own. Influencer marketing platforms match brands with influencers, negotiate contracts, and often get top dollar for sponsored posts.
Understand how to start making money on Instagram by building your influence. This will ultimately lead to brand sponsorships and more influencer revenue.
Affiliate Links Is A How To Earn Money From Instagram Must-Do
Content creators have potential customers that hang on their every digital product and/or service recommendation. This can prove profitable when it comes to affiliate marketing. If you want to know how to start making money on Instagram, an affiliate link is a must-do.
For instance, affiliate marketer Pat Flynn was featured in an Ahrefs article for making over $100,000 from affiliate links in a single month . . .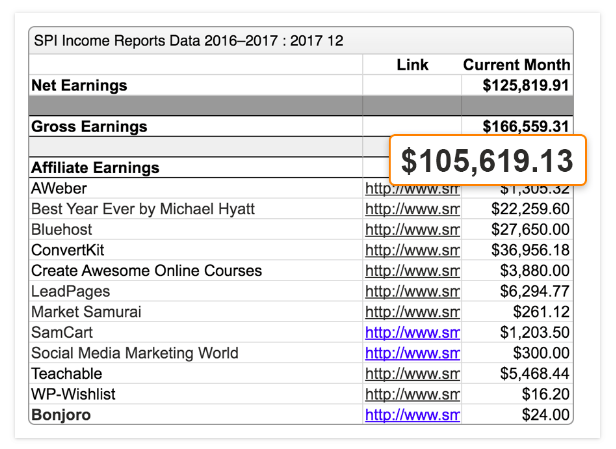 What is affiliate marketing? This is a good question, and it is surprising how many influencers don't know how to leverage affiliate marketing and affiliate links to make a ton of cash per month.
Instagram influencers are in a perfect position to make money from affiliate links since they already have Instagram users ready to buy. The first step in setting up your affiliate marketing revenue stream is to join a few affiliate marketing platforms.
Affiliate marketing platforms to consider as an Instagram influencer are:
Amazon Associates
CJ.com (Commission Junction)
FlexOffers.com
Rakuten Affiliates
Impact Affiliate Marketing
Walmart Affiliate Program
You may need to sign up for more than one affiliate marketing platform since the platforms can be brand specific. Amazon and Walmart affiliate programs are great because you have access to tons of products from multiple brands.
Once signed up and have brand affiliate links ready, it is time to leverage your Instagram influence to make money. Here's how fashion and lifestyle nano-influencer @chelsss.rose leverages Amazon affiliate links to make money on Instagram . . .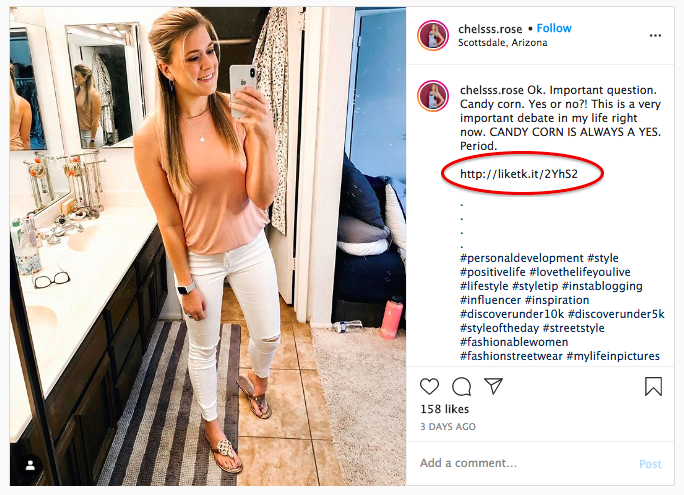 She introduces the apparel via an Instagram post as seen above and places a link to shop the fashion products for Instagram followers to find them . . .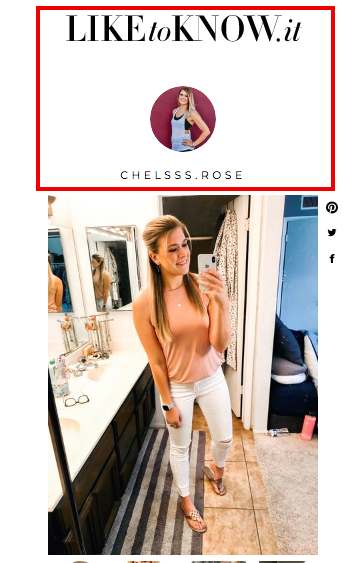 When a follower finds the item they are looking for, they tap through to the Amazon product page for that specific item . . .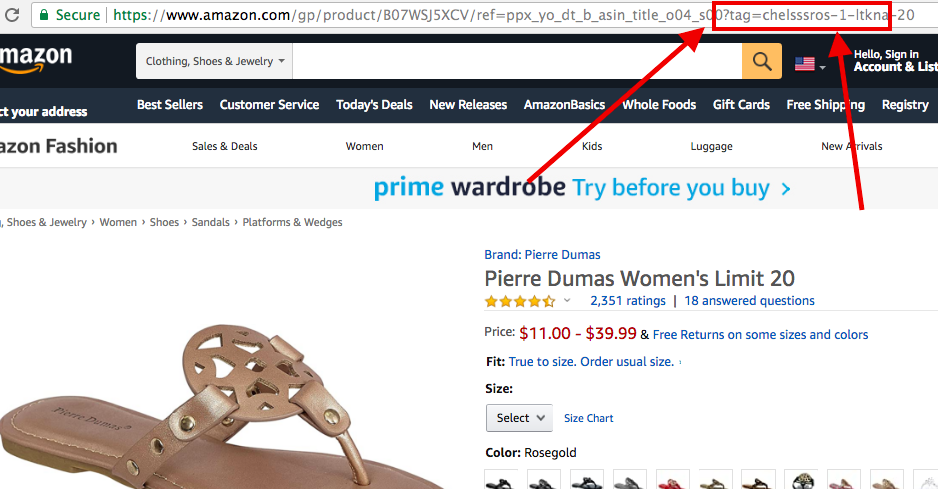 You can see that the link for the Amazon product page is unique to the influencer. The Instagram post for this product had 158 views. If only 20 bought this product, the influencer could make over $40 with an estimated 5 percent commission on each sale.
This is how to maximize earnings using affiliate marketing and affiliate links as an Instagram influencer. If you're not doing affiliate marketing as a social media influencer, you could be missing out on a ton of cash.
Leverage Your Influence To Sell Your Own Products
If you gain more followers on Instagram and have a decent follower count to sell to, why not sell your own products and keep 100 percent of the profit. This is an influencer expert tip that only some influencers leverage on Instagram.
If you want to know how to earn money on Instagram, this is a great strategy, especially if you make physical products. You can also purchase products online, white-label them, and sell them to your social media audience.
What do you need to make this happen? First, you need products. This is easy if you make something unique, like handmade winter hats for example. You can also utilize manufacturers online to find and purchase products in bulk to sell.
Either way, you will need a place to put all these products, because you definitely don't want to run out of inventory. Once you're ready to sell, promote your products via Instagram posts or Instagram stories.
Here's how Instagram influencer and jewelry designer @marah.cotta.clay uses Instagram to sell her very own products . . .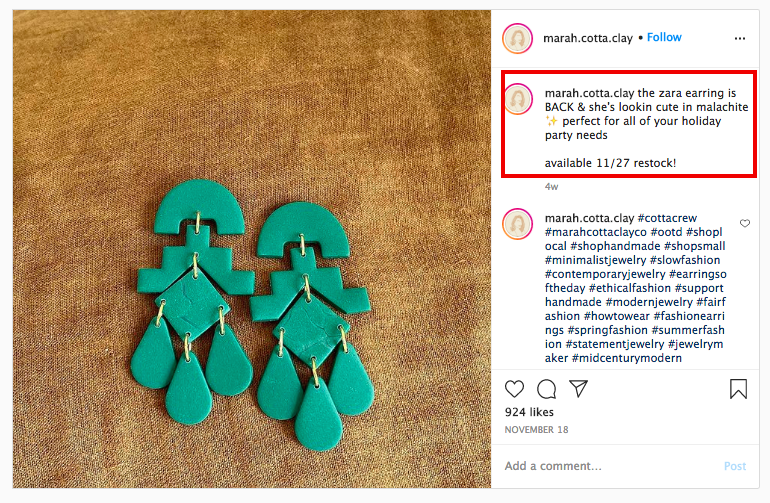 This is a great how to earn money from Instagram expert tips that can have serious profit potential. Do you make anything? Do you have social influence? Combine the two and make some cash money.
You can also utilize Instagram Shop to create shoppable posts through your Instagram page! With Instagram Shop, you can integrate your ecommerce store with your Instagram account.
If you have a following on Instagram, a steady influence to sway the masses, you can help an Instagram business account and other aspiring influencers and make money. That's right, you are a personal brand, and part of that personal brand is a social media marketing strategy.
Why not help others master social media channels and get paid as a consultant?
There are tens of millions of businesses using Instagram to raise brand awareness and convert social users into paying customers. As an influencer, you don't necessarily need to be an influencer. Sounds odd, but keep reading.
You know what it takes to grow a presence on Instagram, and that knowledge is valuable to businesses beyond simply getting paid for brand sponsorships. As a social media influencer marketing consultant, you can make in excess of $100 per hour with social media marketing.
That is serious money. The money you can earn by simply sharing your secrets to social dominance with business owners and company marketing departments.
In Conclusion . . .
The above expert tips for influencers to earn money on Instagram may prove profitable. There are other ways to set up a revenue stream using your influence, but the above are among the top ways with the highest earning potential.
Want to learn more about how to take your influence to the next level and get paid cash money for your high-quality content? Sign up to Scalefluence today and unlock your influencer money-making abilities.