Instagram is a great way to make people feel like they are getting to know the real you. Of course, what you share on Instagram doesn't need to be the full picture of your life. You have the freedom to share only the parts you want and the capacity to portray the story of you and your life in a way that feels best for you. For most people, there is a perfect blend of authenticity and art that must be achieved in order to move beyond posting for one's friends and family to gain a wider audience that will make you attractive to brands who want to partner with niche influencers.
If you have the authenticity part down, it's time to focus on the art. The way you package your authenticity is the key to successfully selling yourself to brands on Instagram.
Are You Brand Friendly?
There are several things that can make your IG account more brand-friendly. Start by taking a look at the copy on your profile page. Your biography needs to encapsulate the core essence of who you are while still showing you are able to communicate effectively. While emojis and slang are cute and can increase engagement, if you're going to use them, they need to be on point.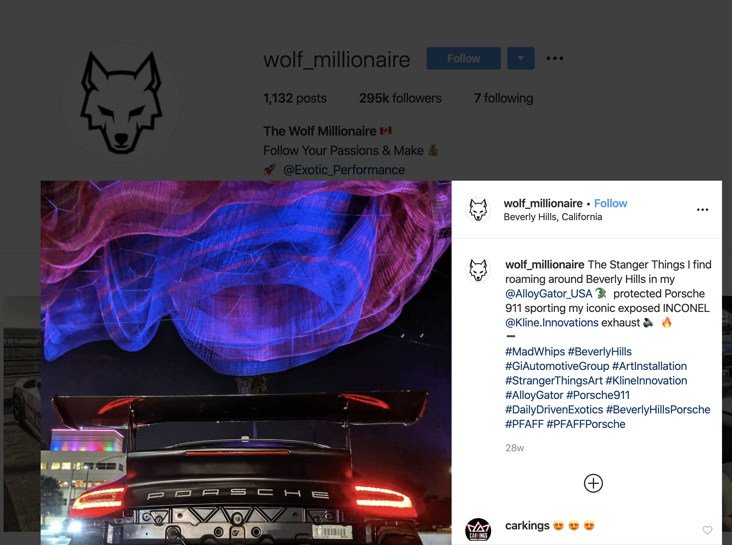 Image Features the Instagram Account of Wolf Millionaire
Regardless of alternative spellings, use of slang, or subbing in emojis for words, your message also needs to be clear. If a brand scout can't decode what you're saying then how clever you are doesn't really matter. Carefully consider the copy in everything you write, from your biography to individual posts and make sure that they are authentic and communicate your message clearly to a diverse audience.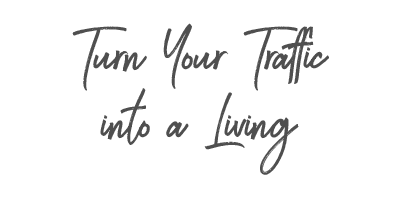 Another way to make yourself more brand-friendly is to make it easy for interested sponsors to start a dialogue. If you have a website, make sure you link to it in your bio. You can also use your bio to let companies know where to submit partnership inquiries, whether that's via DM or email. Some brands will also reach out on comments of posts they especially like to see how engaged you are with your audience. Don't forget to check comments, DMs, and your email daily and reply promptly to inquiries or you could miss out on a collaboration opportunity.
Highlight What Makes You Different
Highlights are one of the single best ways to focus the attention of anyone who may be scouting your profile for a potential collaboration. When used strategically, they not only look great and highlight your style as an influencer, they are also eminently useful to your audience and to brands who want to get to know your work better.
There are a few important things to keep in mind when you create your highlight reels.
Only the first 10 characters are visible in the title (although you can use up to 15).
Highlight cover images are critical for a cohesive aesthetic.
Only five highlights will show up on your mobile profile (7 on desktop) so leverage these positions.
More highlights are accessible when viewers swipe – use these strategically.
Below you can see how Juliette has put links to shop in the first position and has clearly labeled each of her highlights, the covers are reflective of the rest of her brand aesthetic, and the very first highlight has a collection of shoppable stories viewers may have missed.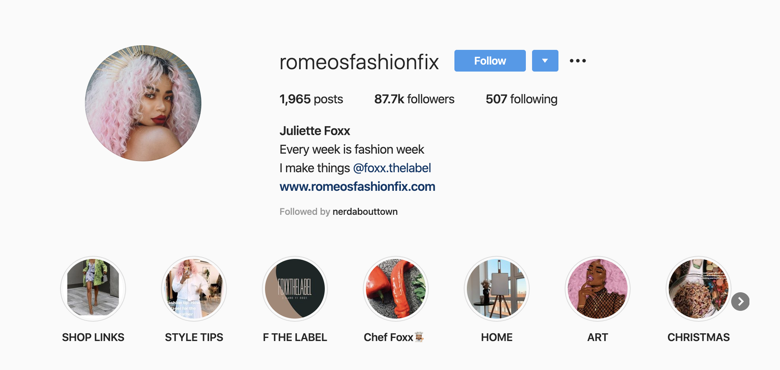 Image Features the Instagram Account of Romeo Fashion Fix
While her primary niche is fashion, she also showcases her love of food, decorating her home, and fan art. This is a quick glimpse into her personal brand which allows potential brand collaborators to know what other areas of interest she is already sharing with her audience and that she takes engagement seriously since she's showcasing her own followers in one of her highlights.
Networking Is Key
While there is a chance that brands will stumble upon your account through their own research or because your hashtag game is strong, it's not the best way to put yourself in front of brands. With more than a billion people actively using the platform every month, you have to find ways to stand out from the crowd. You should, of course, make efforts to do this organically, but it isn't the quickest path to collaboration.
One of the most effective ways for new and experienced influencers to find brands that have similar audiences, mission statements, or personal appeal who want to work with social media influencers is to join networking sites that specialize in pairing influencers with brands. This can open up possibilities you're probably never imagined. While everyone else is chasing the biggest brands, why not work with smaller companies that have amazing products and services that would serve you and your audience just as well or better. Sure, it's great to work with a company like Johnson & Johnson but it's also pretty wonderful to get the word out about handcrafted, locally sourced, artisan soaps.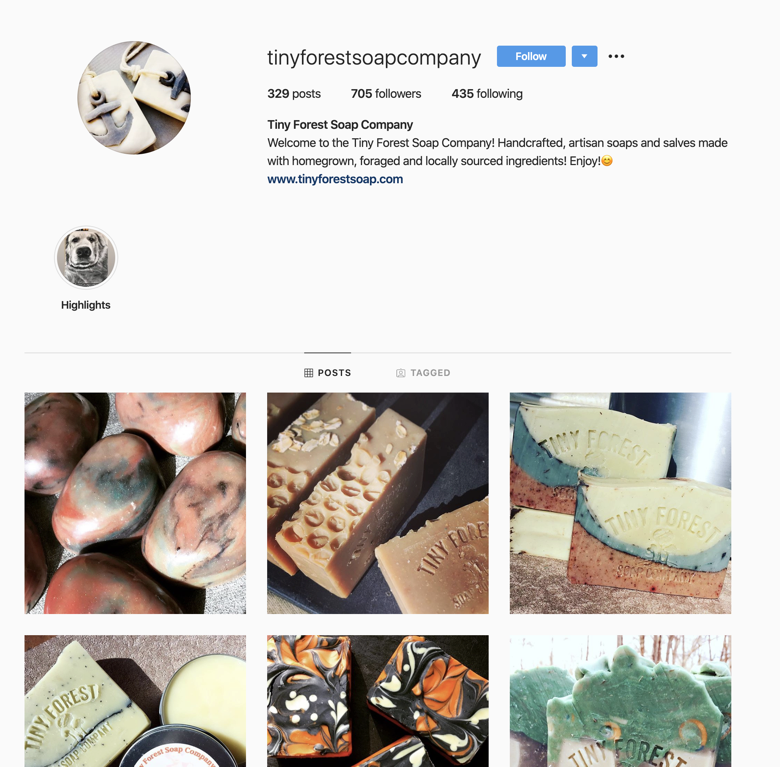 Image Features the Instagram Account of Tiny Forest Soap Company
Just like it is difficult to garner the attention of a multi-billion dollar international company, it's impossible to identify every brand that might truly love to work with you to showcase their service or product with your audience. When you work with a networking service that specializes in matching influencers to brands who are looking to collaborate, everyone wins and the game gets started much more quickly.
Now that you've made it easy for interested brands to get in touch with you, you're highlighting what makes you stand out from a billion other users, and you're networking like a pro, it's time to think about what you really want. What brand(s) would you be over the moon to work with? Think about this from a strategic but also dream life point of view.
Do you absolutely adore a specific type of chocolate and would be giddy to work with the brand behind your favorite treat? Or are you obsessed with a designer who hasn't made the runways yet? Once you've made a list of a few dozen brands that would be dream collaborators, begin doing a little research. Find out if their marketing team is actively pursuing social media outlets, specifically Instagram. Look for the hashtags they are consistently using, the accounts they follow, and what they regularly post in their stories and feeds. Follow them and any of the people they engage with consistently.
Then, think about how you can add value to their marketing efforts. Is there a new product line they are pushing? Have you been using something so frequently that it's become a monthly expense in your budget? Pick something and create content around it that you would create if they were paying you. Make sure you tag them so it shows up on their radar. Not only will this demonstrate your interest and potentially get their attention, but it will also be a good example of what you are capable of when other brands ask to see your work. Think of it as building your influencer portfolio while also flirting with a brand you'd like to date.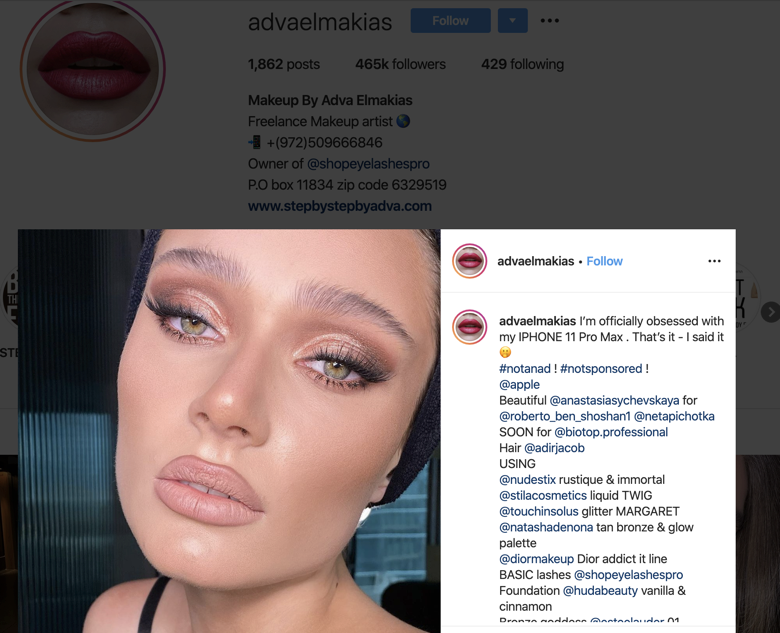 Image Features the Instagram Account of Adva Elmakias
Getting asked out by a brand really isn't all that different from finding a love match. Make sure you look your best, flaunt what makes you unique, use a matchmaking service, and say nice things to the people you're interested in pursuing. Then, when you're ready, sign the contract and start collaborating.