Do you want to know how to make money on YouTube? If you are a budding YouTuber, or YouTube star looking for new ways to get paid for videos, the following may prove useful.
YouTube is a must for social media influencers. It is the second largest search engine in the world. And YouTube videos generate more money for influencers than any other social media network.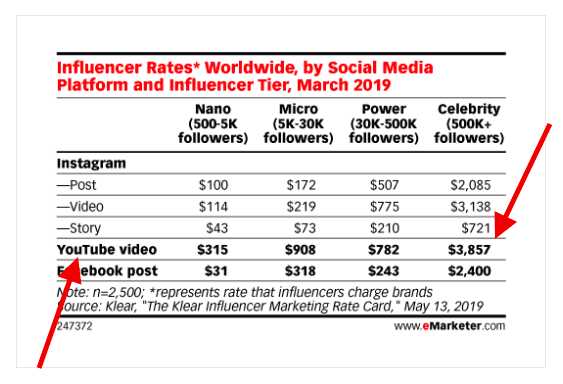 According to the eMarketer research on influencer marketing, even nano-influencers with as little as 500 subscribers can make over $300 per post.
The stats also highlight the interest brands have in social media influencers with smaller followings.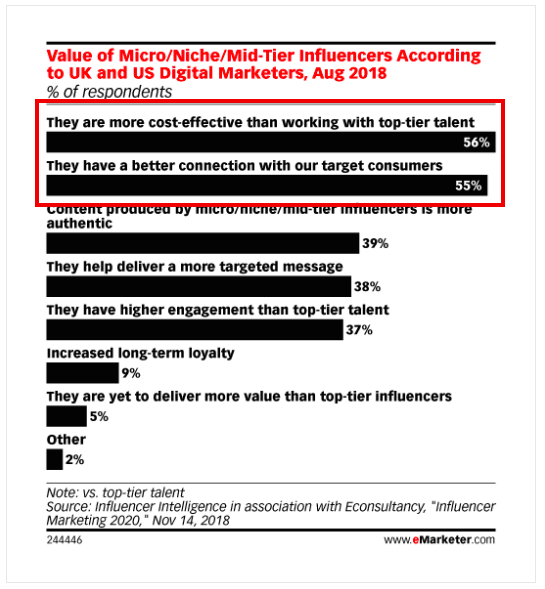 For influencers, this is all good stuff. Working with brands to create sponsored posts is the most lucrative when it comes to how to make money on YouTube.
The how do YouTubers get paid for videos question points influencers into other profitable directions as well.
Let's take a closer look at those money making strategies.
Start Attracting More Subscribers To Your Channel
To understand how to get paid for YouTube videos, you must understand how to attract more subscribers to your channel. The more subscribers, the more users will see your video content, ad placements, among other factors for making money per video.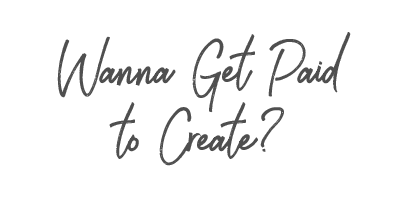 Do you need a ton of subscribers to make money on YouTube? No. In fact, you can make money on YouTube with under 2,000 subscribers. Is it easier to make money on YouTube with more subscribers? Definitely.
But growing your subscriber count needs to be done carefully. You want to attract subscribers that will be loyal, and in turn, keep your engagement rate per video moving in the right direction.
This means that you need to create quality, actionable videos. This ensures viewers will find your videos of value, and then tap that subscribe button. Here's a great example from YouTuber randomfrankp . . .
There is a ton of value in the above influencer's video. And the engagement was also excellent with over 1,200 comments.
When it comes to how to make money on YouTube, begin with attracting more subscribers. This has the long-term cash money benefits you are looking for.
Set Up Your YouTube Partner Program Account
The YouTube Partner Program (YPP) is a must for YouTubers that want to get paid for videos.
Once you become a YouTube partner, you can make money from ads and leverage premium account benefits, like memberships and Super Chat, which we will get into later in this article.
Monetizing your videos with advertisements can be fairly profitable, and most influencers employ YPP as their first revenue channel. You do need to meet a few guidelines to become a YouTube partner:
18+ years old
Located in eligible area
1,000+ subscribers
4,000+ hours of video watch time
Google AdSense account
Adhere to YouTube's channel rule
The last guideline you need to meet is an important one. YouTube has a number of rules when it comes to user-friendly content. For instance, your videos should be free of adult content, drugs and alcohol use or promotion, bad language, and more.
Here's what YouTube deems not advertiser friendly: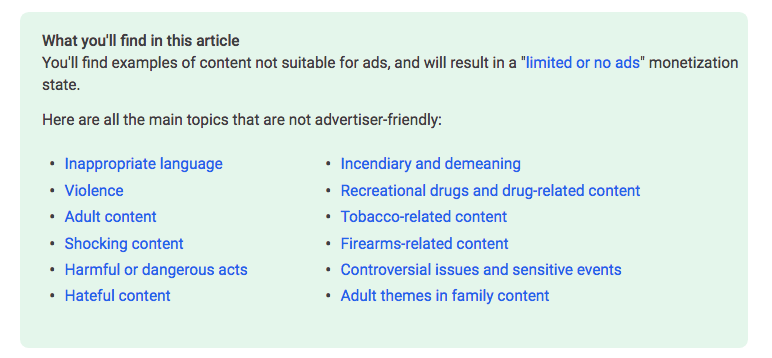 If your channel meets these guidelines and is advertiser-friendly, you will have no trouble becoming a YouTube partner. This can be a good start for making money on YouTube.
Ask Loyal Subscribers For Money
Another how do YouTubers get paid strategy is to simply ask subscribers for money. This is done in a few different ways. But do not leave this making money idea out of your YouTube influencer revenue plan.
Patreon
The first way a YouTuber can get paid via subscriber and viewer donations is Patreon. Patreon is an online tip jar that let's video viewers tip YouTubers for their creativity. The tips can be per video or per month, depending on the viewers' preferences.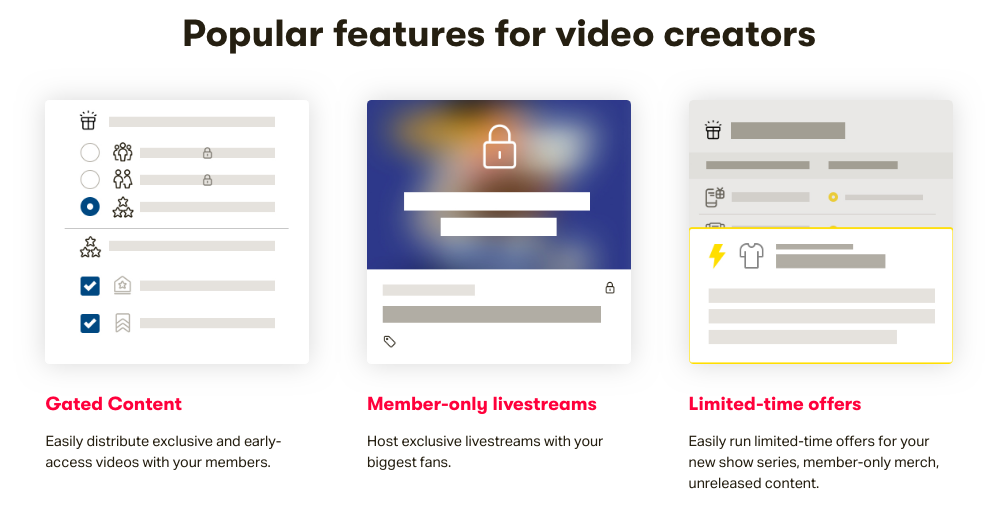 One bonus for subscribers and viewers that tip, is the access to exclusive content from the YouTuber. It is kind of like memberships via YouTube influencers, only more flexible for the video viewers.
Super Chat
The next way to get donations via loyal subscribers and viewers via YouTube is Super Chat. This is a how to get paid for YouTube videos must-do when it comes to generating more YouTube influencer profits.
How does Super Chat work exactly? When you join the YouTube Partner Program, you can access features like Super Chat. This allows you to live stream and get tips during those live streams. It looks like this: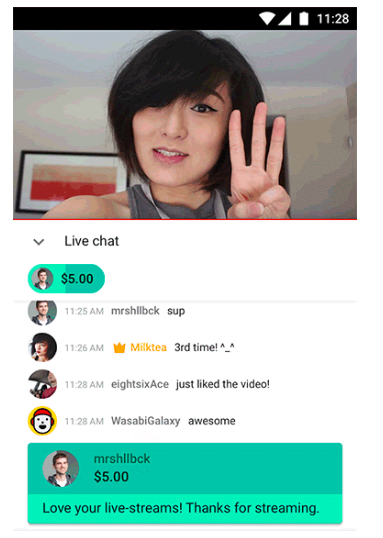 According to YouTube Creator Academy, "For creators, this means Super Chat does double duty: keeping their conversations and connections with super fans meaningful and lively while also giving creators a new way to make money."
Affiliate Links Is A How To Make Money On YouTube Strategy
One of the best, and easiest ways to make money as a YouTube influencer is to become an affiliate marketer. Affiliate marketing is a viable revenue stream for influencers on YouTube, Instagram, Facebook, and other social channels.
And affiliate marketing is simple for YouTubers. You use your influence to reach viewers and subscribers, mention a product or service in your videos, and leave a link in the YouTube video description for viewers to click through and make a purchase.
How do you get paid for affiliate marketing? Once a viewer purchases a product and/or service via the affiliate link you provided, you get a percentage of the sale. The percentages can range from 3 percent to 15 percent, depending on the product, service, and brand.
But before you can get started, you need to join an affiliate marketing platform, like Rakuten affiliate program, FlexOffers.com, Impact, Awin affiliate program, CJ.com, Walmart and Amazon affiliates.
Each affiliate marketing platform has different brands, so you may need to join more than one to access the brands you want.
Here's what affiliate marketing looks like for YouTube influencers via YouTuber Kevin The Tech Ninja:
The above video is all about the iPhone 12. And if a viewer wants to buy the iPhone 12 straight from this video, they simply tap the link in the video description:

When a viewer clicks through, they land on the brand product page for the product highlighted in the YouTube video.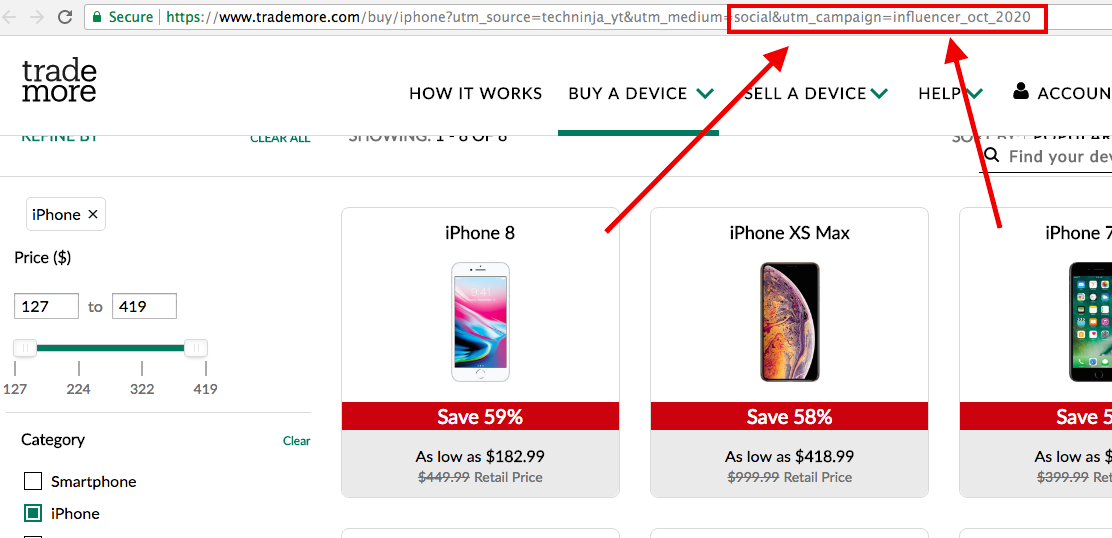 And the unique affiliate link is used for the YouTuber to get paid for each purchase made via the link.
Affiliate marketing is really that easy for YouTube influencers. If you are not using affiliate links to make money on YouTube, you are missing out on serious profits.
Land Cash Money Brand Sponsorships
How do YouTubers get paid? The top way they make big time money is through brand sponsorships. Brand sponsorships are when brands pay social media influencers to mention a product, service, or brand in a post exclusively. In return, the influencer gets paid pretty well.
But landing those brand sponsorships can be tricky. Unless you are partnered with a reputable influencer marketing platform like Scalefluence. Scale fluence helps YouTube stars like you tap into next level influence to make more money per video.
We also have a huge network of brands and marketing agencies looking for influencers like you. And when you work with our network partners, you never need to sacrifice creativity or your personal brand. Scalefluence influencers remain creative control.
Are you ready to maximize your profits per video? Contact Scalefluence today and take your influence to the next level!